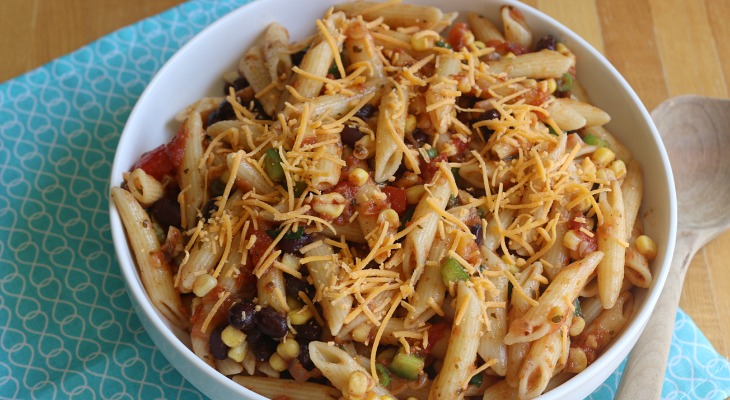 A simple Pasta Salad filled with all your favorite taco flavors! This Healthy Taco Pasta Salad is perfect for potlucks, picnics or for a side dish on Taco Night! It's easy to make, packed with great flavor and it's healthy!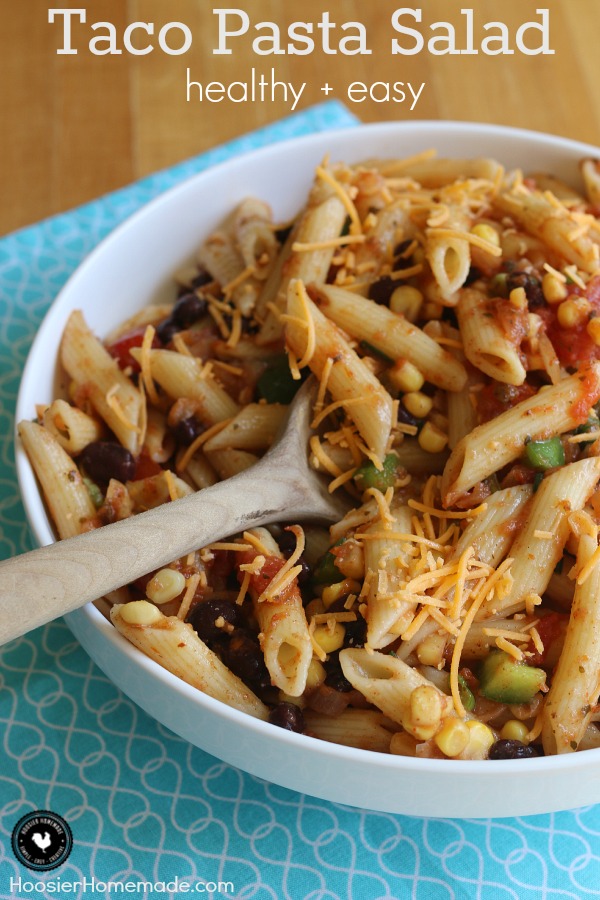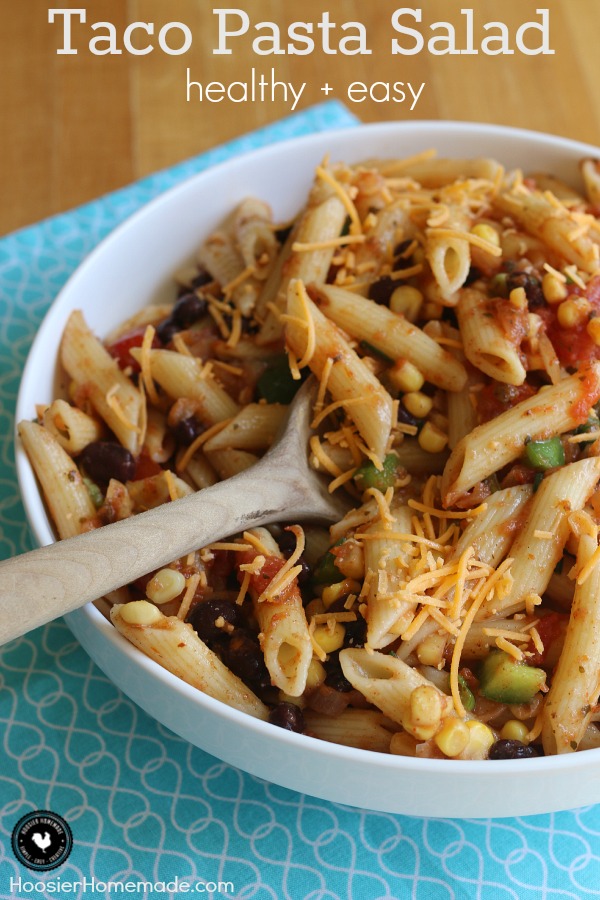 There's something about Pasta Salad that is so comforting. It's also one of the most versatile recipes I know, you can literally open the refrigerator and pantry to see what you have on hand to add.
While I have made many, many dishes of Pasta Salad over the years, this was the first time to make a Taco Pasta Salad. And it definitely won't be the last.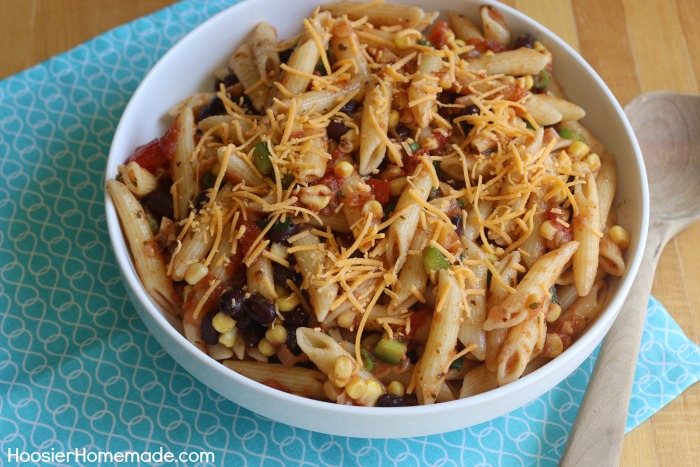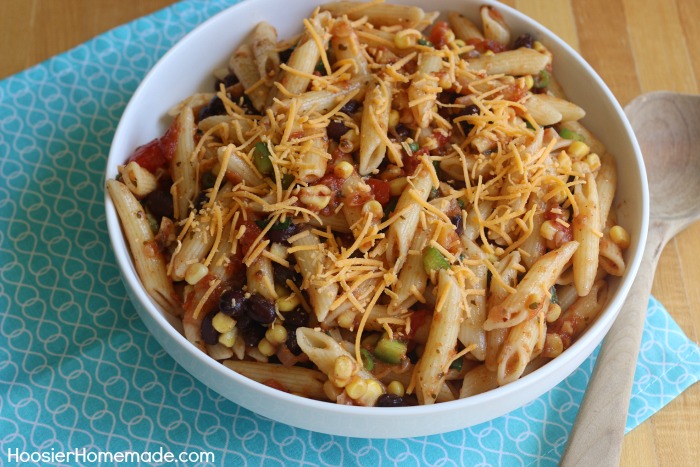 With Spring upon us and Summer on it's way, I'm sure there will be lots of cook outs, and potlucks in your future. Pasta Salad is my go to recipe to serve to a crowd or take with us to share. The recipe makes a lot, and even better, it can be made up the day before, which is actually better, it gives the pasta time to soak up all the delicious taco flavors.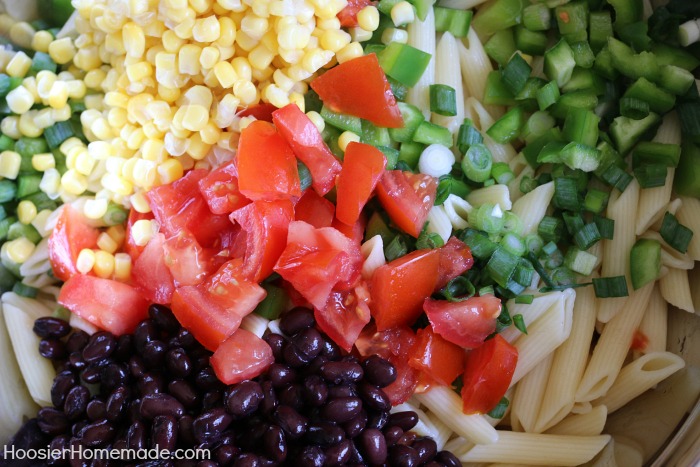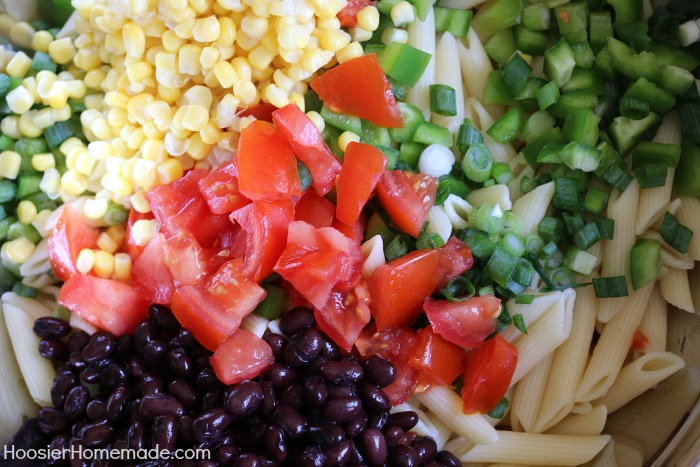 This Healthy Taco Pasta Salad is filled with healthy, organic ingredients. I'm super excited to tell you about Wild Oats Marketplace. You will be seeing lots of recipes over the next year using their products. And honestly, I can't say enough good things about them.
Most importantly – the Wild Oats products are organic, which means they have healthy products with no unwanted ingredients. None of those ingredients that you can't pronounce – just real, natural ingredients that we all need and want for ourselves and our families.
Second, and also very important – Wild Oats products are affordable and are available at Walmart. They believe that every American has the right to a higher quality lifestyle. Having access to affordable and authentic products that are also convenient, and easy-to-find in their favorite store will make quality living a reality for more people than ever.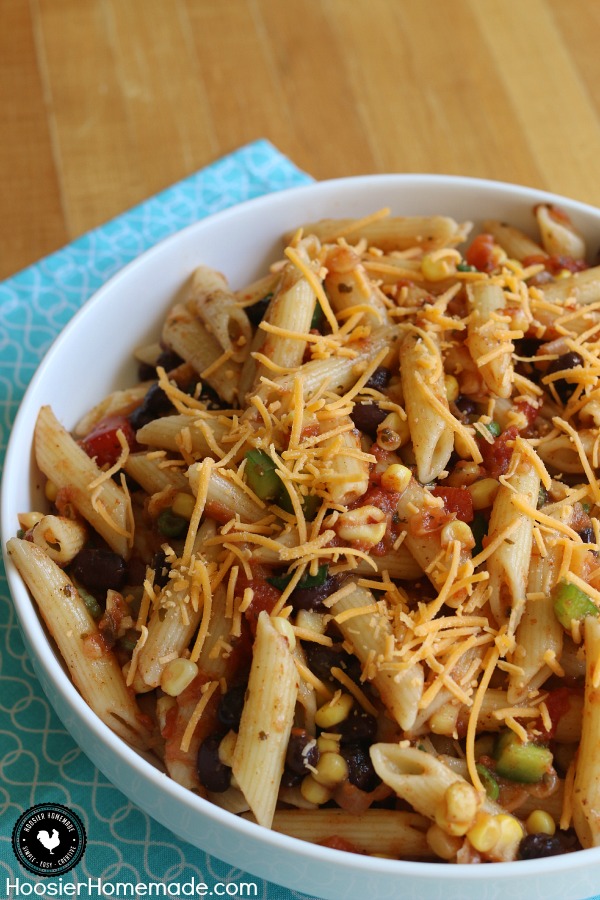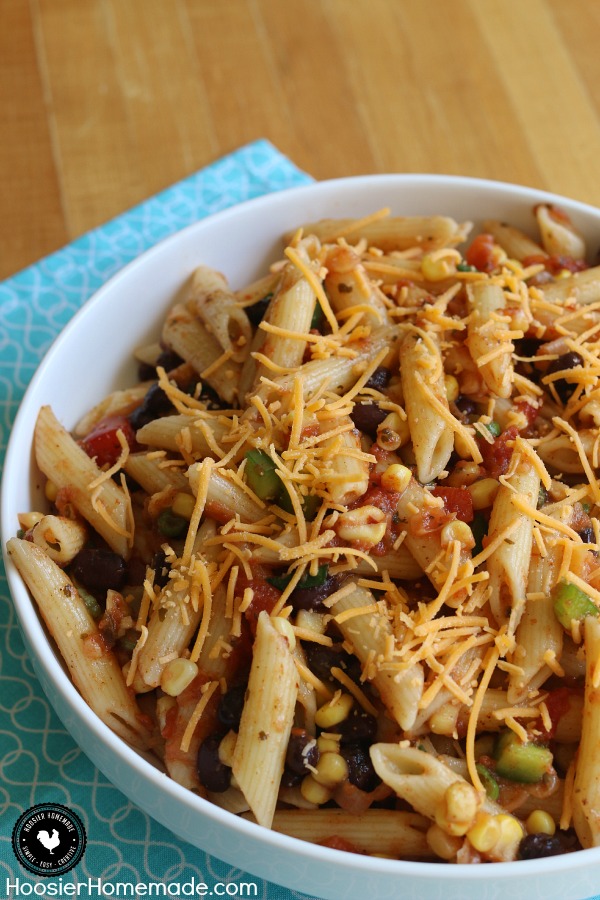 In addition to the Wild Oats Penne Rigate Pasta, this Taco Pasta Salad is filled with flavor from taco seasoning, black beans, corn, tomatoes, green peppers, and green onions, all wrapped up in a nice little package with Wild Oats Mild Salsa and a sprinkle of cheese. Love a little kick in your flavors? They also have medium salsa.
Oh and I can't forget to mention the Homemade Taco Seasoning. Wild Oats has a large variety of spices to choose from that are available at Walmart, and you can make your own organic, healthy taco seasoning!
For more information on Wild Oats, follow them on Facebook page, Instagram, Twitter and Pinterest.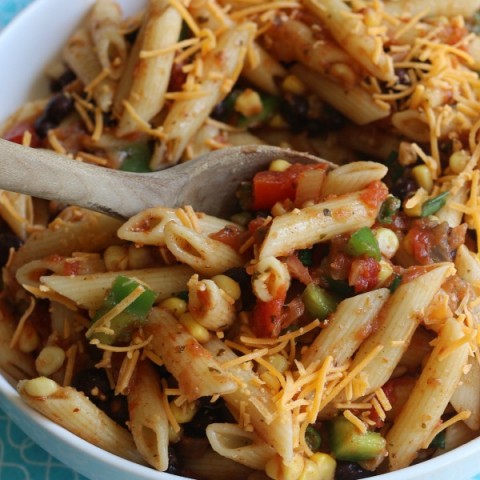 Healthy Taco Pasta Salad
A simple Pasta Salad filled with your favorite taco flavors.
Ingredients
1 (16 oz) box Wild Oats Penne Rigate Pasta
1 (15 oz) can Wild Oats Black Beans, rinsed and drained
1 (15.25 oz) can Wild Oats Whole Kernel Corn
1 medium tomato, chopped
4 green onions, sliced thinly
1/2 large green pepper (about 1 cup) chopped
1 (16 oz) jar Wild Oats Salsa, mild or medium
1 cup Sharp Cheddar Cheese, shredded, divided
Homemade Taco Seasoning
2 teaspoons Wild Oats Onion Powder
1 teaspoon salt
1 teaspoon Wild Oats Chili Powder
1/2 teaspoon cornstarch
1/2 teaspoon Wild Oats Red Pepper Flakes
1/2 teaspoon Wild Oats Garlic Powder
1/2 teaspoon Wild Oats Cumin
1/2 teaspoon Wild Oats Oregano
1/2 teaspoon Wild Oats Paprika
Instructions
Cook pasta according to the directions on the box
In a small bowl, whisk together ingredients for Taco Seasoning, set aside
In a large bowl, toss together pasta, black beans, corn, tomato, 1/2 cup cheese, green onions and green peppers
Sprinkle with Taco Seasoning, mix well
Pour salsa over pasta mixture and mix well
Cover with plastic wrap and place in refrigerator for at least 2 hours or overnight
Sprinkle with remaining 1/2 cup cheese before serving
Store leftovers in refrigerator