Grilled Peach & Blueberry Cobbler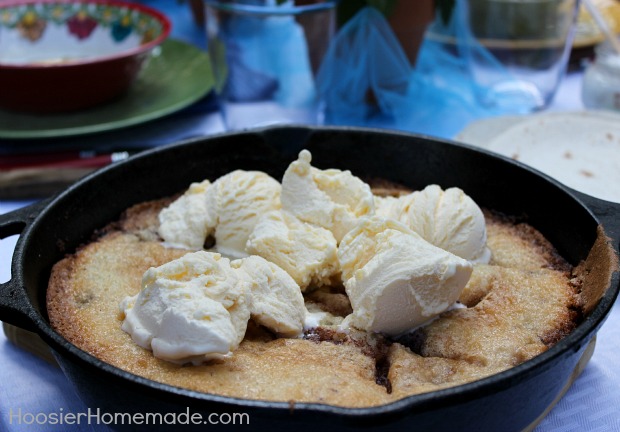 There are endless options of food that you can cook on the grill. But what about dessert? I have only grilled dessert a few times, and every time I wonder why I don't do it more often. It really makes perfect sense, you know? You still get to enjoy a delicious dessert – the best part of the meal as far as I'm concerned – and you don't have to heat up your kitchen with your baking.
I'm sure you are familiar with the traditional cobbler made with fruit in a baked crust and seasoned with cinnamon and sugar. Well this Grilled Peach & Blueberry Cobbler is actually even easier than the cobbler you have been making.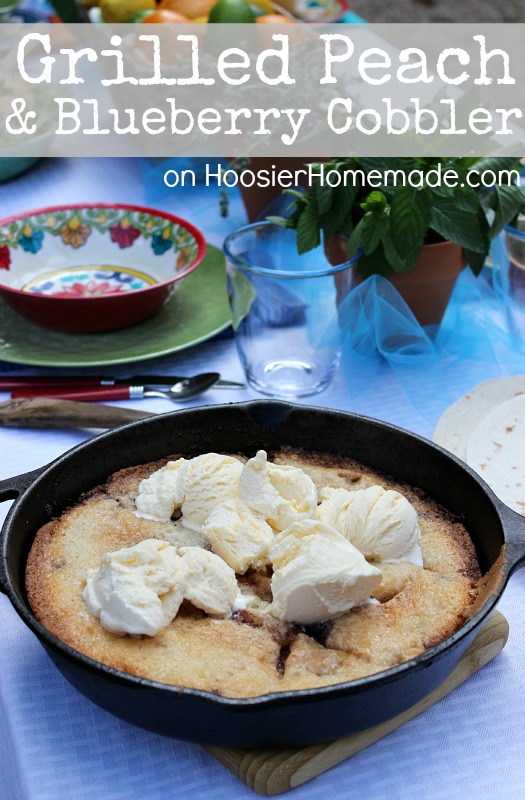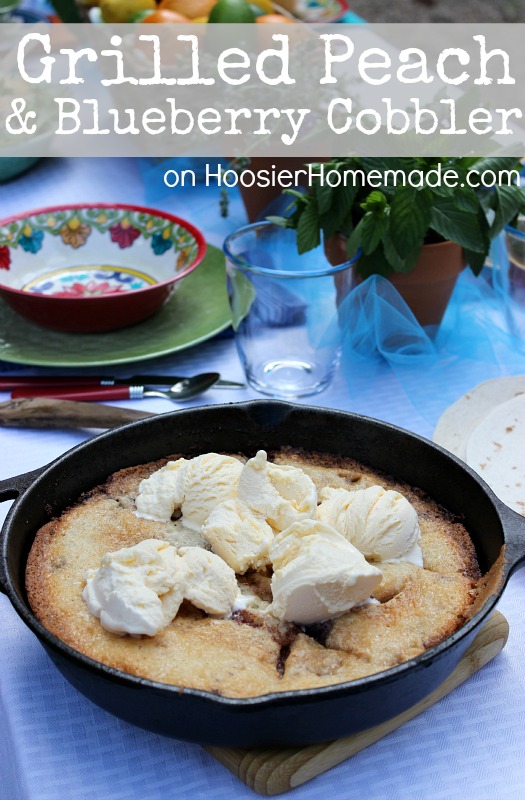 Last week I shared with you the table we put together for Summer Entertaining. It's bright and beautiful and goes together in minutes. We also created a really cool video to share with you that shows me making this cobbler, we would love for you to pop on over and check it out.
Along with the Grilled Southwest Chicken Wraps and a salad, we served this Grilled Peach & Blueberry Cobbler.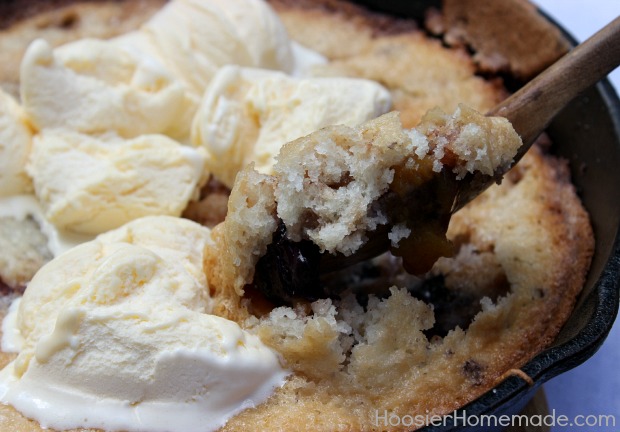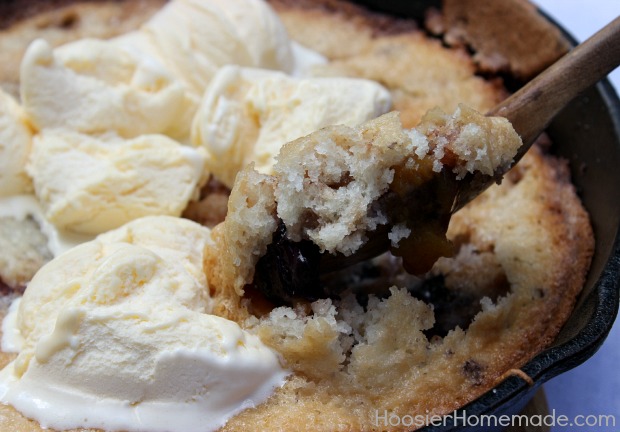 Peaches are one of my favorite fruits. There is nothing like biting into a juicy, sweet peach and having the juice run down your arm. When choosing a peach, be sure it has a little give to it, unless you like your peaches firm. As with most fruits, smell the peach – if it smells sweet, it should be perfect. Walmart has a great selection of fruit, including these peaches and blueberries.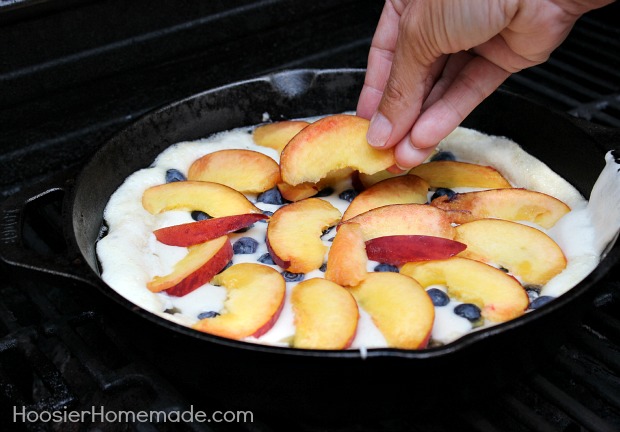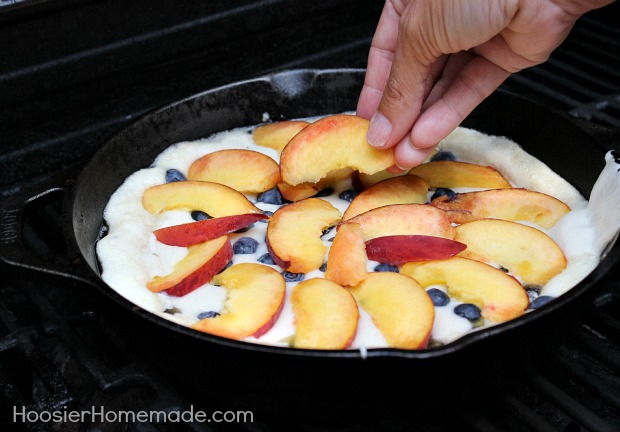 We chose to cook the cobbler in the Lodge Logic Cast Iron Skillet. There is really nothing that beats cooking in cast iron, and while many are expensive, there is a 12 inch skillet for less than $30 on Amazon!
After the skillet is heated on the grill, melt the butter, then pour in the dough mixture; Bisquick, sugar and milk. Then top with the blueberries and peaches. Any type of fruit is fine though, pick your favorite.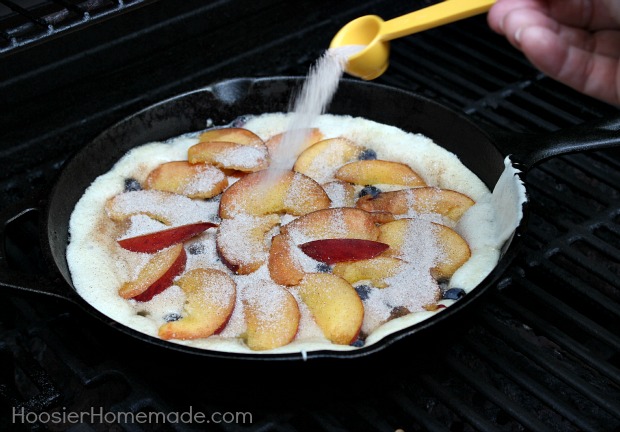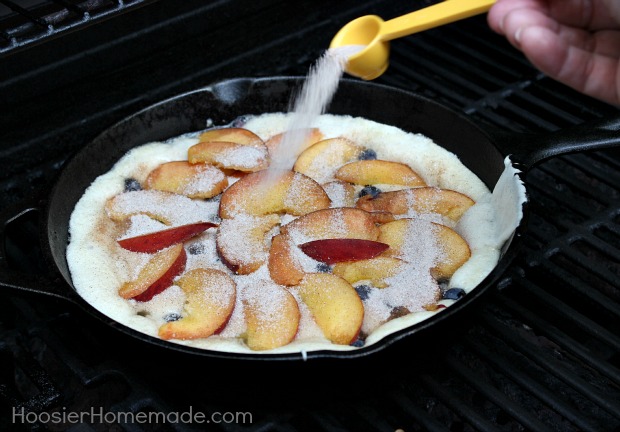 Then a good coating of sugar and cinnamon mixture gets sprinkled over the fruit.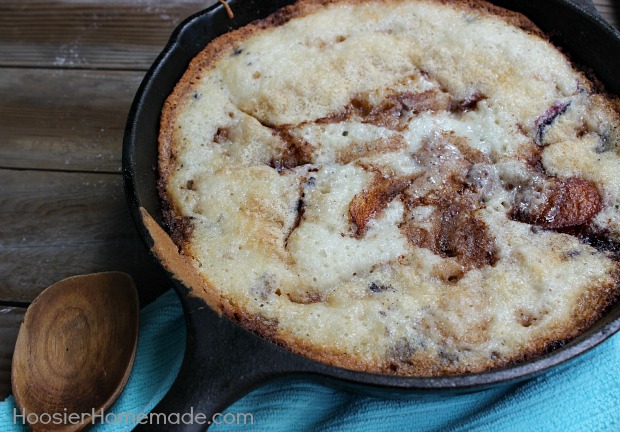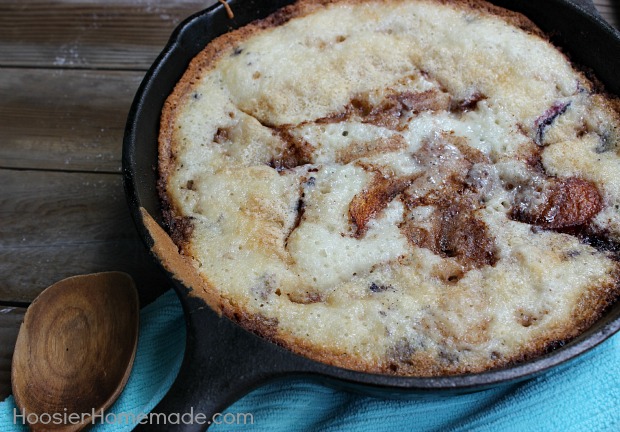 Now it's time to enjoy a special drink on the deck and let the cobbler cook. Close the lid to the grill and let it cook for about 30 minutes until bubbly and the crust is golden brown.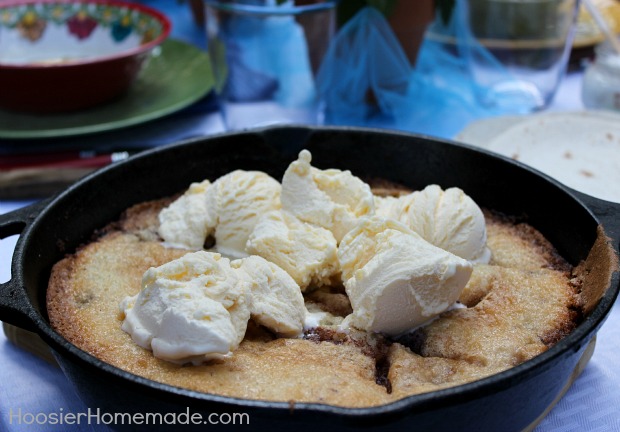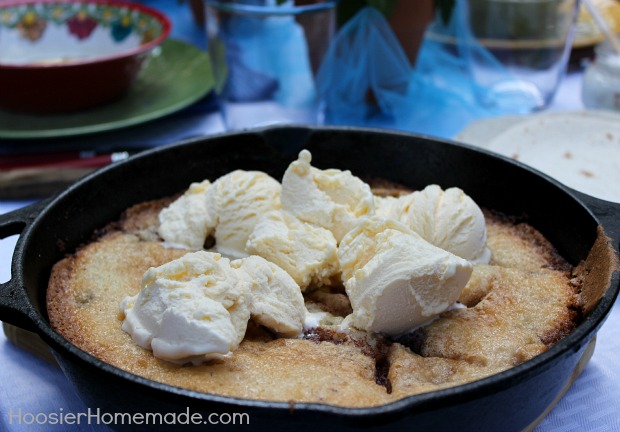 Straight to the table from the grill and serve with big scoops of vanilla ice cream.
Grilled Peach & Blueberry Cobbler
Enjoy fruit cobbler without heating up the kitchen. Recipe from HoosierHomemade.com
Ingredients
1/4 cup butter
1 1/4 cup Bisquick mix or Homemade Baking Mix
1/2 cup + 1/4 cup sugar
1/2 cup milk
1 medium peach - about 1 cup sliced
1 cup blueberries
1/2 teaspoon cinnamon
Instructions
Heat grill to medium-high heat, then place cast iron skillet on grill to heat
In a small bowl, combine Bisquick, 1/2 cup sugar and milk, beat 30 seconds
In small bowl combine 1/4 cup sugar and cinnamon, set aside
Melt butter in skillet
Pour in dough mixture
Top with fruit
Sprinkle fruit with cinnamon/sugar mixture
Cover grill and cook for about 30 minutes or until a toothpick comes out clean
Serve warm with vanilla ice cream, if desired