Grilled Cheese Recipe with Ham and Pineapple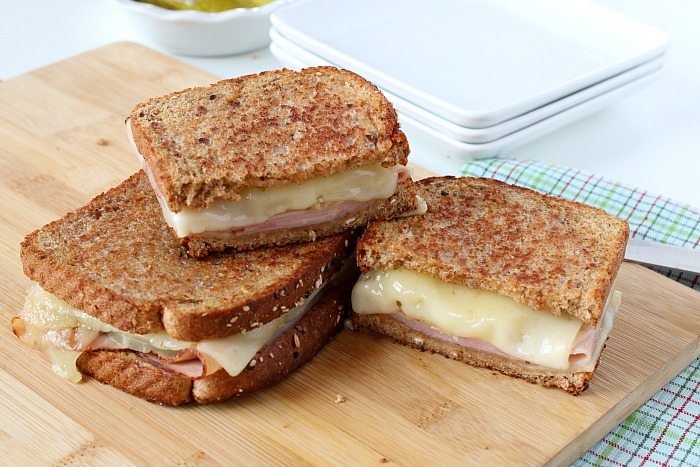 It's time to change up your ordinary grilled cheese! Give this Grilled Cheese Recipe with Ham and Pineapple a try! It might just surprise you!
Post sponsored by Mirum Shopper but all opinions are my own.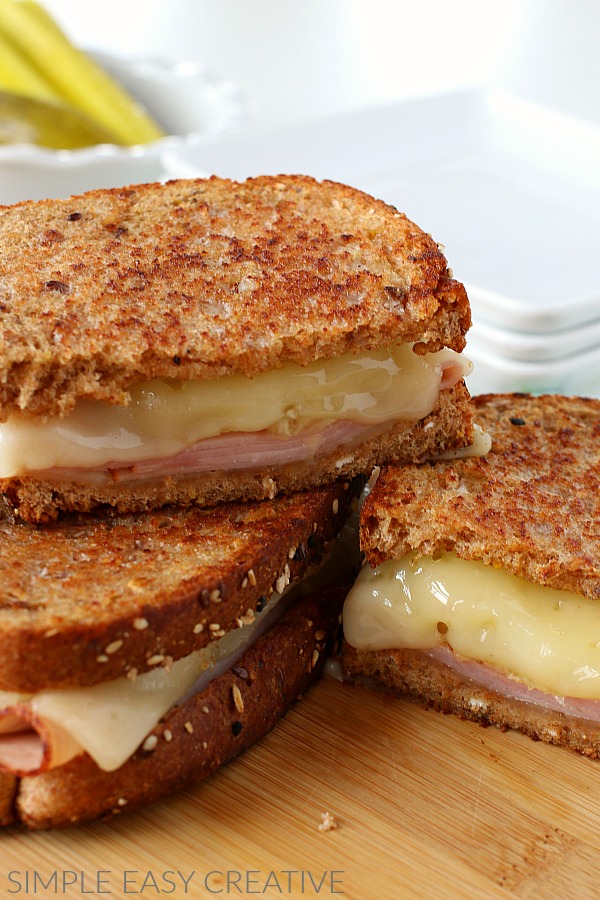 There isn't a holiday that comes around that I don't cook a big meal for. Now, I have learned to keep to simple, but I still enjoy cooking, and I enjoy the leftovers. Sometimes that is the best part, you know?
When you are doing your grocery shopping, it is really easy to grab an extra ham or turkey. They are most often on sale as well, which will save you some money on your grocery budget.
There are so many delicious recipes that you can make using leftover ham. Today we are whipping up this amazing Grilled Cheese Recipe with Ham and Pineapple. You could certainly leave the pineapple off, but I think it pairs really well with the ham and swiss cheese.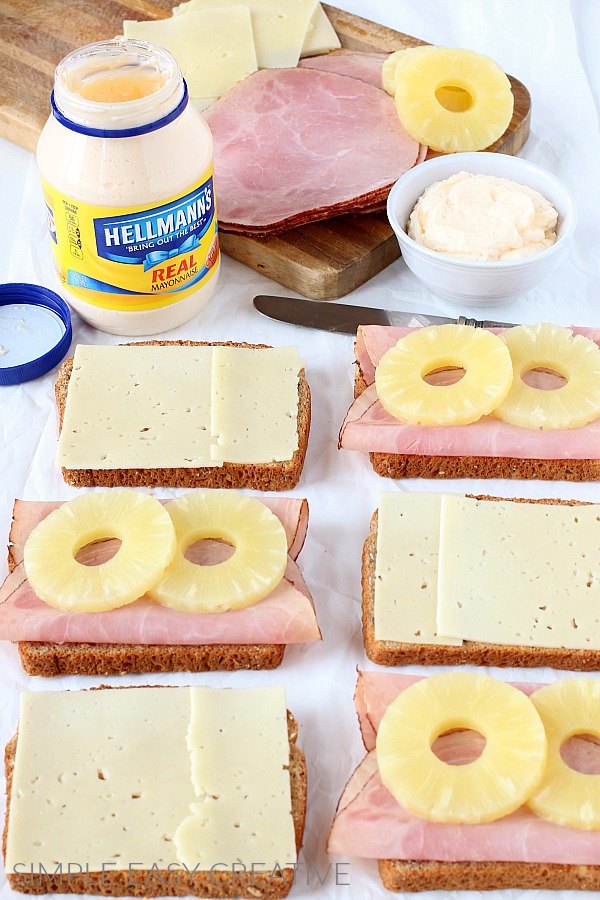 A Grilled Cheese Sandwich by itself is a pretty simple recipe, however there are a few tricks that I have found that make the sandwich even more incredible!
Tip #1
Use a good quality bread. While I love grilled cheese made with white bread, using a good whole grain bread makes it taste even better. It's also best if it's a firm bread so it doesn't get soggy.
Tip #2
Use Hellmann's Mayonnaise instead of butter. It gives the outside of your sandwich a crisp coating that is delicious!
Tip #3
Assemble sandwiches ahead. Lay out the bread, then add your ingredients in layers. For this grilled cheese, I added swiss cheese, 2 slices of ham and pineapple slices. It's best to use canned pineapple because it's a bit firmer than fresh pineapple.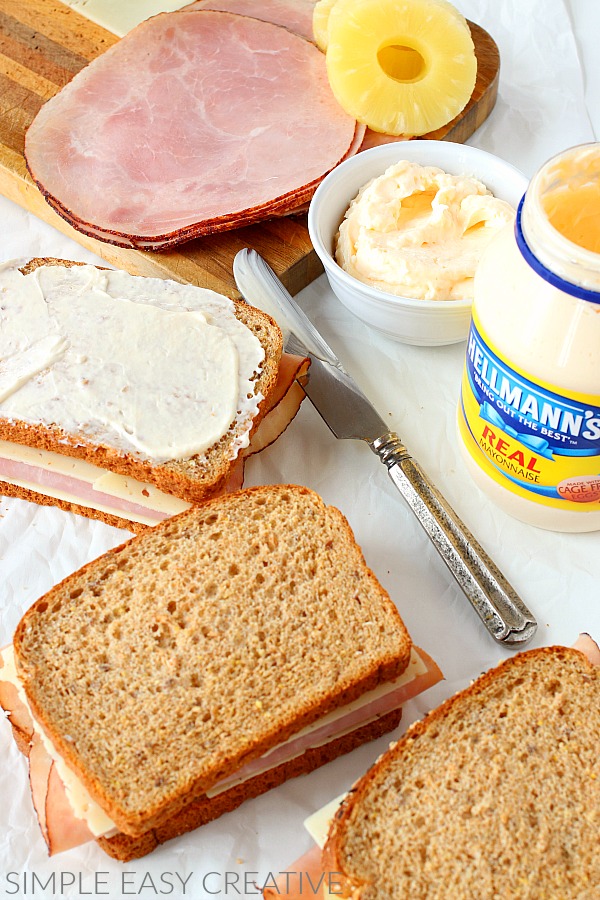 Now it's time to cook the Grilled Cheese Sandwich. Spread Hellmann's on one side of the bread and assemble the sandwich.
Then heat your pan to medium and add the side with the mayonnaise down first, spread more mayonnaise on the other side.
Cook for 2-3 minutes or until the bread is golden brown, flip and continue cooking until the cheese is melted and the bread is browned.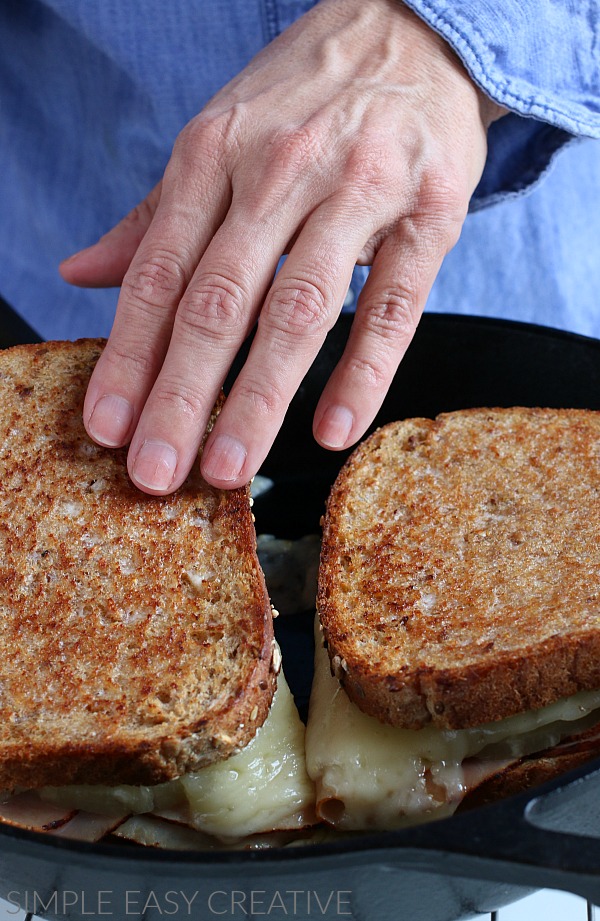 We like lots of cheese on our sandwiches, and have found it taste best when it's soft and melted, so be sure to cook the grilled cheese long enough. You can also put a lid on top of the pan to melt the cheese, if you like.
Sometimes we can get into a rut when using leftovers. Perhaps this Easter, you can have fun with the family and everyone can create their own sandwich. How will you use your leftovers to create a Strangewich?
Or maybe you need a quick meal the night before Easter? How about this Pepperoni Pizza Grilled Cheese?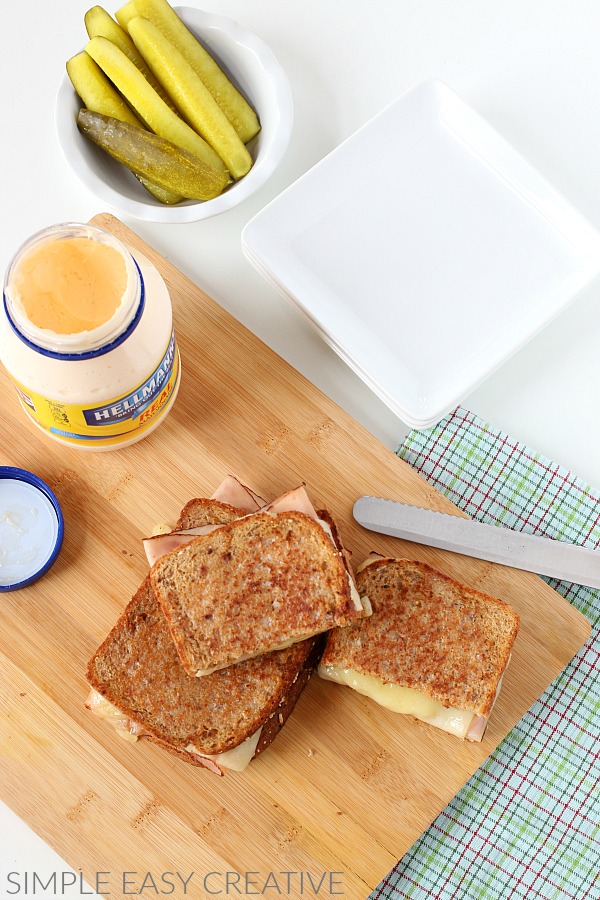 I found everything I needed for this Grilled Cheese Recipe with Ham and Pineapple at Kroger. They have all you need for Easter and Hellmann's for your Grilled Cheese #perfectlystrangewich