One of our families Fall traditions, is apple picking. We are very lucky to live in a area that offers many u-pick farms. The farm we usually pick at offers a wagon ride, fresh apple cider samples and tons of great apples to choose from.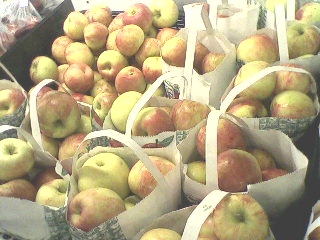 I typically bake pies in the Fall and around the holidays, and just couldn't pass up the apples today. And having the Fall Festival this week was another great reason to bake.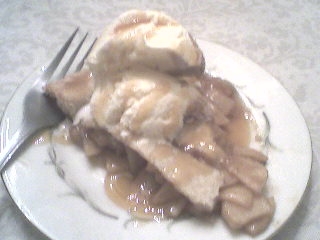 Golden Apple Pie
Ingredients:
6 c. Golden Delicious Apples, peeled and sliced
3/4 c. plus 2 T. Apple Juice (or apple cider)
3/4 c. Sugar
1 t. Cinnamon
1/2 t. Apple Pie Spice
2 T. Cornstarch
1/4 t. Vanilla
Directions for Filling:
In a saucepan, combine apples, 3/4 c. juice, sugar, cinnamon, and apple pie spice and bring to boil. Combine cornstarch and 2 T. juice, add to mixture, return to boil, stirring constantly. Cook and stir for 1 minutes or until thickened. Remove from heat and add vanilla. Cool to room temperature, stirring occasionally.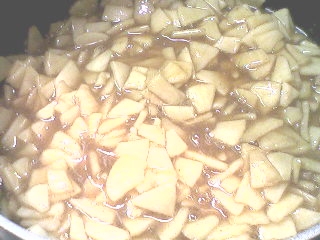 Pie Crust
Ingredients:
2 c. Flour
1 1/2 t. Salt
1/2 c. Oil
5 T. Ice Cold Water
Directions for crust:
Food Processor method – Sift together flour and salt and add to processor, put lid on. In a measuring cup, combine oil and water, pour into tube and mix dough just until combined.
Traditional method – Sift together flour and salt. In a measuring cup, combine oil and water, add to flour mixture all at once. Stir with a fork until combined.
Form dough into 2 balls, flatten slightly. Roll each between wax paper. Place one crust into pie plate and prick bottom with a fork, fill with apple pie filling and add top crust. Seal edges as desired (fork, crimping etc.)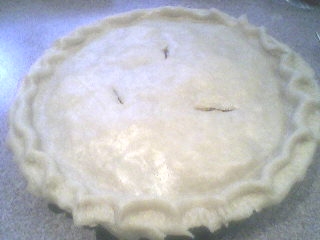 Place pie on a cookie sheet with edges in case of drippings. Bake pie at 400 degrees for 45 –  60 minutes or until golden brown and filling is bubbly.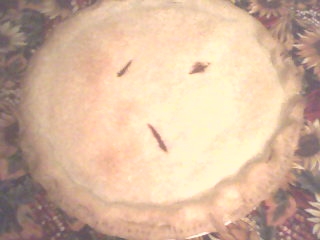 For more great blog carnivals, please visit:
~Save Room for Dessert hosted by The Krazy Kitchen
~Slightly Indulgent Mondays hosted by Simply Sugar & Gluten Free
~Tempt My Tummy Tuesday hosted by Blessed with Grace
~Tuesdays at the Table hosted by All the Small Stuff