This post is brought to you by Krylon. Hang around here long enough and you'll realize one thing. It's very difficult for me to let anything go. My sons are always questioning why I keep things, especially when they are beat up, broken down and in generally bad shape. I think it stems from years of not having the extra money available to buy new things so my tastes and style has evolved to loving old dilapidated items. Sometimes I'll take the worse items and re-purpose them into something amazing! Garden Art from Re-Purposed Shutters.
Pssst!…There's a giveaway at the conclusion of the post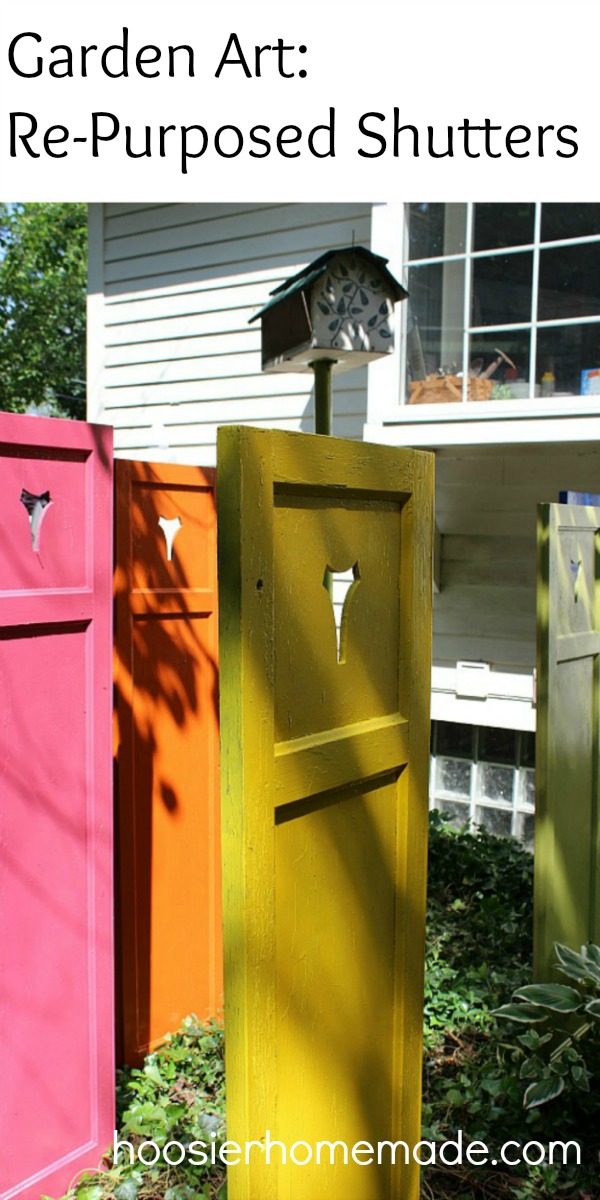 When we moved into this house several years ago we found a small room in the basement where the previous owners had left some items. It turned out to be a treasure trove, I've used pieces from that room in decorating almost every room in our house. An antique kid's car, old railroad lanterns and even a postal cabinet that came from an old historic hotel in our town.
When I first ran across these shutters I immediately loved them, the hand painted floral  motif reminded me of my father so I naturally found a place in the house to use them.
As you continue to get to know me the second thing you'll figure out is I am constantly changing, I switch my decor with every season and there have been many times that Doug has left the house to run errands and comes home to a living room that is completely different from when he left.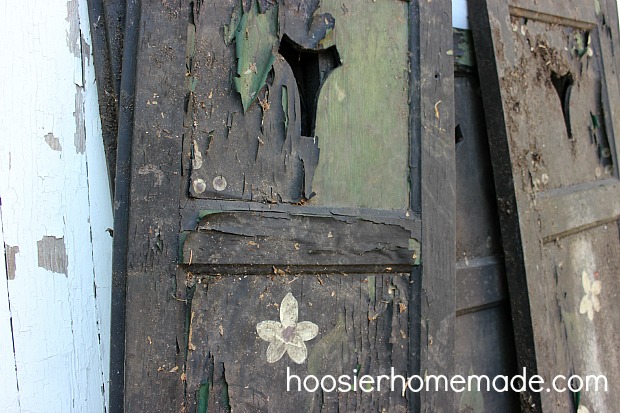 So the story continues, after a year or so of having these shutters in the house, (sounds a little weird) I decided to use them as architectural pieces in our landscape…..BIG mistake. Obviously the paint they had used was not an exterior grade and it started to peel. It probably didn't help that they were left out during this past winter, but I still had a use for them. And after explaining to Doug what my vision was I turned him loose to let him work his magic.
Let's see how he did it…
As you probably noticed the shutters are really beat up and the paint and wood has dried out considerably. I could use a power washer to clean them up but I was concerned with how fragile the wood was so I chose to scrap the loose paint off with a 3 inch plastic scrapper so as not to gouge the wood. I wanted to keep some of the character of the old paint so I didn't sand them down after scraping.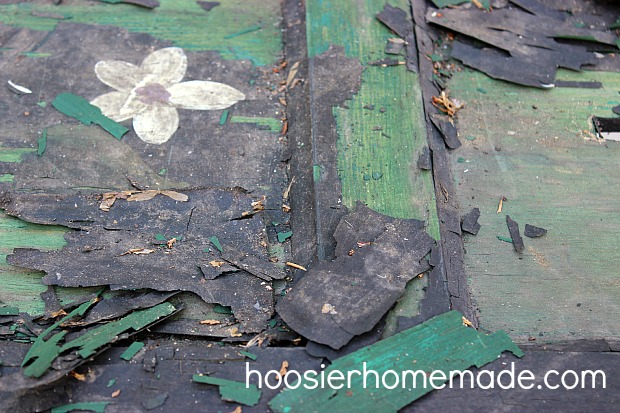 With the loose paint removed I knew that the wood would really soak in any paint I applied and that I needed an excellent paint that would cover in a few coats. I chose to go with Krylon's newest product, their ColorMaster enamel paint available at Walmart. First a couple coats of primer.Then the topcoat. I used Ivy Leaf, Sun Yellow, Regal Blue, Pumpkin Orange, and Watermelon. But you can choose from nearly 100 colors and finishes, including enamels, metallics, primers and clears that features their EZ Touch 360°® Dial spray tip for precise control. The ColorMaster line utilizes their Covermax® technology for premium coverage and brilliant color in fewer coats and produces cleaner, crisper hues and a smoother finish.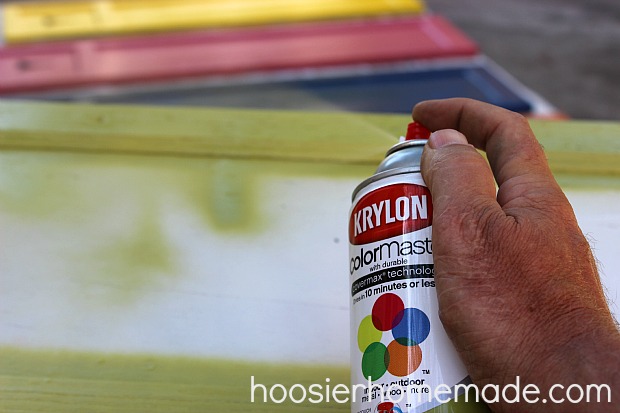 After I was finished painting the shutters, which took less time than I had imagined it would since the Krylon ColorMaster paint can be recoated after only 10 minutes it was time to install them in our side yard to brighten things up a bit.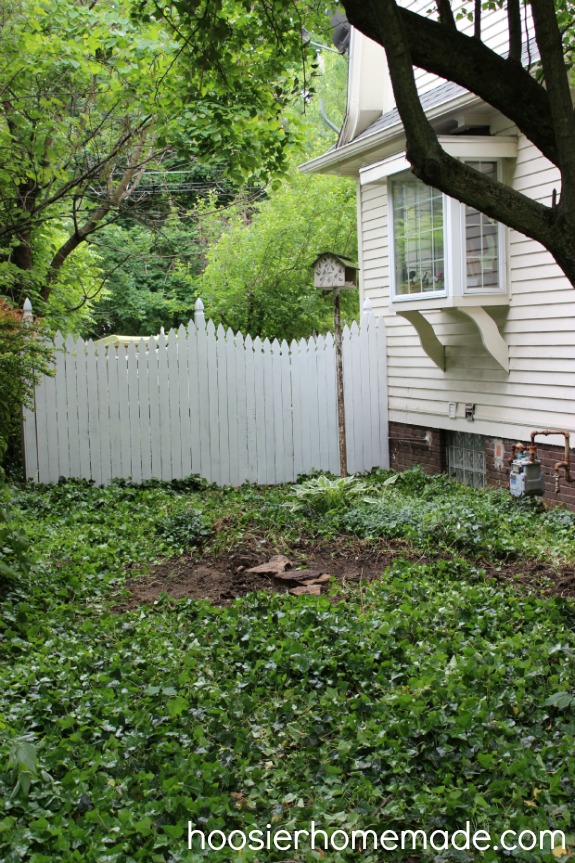 Here's what it looked like before. Well I'm fudging a little, it actually looked a lot worse (big tall weeds and overgrown plants) but I was embarrassed to show you. But it definitely has a little too much green and could stand to be brightened up a bit.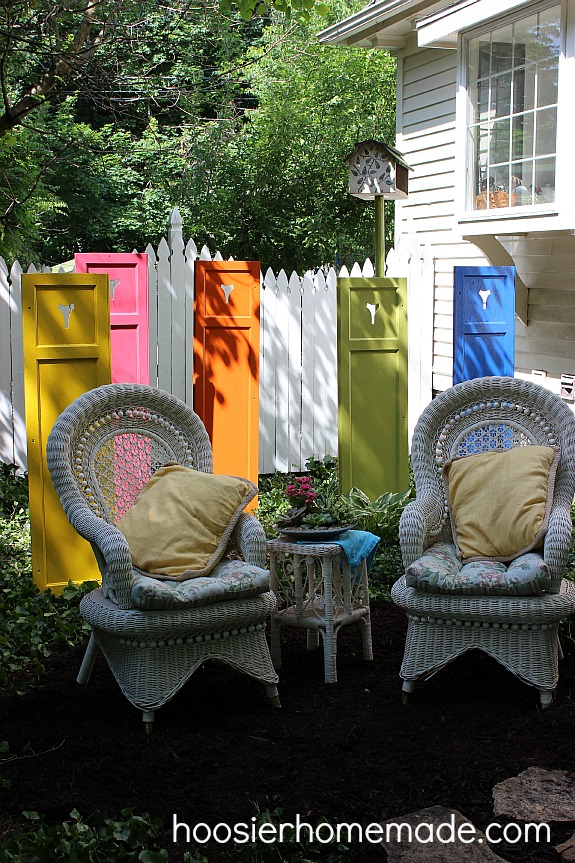 And here's how it looks now after Doug was done. Amazing what vibrant colors, a fresh coat of paint on the fence and a new walkway and vintage wicker chairs can do. The shutters add a huge amount of color to the area and really complete the area. I almost cried when he showed it to me.
Update: The shutter are held up by a wood stake in the ground and then attached to the shutter. You can nail it on or use a heavy adhesive.
Giveaway Closed
The folks at Krylon are so excited for you to try their new product that they graciously are giving away the following…