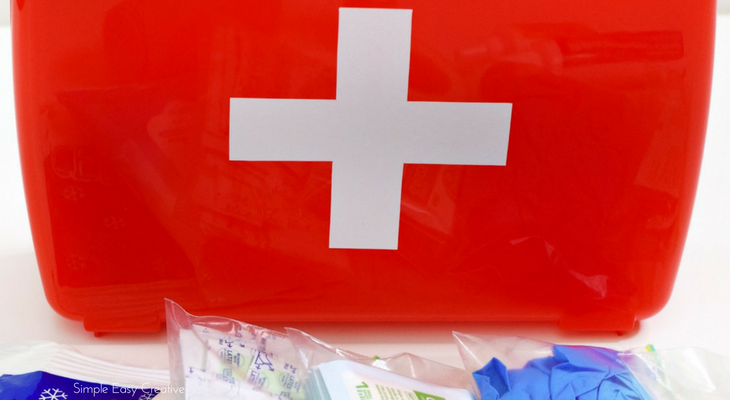 With back to school comes cuts, bruises and other minor ailments. Make sure you are prepared for anything with our First Aid Kit List– and make a perfect first aid kit you can grab and go! We have teamed up with TRP Relief Products to share this post with you! Pink Eye Relief earned the Women's Choice Award in 2017!
Sometimes it feels like someone always needs a bandaid! I tried keeping them in my purse, but that just resulted in a bit mess and dumping out my whole purse. Plus, if ointment or gauze was needed I would spend an hour rummaging under all of our sinks. It was time to make a first aid kit!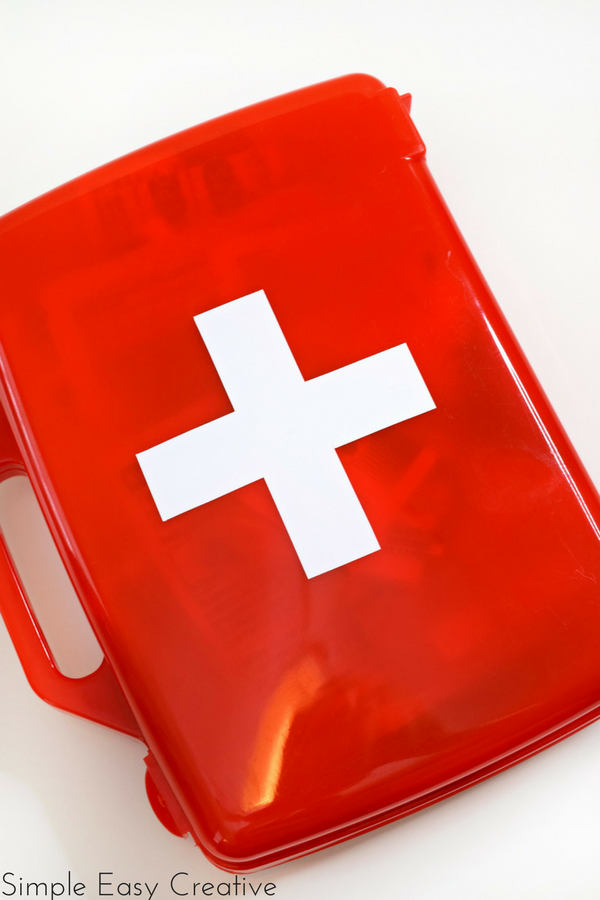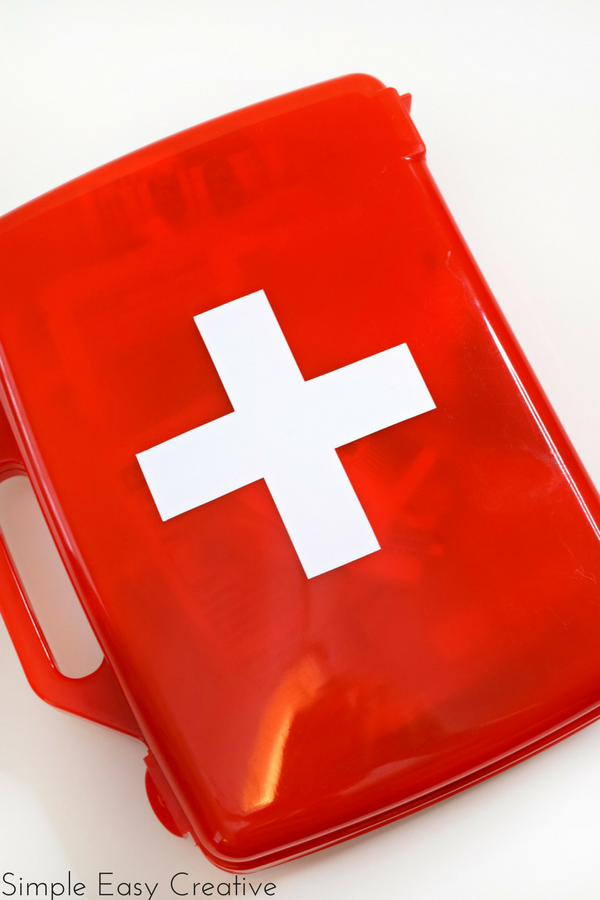 Supplies:
Box To Hold Kit (Can be a lunchbox, pencil case, art supply box, etc.)

Supplies To Decorate Kit (Paint Pens, Nail Polish, Sticker Paper, Etc.)

First Aid Supplies

Snack Size Zipper Bags
Luckily this is an easy project that only takes a few minutes- but saves lots of time! First, find a container that is a good size to hold all of your supplies. An old lunch box or pencil box will work (or grab an extra pencil box when you're school supply shopping!). I'm using a small, plastic art supply box from the craft store.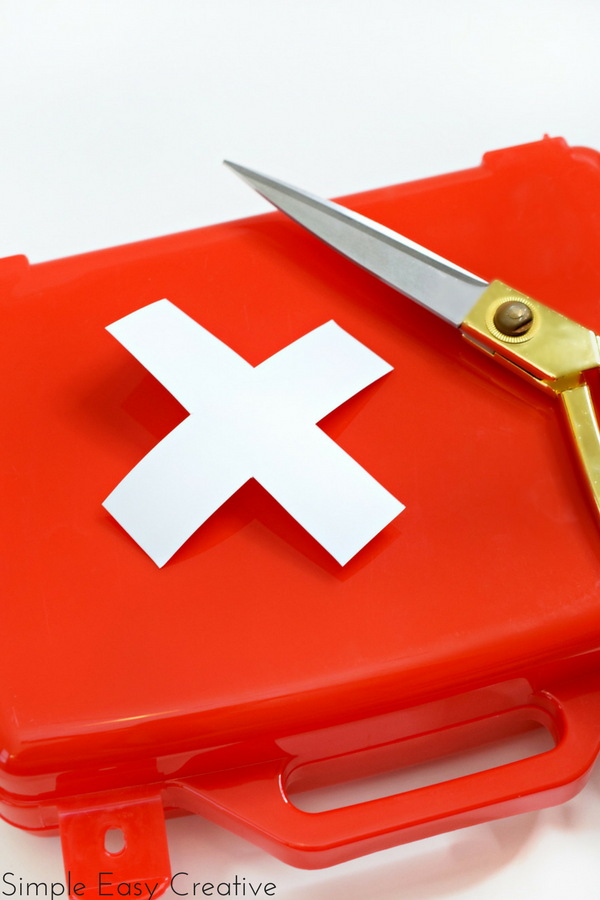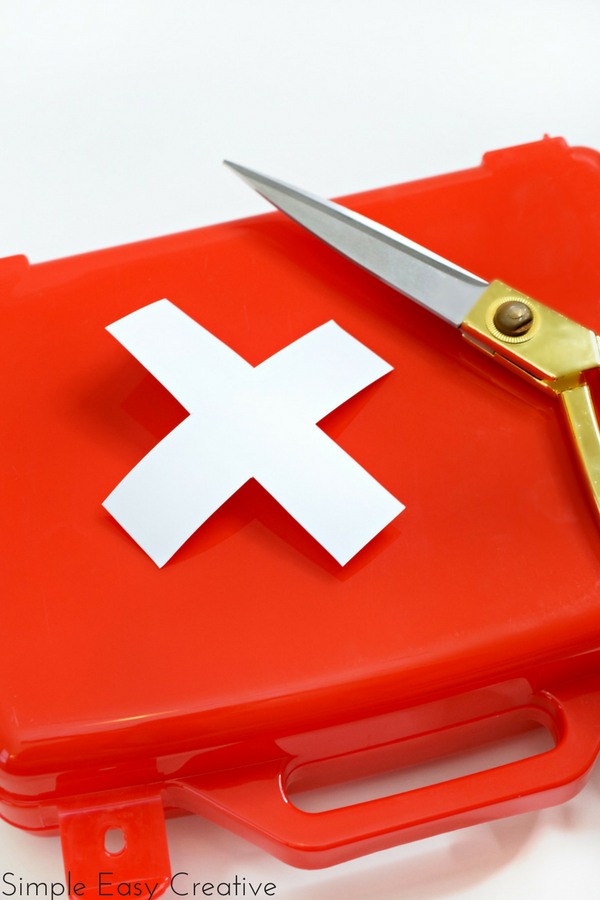 Next, decorate your box to identify it as a first aid kit. I used white sticker paper to cut out a cross shape and applied it to my box. You can also paint on a red cross using paint pens or nail polish.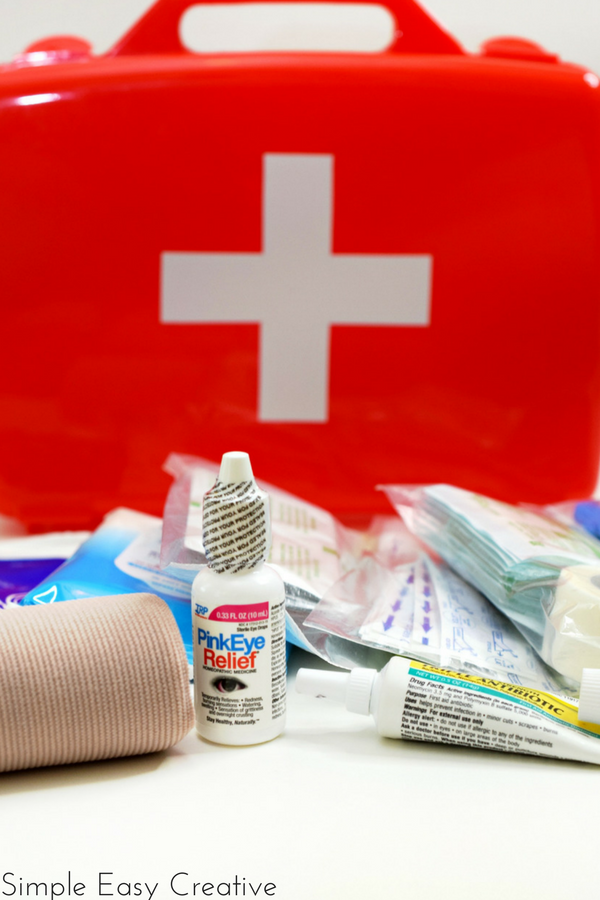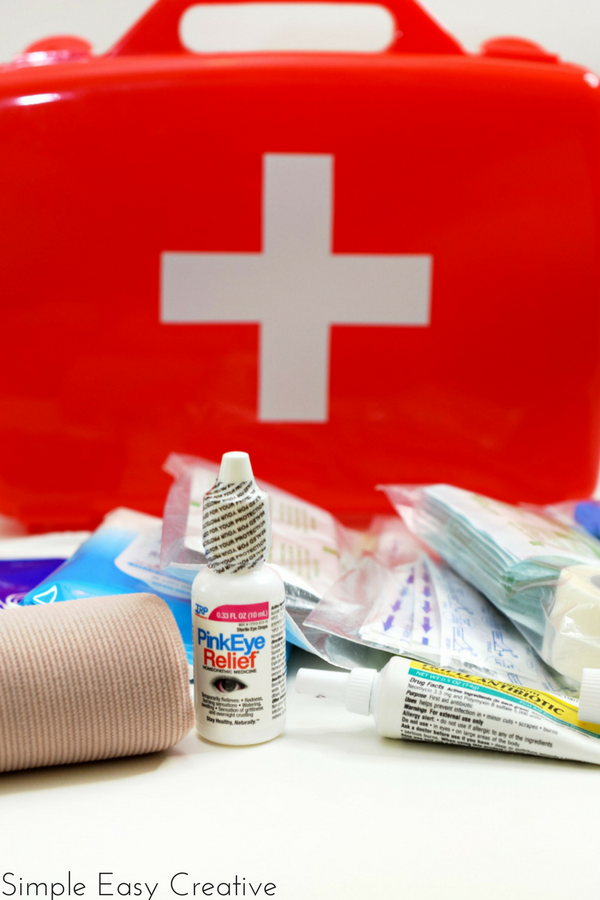 Finally, collect your first aid supplies. Snack size zipper bags are great for helping to organize things like bandages, gauze pads and alcohol wipes- this way they are easily accessible and not a jumbled mess.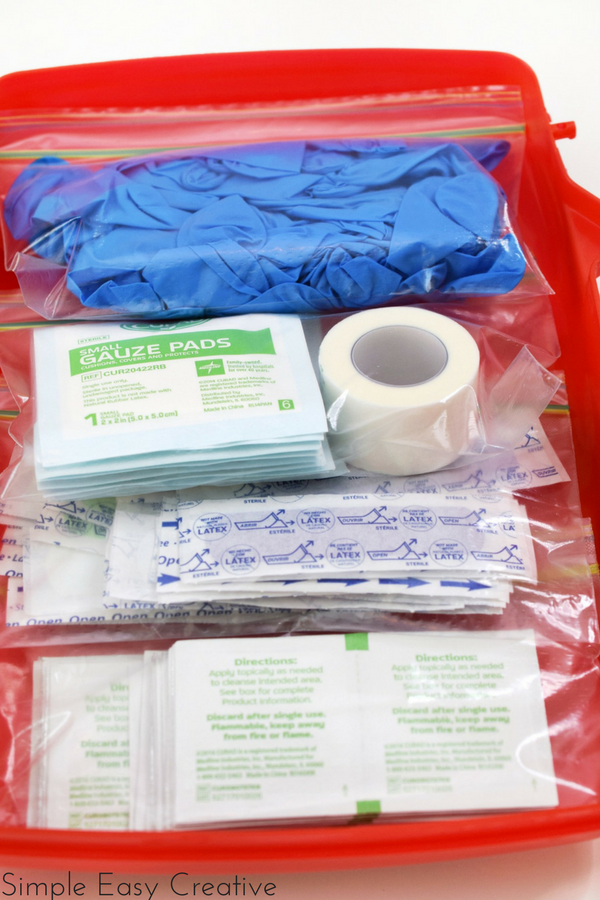 Here is everything I put in my kit!
First Aid Supplies Checklist:
Adhesive bandages

Gauze Pads

Paper Tape

Instant Ice Pack

Elastic Bandage

Hydrocortisone Cream

Antibacterial Ointment

Gloves

Wipes

Alcohol Pads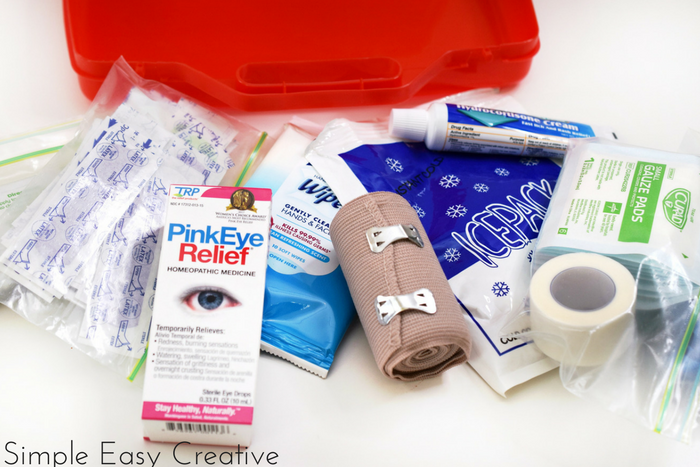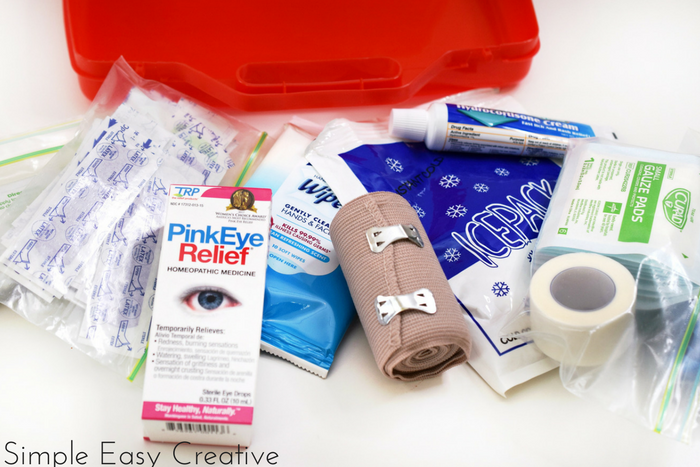 Pink Eye Relief has saved me a time or two- especially when the boys were little. It's safe, gentle, all natural and has no side effects. It helps to ease any pink eye symptoms such as burning, itching, overnight crusting and swelling. Pink eye is not fun, but Pink Eye Relief definitely makes it bearable! You can grab it Wal-Mart, Target, CVS and other retailers.
The rest of the supplies are pretty standard! Make sure to have different sizes of bandages and bandaids- plus an instant ice pack! And of course, don't forget the gloves, wipes and alcohol pads. Safety first!
Finally, stash your kit somewhere easily accessible, and make sure the whole family knows where it is! It is so nice to finally have everything I need in one spot- I am thinking of making another one for the car! Sporting events often lead to little scraps and having my kit handy would be perfect!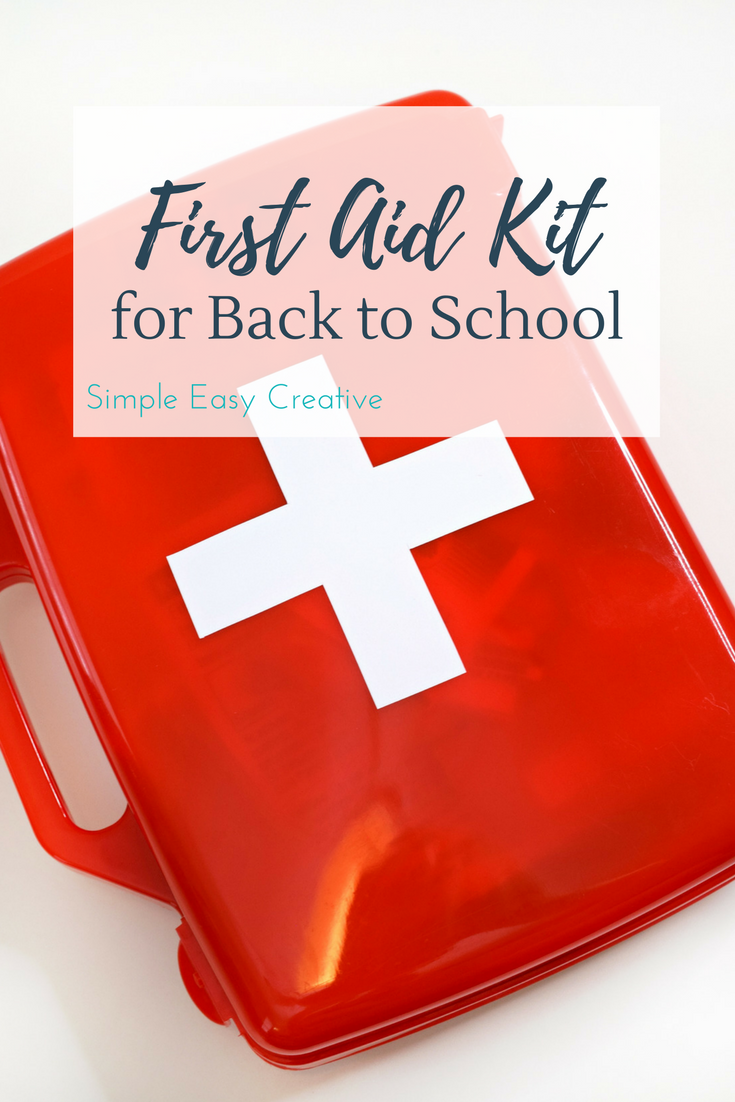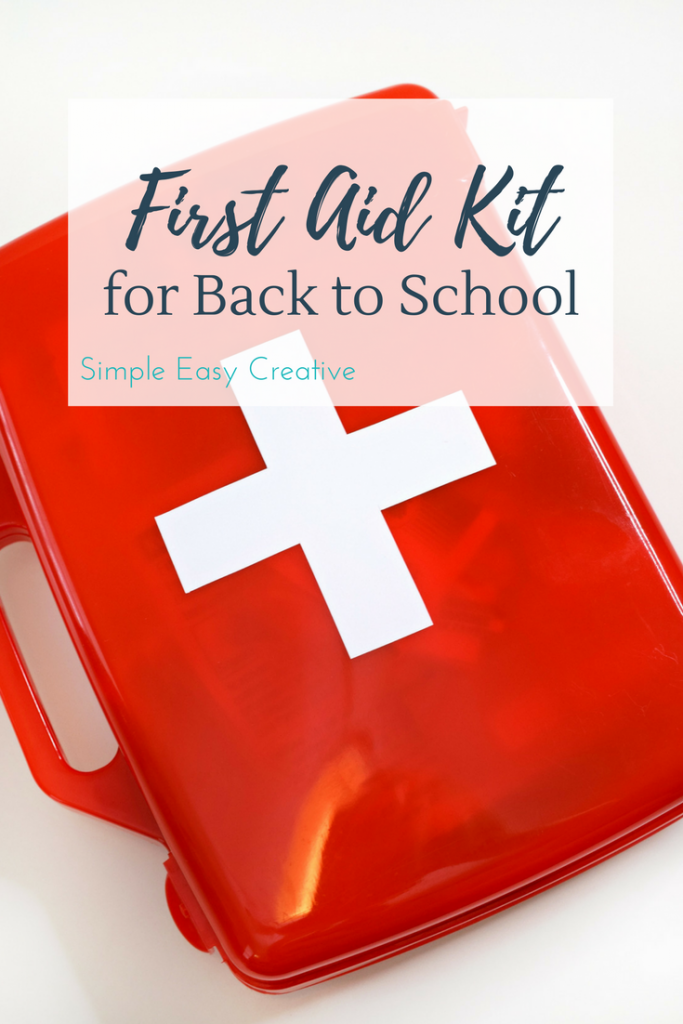 Want to make a great first aid kit? Enter to win a TRP bundle filled with great products to keep you healthy this school year! Click here to enter!