Father's Day Cupcakes and Printable Toppers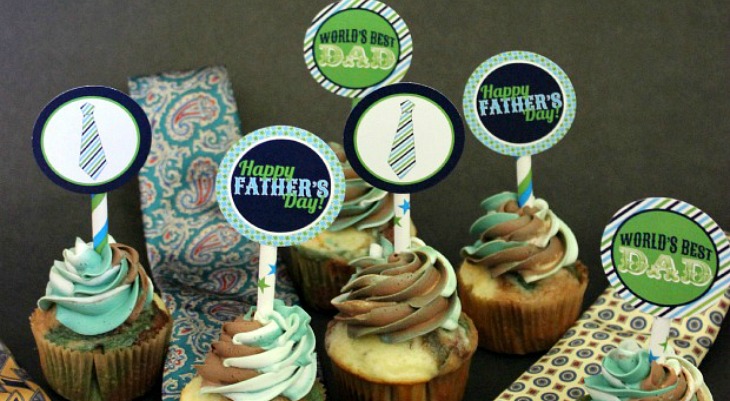 Father's Day is just a few weeks away! Treat Dad like a king and bake him a batch of cupcakes and add these fun Father's Day Cupcakes and Printable Toppers!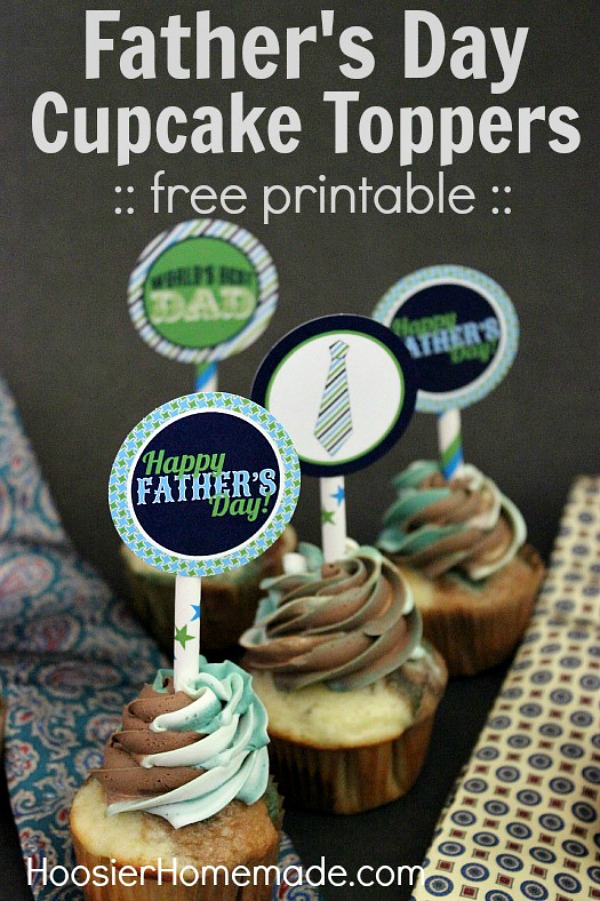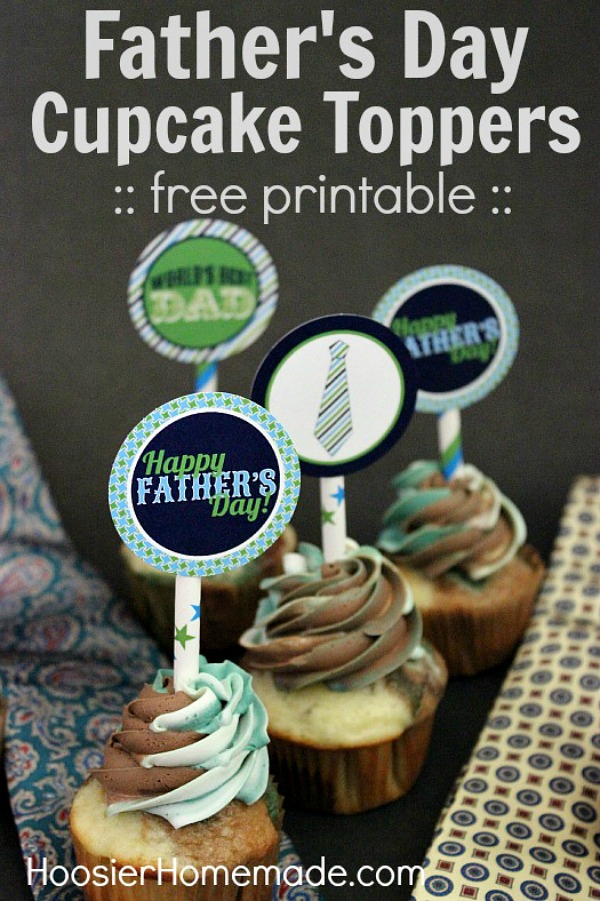 Happy Cupcake Tuesday! I'm so excited you are here! Looking for a cupcake recipe? Be sure to check out the Cupcake Heaven page, there are over 250 cupcake recipes and decorating ideas!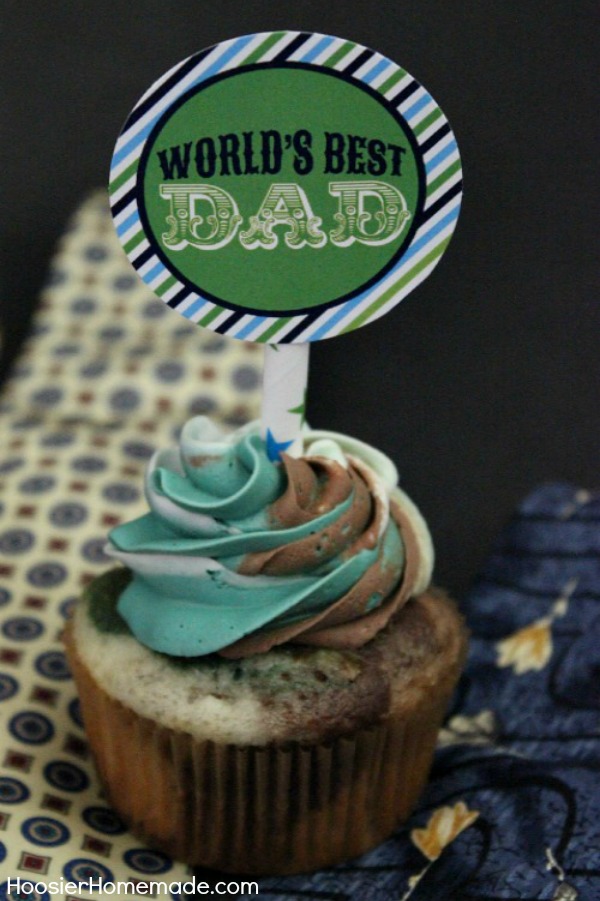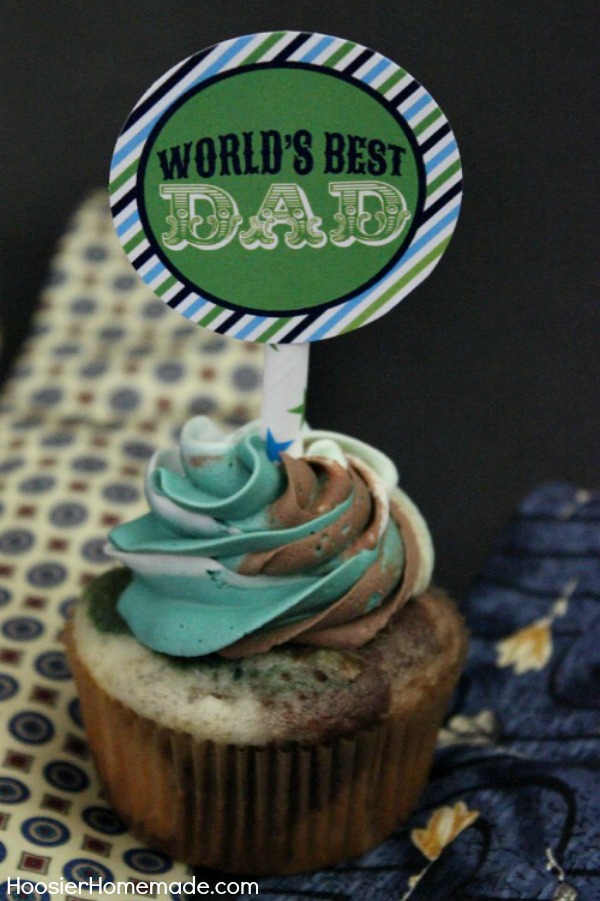 Before we get to the Cupcake Toppers, let's chat about the Cupcakes…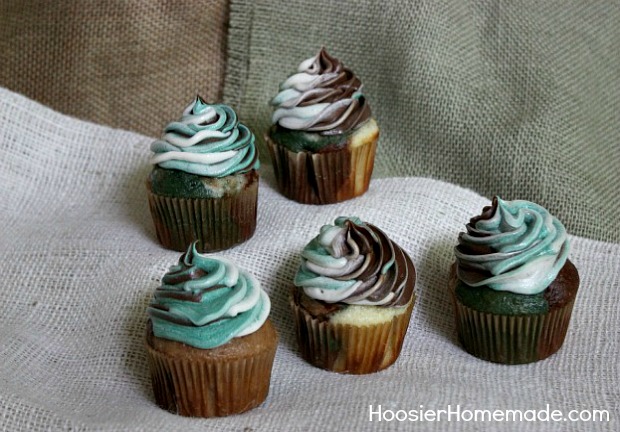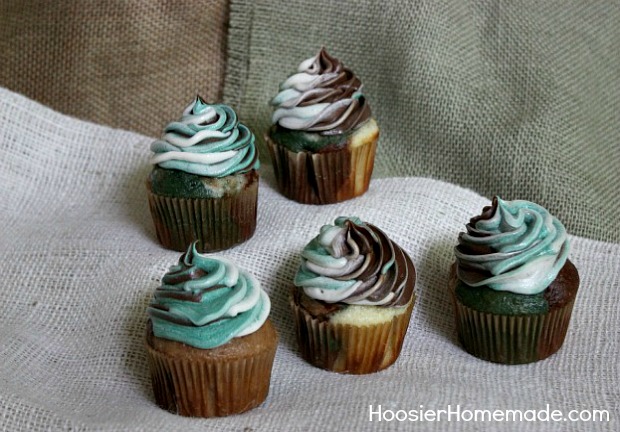 These Camouflage Cupcakes are perfect to celebrate Dad on his special day!  Starting with 1 white cake mix and 1 chocolate cake mix, then topped with Camouflage Frosting. They are as fun to make as they are to eat.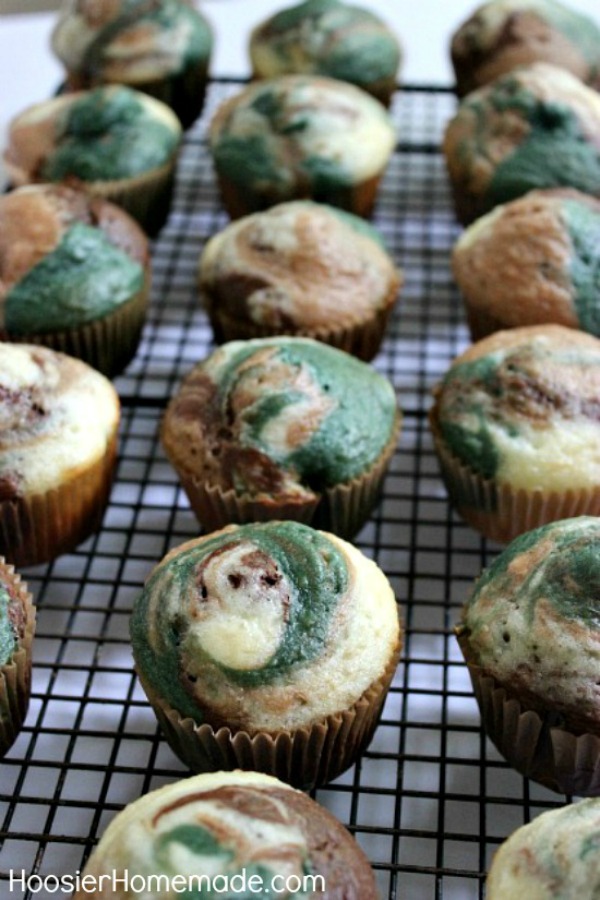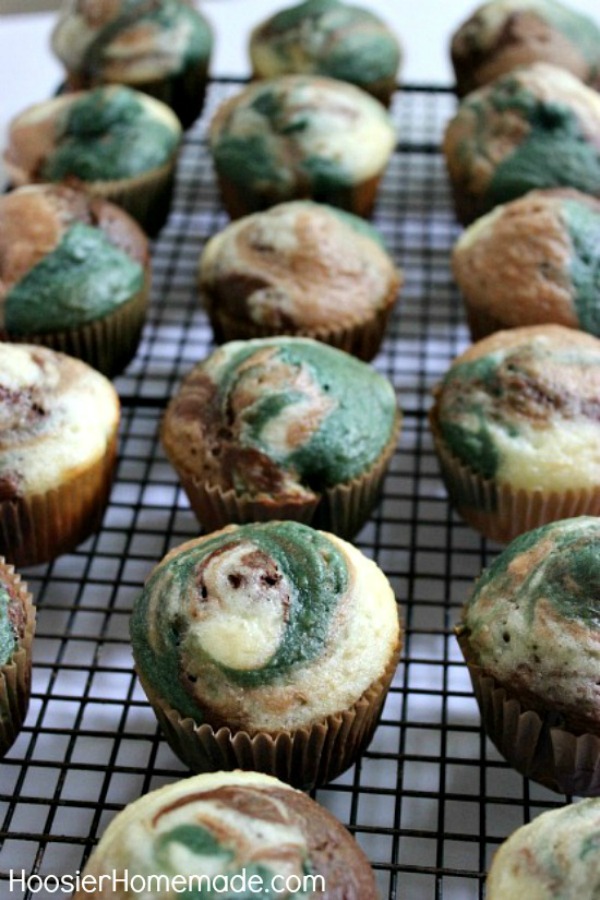 How to make Camouflage Cupcakes
After mixing the white cake mix with ingredients to make it taste more like homemade, then divide  batter into 3 equals amounts – about 1 cup each into separate bowls.
Color 1 part with 3-4 drops green coloring then add 1/4 cup chocolate cake batter, mix well. By adding the chocolate cake batter, you will get the deep green color.
Add 1/4 cup chocolate cake batter to another bowl of white batter, mix well
Leave the third bowl with white cake batter and the remaining chocolate cake batter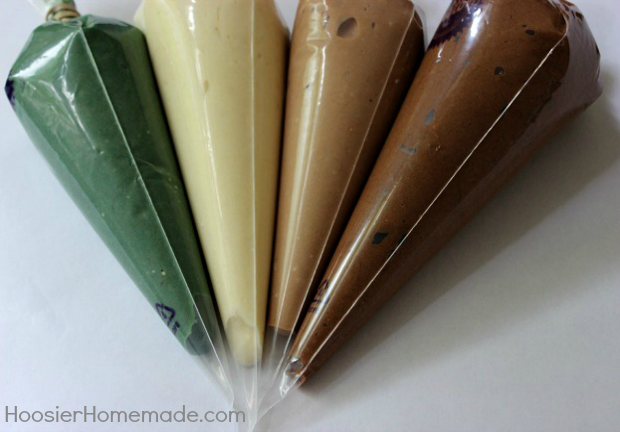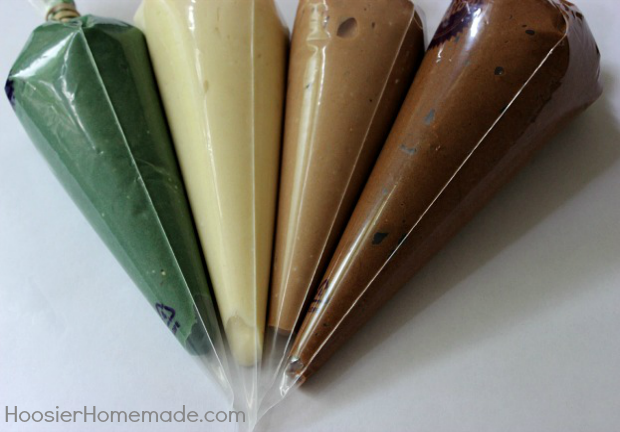 Now it's time to fill the cupcake liners and create the camouflage look.
Preheat oven to 350 degrees and fill muffin pan with cupcake liners
Divide batter into 4 separate bags, you can use decorator bags like I did or any resealable bag.
Add the batter, all colors at the same time into cupcake liners. It's easiest if you have another set of hands to help you.
Use a knife or toothpick to gently swirl the batter.
Bake at 350 degrees for about 15 minutes or until a toothpick inserted in the center comes out clean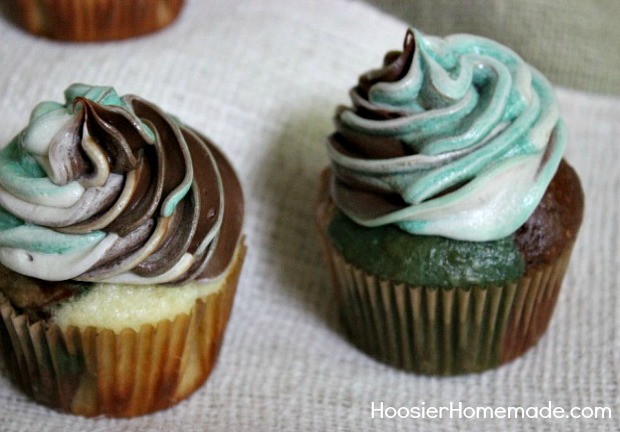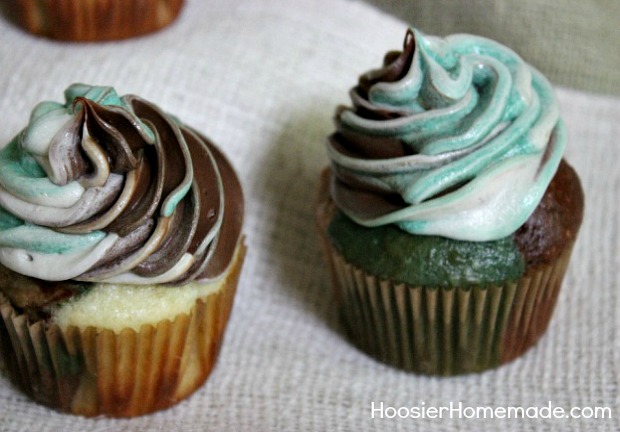 Next comes the frosting, you can certainly add whatever frosting Dad likes best. For these I added multi-colored frosting to match the cupcakes.
How to make Camouflage Frosting
1 batch of Buttercream Frosting
1 batch of Chocolate Buttercream Frosting – add 1/4 cup cocoa to Buttercream Frosting
Note: depending on the number of cupcakes you need, you can also use 1 batch of Buttercream Frosting and divide it in half
Color part of the white frosting with a few drops of Forest Green Coloring
Add green, white and chocolate icing to a decorator bag fitted with a #1M Star Tip
Pipe on frosting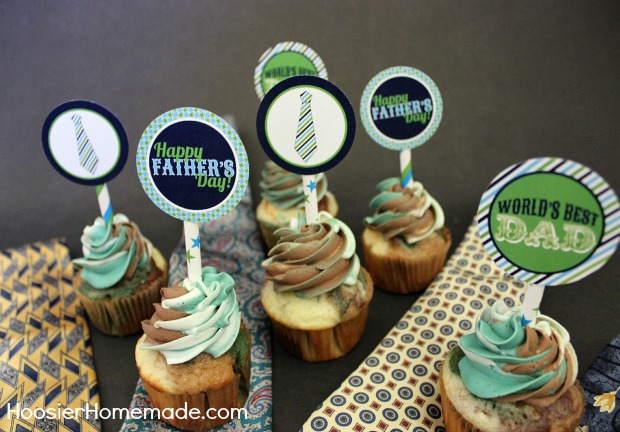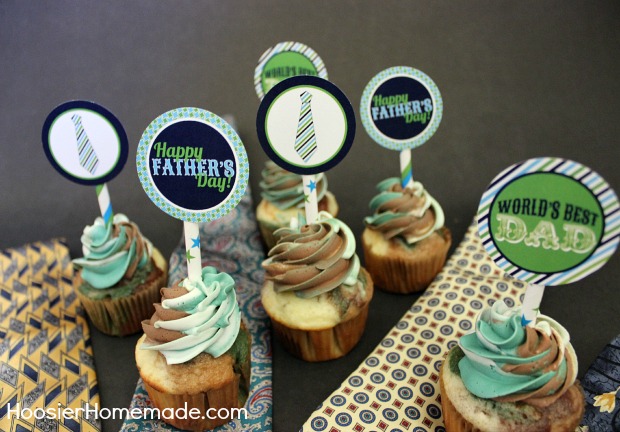 For the Father's Day Cupcake Toppers, after downloading the printables, I cut them with a 2 inch circle hole punch, then taped them to colorful straws. You can also use lollipop sticks or wooden skewers.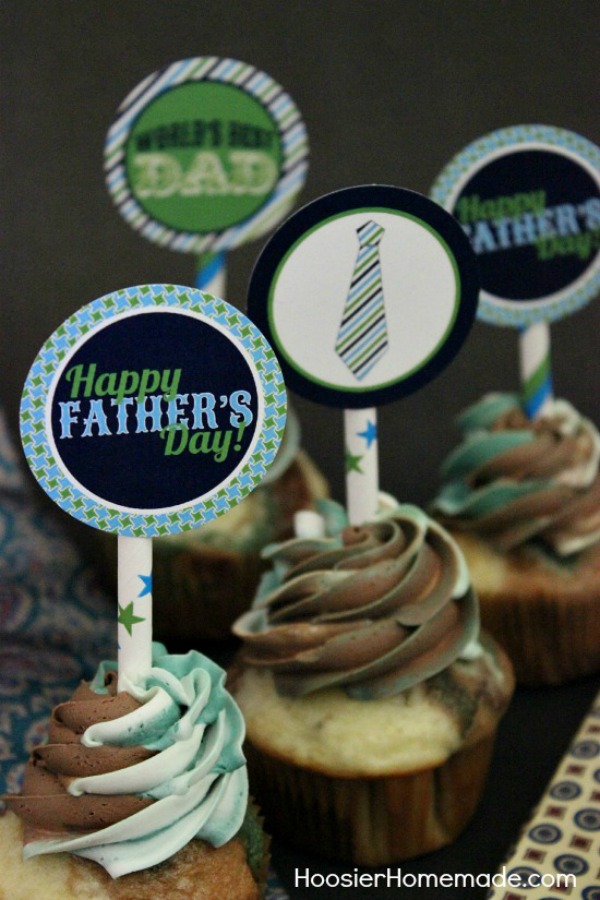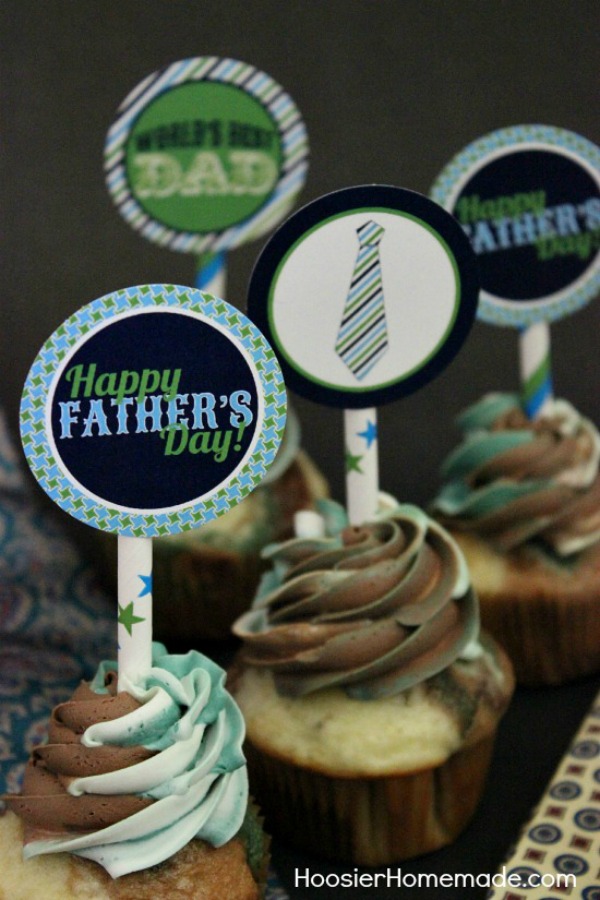 Printable Father's Day Cupcake Toppers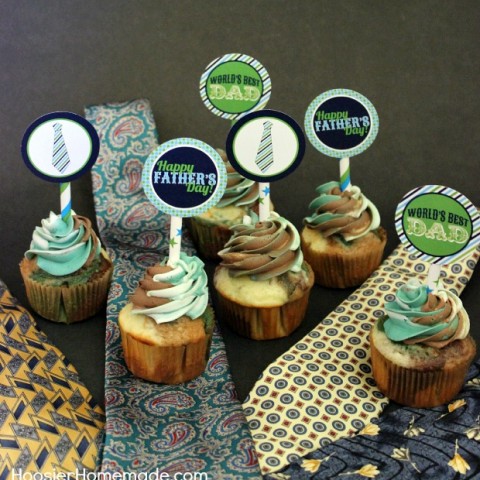 Camouflage Cupcakes
Fun cupcakes for Father's Day, Birthday or any occasion. Recipe on HoosierHomemade.com
Ingredients
Cupcakes
1 white boxed cake mix
4 eggs, 1 cup buttermilk (splash of vinegar in measuring cup & fill with milk, let set a couple minutes), 1/3 cup oil
1 chocolate boxed cake mix
4 eggs, 1 cup buttermilk (splash of vinegar in measuring cup & fill with milk, let set a couple minutes), 1/3 cup oil
Frosting
1 batch of Buttercream Frosting
1 batch of Chocolate Buttercream Frosting – add 1/4 cup cocoa to Buttercream Frosting
Instructions
Cupcakes
Combine white cake mix with eggs, buttermilk and oil until well blended. Set aside
Combine chocolate cake mix with eggs, buttermilk and oil until well blended. Set aside
Divide white cake batter into 3 equals amounts – about 1 cup each into separate bowls
Color 1 part with 3-4 drops green coloring then add 1/4 cup chocolate cake batter, mix well
Add 1/4 cup chocolate cake batter to another bowl of white batter, mix well
Leave the third bowl with white cake batter and the remaining chocolate cake batter
Preheat oven to 350 degrees and fill muffin pan with cupcake liners
Divide batter into 4 separate bags, you can use decorator bags like I did or any resealable bag.
Add the batter, all colors at the same time into cupcake liners. It's easiest if you have another set of hands to help you.
Use a knife or toothpick to gently swirl the batter.
Bake at 350 degrees for about 15 minutes or until a toothpick inserted in the center comes out clean
Cool completely
Frosting
Color part of the white frosting with a few drops of Forest Green Coloring
Add green, white and chocolate icing to a decorator bag fitted with a #1M Star Tip
Pipe on frosting
Notes
Depending on the number of cupcakes you need, you can also use 1 batch of Buttercream Frosting and divide it in half