This Farmhouse Christmas Wreath can be made with just a few simple supplies, and will look great hanging on your front door!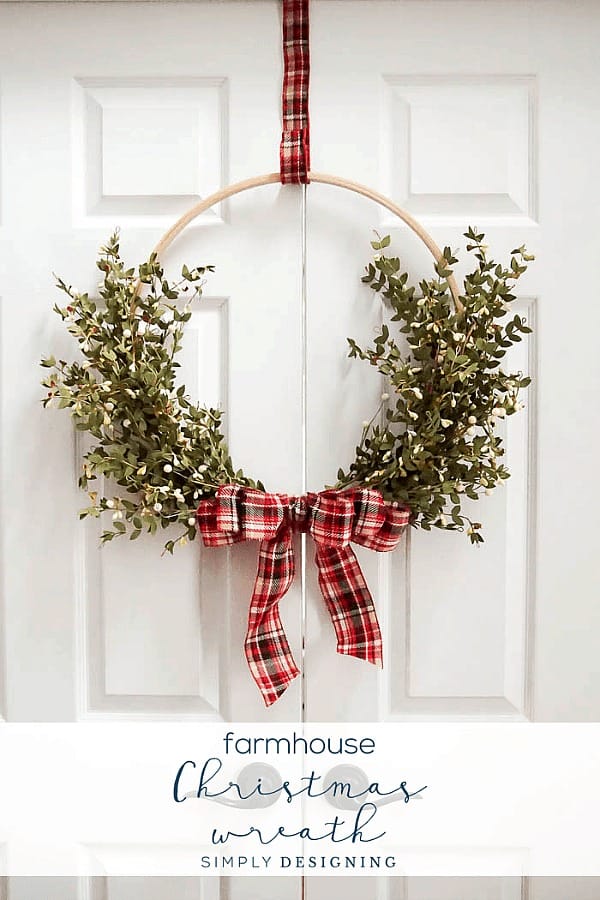 Welcome to Day 31 of the 100 Days of Homemade Holiday Inspiration! Each day we will be inspiring you with recipes, decorating ideas, crafts, homemade gift ideas and much more!
Have you been looking for a Christmas wreath to hang on your door? I've seen hundreds in the stores and they are really expensive, even the simple wreaths are $50-$100 each.
Making your own wreath is not only easier than you think, it also gives you the opportunity to make it the exact color you want, and add special touches that you love.
This Farmhouse wreath is, of course, perfect for Christmas, however I think you could easily change the greenery and ribbon, then make it for any holiday or even to hang on your door year round.
When I was a young girl, embroidery hoops were used only for holding material straight so you could stitch or embroidery on it. Now though, they are used for all different projects, including wreaths, which I think they are perfect for.
Ashley shows you exactly how to attach the greenery to the wreath, tie the bow, attach it then hang the wreath on your door.
Learn how to make this beautiful Farmhouse Christmas Wreath over at Simply Designing.
Follow along with the 100 Days of Homemade Holiday Inspiration for more simple recipes, easy crafts, homemade gift ideas, decorating tips and much more!