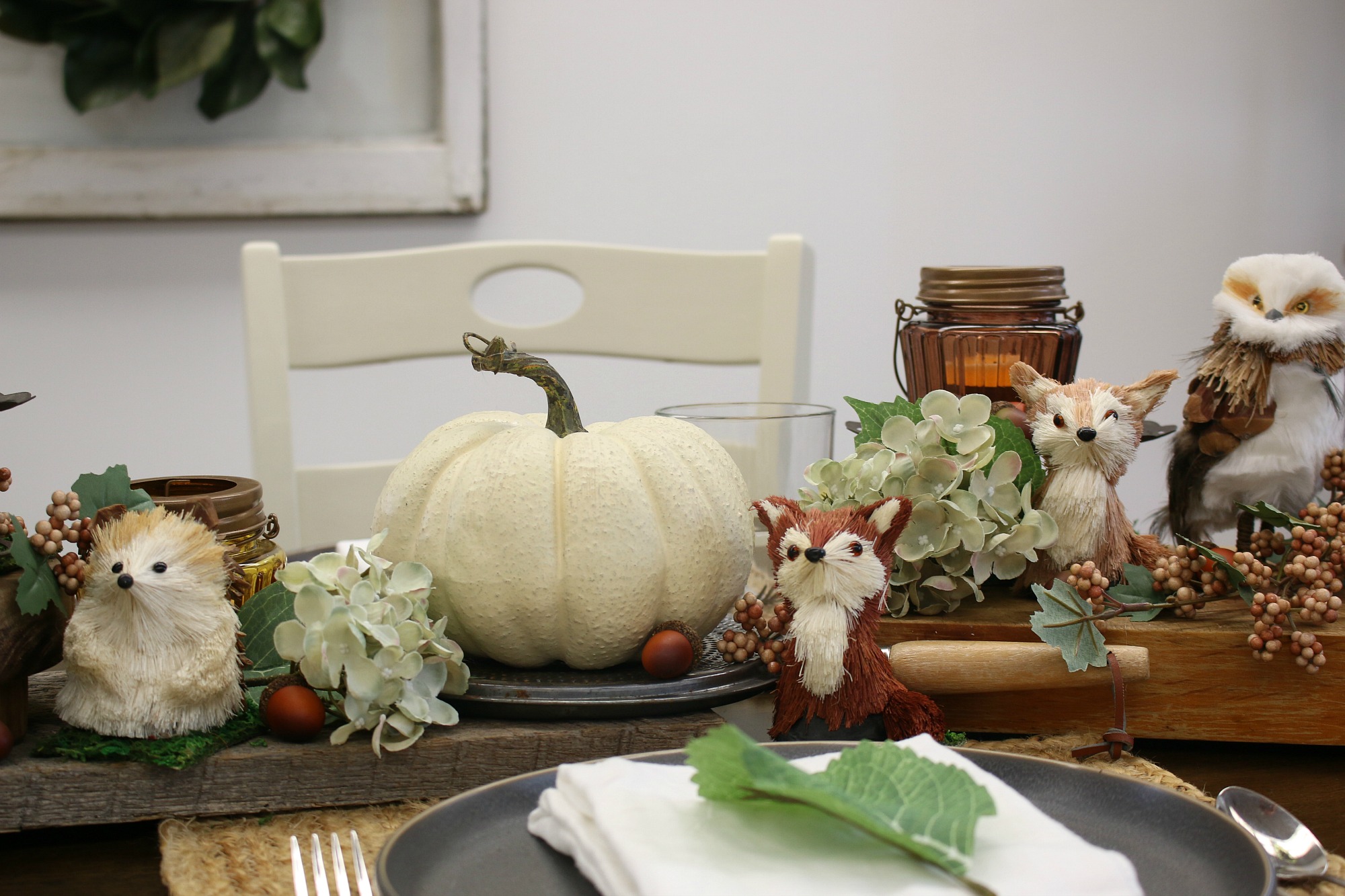 These Fall Table Decorations are easy to create and can stay up during the Fall season, continuing right through to Thanksgiving. Give your home a cozy feeling with these Fall decorating ideas!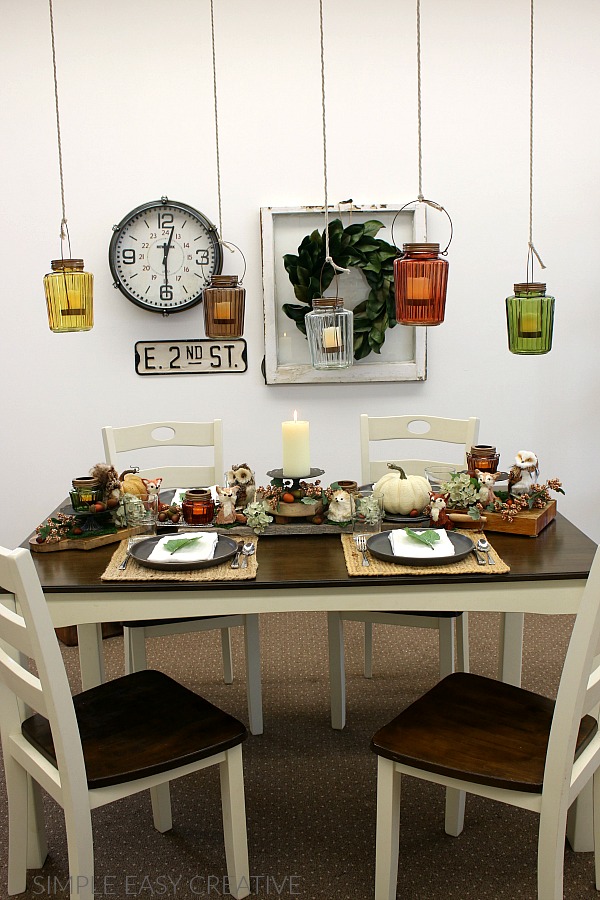 While I do absolutely love Summer, I'll have to say that Fall is my second favorite season! Not only are there gorgeous trees changing colors, and amazing desserts to enjoy like Apple Pie made with fresh apples, but all of the amazing colors there are to decorate with are so fun!
Using a variety of textures and colors, this Fall Tablescape brings together a combination of whimsical, rustic and modern. Michaels Fall Market is open for business! Get all the pumpkins, warm welcoming blooms and decor pieces to update your home fuss-free this fall.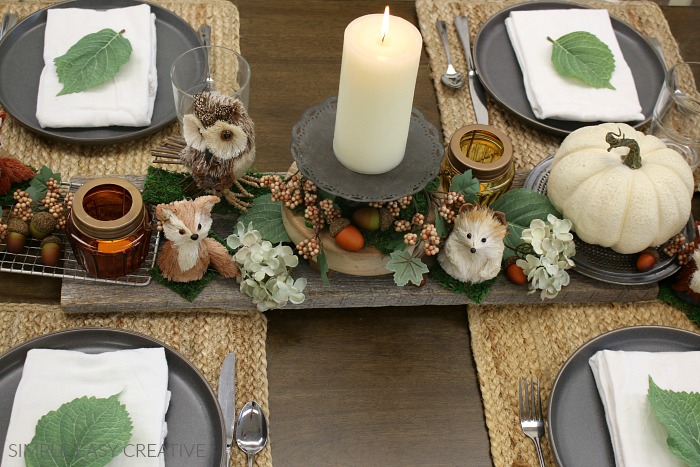 One of my favorite things to do when I'm decorating is to shop my house, I had all the decorations that I had found at Michaels, and now I needed a base or foundation to hold them. Thinking "outside the box" a bit, I headed to where I store all the cutting boards, and pulled them all out, including the two galvanized pieces.
Laying them down the center, I quickly discovered that there needed to be room for the place settings. So then I knew that the larger cutting boards wouldn't work.
The first addition is a piece of wood, and then the other pieces are built up on the ends.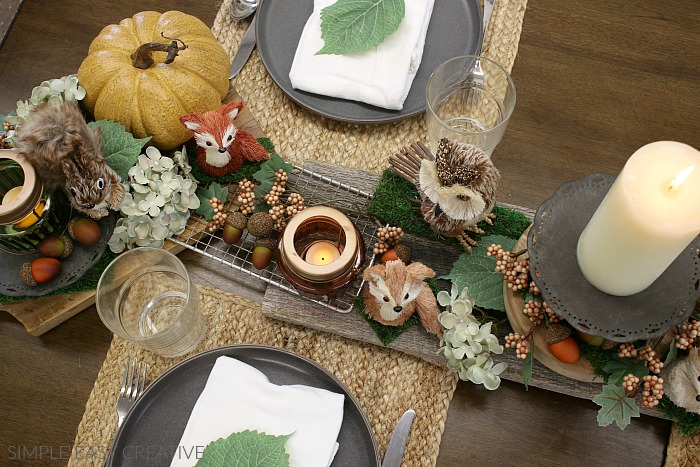 On one end a cutting board set at an angle, and then the galvanized rack was placed to connect the cutting board and wood.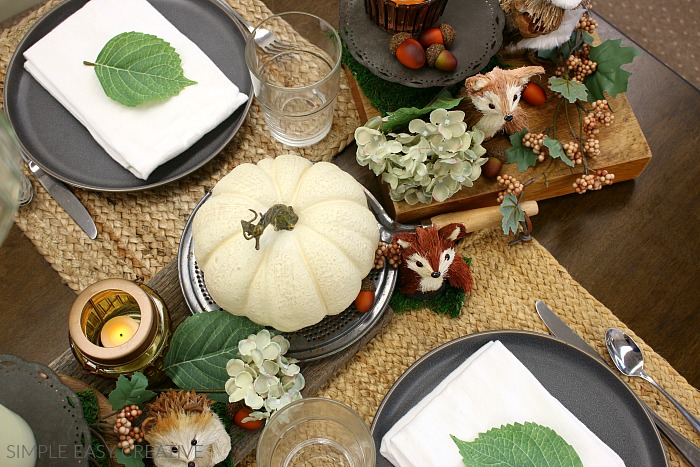 And then on the other end, a square board that is a little thicker to add some height and interest. Then a round Antique heat diffuser to connect to the wood.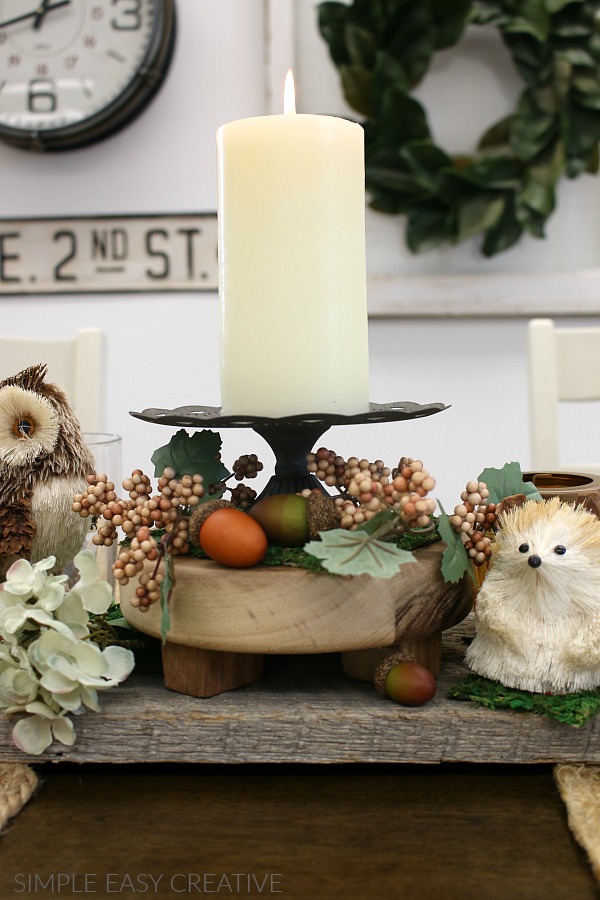 Now it's time to begin adding all the decorations. Working from the center out, I added a small round cutting board to give a little more height. Then the small metal pedestal from Michaels and a pillar candle.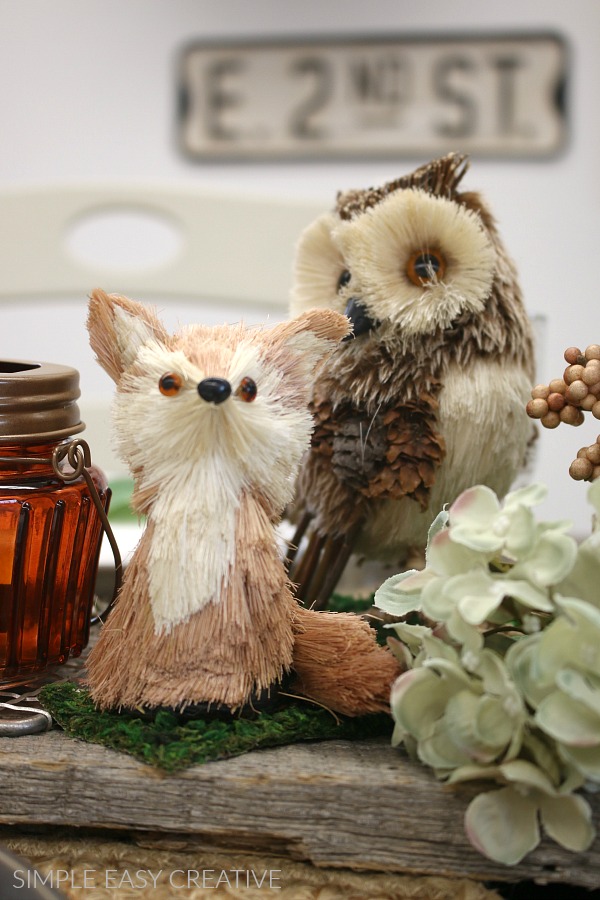 Okay, can we just pause for a minute and talk about these adorable woodland creatures?
I think they add a bit of whimsy to the table, and fit in so well with the other decorations. I used two different styles of owls, a squirrel, a hedgehog and foxes in two different colors.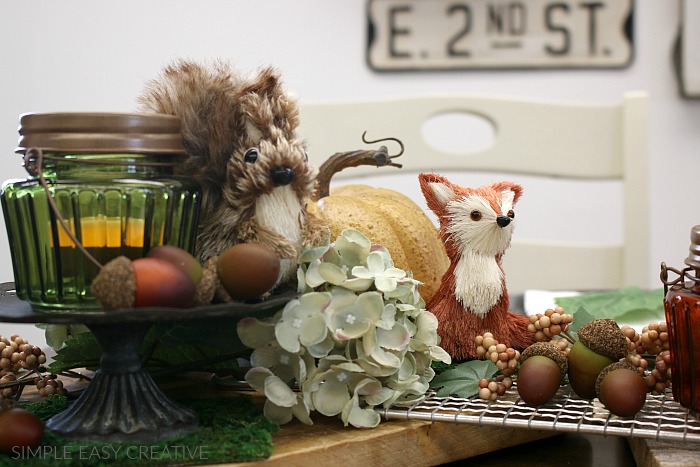 To begin filling in the spaces, it's best to start with the largest items first. The pumpkins were added, and then the small metal pedestal. On top of the stands, I added a Tealight Jar from the Fall candle collection at Michaels. They have gorgeous Fall colors in green, mustard, brown and rust. Then I added Flameless Tea Lights to each jar.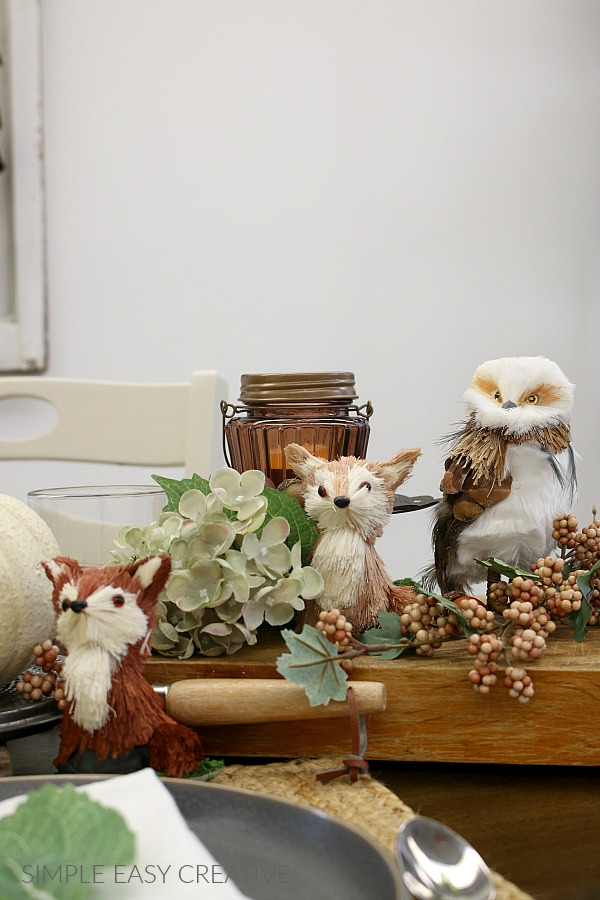 After the larger pieces are in place, then it's time to add the medium size pieces. I added all of the woodland creatures. And then the silk hydrangeas and floral stem. The floral pieces are from a new collection at Michaels that has cooler tones. And they also have a collection with mauve, dusty rose and shades of purple.
When my husband saw that collection, he remembered the colors in our wedding – 30 years ago. It's interesting how styles always come back around.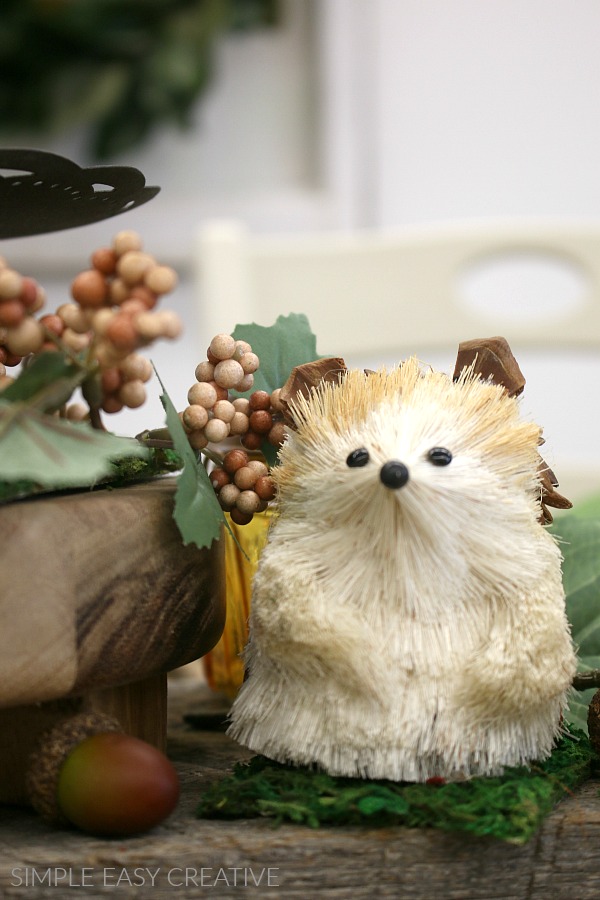 After adding in the woodland creatures, I thought they needed a little green "grass" to sit on, so I cut small pieces of sheet moss.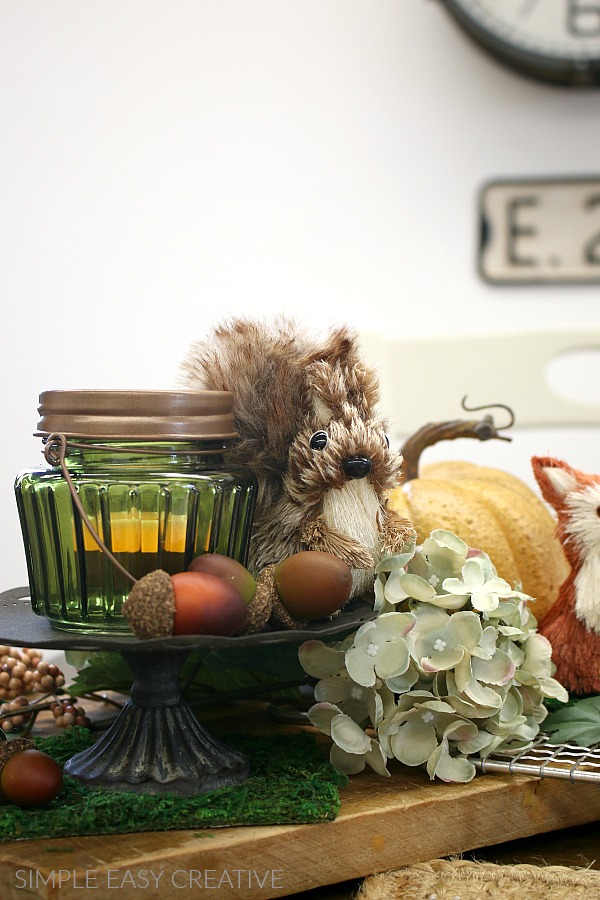 After all the larger and medium size pieces and the floral stems were in place, then I added some of the acorns to fill in the small open spaces.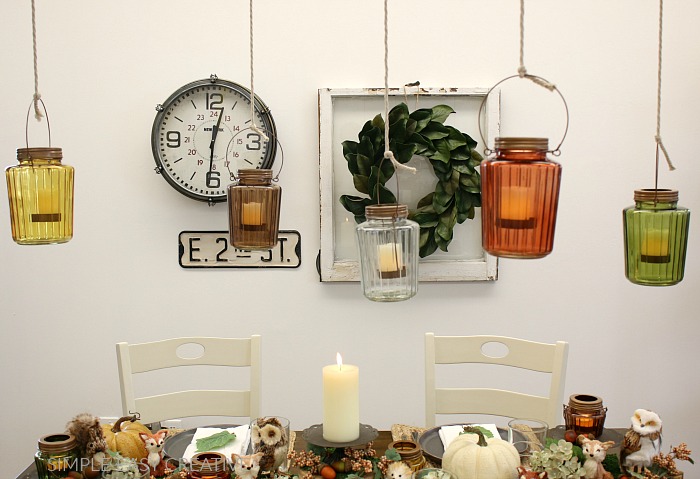 Several months back, I spotted an idea on Instagram to use lanterns in decorating, specifically hanging them from the ceiling. I knew that I wanted to add some to the video wall area in the studio, so when I spotted the larger jars in the Fall Candle Collection, it was a match made in heaven!
We used thick rope to hang them from the ceiling tiles, hanging them at different levels and spacing them around the table. The candles are also Flameless, making them worry free.
Each of the larger jars are the same colors as the small tealight jars, with the addition of the clear jar. I love how they look so much that we decided to leave them hanging for awhile to have in videos.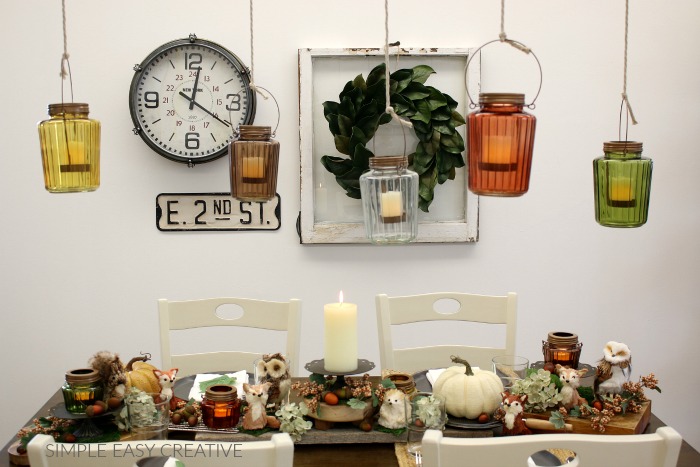 Have you started to decorate your home for Fall?