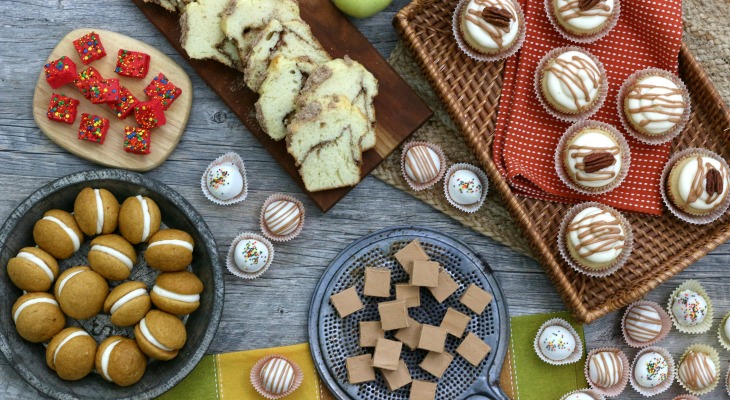 Let the Fall baking begin! This Fall Dessert Table has Caramel Apple Cupcakes, Mini Pumpkin Whoopie Pies, Cinnamon Swirl Bread, Caramel Apple Fudge, Funfetti Fudge and Caramel Apple Cookie Truffles.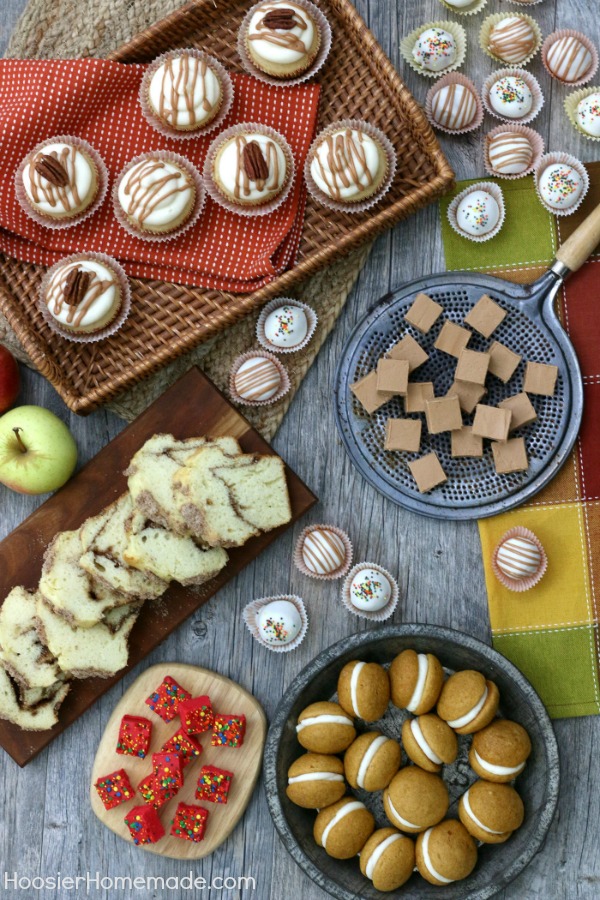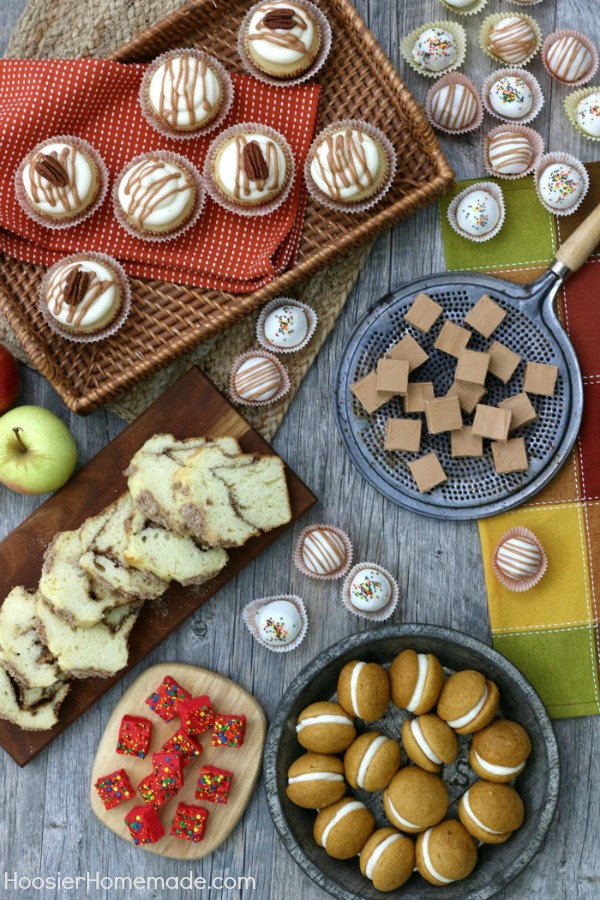 Do you follow Hoosier Homemade on Instagram? Today we are hosting an Instagram takeover! What?
We will be sharing this Fall Dessert Table on Instagram, but not just the whole table. We have broken it into 6 different photos, and then when you look at the whole Instagram feed, you can see the table come together. It's really super cool!
Baking during the Fall is my favorite time, there are so many delicious flavors – pumpkin, cinnamon, cranberry, apples and more. Although I would love to be in the kitchen baking every single day, life is busy, and we just can't always find the time to whip up our favorite Fall Desserts.
What if I told you I made all this in about 4 hours? Creating a show-stopping Fall Dessert Table doesn't need to take a really long time.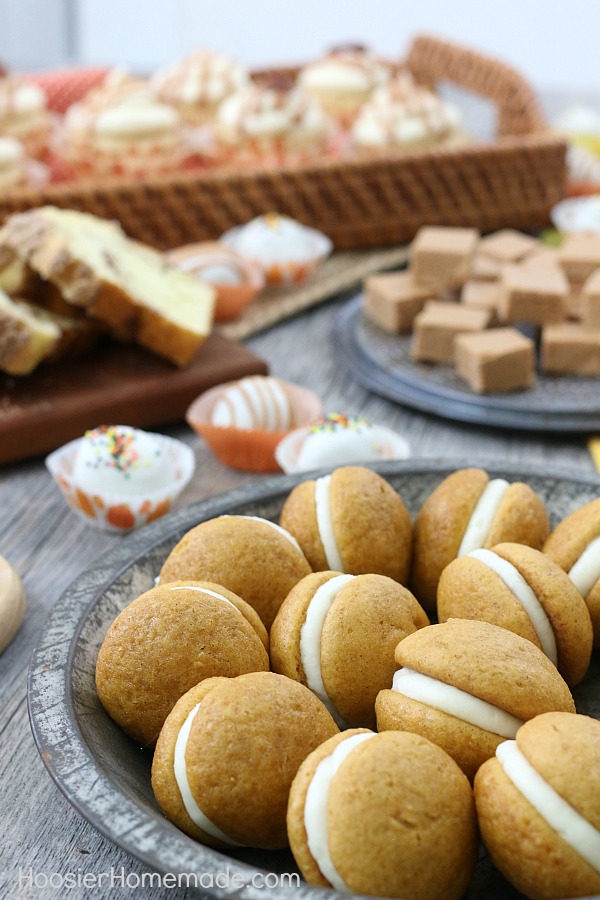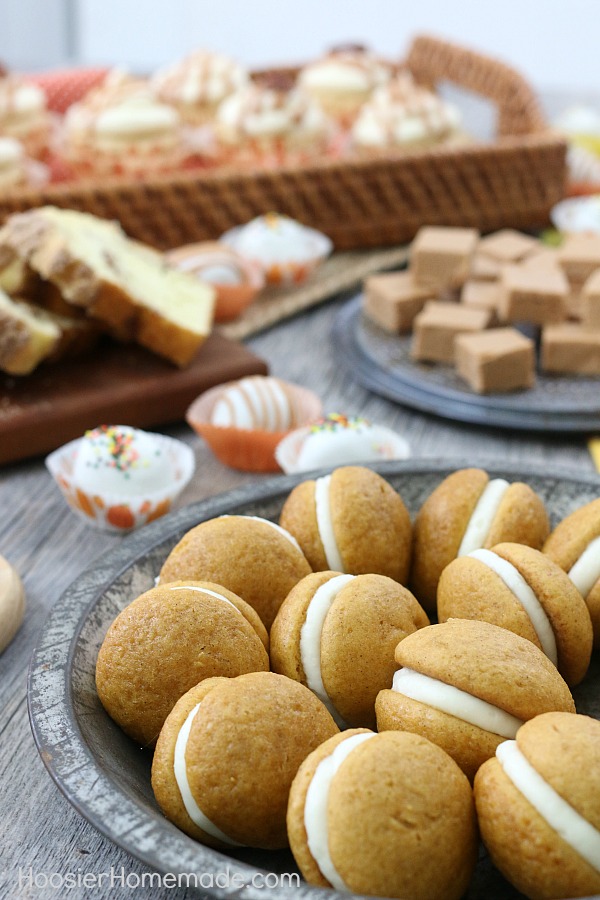 All of the recipes start with either a cake, bread or cookie mix. Remember we are keeping it really simple.
I'm a big fan of Whoopie Pies. I think they are fun to make, and even more fun to eat. These Mini Pumpkin Whoopie Pies start with the Pillsbury Perfectly Pumpkin Cake Mix, then Butterscotch Pudding, flour, oil, eggs and water go into the batter. To make the mini version, use a decorator bag fitted with a large round tip, and pipe the batter onto the cookie sheet. Doing it this way, takes a little longer because you will need to smooth out the top of the cookie with an offset spatula, for best results. But they turn out so great, it's really worth it. Then I filled them with Pillsbury Purely Simple Buttercream Frosting.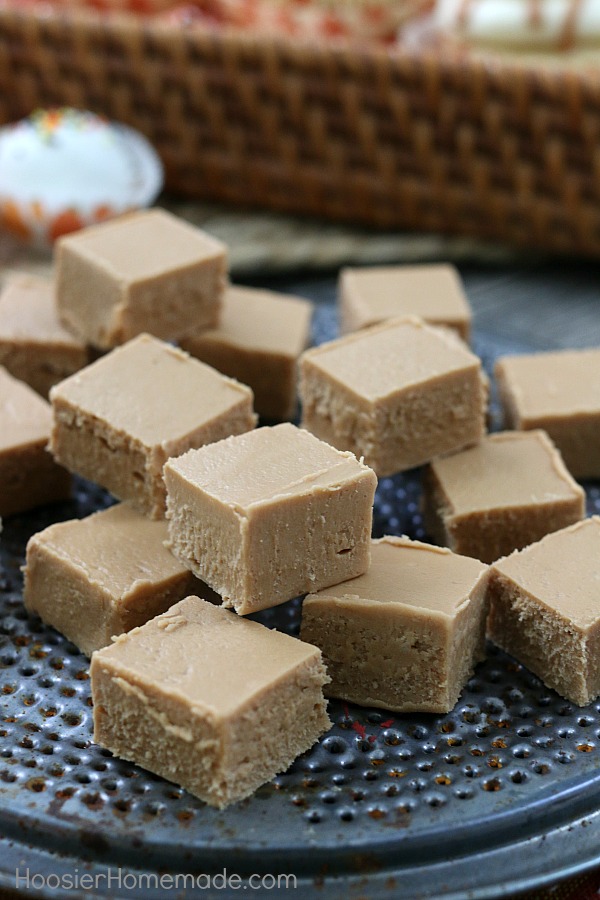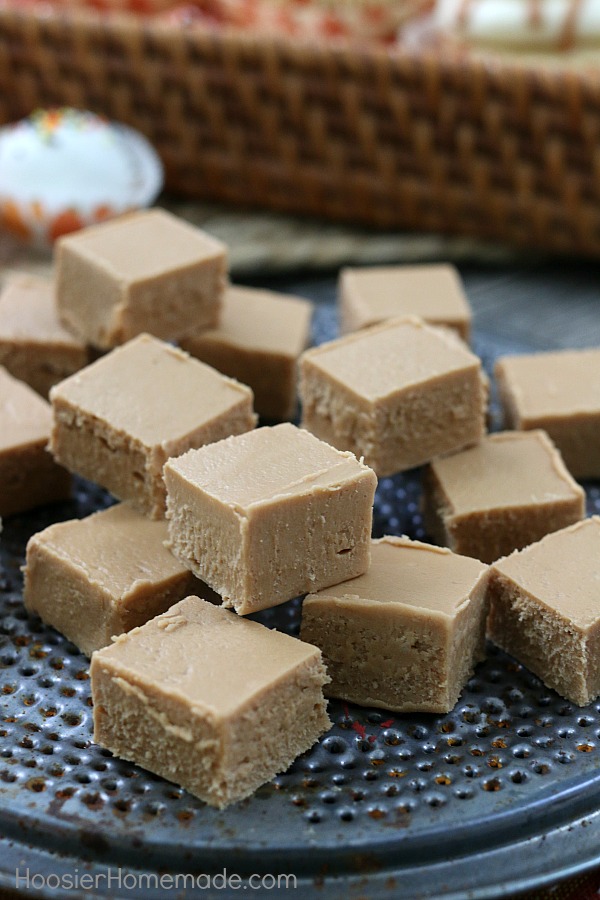 Speaking of simple – it doesn't get any easier than this Caramel Apple Fudge. Only 2 ingredients and about 5 minutes is what you need to get a batch in the pan.
Caramel Apple Frosting is combined with melted white chocolate chips for a creamy, delicious fudge. It's super easy and takes only minutes to put together. Then an hour or so chilling and you have a special treat to share.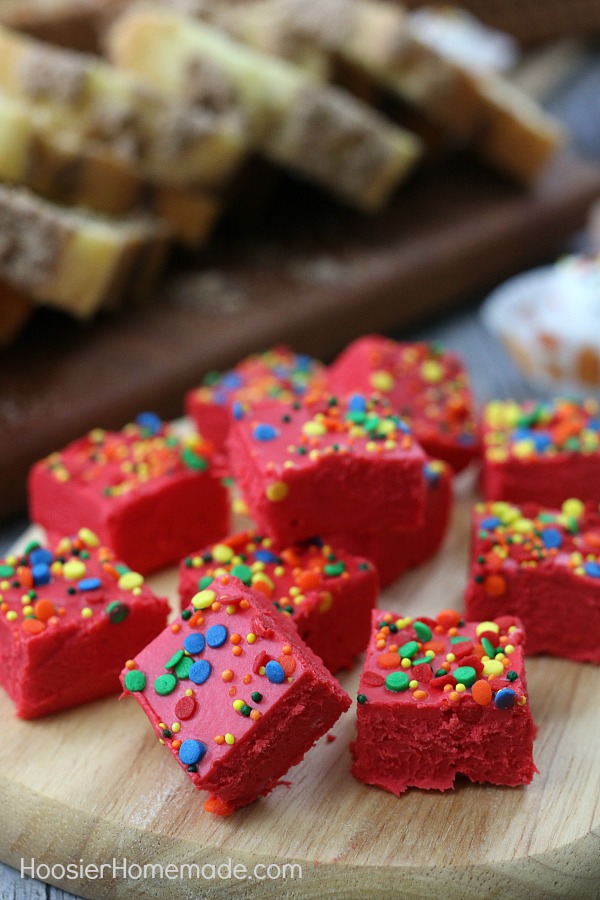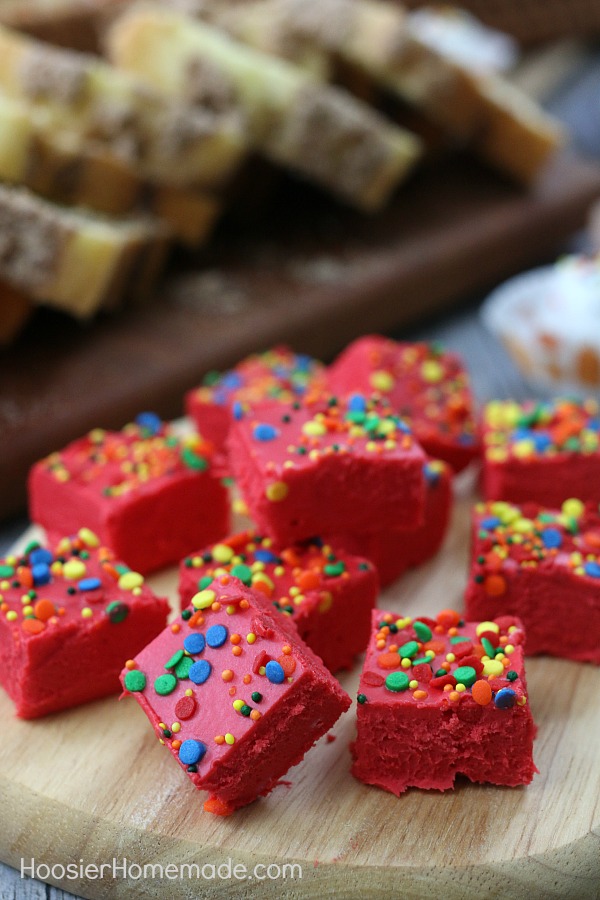 And speaking of fudge – how about this Funfetti Fudge? It's made the exact same way as the Caramel Apple Fudge, just use Red Funfetti Frosting from Pillsbury instead.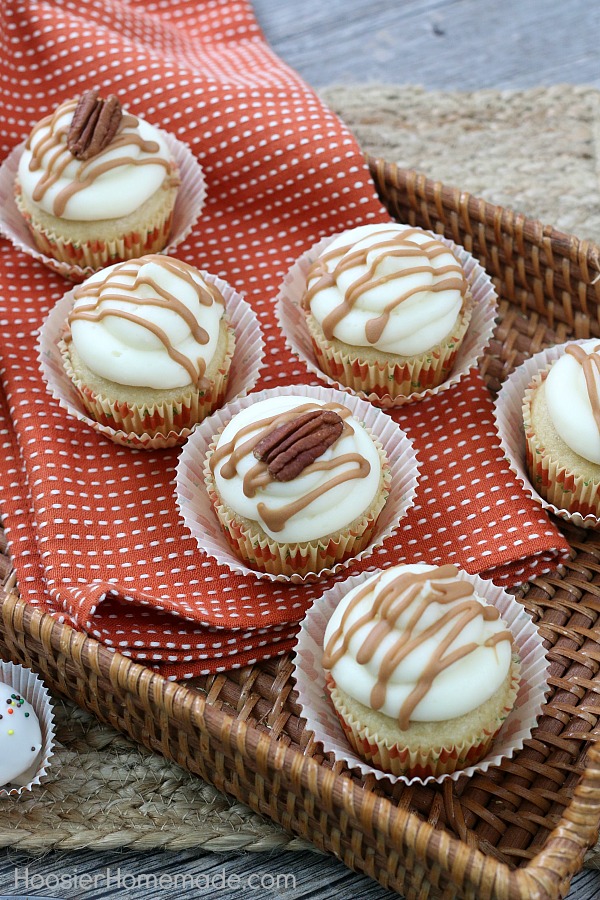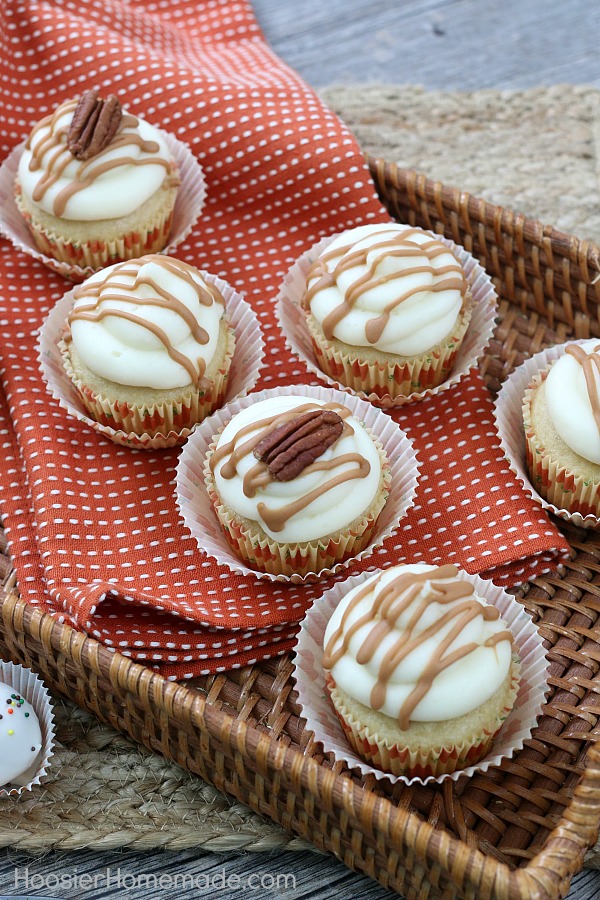 Next up are these moist, delicious Caramel Apple Cupcakes. They start with the Pillsbury Caramel Apple Cake Mix, then the frosting is the same that I used for the Pumpkin Whoopie Pies. Over the top, I drizzled Caramel Apple Frosting that I heated in the microwave and poured into a plastic squeeze bottle. And a pecan on some of them for a little extra crunch.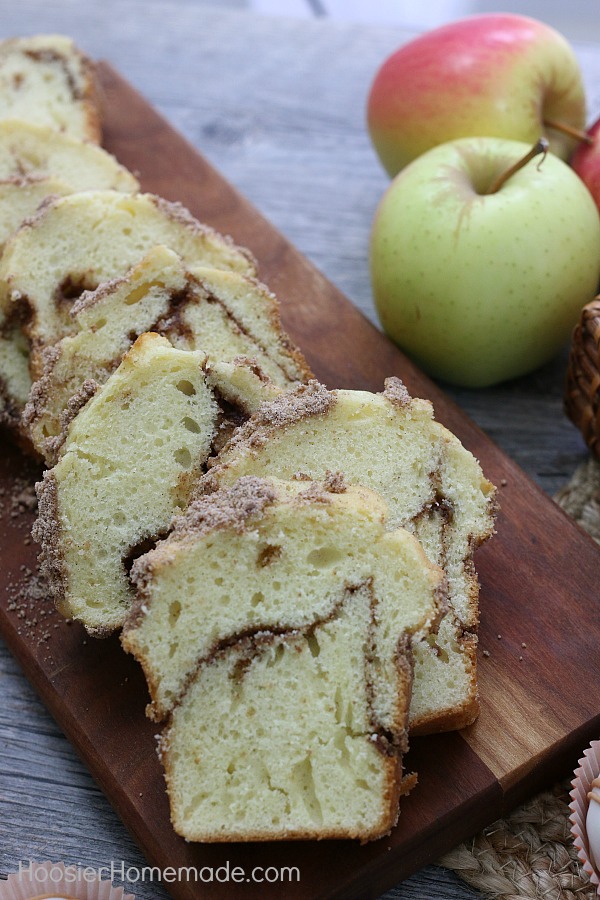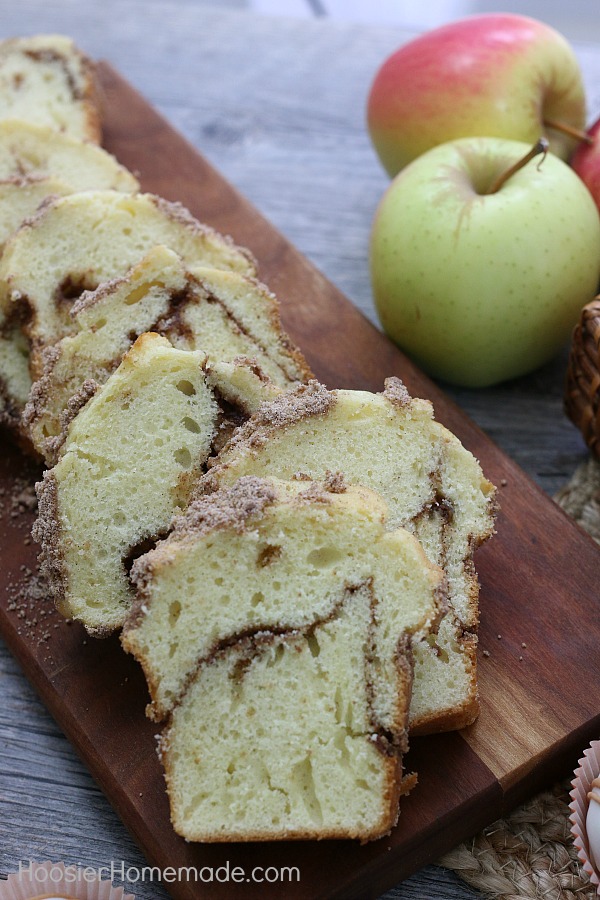 Quick bread is one of my favorite things to bake. The flavor options are endless. The Cinnamon Swirl Quick Bread is as simple as a box mix. I baked them in a mini loaf pan to make eating a little easier.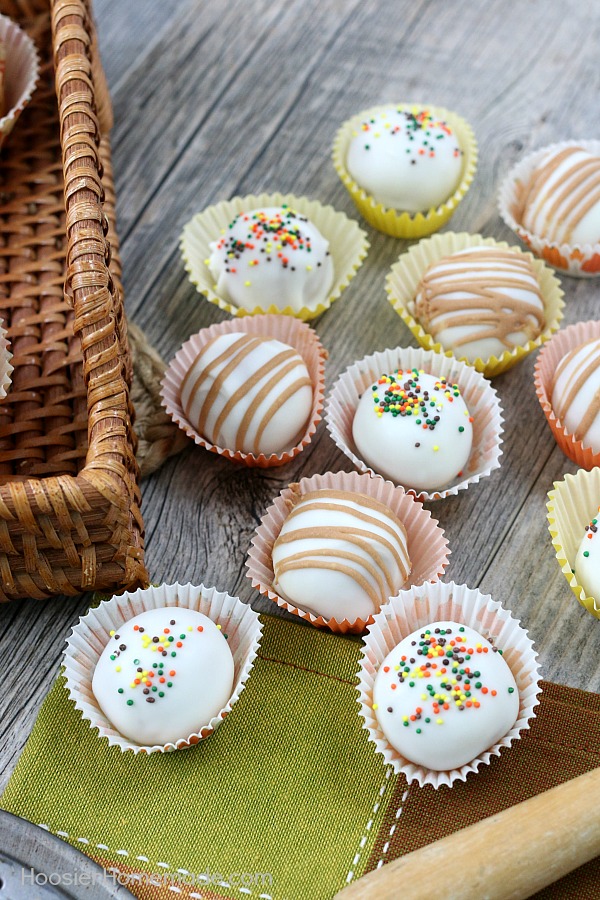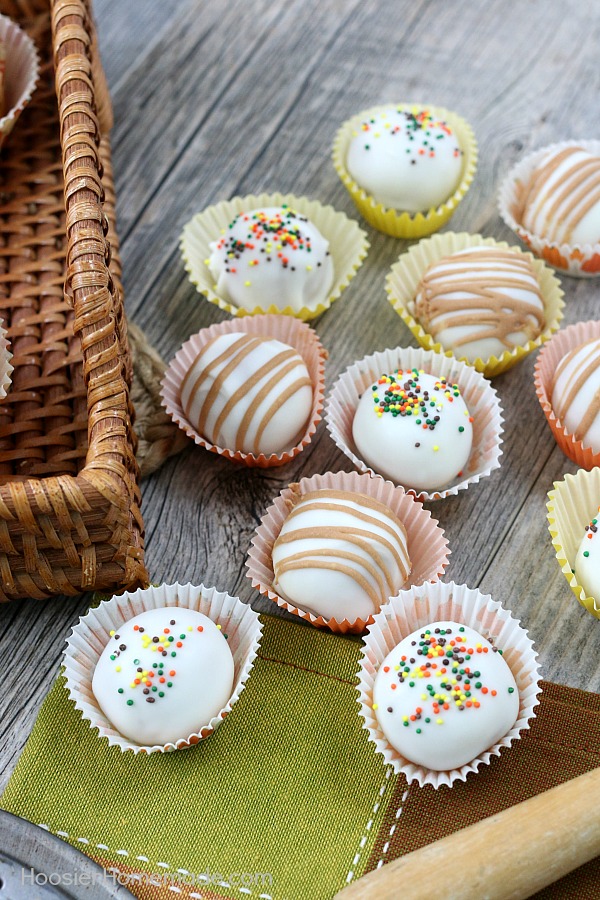 And last but not least, are these Caramel Apple Cookie Truffles. The truffles start with a baked sugar cookie. You can use whatever sugar cookie you like – store bought, made from scratch or made from a box mix like I did. After the cookies are baked and cooled, it's time to put together the rest of the ingredients – the cookies get crumbled in the food processor, and then cream cheese and Caramel Apple canned frosting are added.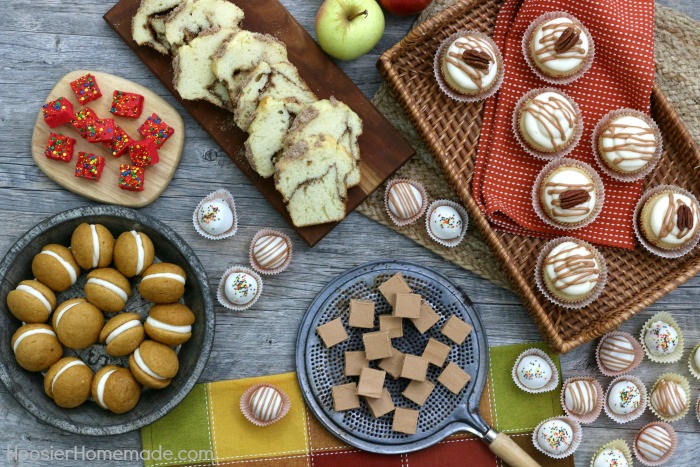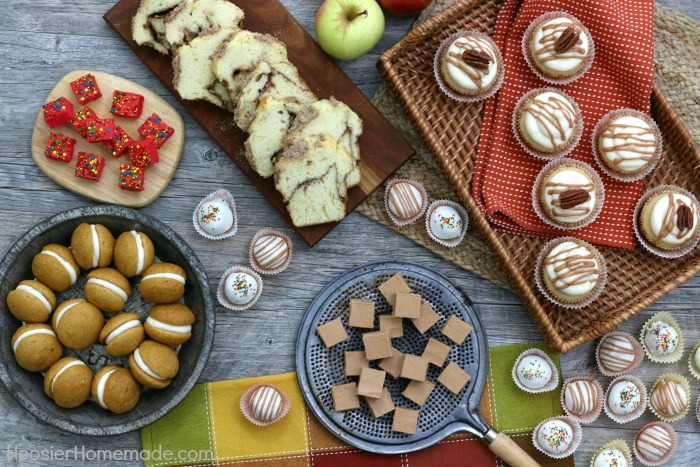 For more delicious recipes follow along at Pillsbury Baking website, Pinterest, Instgram and Facebook.