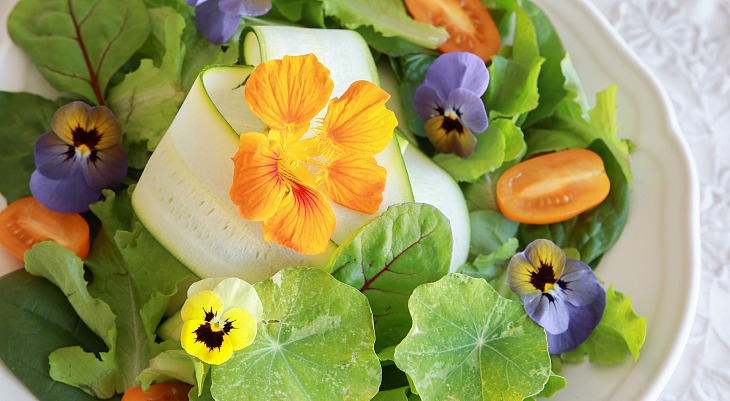 Flowers are gorgeous! But did you know that you can eat some of them? This Edible Flower List has 7 flowers you can eat AND how to prepare them.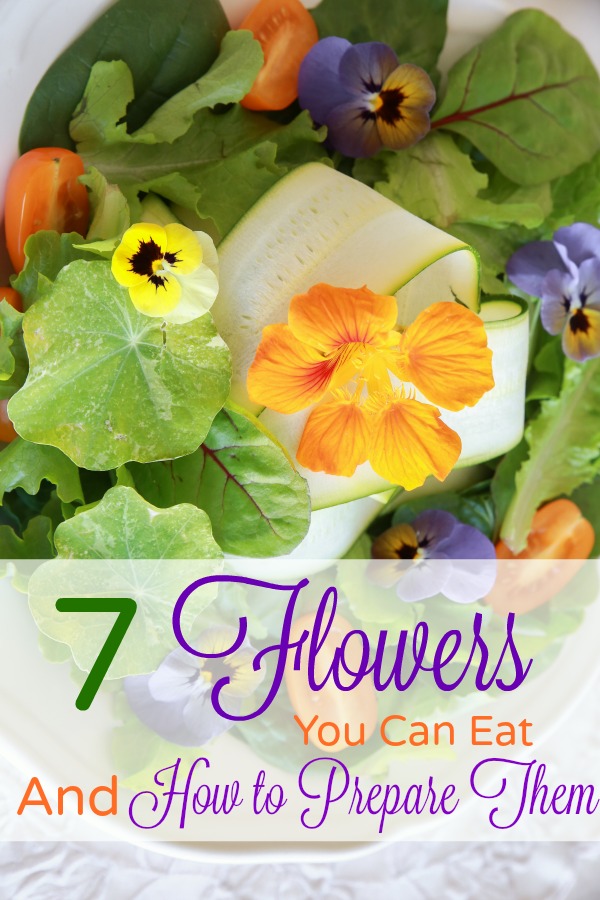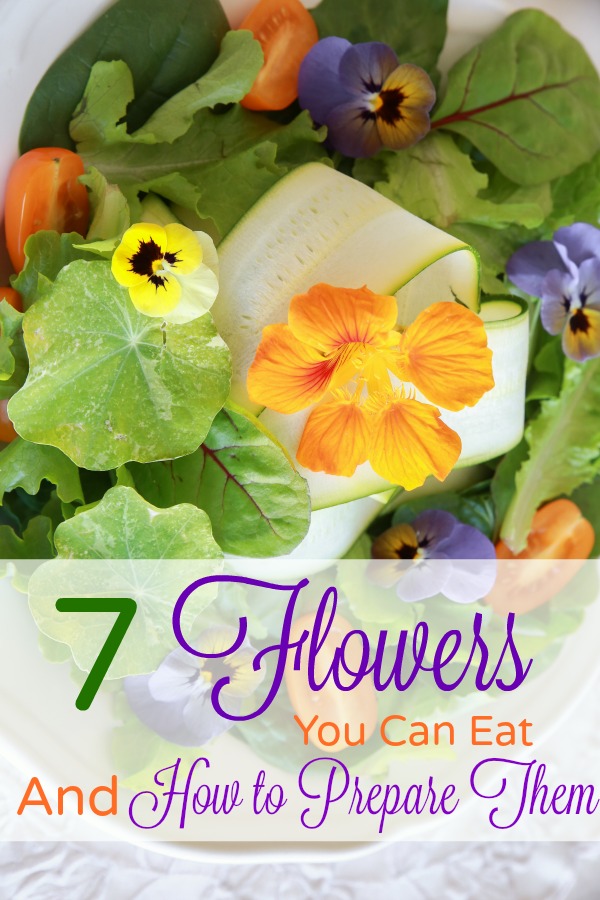 Have you ever heard the saying that something tastes as good as it looks? Well that is exactly the case with some flowers.
The truth is there are flowers that do taste as good as they look, and they can make wonderful additions to your salads, beverages, marinades, desserts, and more.
If you have ever been curious about edible flowers and just aren't sure where to begin, take a peek below at this edible flower list with 7 flowers you can eat AND how to eat them. Edible flowers don't have to be frightening; in fact they can be quite tasty and fun. Here is what you need to know!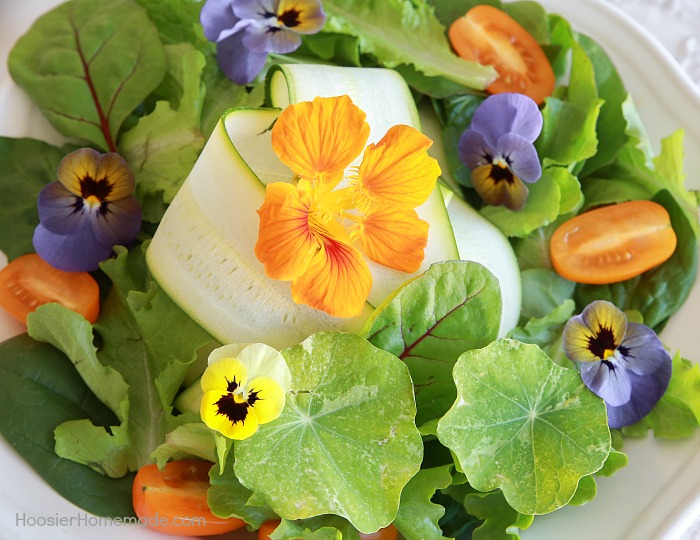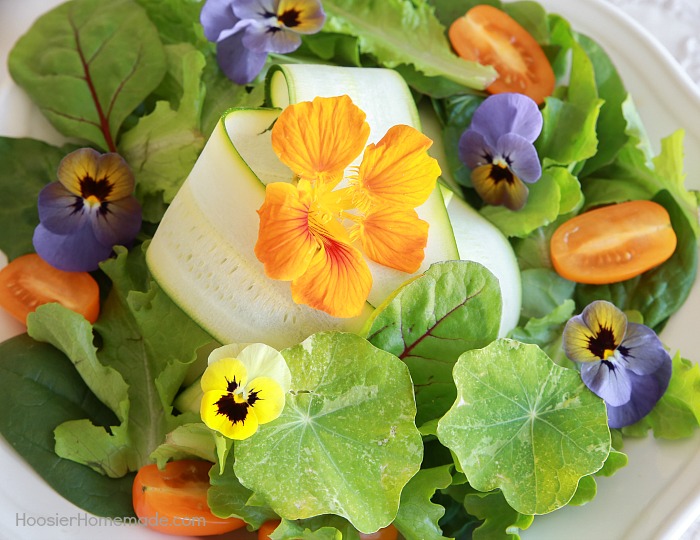 First, here is the Edible Flower List:
1. Allium
These are bright purple, almost puffy flowers that are part of the onion family. They have a mild onion flavor and the entire part of this plant can be eaten. You can use allium as you would onions, leeks, or chives, which all work well in salads and marinades.
2. Bee Balm
People love bee balm just as much as bees do. If you want to eat bee balm the red flowers seem to have the most flavor to them. Bee balm actually mimics a minty flavor, making it a perfect garnish for your lemonade or summer drinks. You can also top desserts with it.
3. Marigold
While marigold repel rabbits in the garden, they actually attract humans who love spicy flavors. These bright orange flowers can be added to salads and side dishes that require a little heat, as they will add tangy flavor perfect for summer.
4. Clover
It is no wonder that rabbits love eating clover, as it is actually quite sweet and almost has a licorice candy flavor. You can eat the purple clover blooms as they are, or add them to beverages and desserts for a pop of color and sweetness.
5. Dandelion
Can you believe this well known weed is edible? Many people love using dandelion greens in their salad, even though they are slightly bitter, they pair well with dressing and vinaigrettes. You can also eat the bloom of the dandelion which is a bit sweeter, and makes a nice addition to salad.
6. Fuchsia
This gorgeous flower doesn't have much going on in the way of flavor, but it sure is pretty! If you want a beautiful bloom to dress up your dessert, beverage, or serving tray, fuchsia is a safe flower to use that can add quite a bit of beauty.
7. Lilacs
These soft purple flowers actually have a sweet citrus taste to them, making them excellent additions to your beverages, desserts, and dressings. They look lovely when topped on cakes and cupcakes, and can even be sprinkled on top of puddings for a pop of color.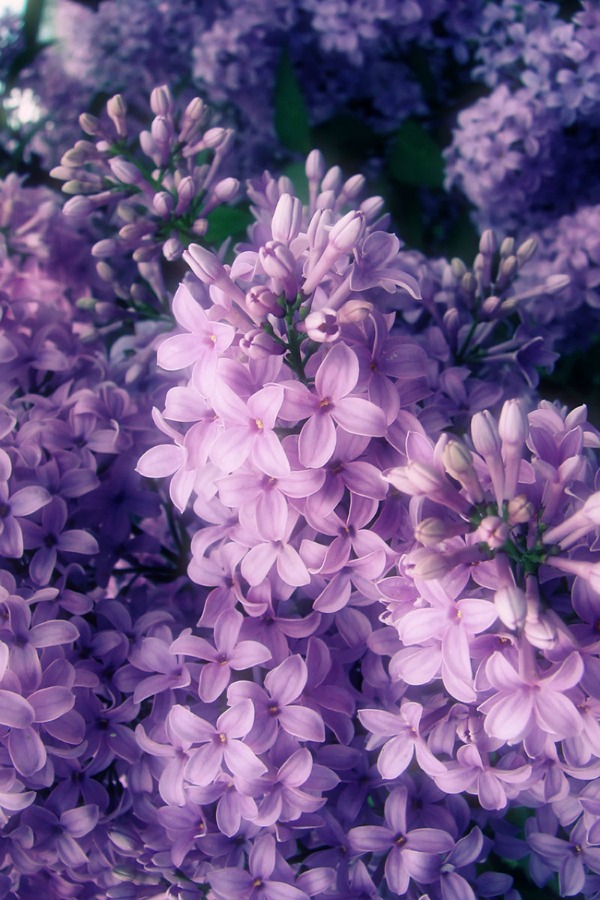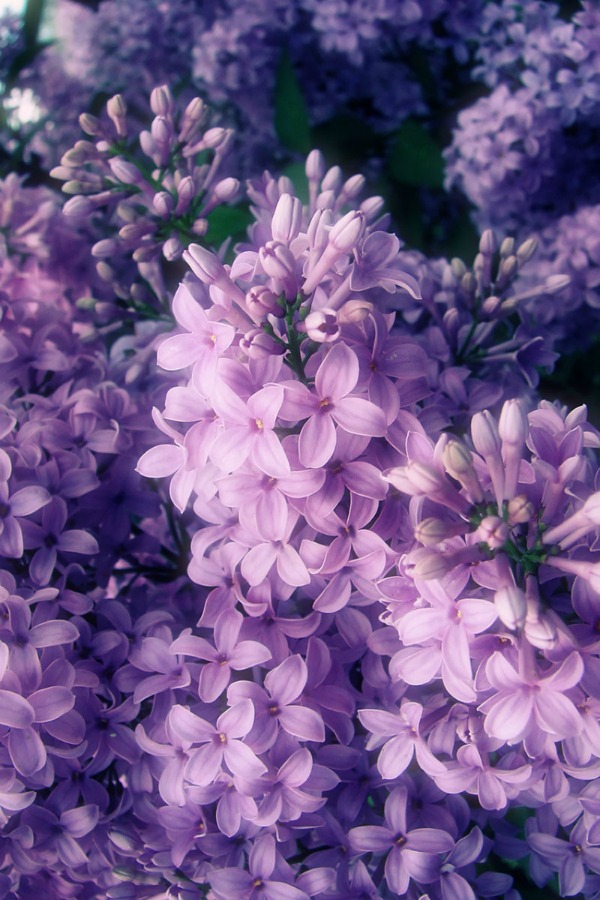 Now that you know 7 flowers that are safe to eat, let's talk about the best way to enjoy them. There are some safety tips you should keep in mind when eating flowers to be sure you get the best experience out of them.
How to Prepare Edible Flowers:
1. Eat only flowers you have grown yourself or that are marked safe for consumption at your local grocery store or farmer's market. This way you know they haven't be treated with chemicals or any pesticides and are safe.
2. Rinse your flowers before enjoying them and dab them with a paper towel. This will help remove any debris and get them nice and clean.
3. Eat the petals. Those contain the most flavor and they are soft and easy to chew.
4. If you have plant allergies, it is NOT advised that you consume flowers.
5. When using flowers in recipes, prepare them as mentioned above and stir directly in as you would any ingredient. Or, just add them to the top or sides of your dish as garnish.
See how fun and easy it can be to enjoy fresh flowers at your next meal? Give these 7 flowers you can eat your consideration and see how much you enjoy them!