Easy Kid's Birthday Party Ideas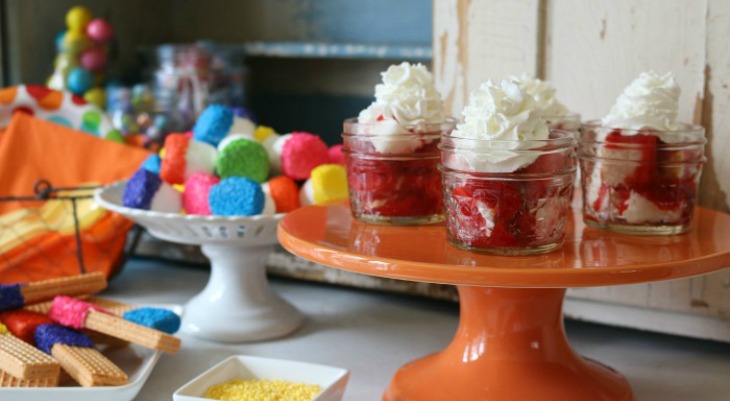 Do you happen to have a birthday to celebrate soon? Short on time? Well today I have the answers for you. These easy Kid's Birthday Party Ideas can be put together in under 30 minutes, budget friendly and are sure to bring a smile to the birthday child's face. I'm super excited to share these birthday party ideas with you on behalf of Reddi-wip®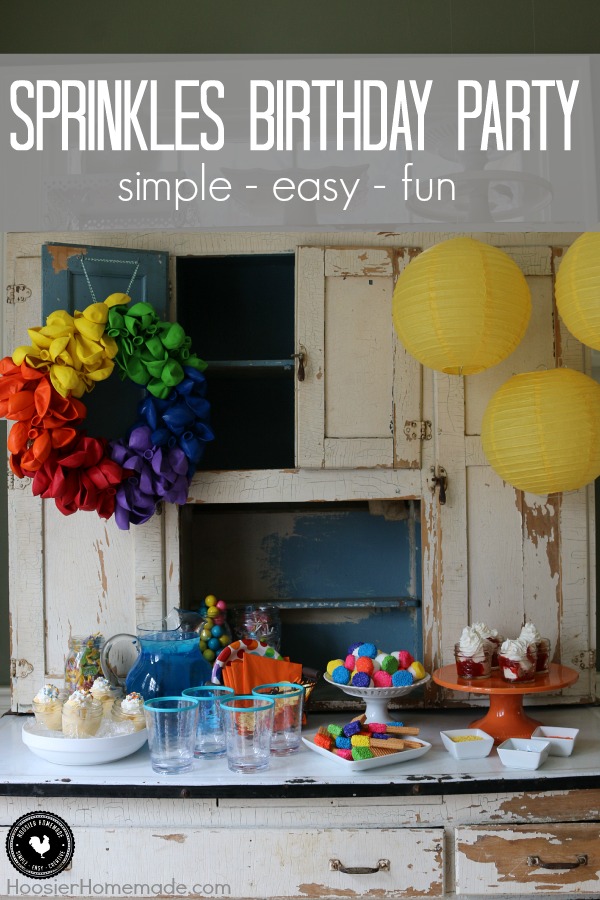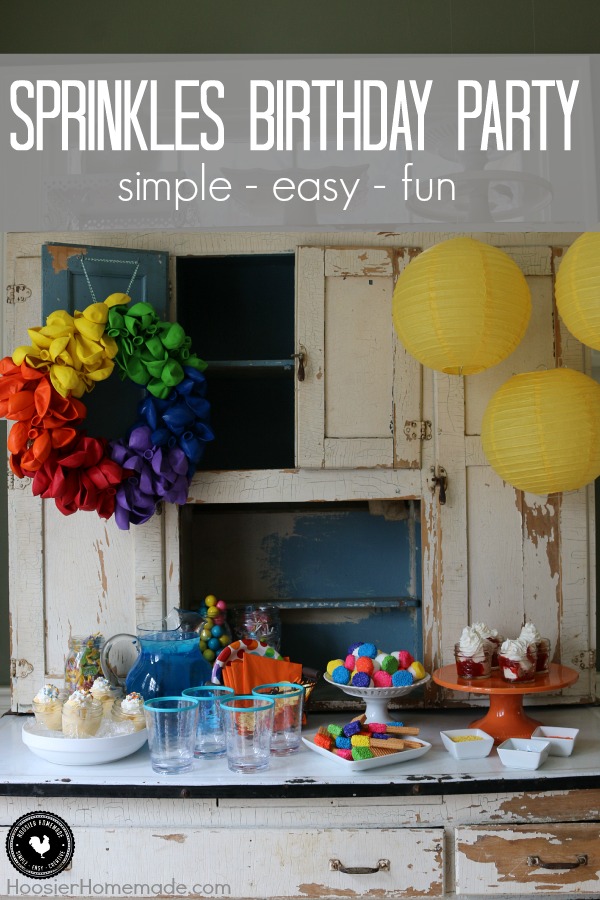 Over the years I have hosted many, many birthday parties, and I have done them all – from a simple cake and ice cream – to the big party with everything matching from the take home treats to the cake. And I have to be honest, while I absolutely love hosting a party, it can be exhausting and really expensive too.
So today, I have this easy birthday party to share with you. You can put all the dessert together in under 30 minutes and it doesn't cost a fortune. I bet if I asked my boys about the memories they have of the birthday parties, the ones that stand out the most are the ones that we had cake, ice cream and a few friends over to watch movies and spend the night.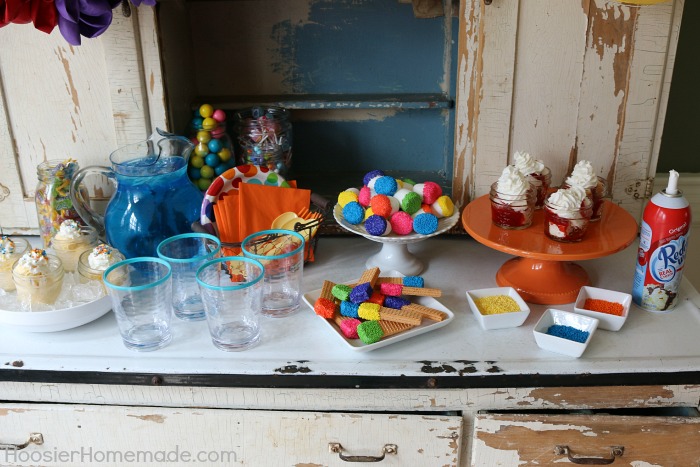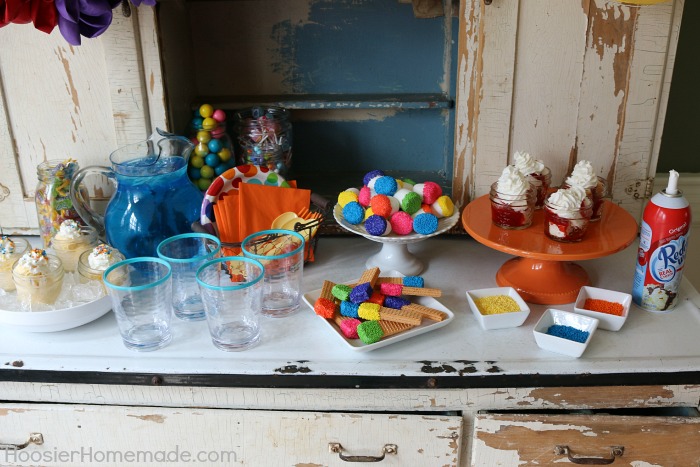 We set up the birthday party dessert bar on our Hoosier cabinet, it's the perfect place to serve from. You could also use a card table, dining room table or even the counter.
The theme was sprinkles, lots and lots of sprinkles. To keep the cost down, I used mostly what I already had – have you seen my sprinkles cabinet? yikes! But it's okay, if you don't have lots of sprinkles, they aren't expensive and can be found most any store. More on the sprinkles later though.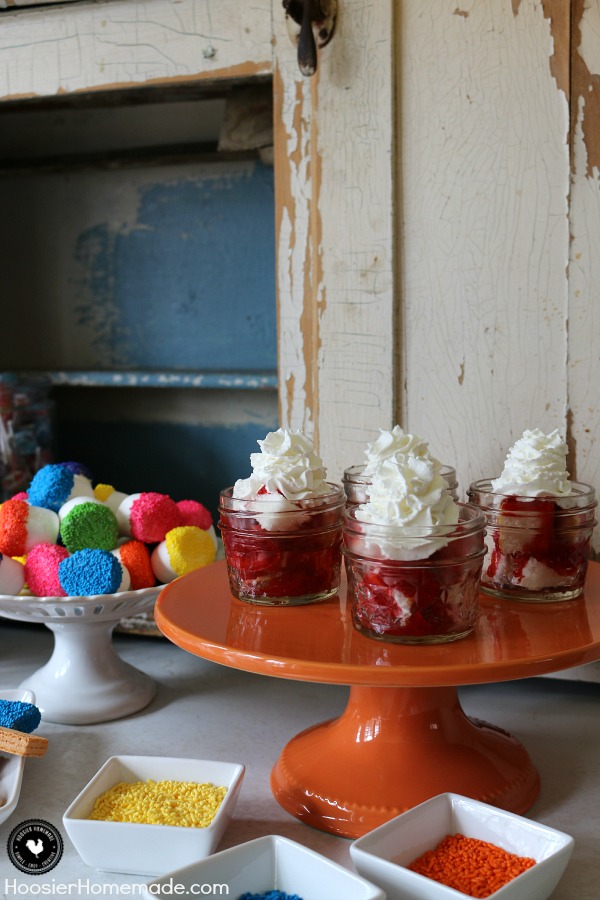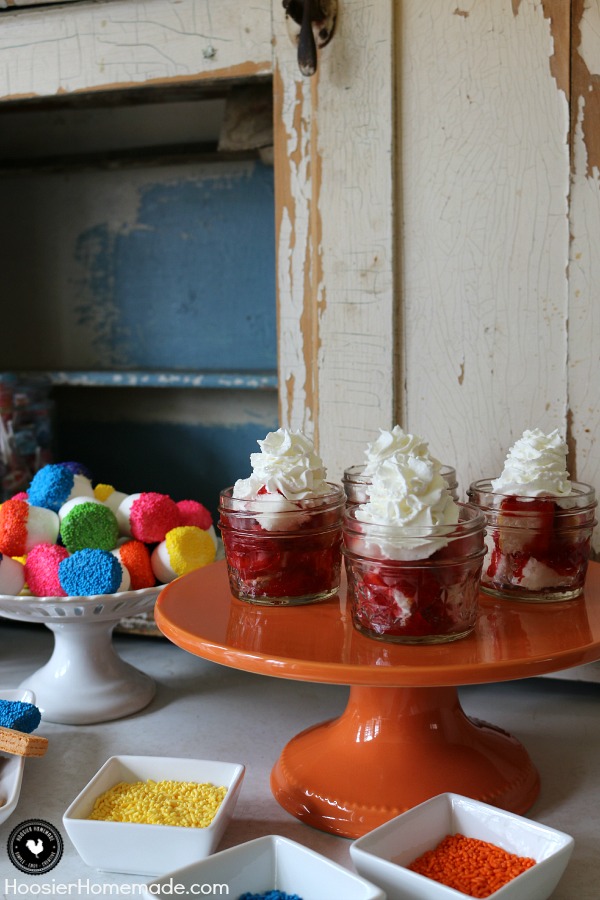 For the main dessert, we served small mason jars filled with Angel Food Cake from the bakery at Walmart, topped with Homemade Strawberry Glaze (only 3 ingredients) and Reddi-wip. The mason jars are 4 ounces each, and the perfect size for dessert, especially for the kiddos. Then sprinkles in bowls for topping the dessert and the ice cream.
You could also serve a smash cake for the birthday child. The Walmart bakery is currently offering a free Smash Cake with any bakery purchase of $14.98 or more.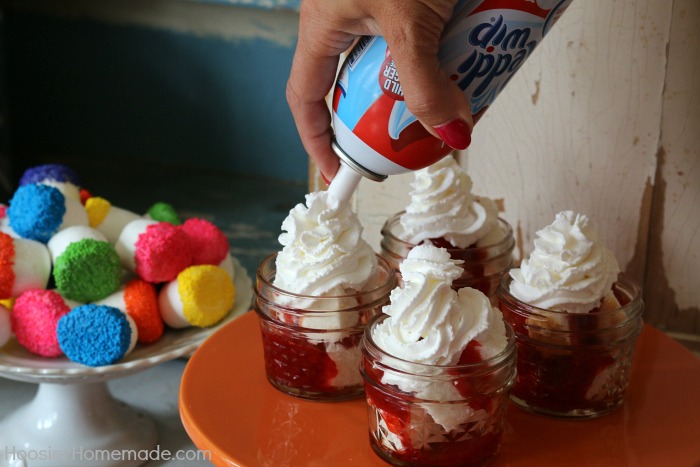 Reddi-wip products are a delicious, creamy alternative to other oil-based toppings. Real dairy cream is the #1 ingredient, so feed your family the best and choose Reddi-wip.  And honestly my friends, who doesn't love Reddi-wip? Raise your hand if you have ever skipped the dessert and enjoyed it straight from the can! I will confess – I have!
Save $1 on any TWO (2) Reddi-wip whipped topping products 6.5oz or larger with purchase of fresh berries – grab the coupon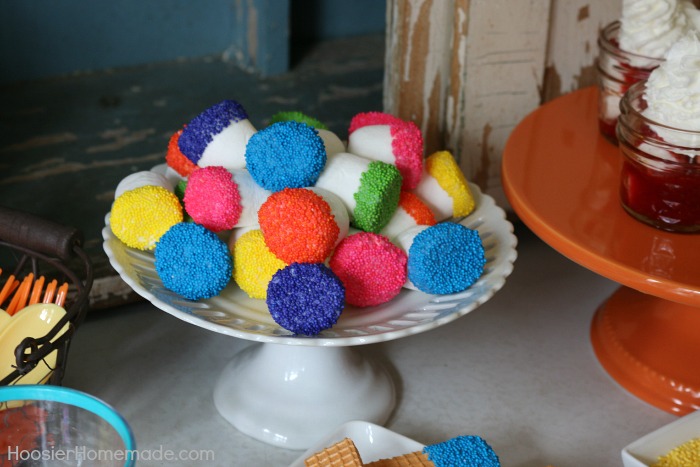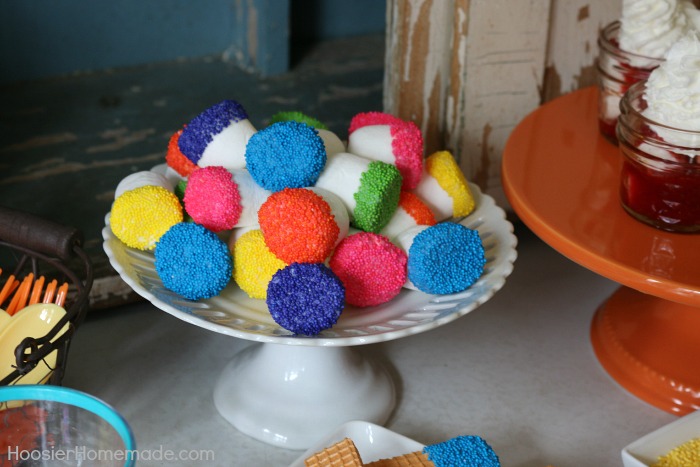 Next up are the marshmallows –
Marshmallows with Sprinkles
Marshmallows – I used regular size
Sprinkles – any type will work, I used nonpareils in 6 different colors
White Chocolate Almond Bark – available in the baking aisle
Cookie Sheet lined with parchment paper or wax paper
Instructions
Place 2 squares of Almond Bark in microwave safe bowl and heat for 1 minute, stir chocolate and continue heating in 30 second intervals until the chocolate is almost melted, then stir until completely smooth
Working over a paper plate, dip each marshmallow into the chocolate, cover about 1/4 of the marshmallow (it doesn't have to be exact) then shake off excess chocolate as much as possible
Then immediately pour sprinkles over the chocolate on the sides and bottom – work low and close to the plate so the sprinkles don't fly everywhere
Place marshmallow on lined cookie sheet to dry about 5 minutes
To display, set marshmallows on a small cake stand or plate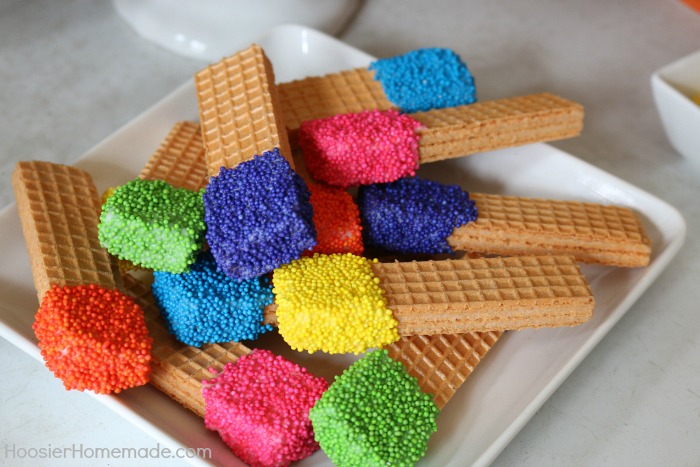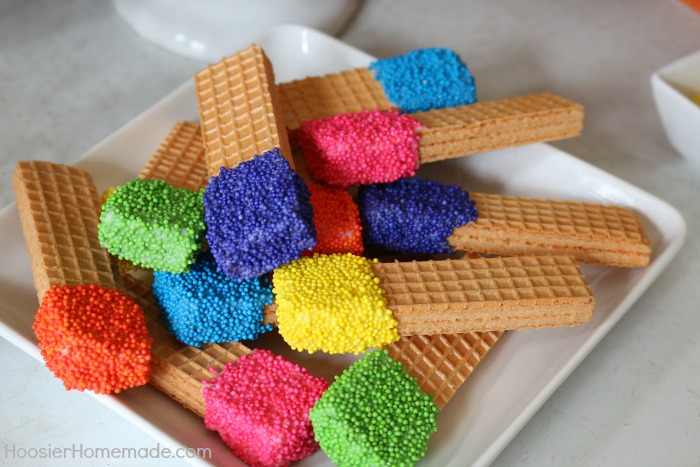 Next up are the cookies with sprinkles. I used the exact method as I did for the marshmallows. The nice thing was there was only one mess since they were the same. The cookies are vanilla wafers but you could also use sugar cookies, Oreos, or just about any kind. What is the birthday child's favorite?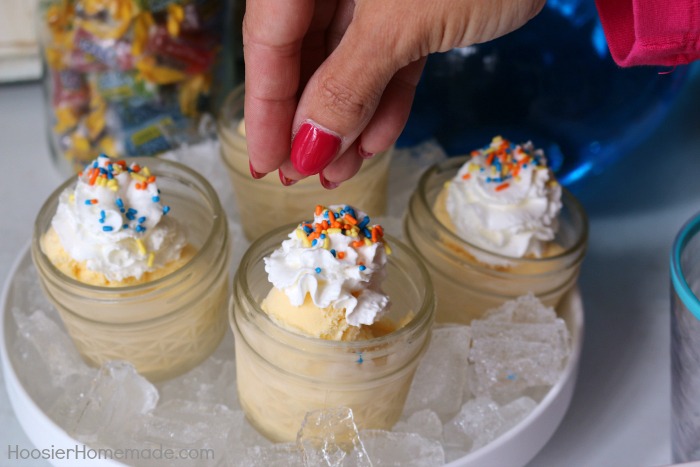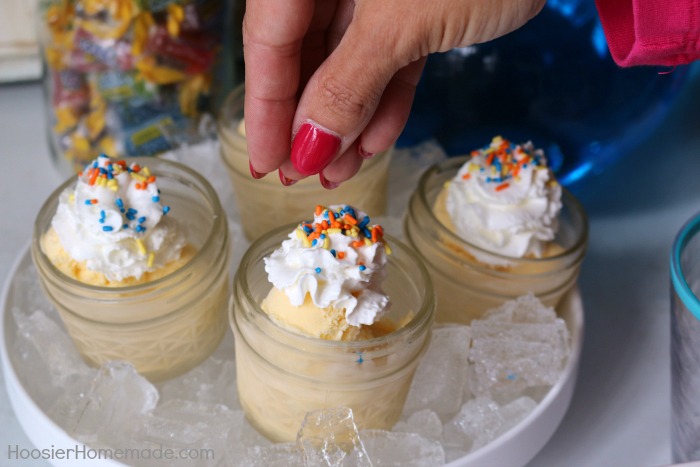 For the Ice Cream, we used a small cookie dough scoop and added the Ice Cream to the small mason jars, then popped them back into the freezer until it was time to serve. Topped with Reddi-wip and of course more sprinkles!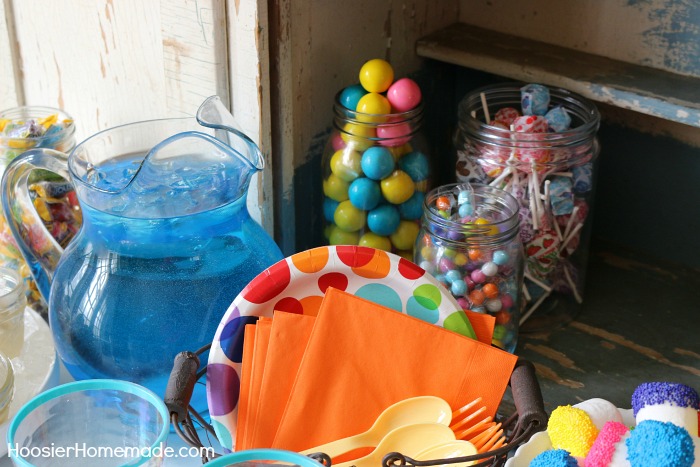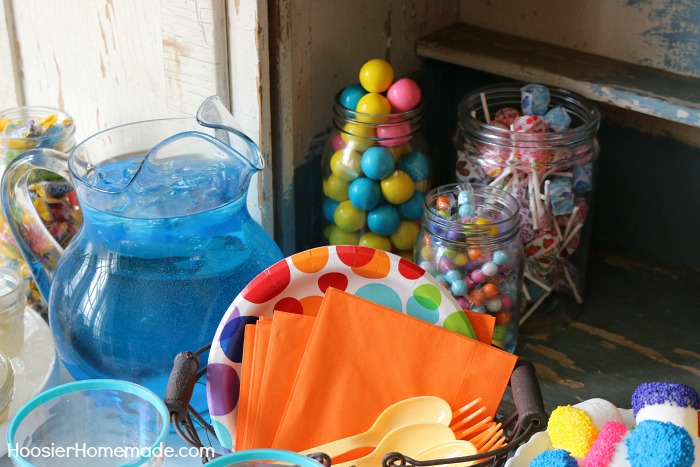 And last we filled jars, that we already had, with candy. Dum Dum suckers, gum balls, Jolly Ranchers and sixlets. After Easter is a great time to grab candy on sale.
To drink, we mixed up a pitcher of Kool-Aid. The plates, napkins, spoons, forks and glasses are all from Walmart.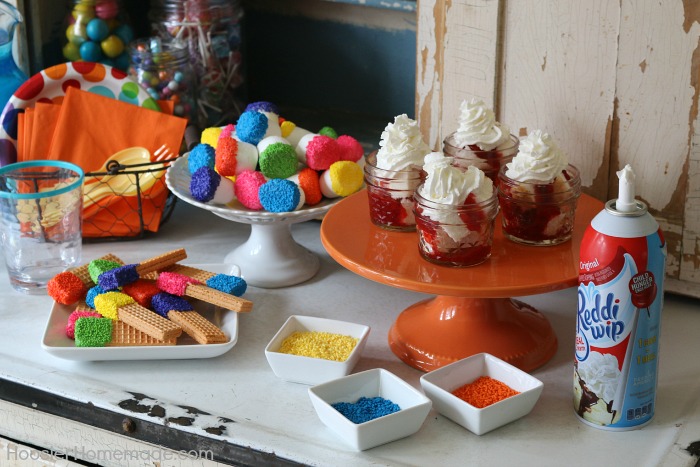 It's really that easy my friends! This Kid's Birthday Party is sure to build memories for the whole family.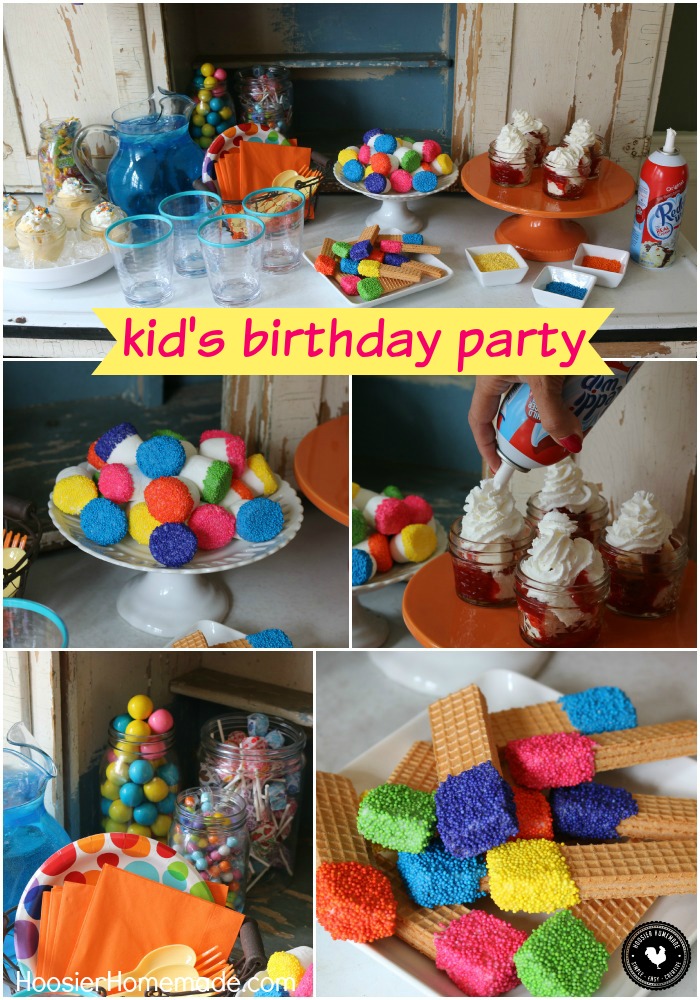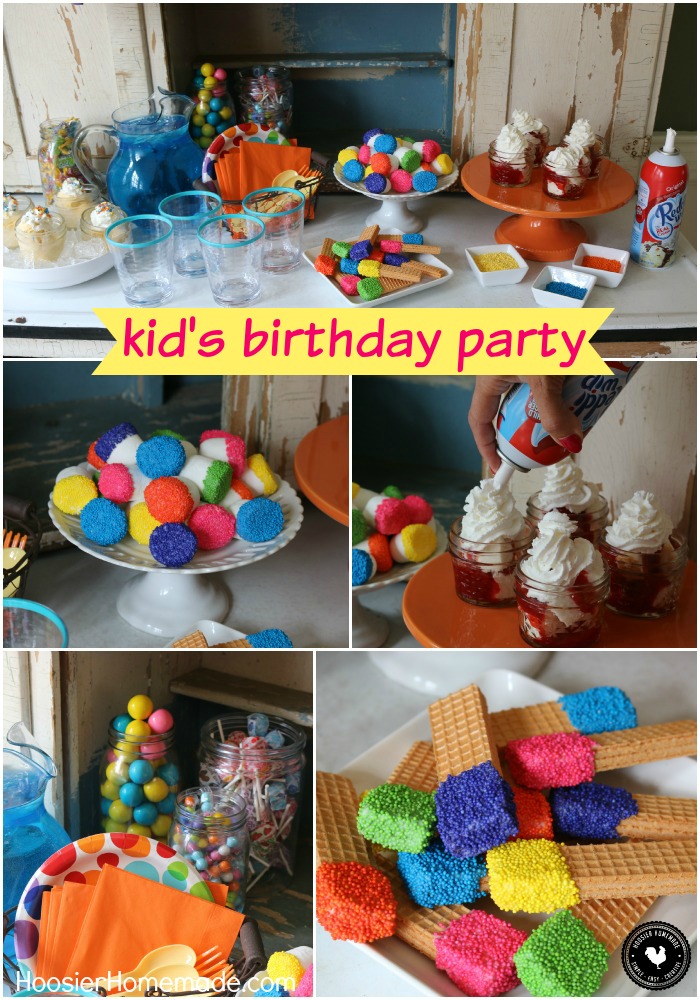 Decorations – learn how to make the Balloon Birthday Wreath
Decorations – Paper Lanterns – found in the party section at Walmart
Serving – Plates, Napkins, Spoons, Forks, Glasses – all found at Walmart
Dessert – Angel Food Cake with Homemade Strawberry Glaze topped with Reddi-wip
Ice Cream – topped with Reddi-wip and sprinkles
Mason Jars – 4 ounce
Candy – glass jars I had filled with Dum Dum suckers, gum balls, Jolly Ranchers and Sixlets
Marshmallows and Cookies – Sprinkles and Almond Bark
Drinks – Kool-Aid, lemonade or whatever you like
Now, are you ready to shop? How about a $50 Walmart Gift Card to host this #PartyReddi Easy Kid's Birthday Party?
$50 Walmart Gift Card Giveaway Details
One (1) lucky Hoosier Homemade reader will be chosen to win a $50 Walmart Gift Card sponsored by Reddi-wip
Entries only accepted on this page. Facebook, Twitter or email entries do not count. Open to US Residents only.
Please note that if you are enjoying this post via email subscription or in a reader, you will need to visit the blog to enter