Easy French Dip Sandwiches and a Contest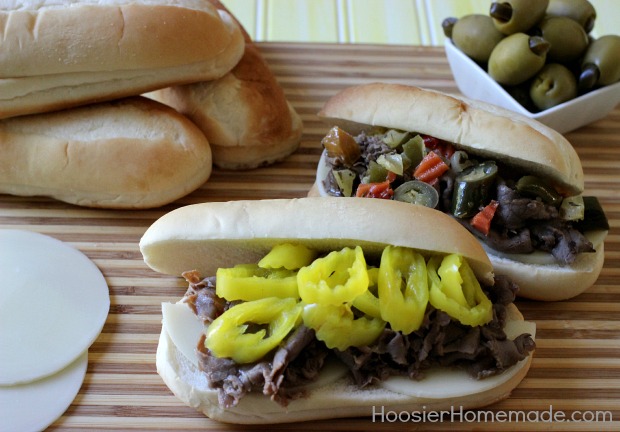 These Easy French Dip Sandwiches are made with just 4 ingredients plus toppings, they go together in under 10 minutes. Add a salad or side dish and serve them for a quick and easy dinner.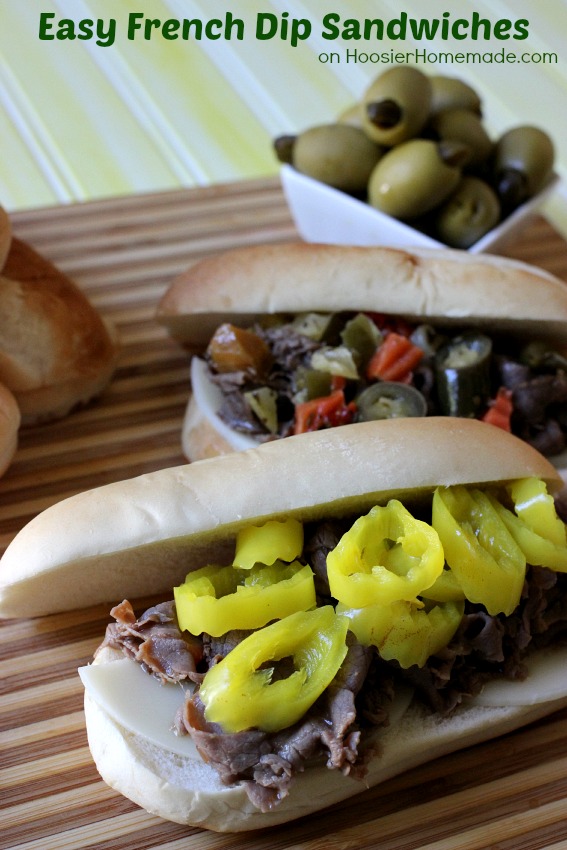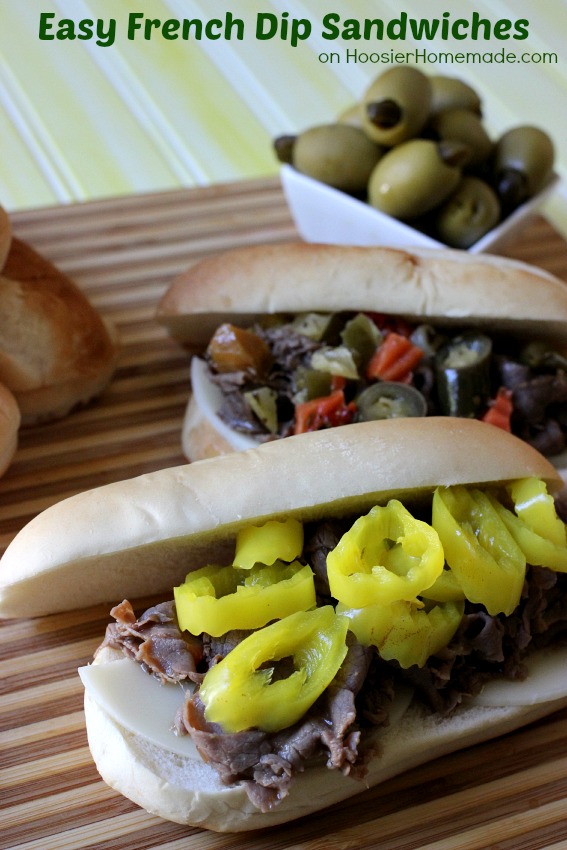 Life happens – let's face it, we are all super busy, especially during the Summer months. Who wants to spend an hour or two getting dinner ready? I know I don't. So having some good sandwich recipes to pull out when time is short, or you simply just don't to be in the kitchen long, is a life saver.
With just 4 ingredients – Roast Beef, French Onion Soup, Cheese and Buns – plus the toppings from Mezzetta like Deli-Sliced Milk Pepper Rings or if you like a little heat, Chicago-Style Italian Sandwich Mix -add a salad or some Jalapeno Stuffed Olives and you can have dinner on the table in under 10 minutes.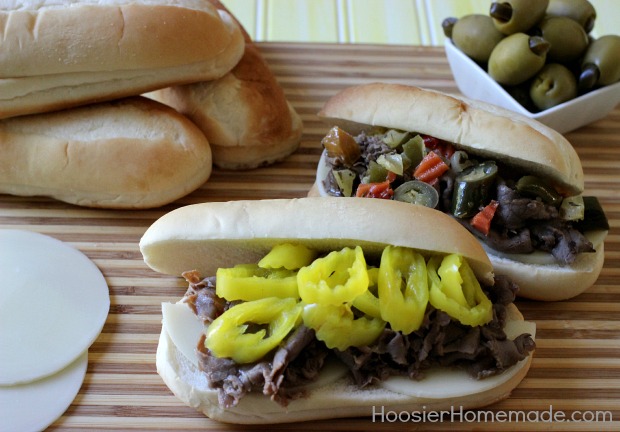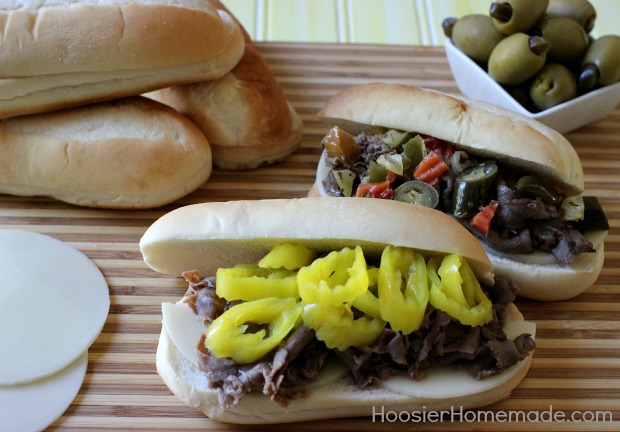 Did you know that the Sandwich was America's First Fast Food? Here's some Sandwich history for you from The Sandwich University…
"During the nineteenth century, the midday dinner (what we now call lunch) was the main meal of the day. Supper (what we now call dinner) consisted of lighter fare made with leftovers-perfect for making into sandwiches. English author Charlotte Mason wrote the first cook book recipes for sandwiches. She recommended placing very thin slices of beef between thin slices of buttered bread with crusts removed. Victorian home cooks studied her suggestions and sandwiches began to be offered at the family table. The dish rapidly became popular for teas and picnics as well. Sandwiches were served widely at taverns and inns.
The first American cook book writer to publish sandwich recipes was Eliza Leslie, who described how to make a ham sandwich with mustard. With the rise of the railroads in America, the sandwich became the first fast food, sold in dining cars and at train stations to hungry travelers. At the turn of the century, taverns and saloons offered free sandwiches with drinks as a way to attract customers. During this period, the club sandwich was created and served to businessmen in the dark-paneled dining rooms of their private clubs."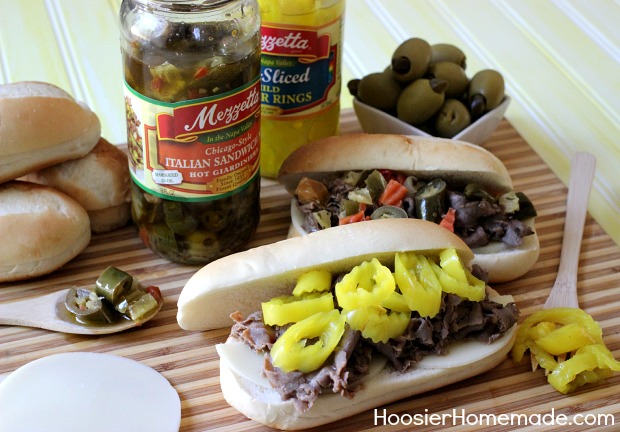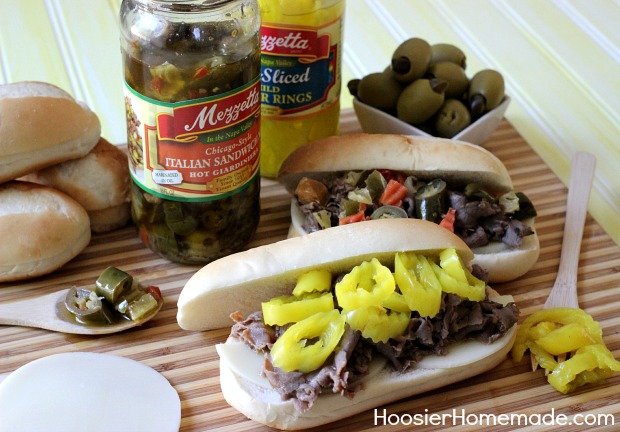 These Easy French Dip Sandwiches are also great to pack in a picnic or take with you on a road trip. Just wrap in foil to keep warm and you have a great on-the-go sandwich! It's perfect for us to pack to take to Baseball Games. Almost every night we are on the road a couple hours away, and not only is Fast Food expensive, it's not good for us.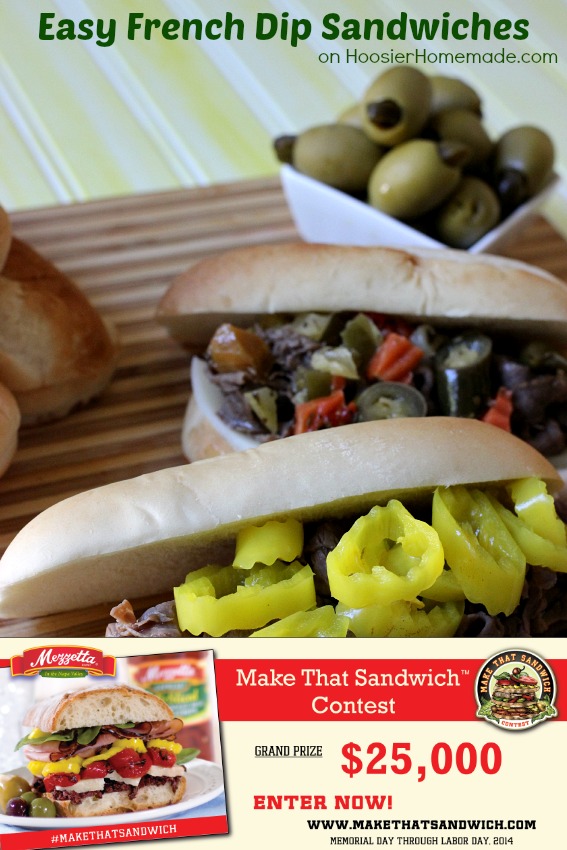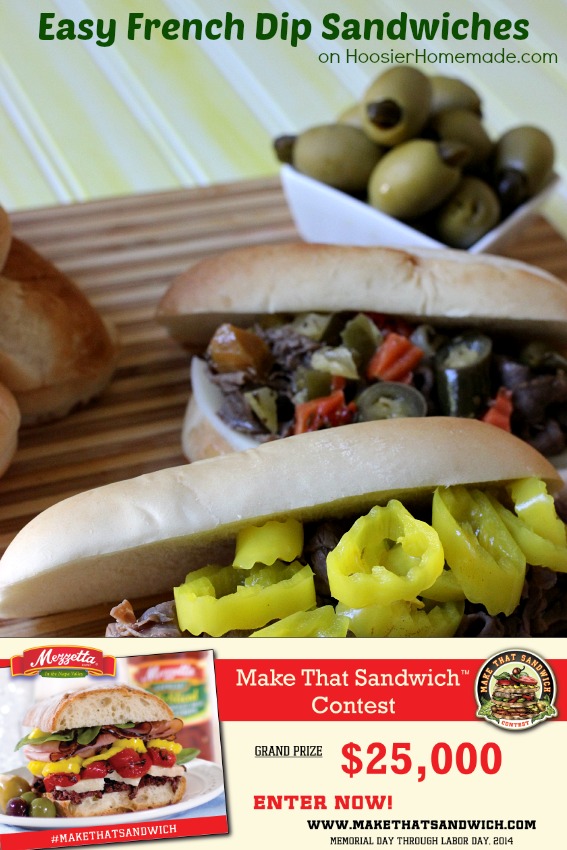 Do you love to come up with delicious Sandwich Recipes? Well you are in luck! Mezzetta is currently hosting their "Make That Sandwich" contest and the Grand Prize Winner receives $25,000, and two runner-up winners will receive $1,000.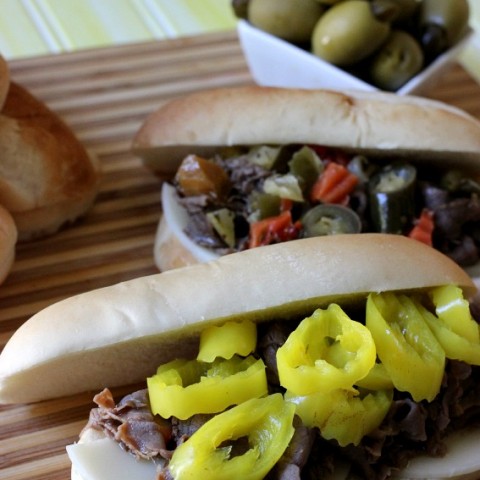 Easy French Dip Sandwiches
Have dinner on the table in under 10 minutes with this easy sandwich. Recipe from HoosierHomemade.com
Ingredients
1/2 pound deli thin sliced Roast Beef
1 can French Onion Soup with caramelized onions
Provolone Cheese
Hoagie Buns
Toppings like Mezzetta Mild Pepper Rings or Italian Sandwich Mix
Instructions
In a small saucepan, bring soup to a boil
Add Roast Beef
Simmer for 5 minutes
Assemble sandwiches on your favorite hoagie bun
Toast in oven if desired
This is a sponsored conversation written by me on behalf of Mezzetta. The opinions and text are all mine.