Easy Easter Baskets for Kids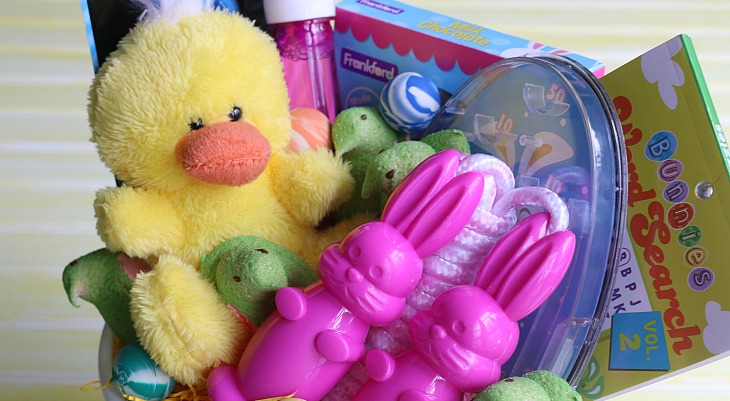 With Easter less than a month away it is time to start thinking about Easter baskets! You can put together these Easy Easter Baskets for Kids for under $10! Grab all the toys and candy you need to fill an Easter basket and still stay on budget!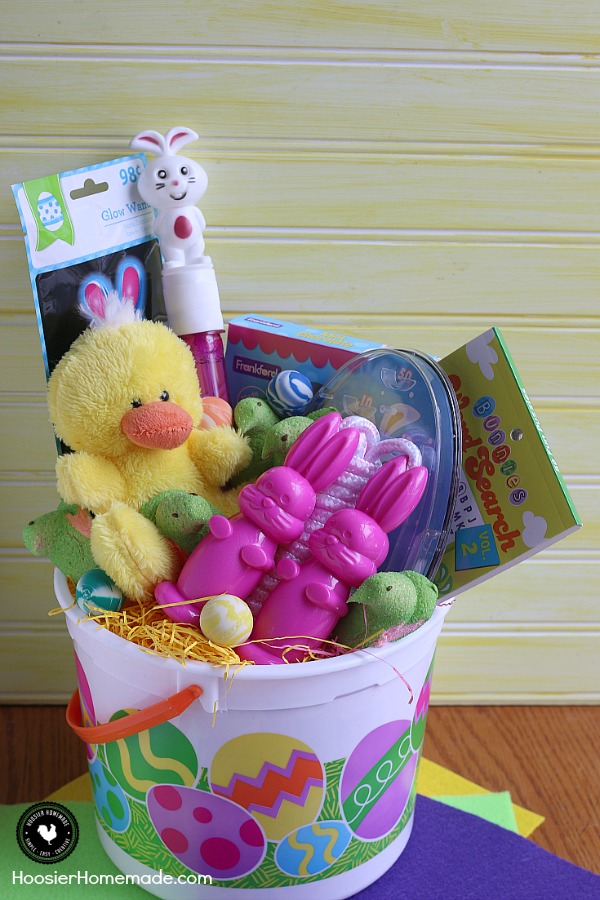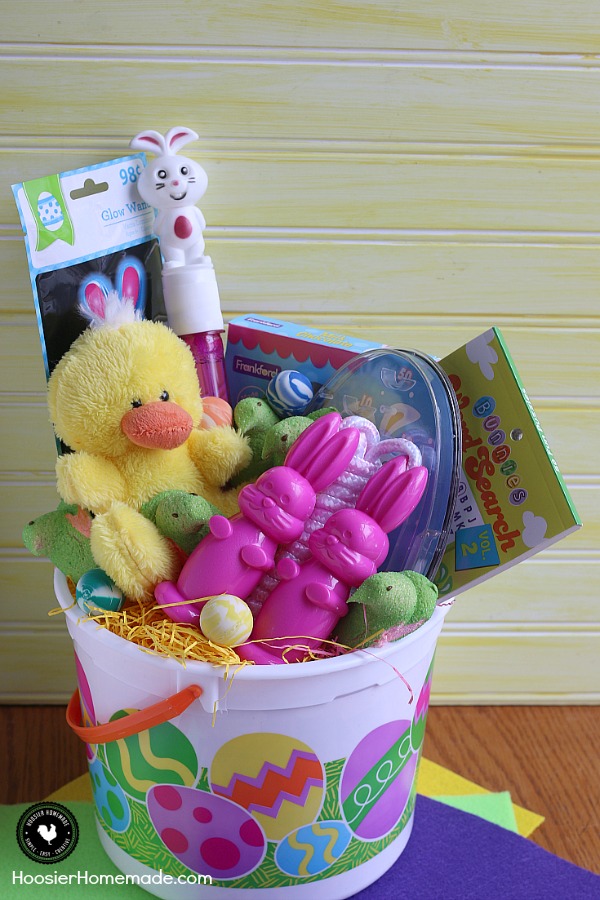 When I was a little kid, my mom and dad would make the best Easter baskets full of candy and toys-and hide them in our trees outside! It didn't matter if it was freezing or raining, my sister and I were always so excited to go out in the morning and search for our Easter basket. It was so fun to see a brightly colored Easter basket in the still bare trees or hidden behind a bush- it was like a warm up for the Easter egg hunts to come! Whenever I think of Easter and Spring, I think of hidden Easter baskets.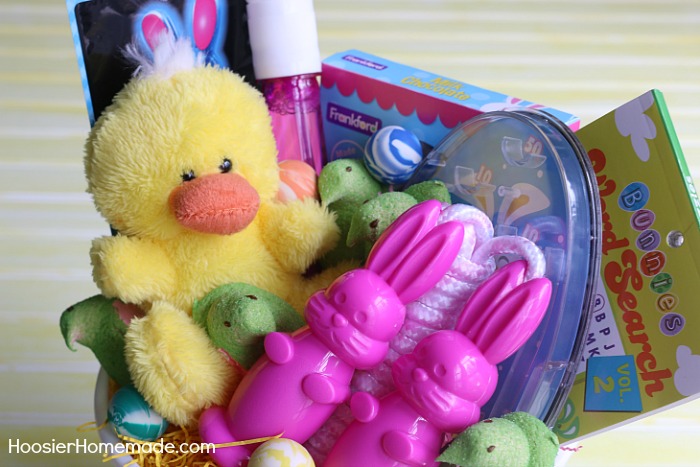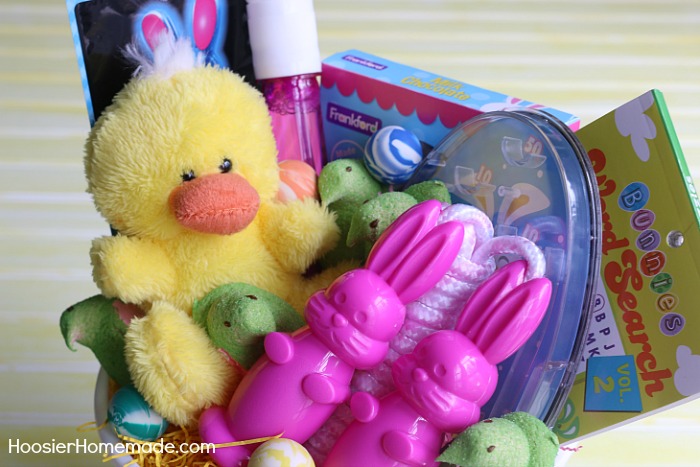 Now that I get to create (and hide!) Easter baskets of my own, I like to include all sorts of goodies- without breaking the bank. Kids get tons of Easter candy this time of year- in Easter egg hunts, during school parties and from relatives, so I try to keep candy treats to a minimum. I love to add in toys that I would have bought them for the Springtime anyways- bubbles, sidewalk chalk, jump ropes- all of these are gifts that keep on giving!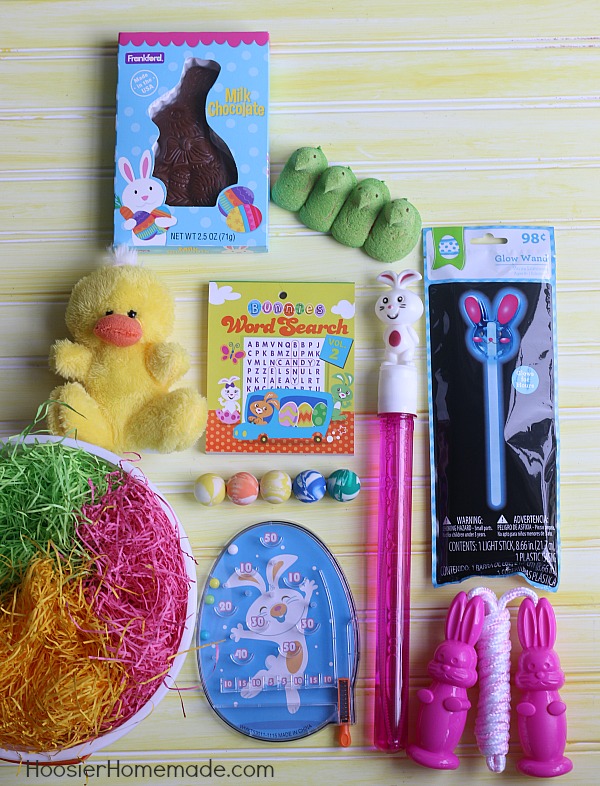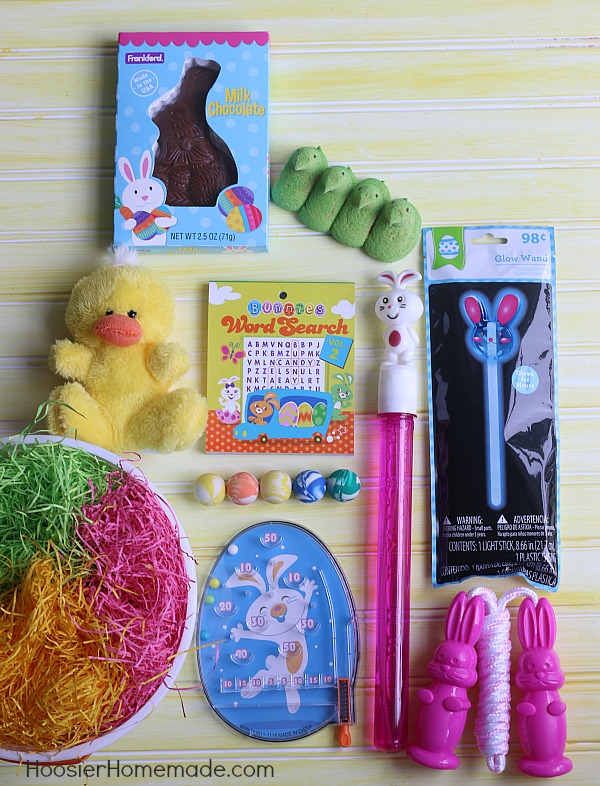 This year I turned to Walmart's great selection of Easter candy, games, toys & more to create an easy Easter basket for kids.
Here is what I included in my basket:
Frankford Milk Chocolate Bunny
Green Peeps
Bunny Glow Wand
Bunny Jump Rope
Bunny Bubbles
Bouncy Balls
Bunnies Word Search
Bunny Game
Plush Duck
This basket is a perfect mix of goodies! The chocolate and Peeps will satisfy a sweet tooth while the jump rope, bubbles and bouncy balls will encourage the kids to get outside and work off the sugar! Then, the puzzle and the game can keep them occupied on the ride home- or they can snuggle with their new stuffed friend! And the best part? All of these items were less than a dollar! Walmart has an amazing selection for such affordable prices.
So this year, try to think outside the Easter candy when filling your baskets. And maybe even try hiding your Easter baskets in trees this year- it will create a wonderful memory! What do you usually fill your baskets with?