Are you ready for a fun treat you can make in under 10 minutes? This easy Chocolate Covered Cherries Recipe is perfect to add to the top of desserts, cupcakes or just enjoy on their own.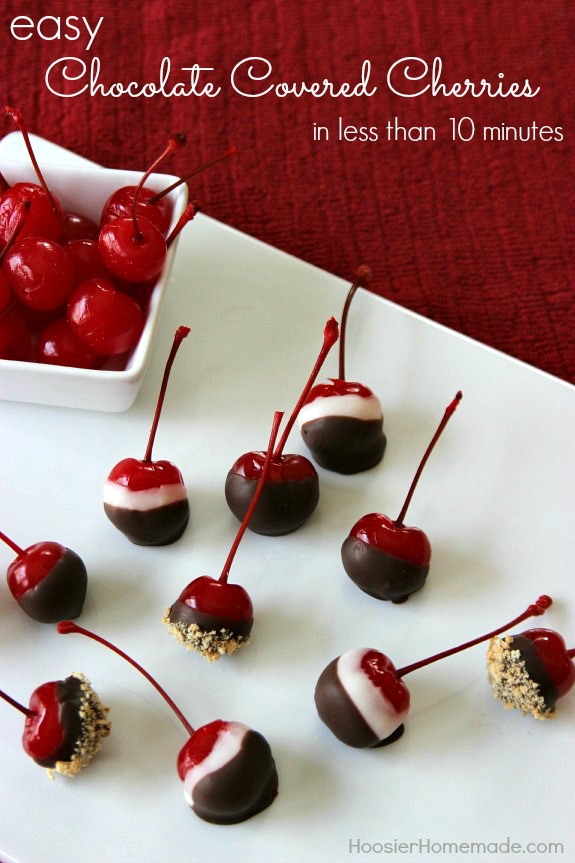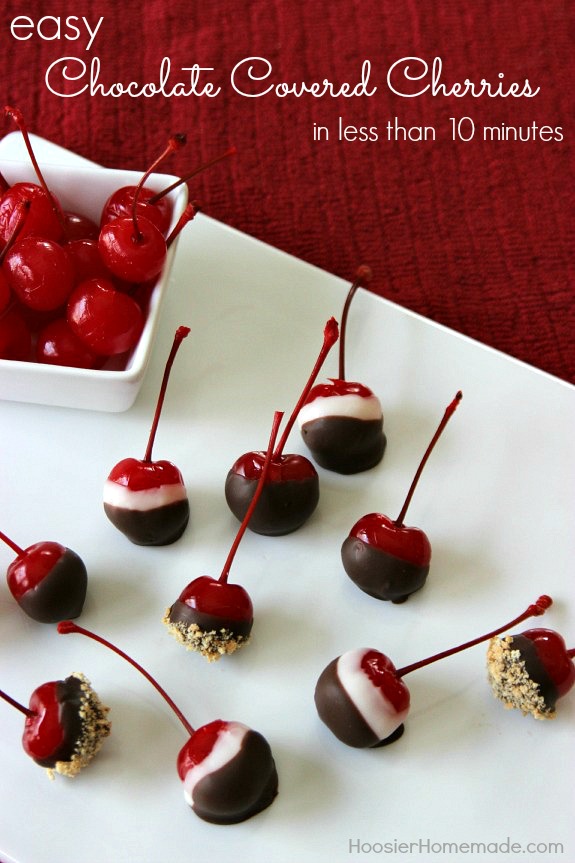 Truth be told – I never used to like maraschino cherries. I would always pick them off the top of sundaes and shakes. It wasn't until I learned how to dip the cherries in chocolate that I began to love them. Of course, everything is better dipped in chocolate, right?
But seriously, these Chocolate Covered Cherries couldn't be easier. They take minutes to make and use just a few ingredients. Over the years, I've found a few tips to make coating the cherries in chocolate easy. Let's get started…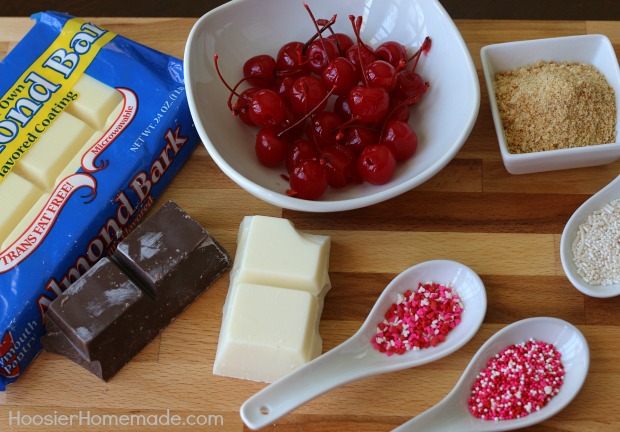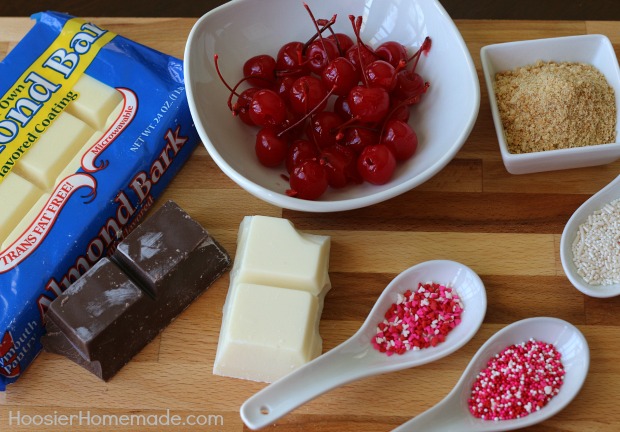 First, let's gather our ingredients. You will need maraschino cherries, they come in a glass jar and are usually in the baking aisle or near the canned fruit. Be sure to get the cherries with stems!
Next you will need chocolate. You can use whatever you like best for dipping chocolate, but I have found that Almond Bark is the best. It's super easy to work with, it melts easily, tastes good and hardens quickly. You can find Almond Bark in the baking aisle near the other chocolate.
Then you will need some decorations, if you choose. I love using sprinkles and crushed graham crackers.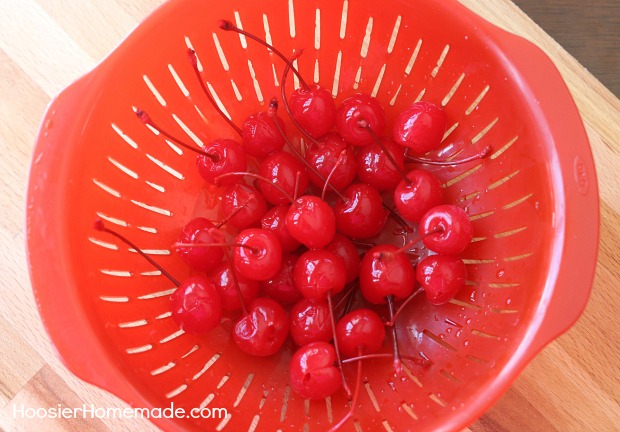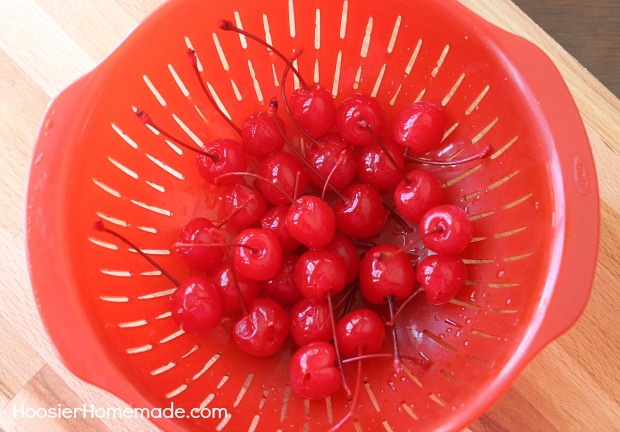 Now it's time to prepare the cherries. Drain off the juice that the cherries are packed in, and rinse them in cool water. Be gentle though, they can break. Let the cherries drain a few minutes and place them on a paper towel, and gently pat dry. You can also let them dry on the towel for a bit if you aren't in a hurry.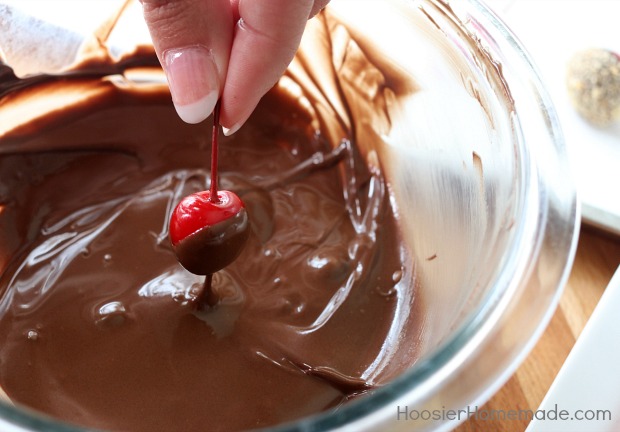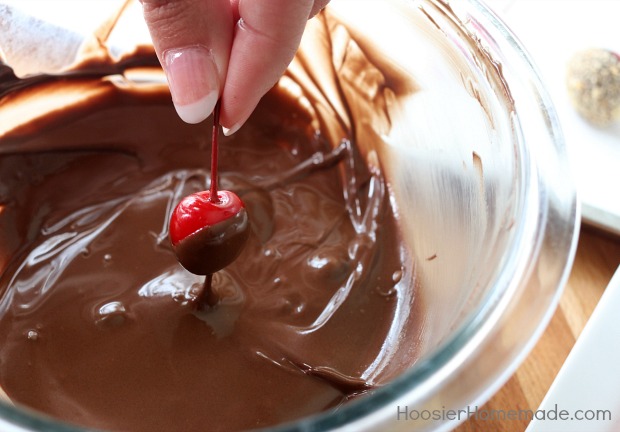 Next comes the fun part – the dipping. Melt the chocolate in the microwave, the time will depend on your microwave. I start at 1 minute, stir, then heat in 20 second intervals. Two squares of chocolate (which is plenty for a jar of cherries) takes about 1 minute 40 seconds in my microwave. You want to stop cooking before all the chocolate is melted, stir until it's completely melted. This way you don't take a chance on burning the chocolate. Burnt chocolate in the microwave is not pleasant – trust me!
Dip each cherry into the chocolate and let the excess chocolate drip off for a couple seconds. You don't want to wait too long, especially if you are dipping in sprinkles or crumbs.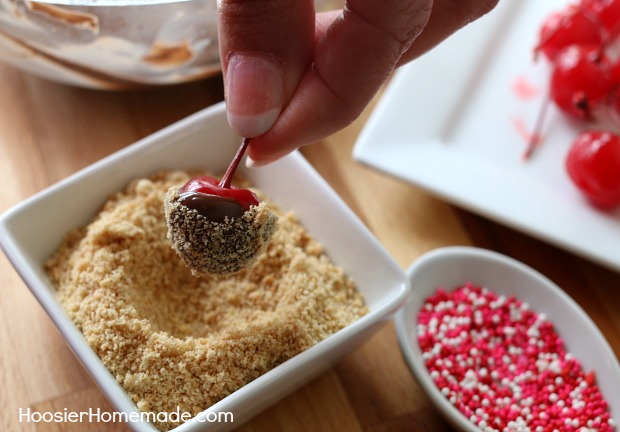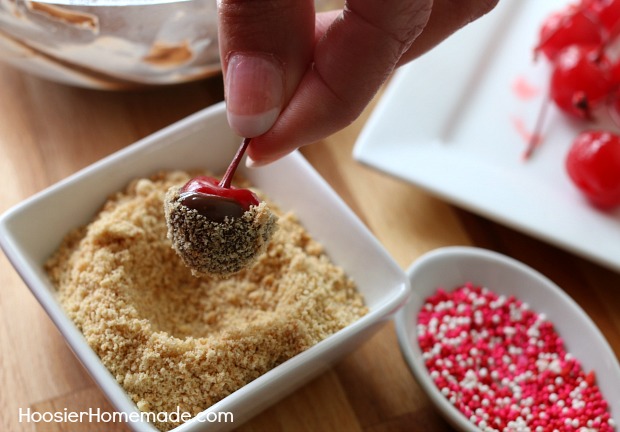 Immediately dip the chocolate coated cherry into the graham cracker crumbs.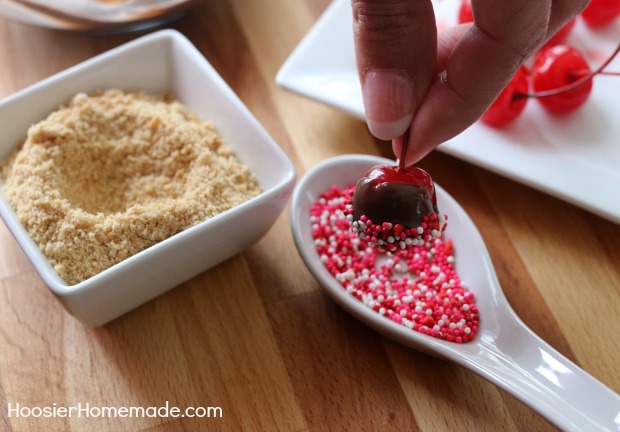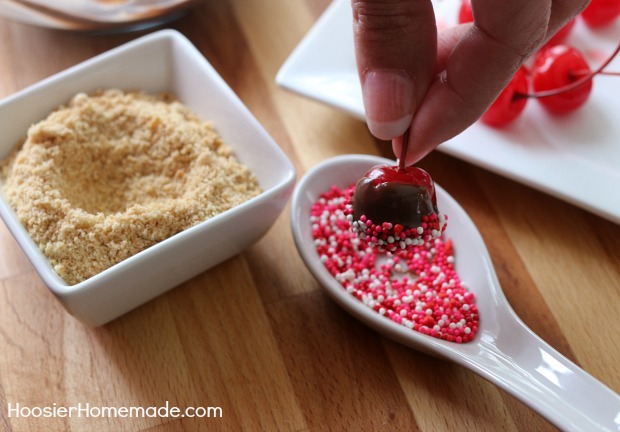 Or into the sprinkles. The sprinkles I used are perfect for Valentine's Day treats! They are nonpareils. Oh, did you see my newly organized sprinkles cabinet? Take a peek!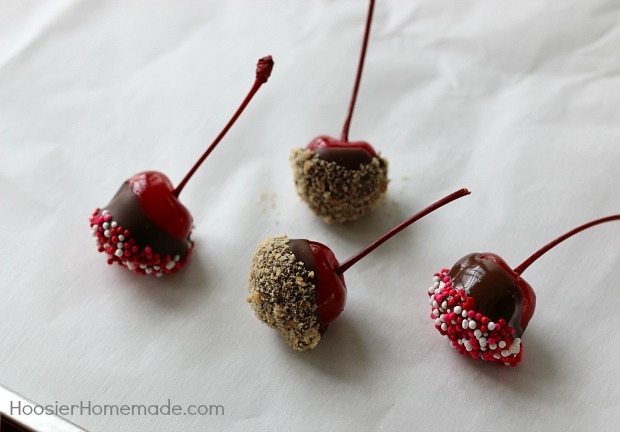 Lay the chocolate covered cherries onto a cookie sheet lined with parchment or wax paper. They will dry quickly, or you can place them in the refrigerator to chill.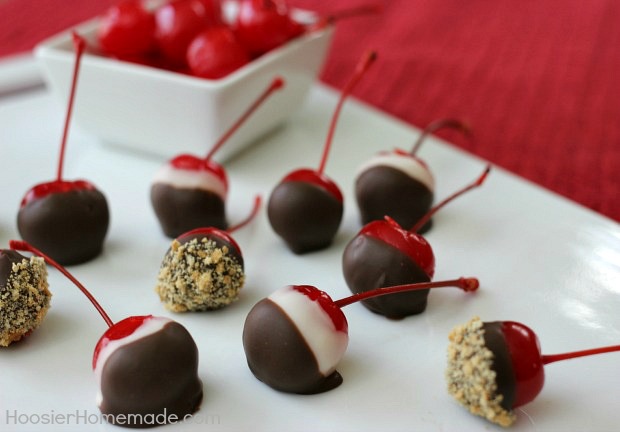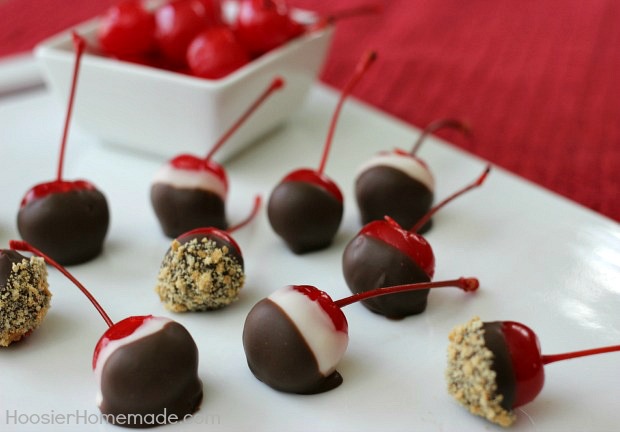 The options are endless for coating the cherries. I also used the white Almond Bark on some of these cherries. I like the double coating of chocolate.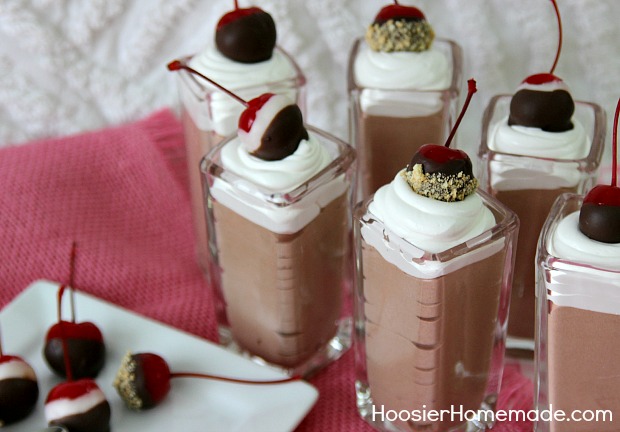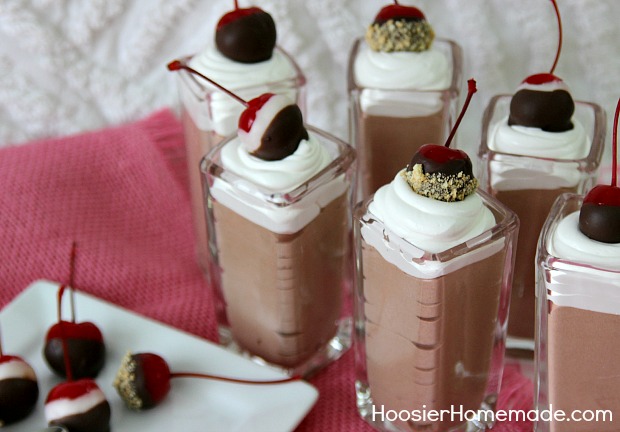 Now that you have the Chocolate Covered Cherries made, it's time to add them to a special dessert. This Chocolate Mousse takes minutes to make, yet it's very impressive looking. It's the perfect Valentine's Day Dessert, great for parties or even a dinner party. Or simply box them up and give them as a gift!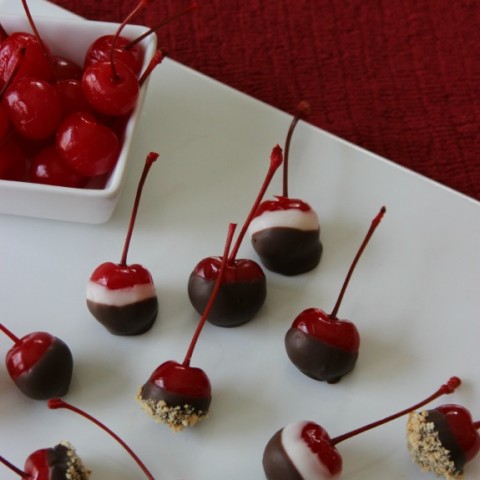 Easy Chocolate Covered Cherries Recipe
In less than 10 minutes you can make these Easy Chocolate Covered Cherries! They are perfect for desserts, cupcakes, or enjoy on their own!
Ingredients
1 (10 oz) jar Maraschino Cherries
Almond Bark - 2 squares
Decorations - crushed graham crackers, sprinkles, etc.
Instructions
Drain and rinse cherries, pat dry with paper towel
Melt chocolate in microwave. Begin with 1 minute, stir, then heat in 20 second intervals.
Stop cooking just before chocolate is completely melted, then stir until it's smooth
Dip cherry in chocolate, let excess drip off
Immediately dip in decorations
Place on cookie sheet lined with parchment or wax paper
Let dry or place in refrigerator to chill
Store in airtight container up to 2 days before using on dessert