Recently I catered a small dinner for 20, and I made these Dessert Shots. They went over really well, and I could hardly wait to share them with you.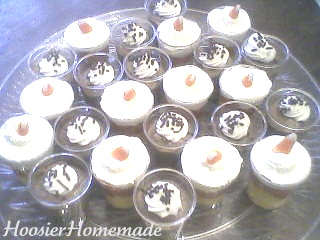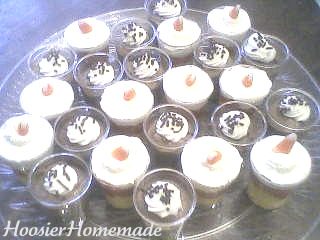 I made 3 different kinds, Chocolate Mousse and the very fun, Candy Corn for the dinner and for our family I made Black Forest Shots.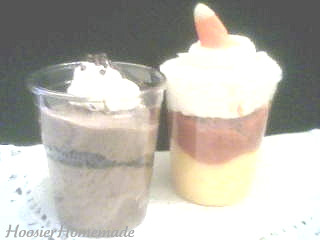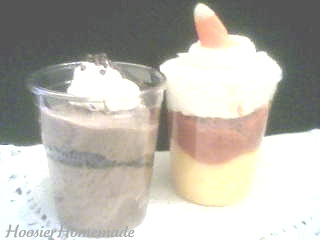 For the Chocolate Mousse Shots: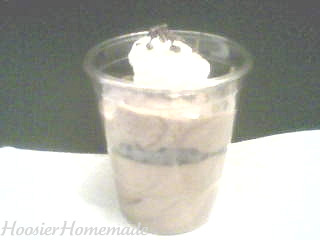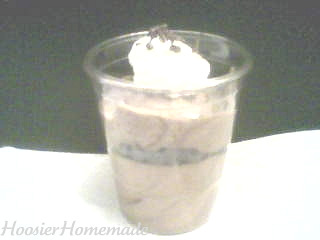 I used Chocolate Pudding and mixed in the whipped topping, layering the pudding with crushed oreo cookies and topping them with whipped topping and a few chocolate sprinkles.
For the Candy Corn Shots, you will need: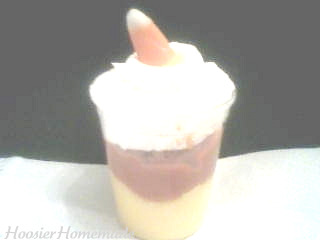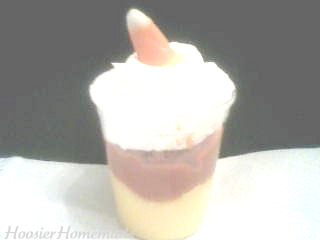 1 Small Box Butterscotch Pudding, instant
4 c. Milk
20 drops red food color
45 drops yellow food color
1 Small Box Banana Cream Pudding, instant
Whipped Topping
Candy Corn for decorating the top
Make butterscotch pudding as directed on box, using 2 c. milk. Stir in 20 drops red food coloring and 25 drops yellow food coloring. Refrigerate for 30 minutes. Make banana cream pudding as directed on box, using the remaining milk, stir in 20 drops of yellow food coloring. Refrigerate.
To assemble, spoon banana cream pudding, then butterscotch and top with whipped topping. Decorate with a candy corn.
Cooks Note: If you or your family doesn't like butterscotch or banana cream, like my family(I loved it) you could certainly use vanilla pudding and color it.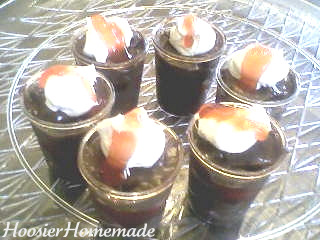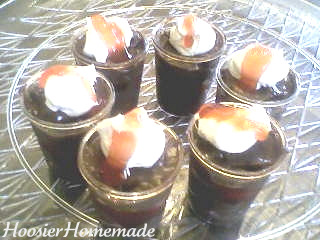 For the Black Forest Shots:
I used Chocolate Fudge Pudding and Cherry Pie Filling, layering the pudding and cherries, topped with some whipped topping and a little cherry juice.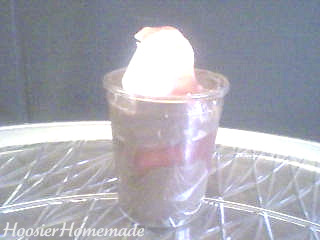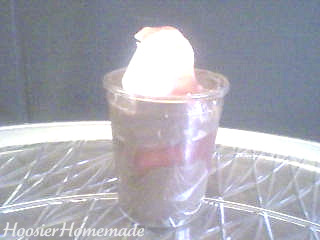 Another cook's note: These little treats are very quick, I made 6 in less than 5 minutes. They are also versatile, you could change the pudding and toppings, lots of different ways. I bought the plastic shot glasses at Gordon Food Service, a discount warehouse, 50 in a package for $3.99, adding pudding and a topping, makes them a frugal dessert. You could most certainly use any small glass or plastic container. These were also surprising quite satisfying.
And the healthy version, because I'm linking to Slightly Indulgent Mondays, and she has healthy alternatives, you could easily use Sugar Free Pudding and Whipped Topping for these.