Decorating Made Easy With Socks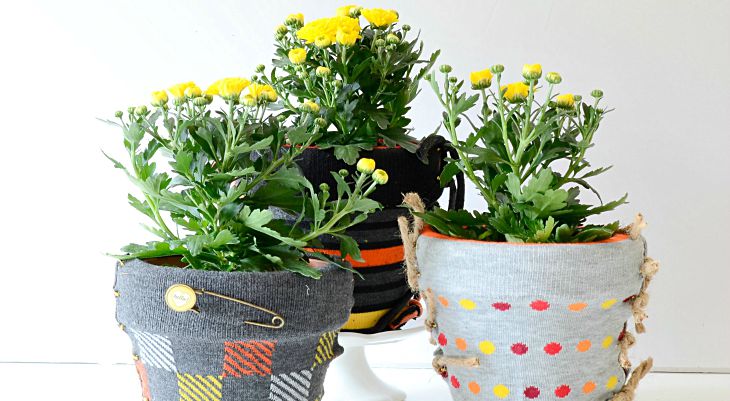 You might be surprised how a pair of $1 socks get transformed into a fun and easy decoration. Our DIY contributor is back today showing you how decorating made easy with socks can add a splash of color to your Fall decorating in minutes!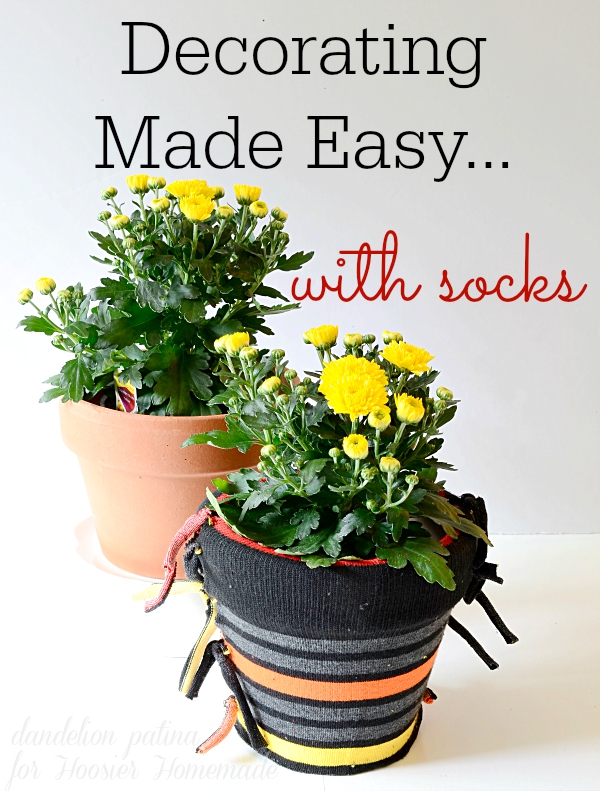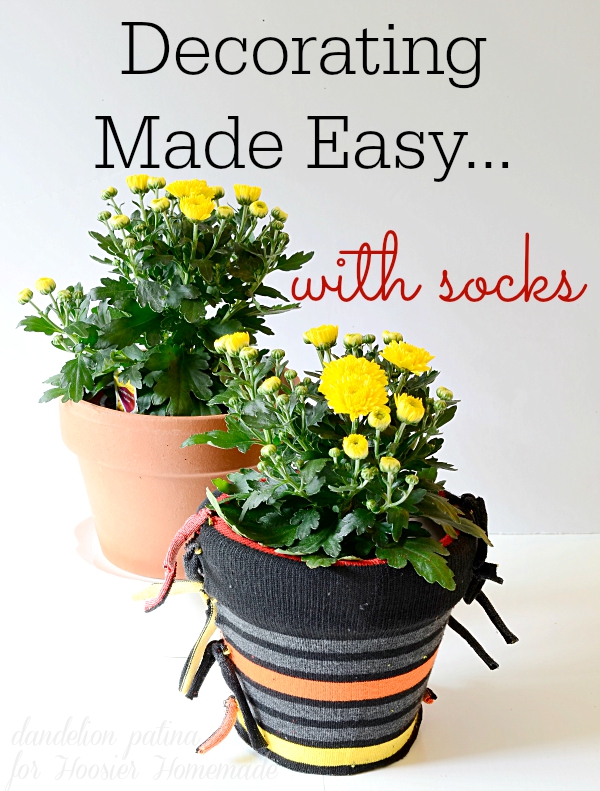 Hello there! It is Michelle with Dandelion Patina here to share a fun tutorial: decorating made easy with socks. Socks you say? Yup…I love all the patterns that socks have these days and they can be used to create fun patterns in decorating. The best part…they are inexpensive! I found the socks I am using today at Walmart for $1 a pair.
For this project, I selected some patterns that had a traditional fall color scheme: oranges, yellows, reds.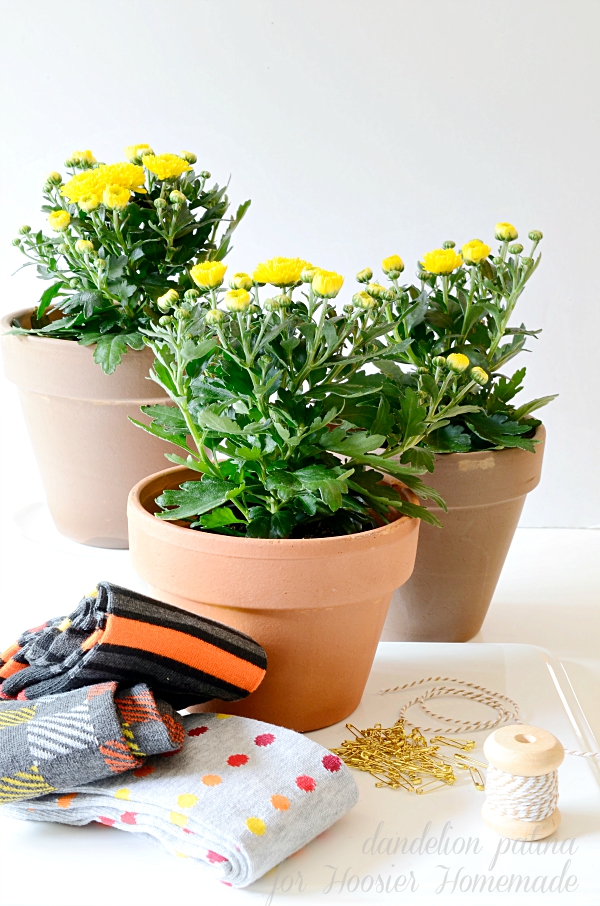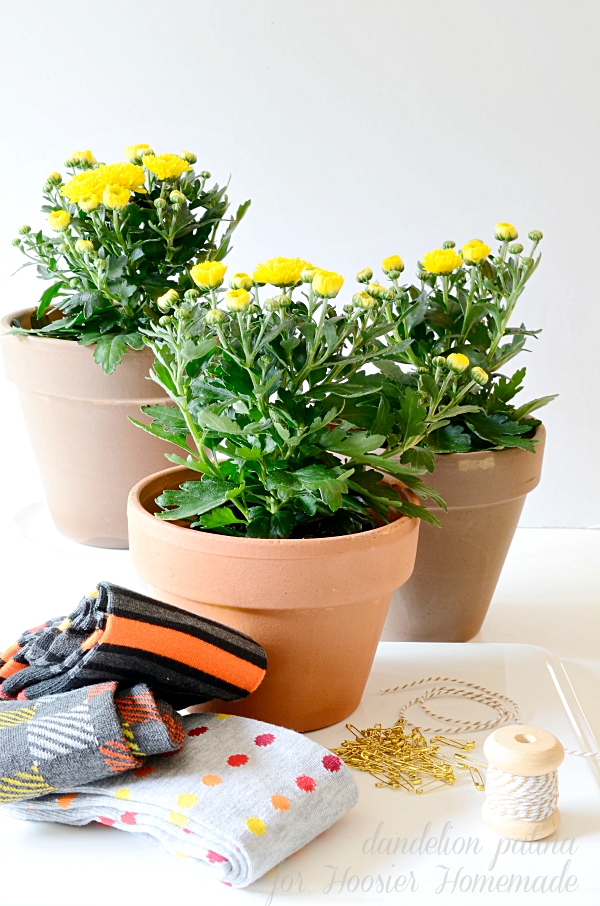 Your supply list should include:
socks (1 pair per pot)
terra cotta pot (s)
safety pins
twine or ribbon
mum plant (s)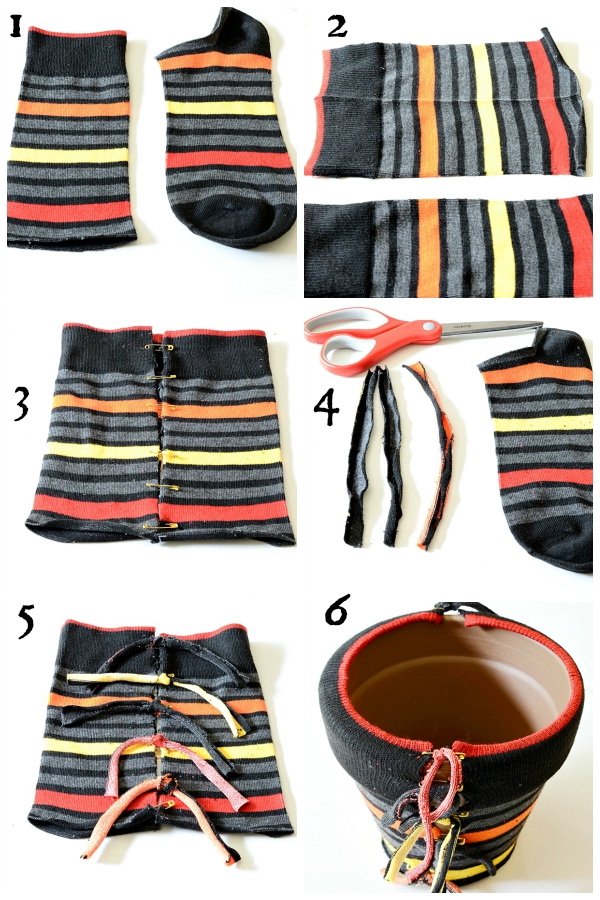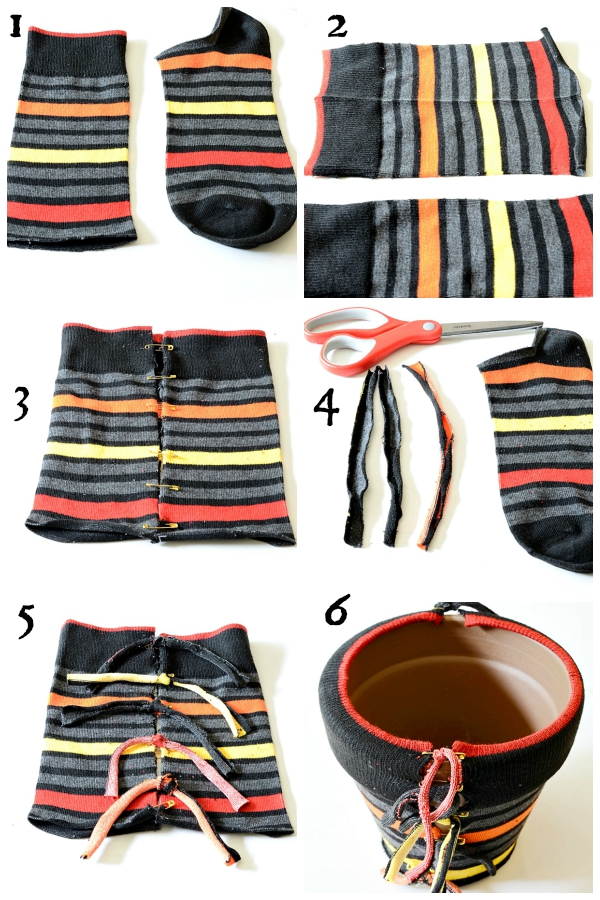 Follow these steps:
Cut off the top portion of each sock. These will be used on the pot.
Cut down the crease of the socks on one side and open flat.
Place cut sides of socks together and pin. Then flip over and do the other side to make a sleeve.
Cut stripes of fabric from the foot of the socks.
Tie fabric stripes to the safety pins for a decorative look.
This is a sample of what the sleeve should look like once on the pot.
Turn your pot upside down and pull sleeve over pot
Use your finger as a guide and cut off excess fabric.
Secure fabric with a few more safety pins. Adjust your sleeve.
Embellish and enjoy.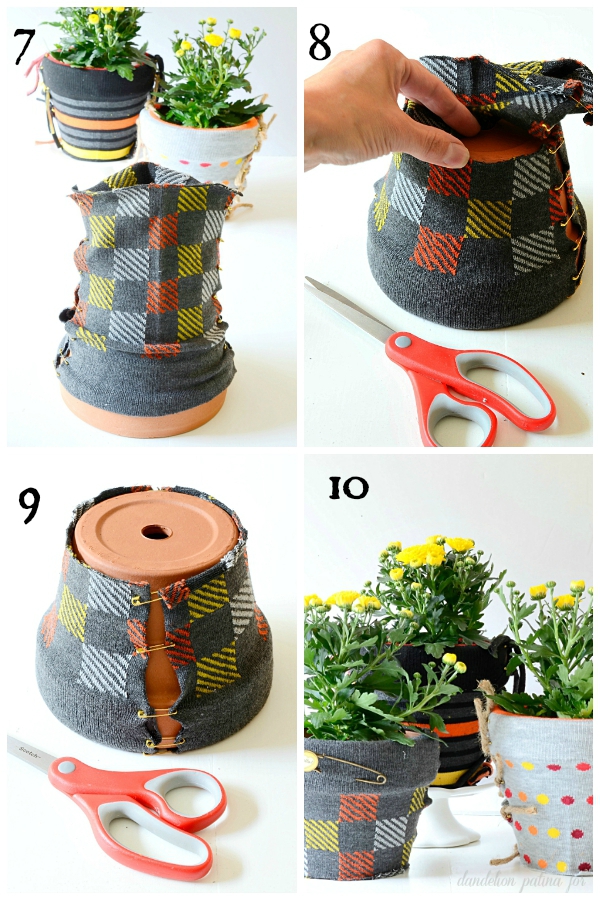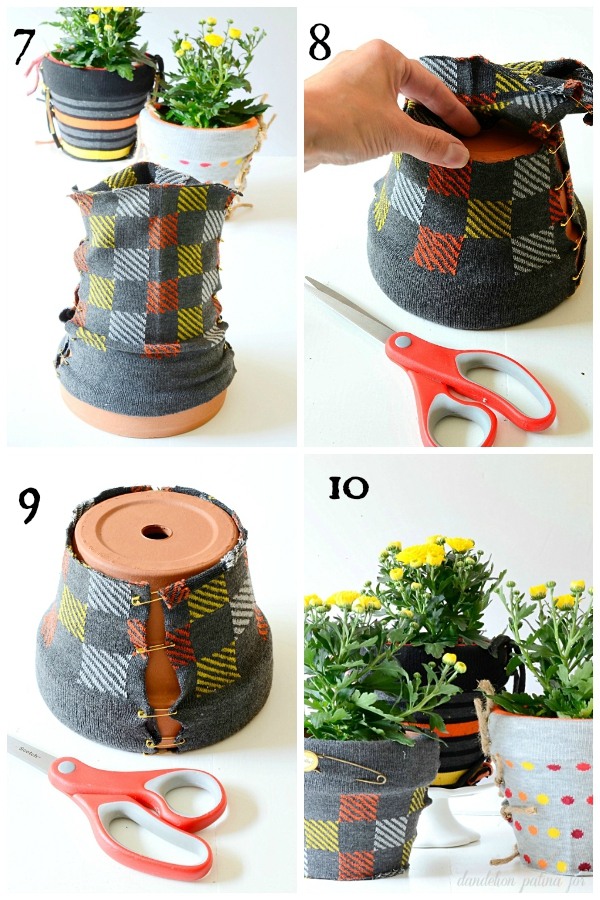 Keep in mind that you can use any types of twine or ribbon you like, this is what I had on hand. I tried to change up the texture for each pot.  If you like a more industrial/utilitarian look just leave the safety pins exposed. These pots can be dressed up or down depending on your style.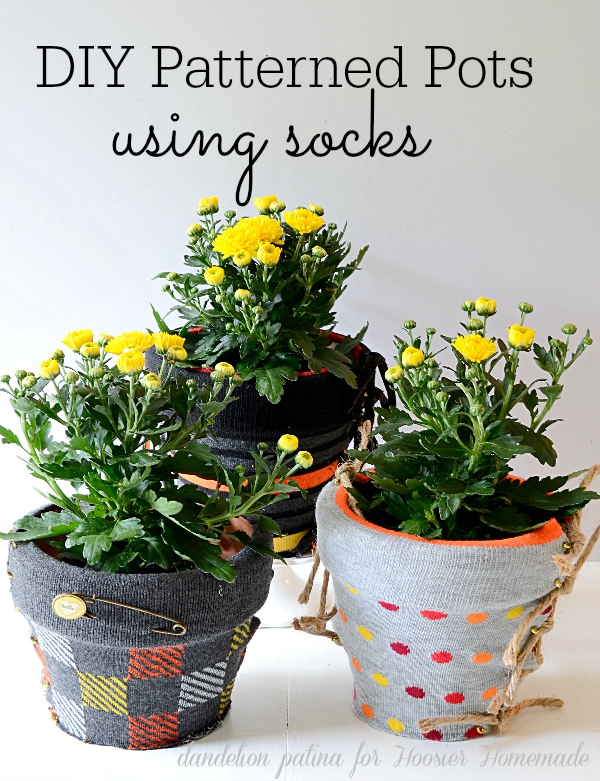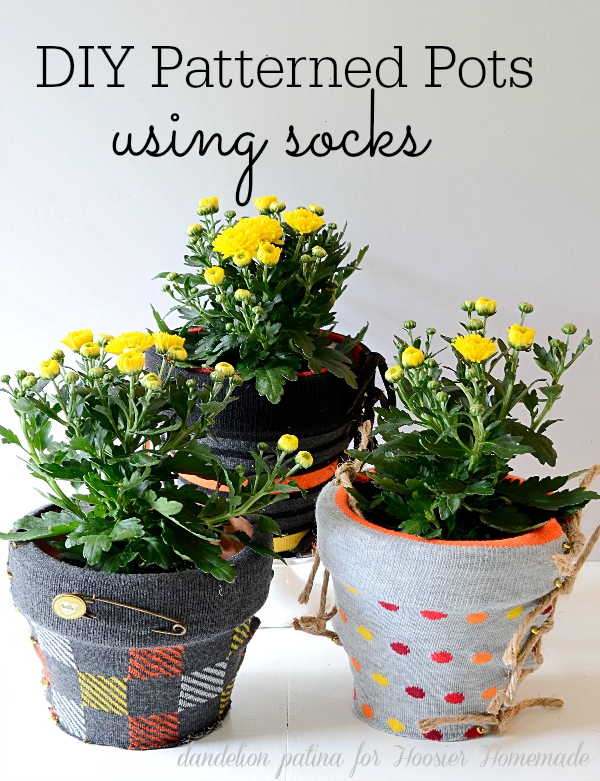 Don't these mums look cozy in their little sock pots? Such a cute little vignette. Place them on your patio or front porch to greet visitors.
And there you have it….decorating made easy with socks!
I created this cute little sitting area for our front porch. I call it the rustic hay bale lounger. A fun and easy project you can try! It is great for that family photo too.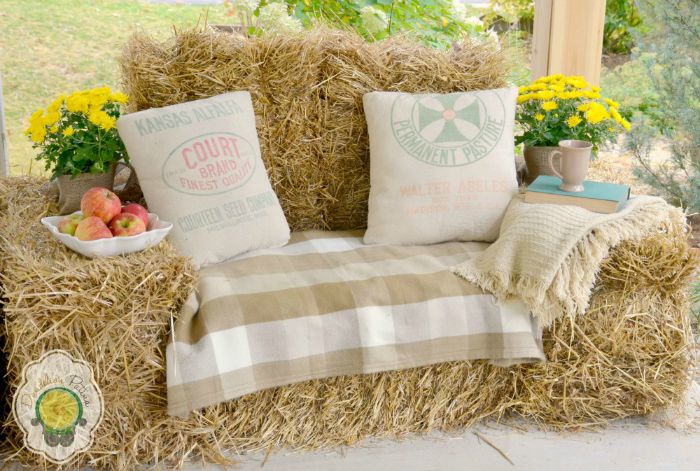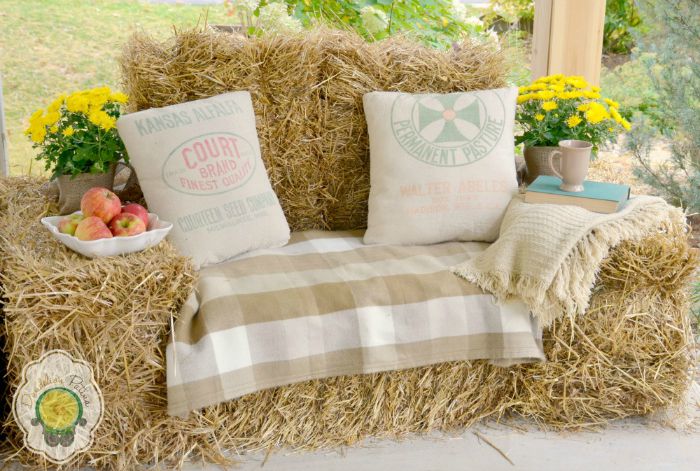 Have a great week everyone!


Did you know that Dandelion Patina loves to be social? Subscribe to the blog. Join the party onPinterest. Join the conversation on Facebook. Tweet your latest news to us on Twitter. Share your inspirational photos with us on Instagram.