Welcome to Cupcake Tuesday!   If you are new here, grab a cup of tea or a glass of milk and enjoy a cupcake!
Summertime is upon us here in Indiana. Do you have a Memorial Day Cookout to go to? I sure hope so, because I have the perfect Memorial Day Cupcakes for you.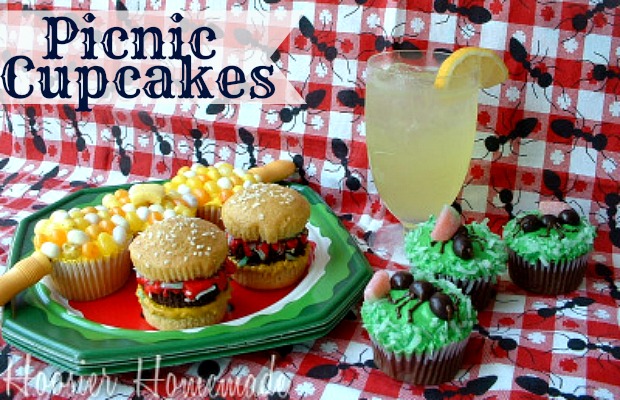 How about Hamburgers with a side of Corn on the Cob? And it wouldn't be a picnic without ants, right? Once again, I started with the ideas from the What's New, Cupcake? and Hello, Cupcake books. I also found the hamburger cupcakes on Flickr.
Would you like to learn how to create these fun and easy cupcakes? Great, I made a How-to Video to help.
How fun! I think they would be a hit at any Memorial Day get together, summer picnic or even Fourth of July party!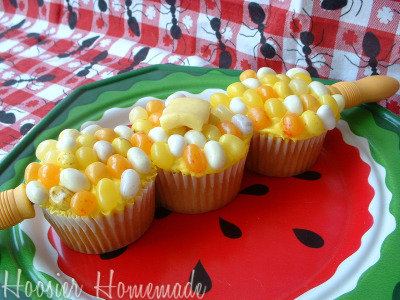 Corn on the Cob Cupcakes:
Assorted yellow and white Jelly Belly Beans
Yellow Starburst or Laffy Taffy
2 Corn Cob holders for decoration
Frosting tinted Yellow with Wilton coloring
White and Black decorating sugar, optional (I didn't use this)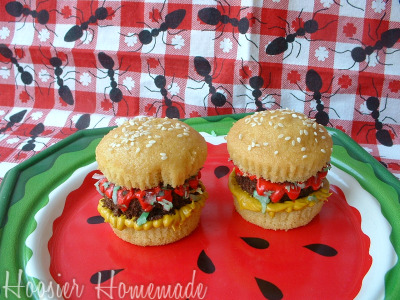 Hamburger Cupcakes:
Yellow and Chocolate Cupcakes
Frosting tinted Red with Wilton coloring
Frosting tinted Yellow/Brownish with Wilton coloring
Shredded Coconut tinted green
Apple Juice for dipping
Sesame seeds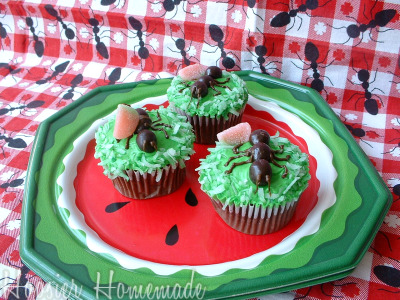 Picnic Ants Cupcakes:
Chocolate Covered Almonds (found in Bridge Mix, or other oval shaped chocolate candy)
Frosting tinted Green with Wilton coloring
Frosting tinted Dark Brown with Wilton coloring
Shredded coconut tinted green
Watermelon candies (we found them at Walgreens)
Be visit my Blog Parties list in the footer, I've linked this post to some of them.
Psss…I have a new design, so hop on over to the Home Page and check it out.
Now it's your turn! Please share your cupcake or muffin recipe! For the guidelines, you can visit Cupcake Tuesday.
Please be sure to link back to this post, so that your readers can see all the yummy creations and visit some (or all) of the other participants.