Christmas Party Decorating Ideas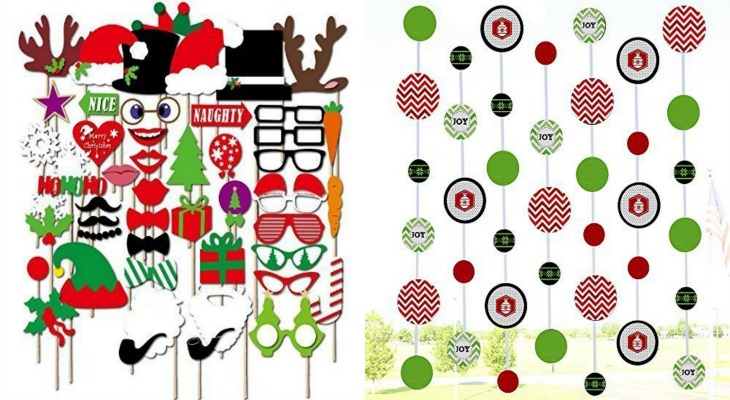 Throwing a Christmas Party? These Christmas Party Decorating Ideas are sure to bring a smile to your guests face! Photo Booth props, wall decorations, table decorations and much more!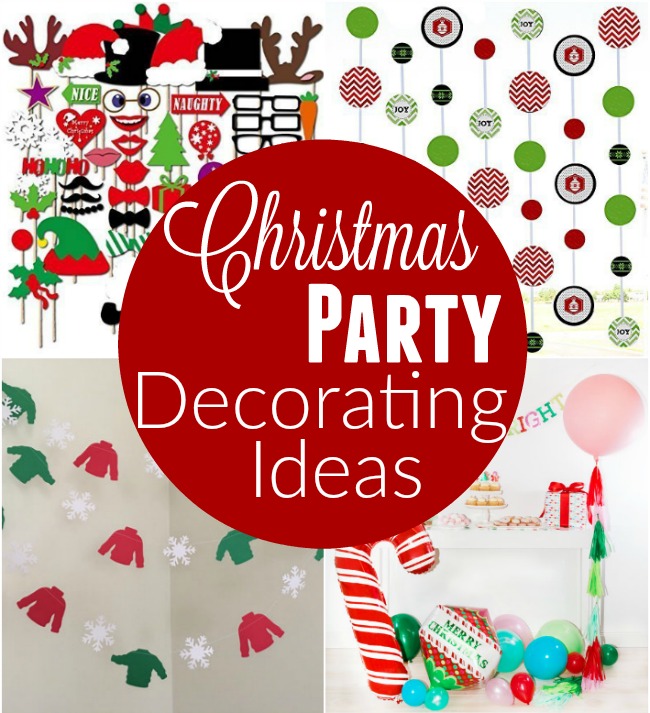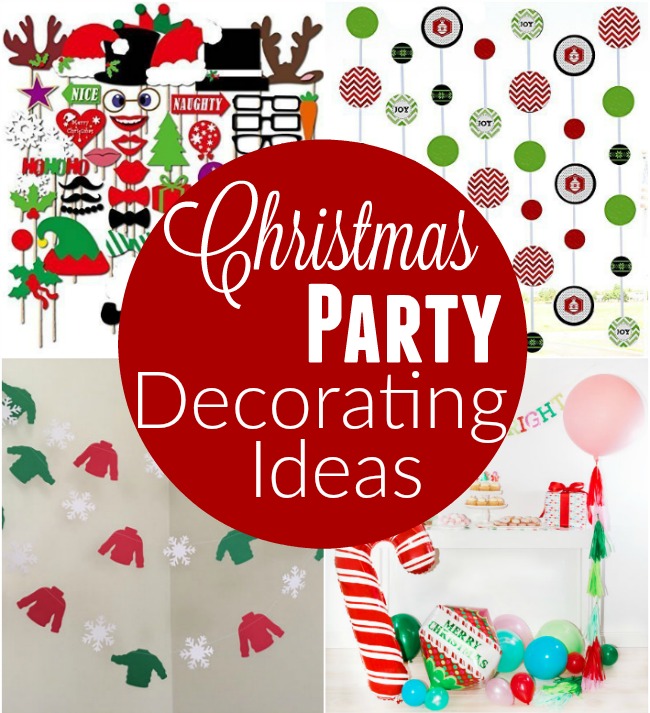 Decorating for Christmas parties is one of the best parts of the the holiday season in my opinion. However, not everyone wants to be traditional in their party decor. Check out some of these Christmas party decorating ideas, so you can get started on your party planning. Whether you are hosting a family Christmas party, an Office Christmas party or even a Classroom Christmas party, these ideas are sure to inspire you. There are even some fun Christmas party favors on the list.
Let's start with decorations that you can hang…
Hanging Decorations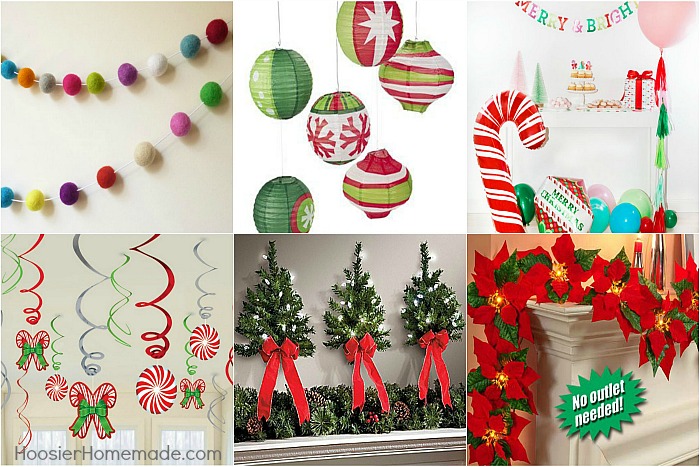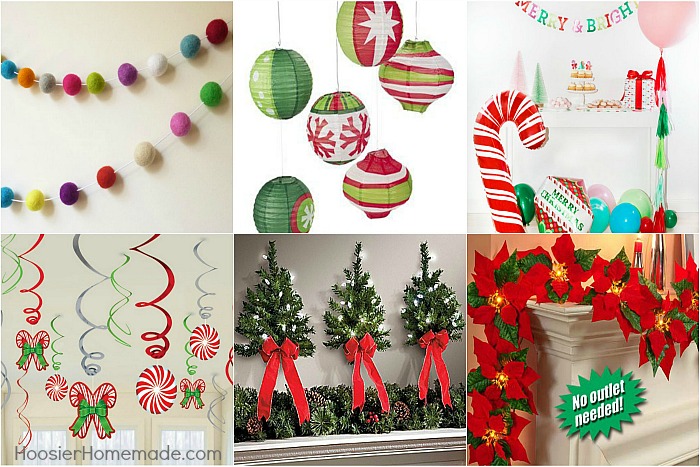 Make your home beautiful and bright for the holiday party with this Multi Colored Garland. These Multi Colored Garlands are bright and fun! The perfect decoration for your parties and celebrations, for gender neutral nurseries and kid's rooms.
It's time to throw an awesome Christmas party with these lanterns. These Paper Ornament Party Lanterns feature assorted red white and green designs with the look of traditional Christmas ornaments. What a great addition to any holiday party you'll throw this year.
Merry & Bright + More Christmas Party Decor 
I am in love with this decor and want it in my home. This is actually a party in a box! Enjoy stress-free holiday party planning with our all inclusive Merry & Bright Party Box! Includes everything you need to throw an amazing Holiday or Christmas party!
Candy Cane 6 Piece Hanging Swirls
Let's get to making Christmas merry and bright again with these Candy Cane 6 Piece Hanging Swirls. These Candy Cane Value Pack Hanging Swirls feature candy canes and peppermints hanging from silver, green and red metallic swirls.
Hanging Swag Wreath Christmas Tree Decor
If you're looking for a little bit of Christmas swag for your home, this is it. You can spruce up any room with our set of 3 battery-operated Wall Christmas Trees.
Cordless Lighted Poinsettia Garland
Looking for something to make your home look extra special? Check out this Cordless Lighted Poinsettia Garland. These add a bright adornment to staircase, doorway or mantel.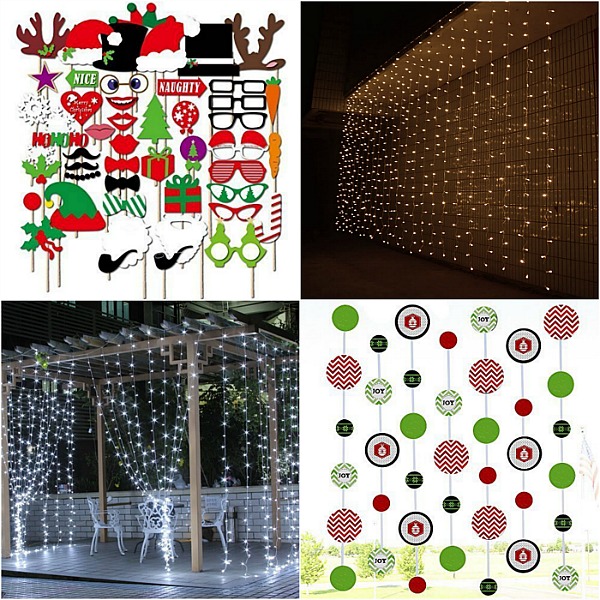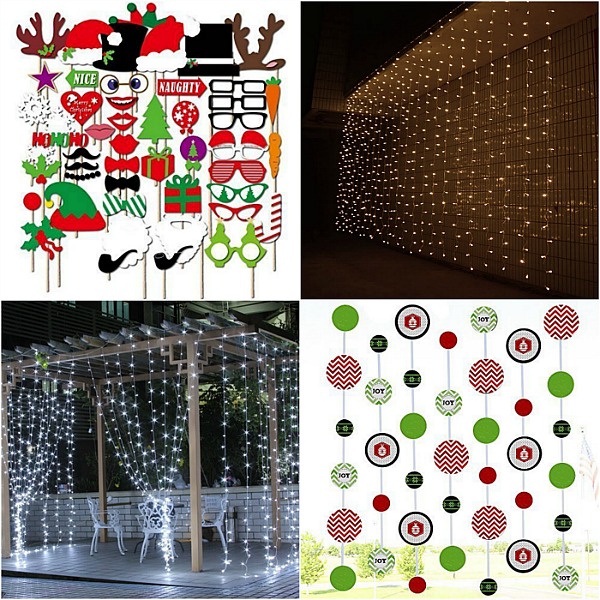 Lights and Photo Booths
I'm not sure there's anything more amazing than Christmas Photo Booth Props to add to your Christmas party! Colorful props are a great way to create fun photos for great memories. This set will be a unique addition to any corporate, school or home party!
LED Linkable Design Fairy String Curtains Light
If you're going for a particularly classy look for the Christmas party you're throwing, check out these lights. This linkable design led decoration curtain light is composed of the controller and main curtain light two parts.
I'm all about the lights this year and these Ucharge Curtain Light are perfect! These lights make awesome Christmas decorations and they are also ideal for indoor and outdoor decorative.
Chevron Christmas Party DIY Photo Booth Backdrop
I am a huge fan of Chevron and I especially love this Christmas Party DIY Photo Booth Backdrop. It's a no hassle way to decorate for your Christmas party! Love it.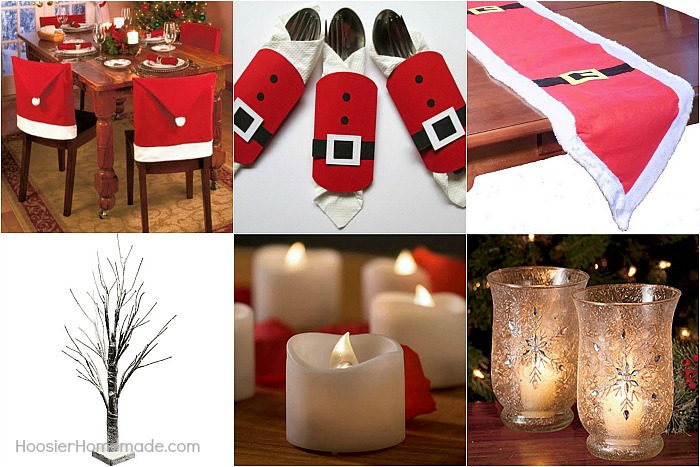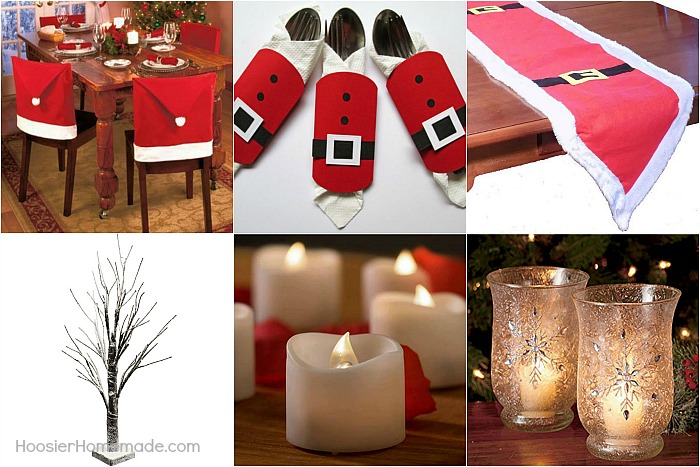 Christmas Table Decorations
Santa Claus Clause Hat Chair Covers
Are you looking for a fun way to upgrade your kitchen table and chairs during the holiday season? These Santa Claus Clause Hat Chair Covers are purely awesome!
Why have plain old silverware when you can dress it up with these Christmas Cutlery Holders?
The perfect compliment to the Santa Hat Covers and Cutlery Holders, this Santa Table Runner is perfect for all ages.
Christmas Tree with LED Lights 
Hang a few small ornaments on these little trees and you are good to go.
White Bright Flickering Flameless Tea Lights
Let your home shine bright with these White Bright Flickering Flameless Tea Lights. A great addition to your Christmas home decor this holiday season.
Elegant Frosted Snowflake Winter Jeweled Glass Candle Holders
Let's talk about these beautiful glass candle holders for a second, simply beautiful! This set of 2 Frosted Glass Jeweled Hurricanes add elegance and light to your home and the glass looks like a windowpane touched by Jack Frost.
Christmas Party Fun
The holidays are for allowing kids to have fun too. Celebrate the holidays with the best selling line of poppers from Hog Wild. This Elf will shoot a soft foam ball up to 20′ if you are naughty (and nice).
Inflatable Reindeer Antler Ring Toss Game-Holiday Party
Spice up a dull winters' day with this fun inflatable ring toss game. Just blow up the antlers and rings, elect someone "Rudolph" and start your own reindeer games! I love the idea behind fun and easy Christmas stuff.
Ugly Sweater Wine Bottle Sweaters
These are just plain fun! Whether you drink wine or not, you have to agree that they are definitely a conversation starter.
Perfect for an Ugly Sweater Party, and to go with the Wine Bottle Sweaters, this Ugly Sweater Garland will brighten up any wall during your Christmas party!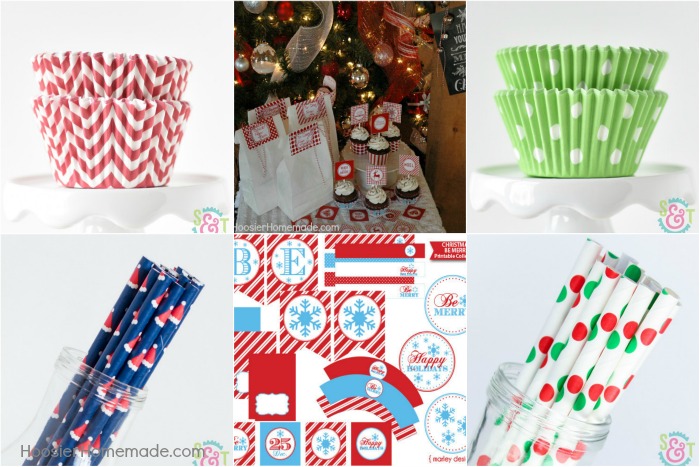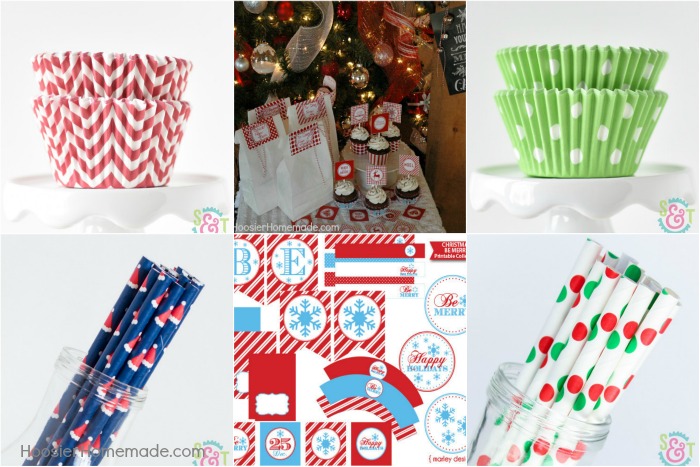 No Christmas party would be complete with out fun Christmas cupcake liners, straws and printables including cupcake toppers!
Cupcake Liners (these are my absolute favorite brand of liner!)
Straws
Christmas Cupcake Toppers and Party Printables
Decorating for your Christmas party just got a lot more fun. I hope you enjoy what we've shared with you! Planning a party is so much fun, especially when you have all of these awesome decorations to choose from.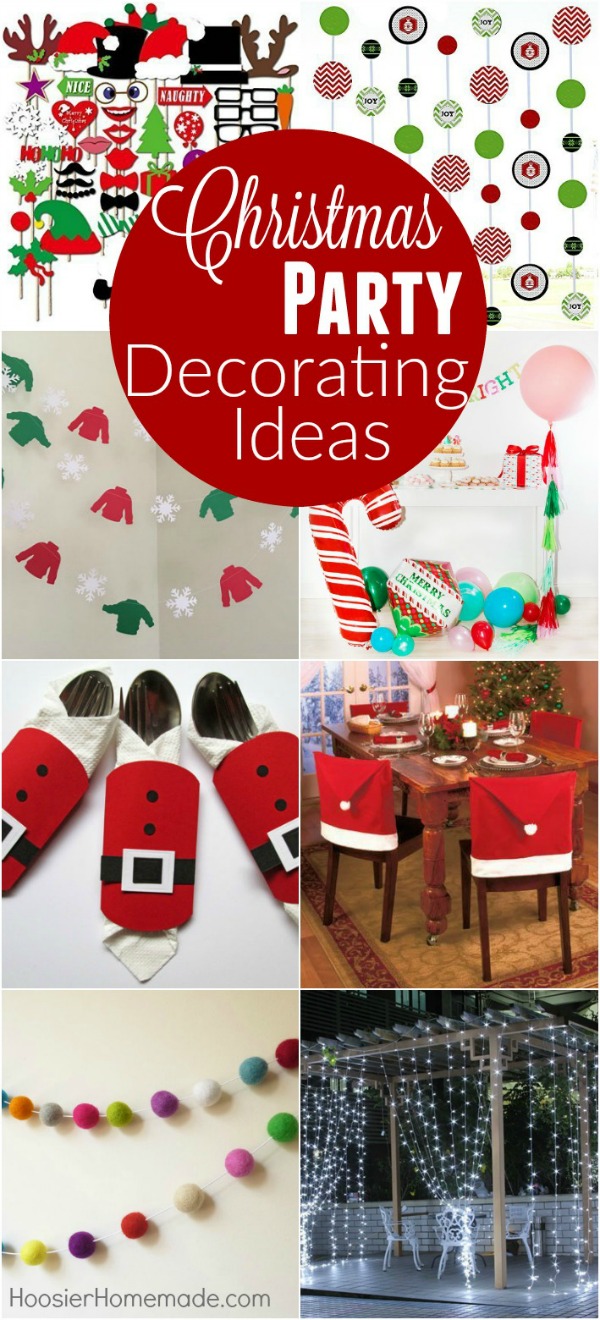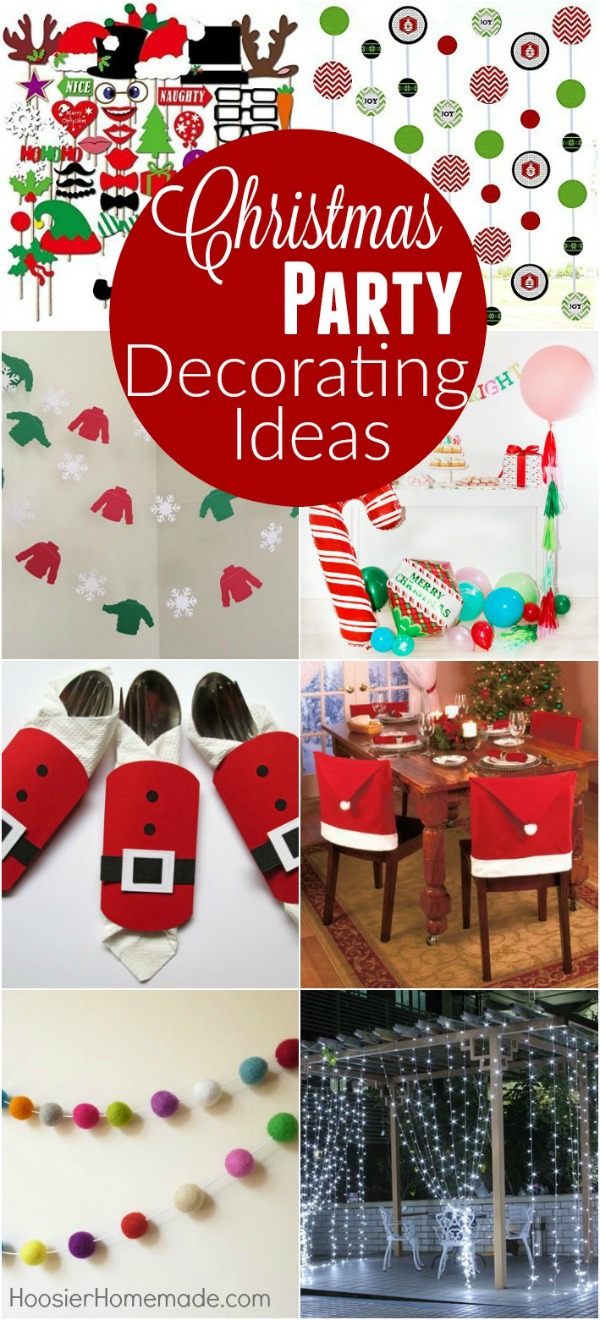 This post contains affiliate links. By clicking on the links, we will receive a small amount of money that helps us provide free content to you.