Chocolate Chunk and Marshmallow Skillet Cookie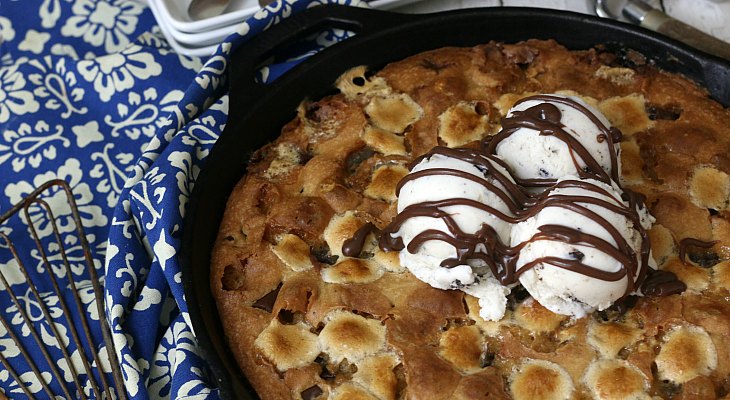 Cookies are my favorite dessert. I love that I can pick them up and don't need a fork! But this time I was inspired to make the ultimate cookie- a chocolate chunk and marshmallow skillet cookie! And it is so good, I don't even care that I need a fork!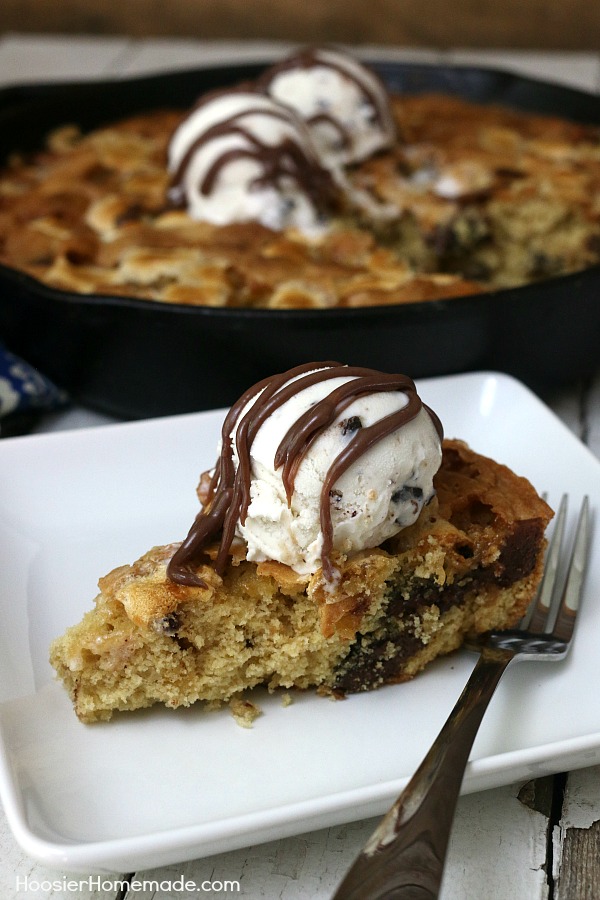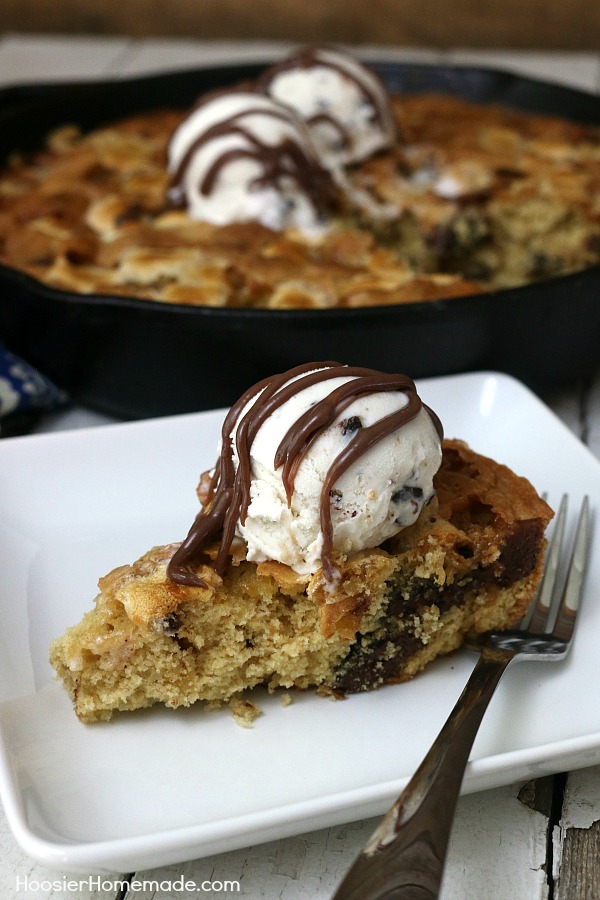 I think the ingredient that makes this cookie so amazing is the marshmallow- it is so sweet and decadent! It also gives the cookie an awesome texture. Combine that with a scoop of ice cream on top, and it is an amazing dessert! I found the recipe on Walmart's Sizzling Summer Recipe series- there are some awesome recipes!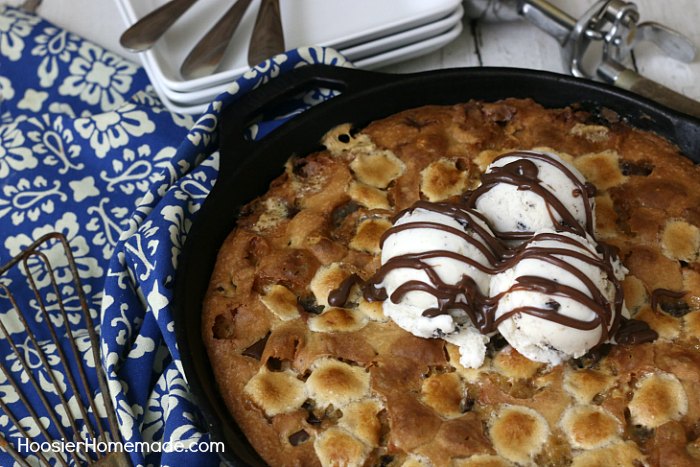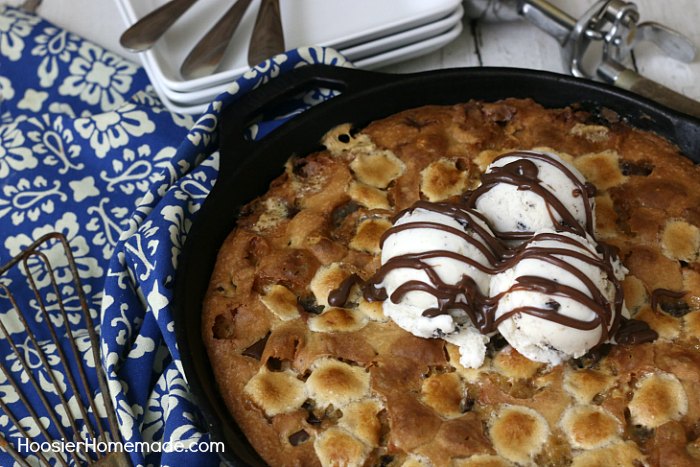 The cookie starts off like most cookies- mixing the wet ingredients and sugars, and then adding the flour, baking powder, and baking soda. Next, fold in the chocolate chunks and marshmallows- but make sure to reserve a few!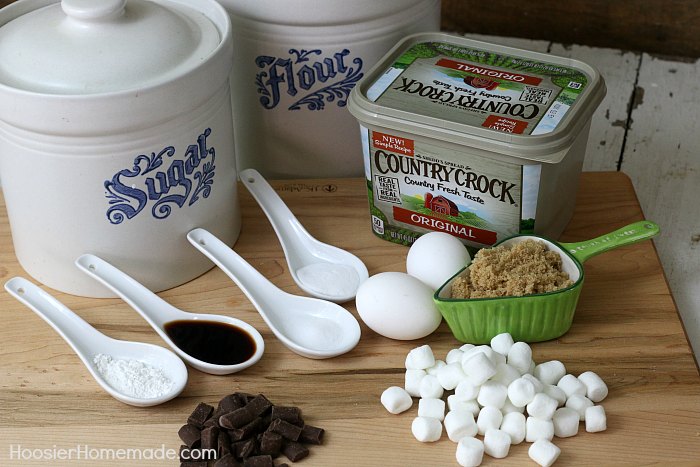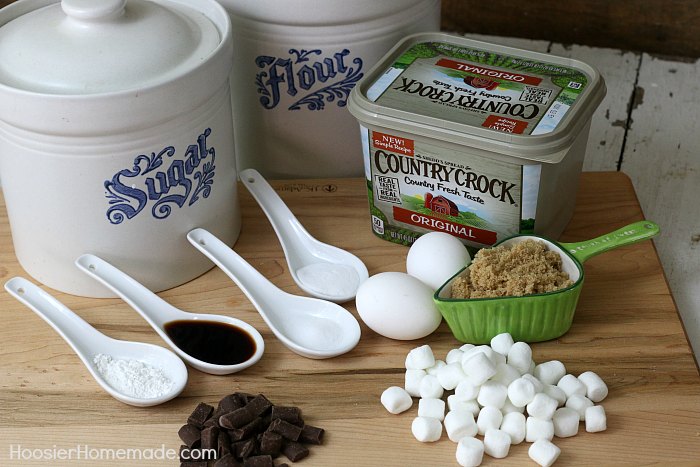 Finally, spread the mixture in a 12 inch cast iron skillet and sprinkle the remaining chocolate chunks and marshmallows on the top. Then comes the hard part- bake for 50 minutes and allow to cool for 30! During this waiting period, I am usually eating a little cookie dough that "didn't fit in the skillet"- yes, I know this is bad for me and I shouldn't do it, but it is so good!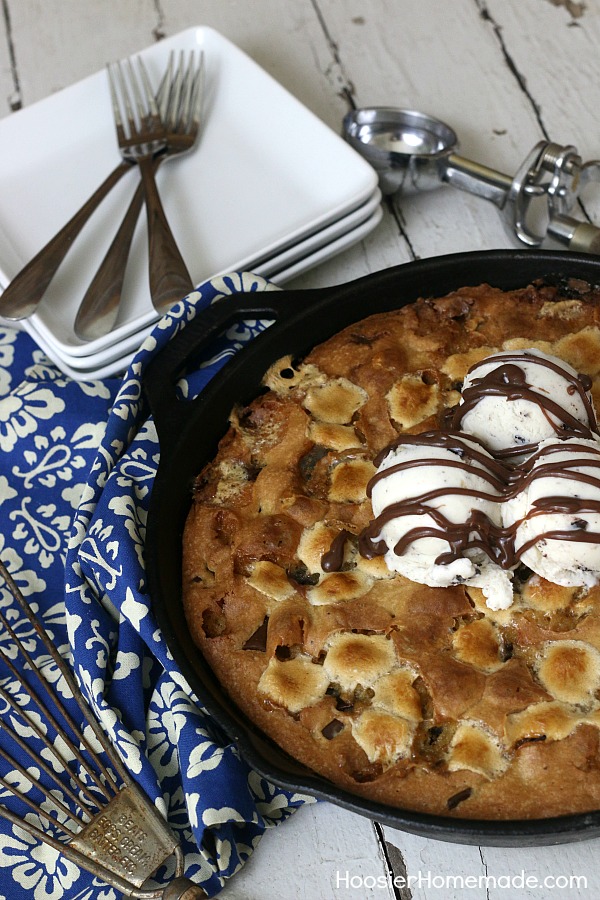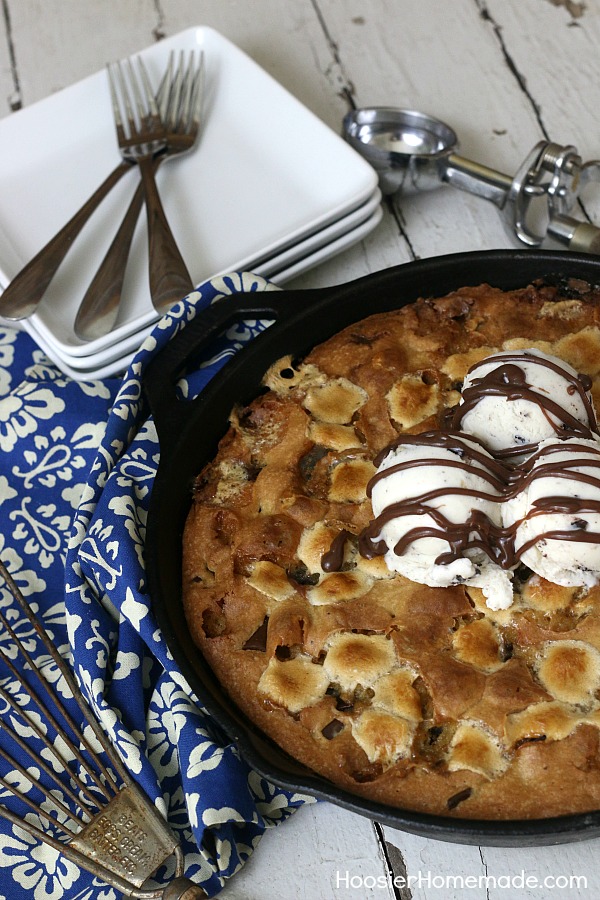 When the cookie comes out and has cooled, add ice cream and chocolate sauce to the top. Share with the family or hoard it all for yourself! This is a great dessert for birthday parties or family get togethers! Do you see those caramelized marshmallows in the picture above? That is my favorite part- a little chewy, a little crunchy, and super sweet. Just the way I like my cookie!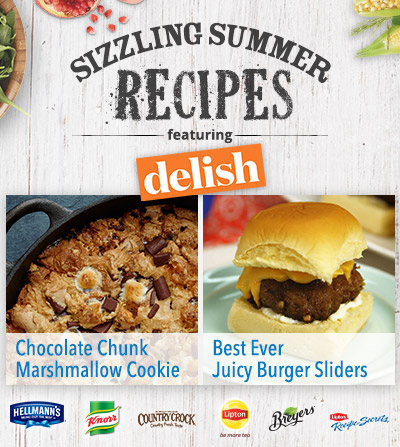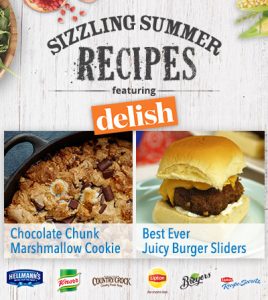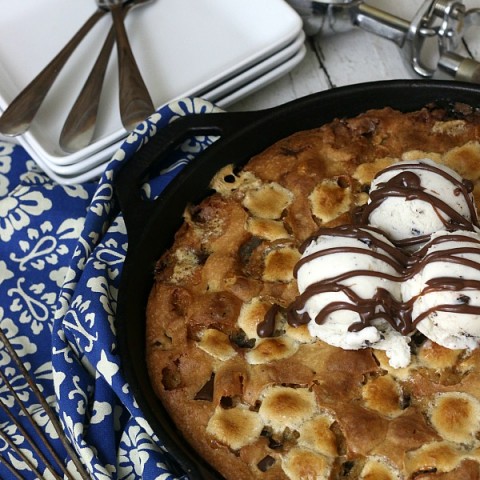 Chocolate Chunk and Marshmallow Skillet Cookie
Warm right from the oven with a big scoop of Ice Cream! YUM! This Skillet Cookie Recipe is filled with Chocolate Chunks and Marshmallows!
Ingredients
1 cup Country Crock® Spreadable Sticks or Tub
3/4 cup granulated sugar
3/4 cup firmly packed light brown sugar
1 large egg
1 large egg yolk
2 tsp. vanilla extract
3 cups flour
1 tsp. baking powder
3/4 tsp. salt
1/4 tsp. baking soda
8 oz. chocolate chunks (about 1 1/2 cups)
2 cups mini marshmallows
Instructions
Preheat the oven to 350°.
Combine the Country Crock® Spread, both granulated sugar and light brown sugar, egg, egg yolk and vanilla in a large bowl and mix until fully incorporated (about 3 minutes).
Mix in the flour, baking powder, salt and baking soda and stir until the dough is sticky.
Reserve a few pieces of each, fold the majority of the chocolate chunks and marshmallows into the dough.
Spread the dough evenly in a 12 inch skillet and scatter the reserved chocolate chunks and marshmallows on top.
Bake until the center is cooked through, and a knife inserted in the middle comes out clean (about 50 minutes).
The top should be golden brown and slightly crunchy. Allow the cookie to cool and set for about 30 minutes.