If you are a sweet-salty-snack lover then this Chocolate Caramel Nut Popcorn is for you! It's super easy to make and perfect for any time!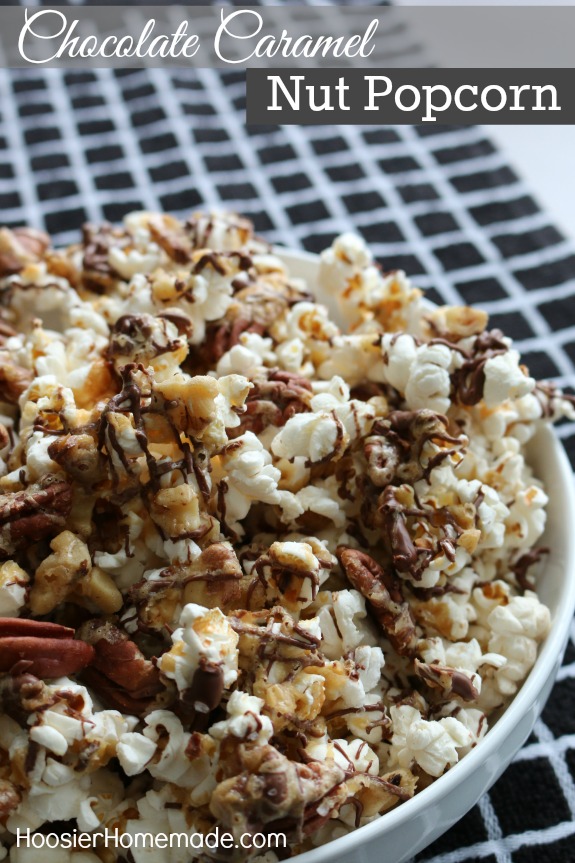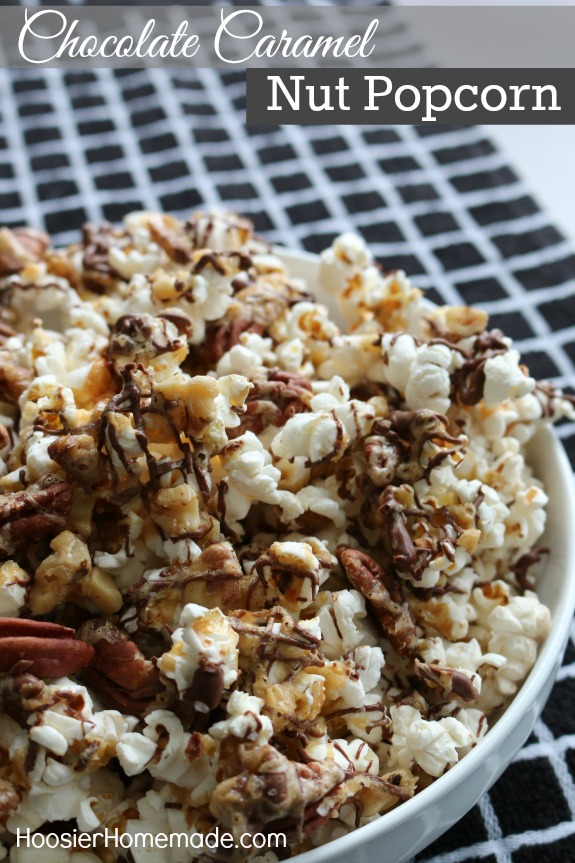 We are snack lovin' family! I think probably they get it from me. Seriously, I would pass up lunch or dinner and just snack my way to a full tummy. Recently we had a new store open up in our area that has over 100 different types of popcorn flavors. Some are pretty normal, like cheese popcorn or caramel corn, but then there are really crazy flavors too, like Dill Pickle or Bubblegum.
Seeing all those flavors got me thinking about creating one of my own flavors. Chocolate and caramel go together beautifully so those were the beginning of the recipe, and I wanted a little extra crunch, so Fisher Pecans and Walnuts were added, and of course, we needed popcorn.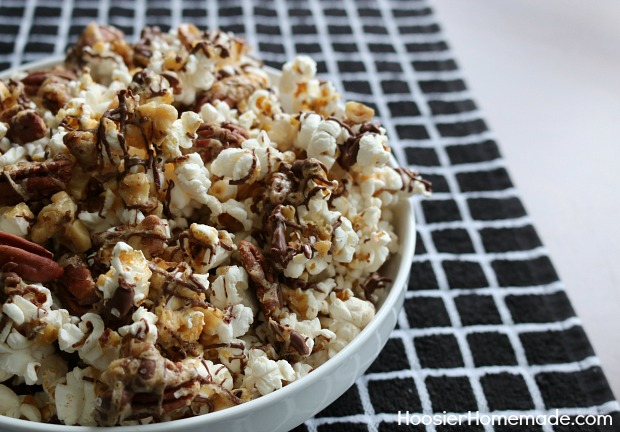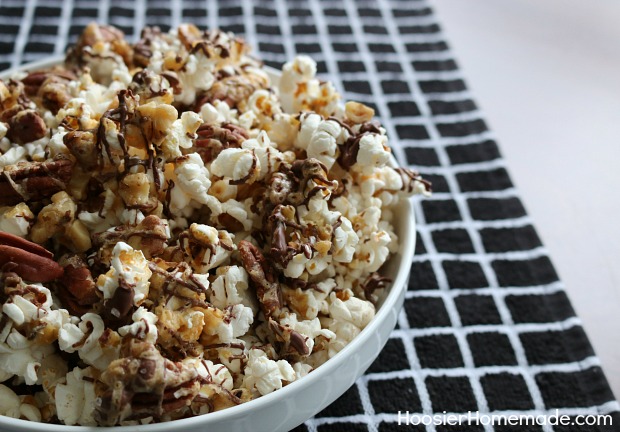 While I love popcorn that is coated in chocolate or caramel like the Pecan Caramel Popcorn Crunch, I thought this time around, it would be good to try something different.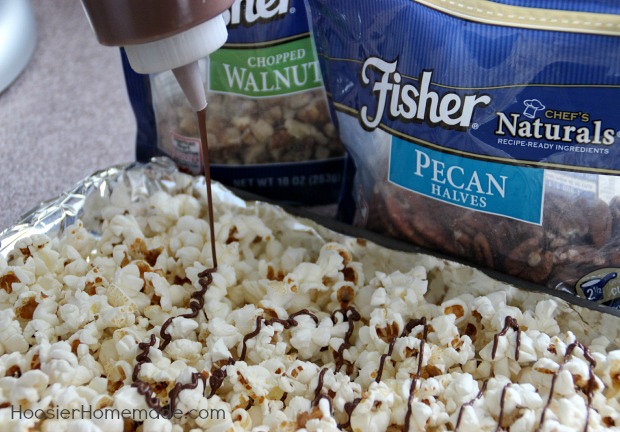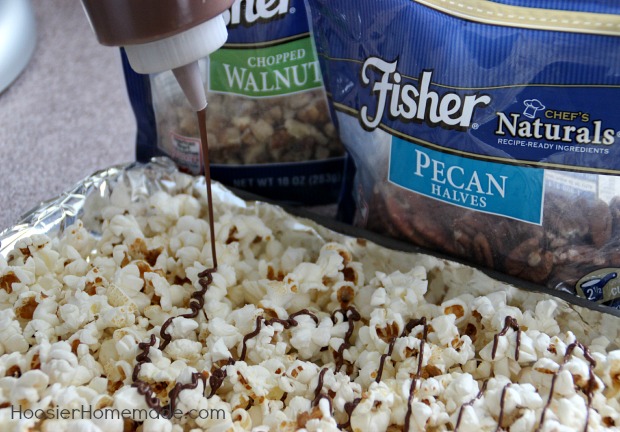 After adding the popped popcorn to a cookie sheet that is lined with foil, melt milk chocolate chips in the microwave and drizzle the chocolate over the popcorn. I used a plastic squeeze bottle to make it easier to add the chocolate evenly.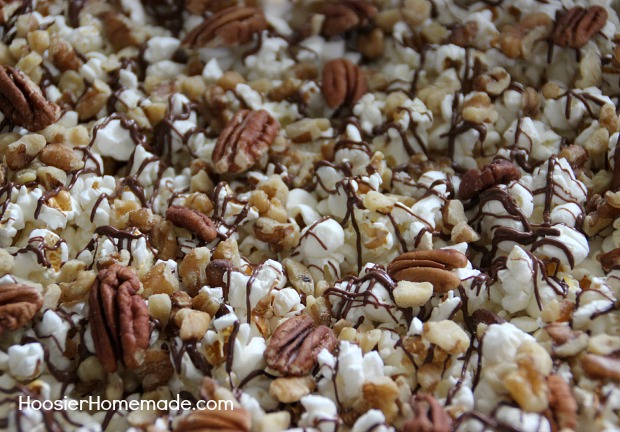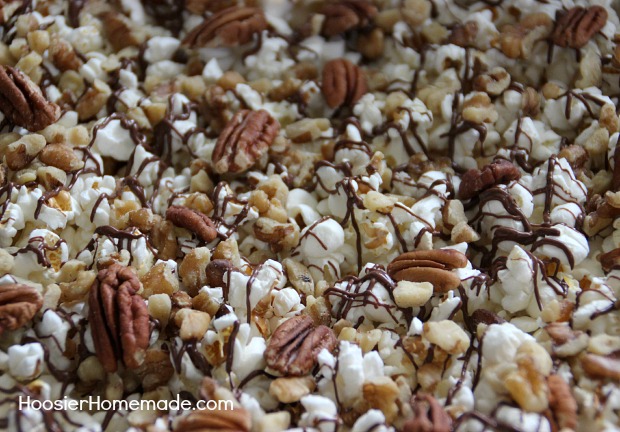 Then quickly before the chocolate set up, the Fisher Pecans and Walnuts were added. Now of course, I could have stopped there and this popcorn snack would have been amazing, but no I decided to take it to the next level.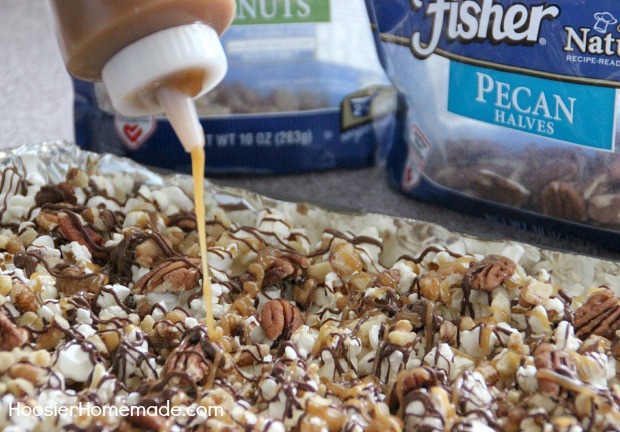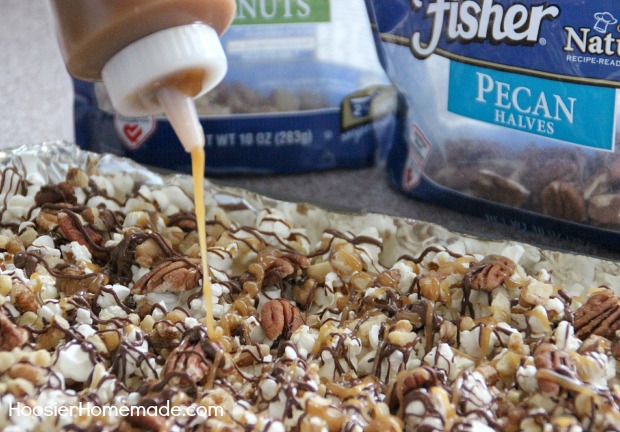 After the nuts were added then came the Homemade Caramel Sauce, again I used a plastic squeeze bottle to make it easier. And a little sprinkle of Sea Salt and into the oven for 15 minutes to get all the flavors blended and the caramel set.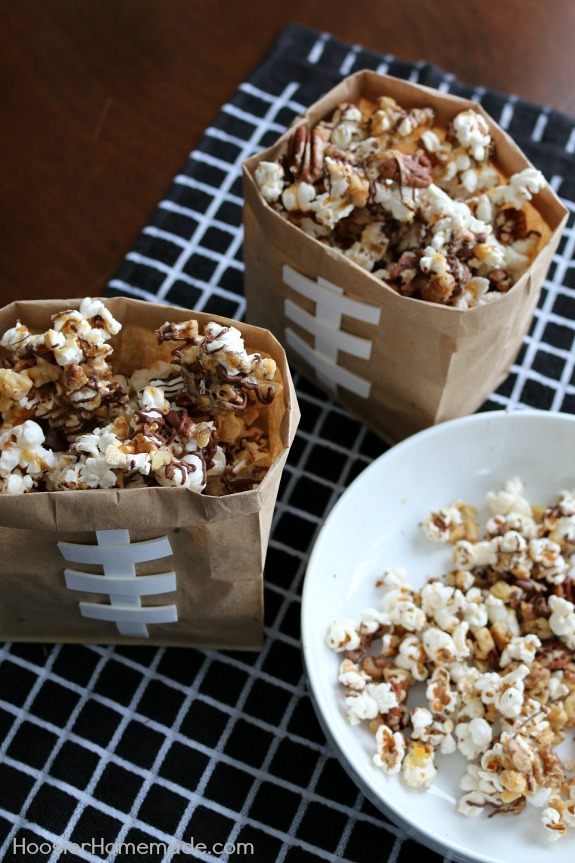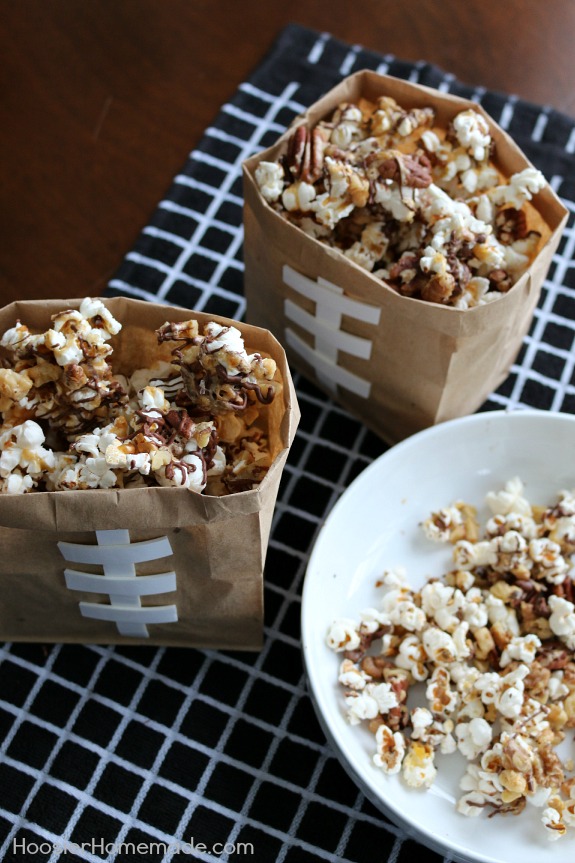 If your home is anything like ours, then your weekends (and sometimes weeknights) are full of Football. With the "Big Game" coming up soon and all the play-off games, this Chocolate Caramel Nut Popcorn is sure to be a hit with the fans!
For the Football sacks, we simply used a brown lunch bag and added white tape to look like a football. Any type of tape should work, we actually forgot some at the store, so I dug through my craft supplies and found mounting tape. It worked wonderfully.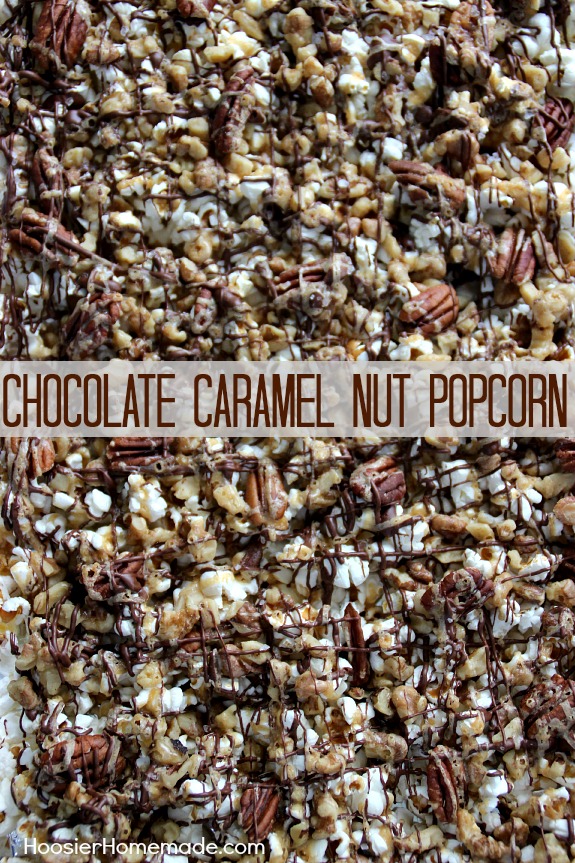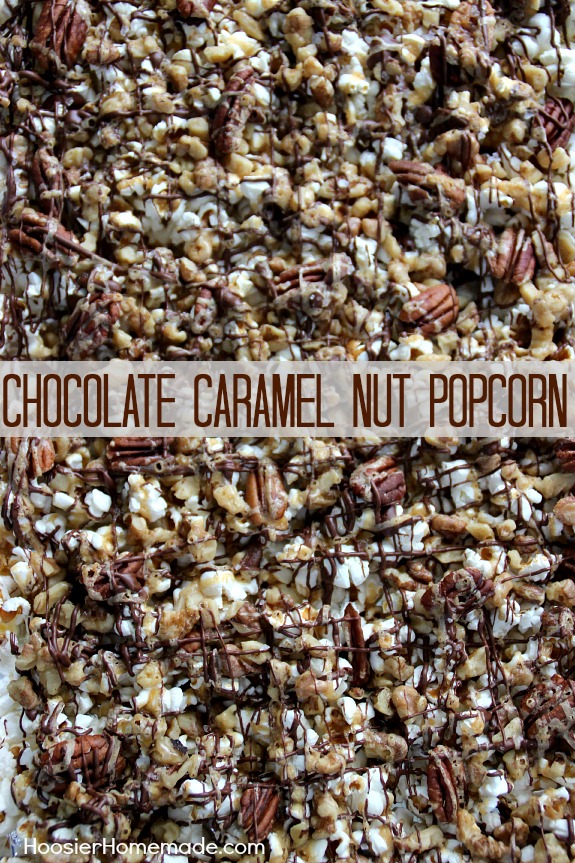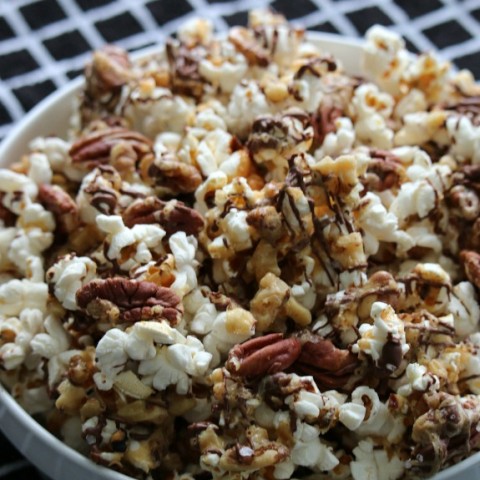 Chocolate Caramel Nut Popcorn
Chocolate Caramel Nut Popcorn - the perfect sweet - salty snack! Be careful you might just need to make a double batch!
Ingredients
8 cups popped popcorn
1 cup Fisher pecans
1 cup Fisher walnuts, chopped roughly
1 cup milk chocolate chips, melted
1 teaspoon Sea Salt, optional
Caramel Sauce
1/2 cup heavy cream
1 cup brown sugar, packed
4 tablespoons butter
Pinch of salt
1 tablespoon vanilla
Instructions
Line a cookie sheet with foil
Pop the popcorn and remove any kernels
In a small saucepan, combine butter, brown sugar, salt and cream
Bring to a boil and cook for 5-7 minutes or until thickened
Remove from heat and stir in vanilla
Let cool about 10 minutes
Note: you may have caramel left over, store in fridge, it goes great on ice cream
Transfer to plastic squeeze bottle, optional
Pour popcorn onto cookie sheet
Melt chocolate chips in the microwave about 1 minute or until smooth (see note for tip)
Transfer chocolate to plastic squeeze bottle, optional
Drizzle popcorn with chocolate
Immediately add nuts
Drizzle with caramel
Sprinkle on Sea Salt, optional
Heat oven to 300 degrees and Bake for 15 minutes
Cool completely and break into pieces
Notes
Chocolate - melt chocolate in microwave for 1 minute, if needed melt additionally 10 seconds at a time. Stir after each heating. Remove when there are still a few pieces of chips and stir until completely melted.
Visit Fisher Nuts for more recipes, follow them on Facebook and Pinterest for more recipes!