My family loves Chicken or Turkey Pot Pie. I've made it several different ways, but when I saw this recipe for Chicken Pot Pie Soup, I knew right away I just had to give it a try.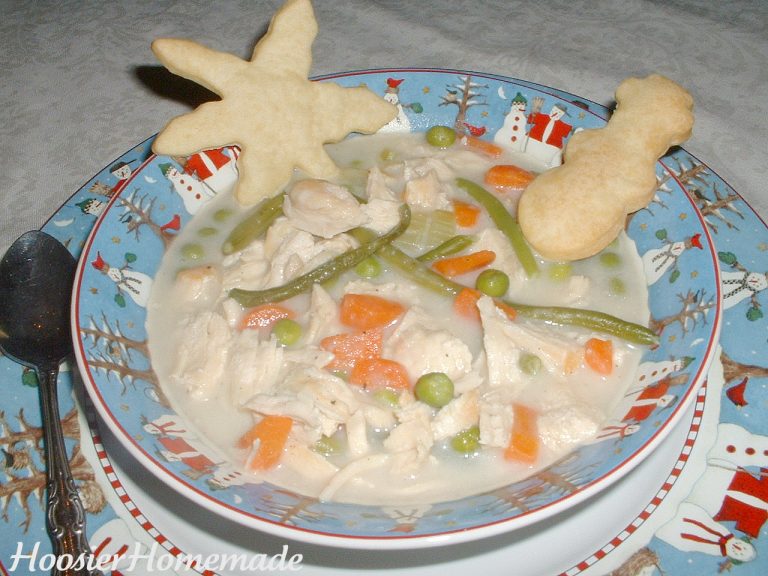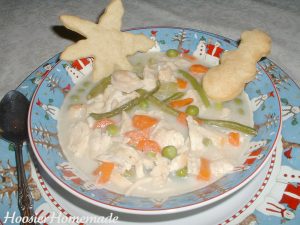 Even though my pantry is not overflowing, I still wanted to use up some of the food in the pantry and freezer and participate in the Eat from the Pantry Challenge. I had soup and sandwiches planned on my menu for last night, but hadn't quite decided which soup I wanted to make. I had thought I would make Vegetable Soup and had bought the veggies during my shopping trip last weekend, but neglected to buy meat to add. I changed my mind partially because I had already spent my grocery budget, partially because I wanted to use some chicken I had in the freezer, but mostly because I really didn't want to make a trip to the store just for meat.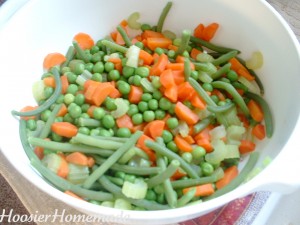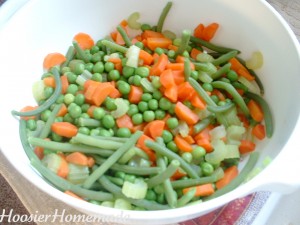 So I grabbed one of my Taste of Home magazines and just a few pages into it, I found this great recipe for Chicken Pot Pie Soup. Perfect, I could use up the chicken, veggies and turkey stock that I had in the freezer.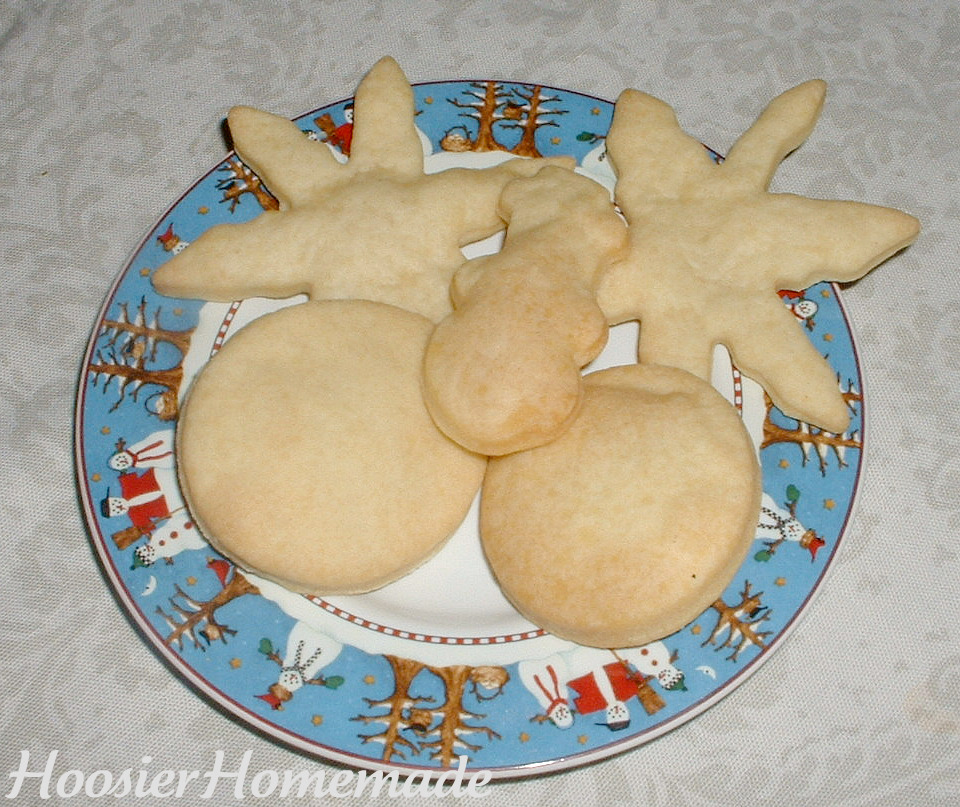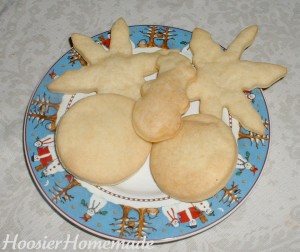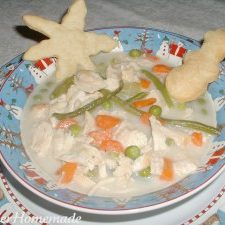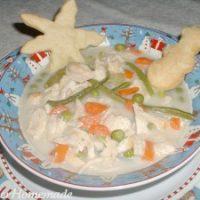 Chicken Pot Pie Soup
Ingredients
1 sheet Refrigerated Pie Crusts (I made my own, recipe below)
Water
1/2 cup each of Cut Green Beans, Sliced Carrots, Chopped Celery, and Green Peas
6 cups Turkey Stock
3 cups Diced Potatoes
1/2 cup Cream (I used half-and-half)
4 cups Shredded Cooked Chicken or Turkey
1 teaspoon Salt
1 teaspoon Pepper
For the Pie Crust
1 1/4 cups Flour
1/4 teaspoon Salt
1/2 cup Butter, chilled and cubed
1/4 cup Ice Water
Instructions
Prepare the Pie Crust if you are making your own. Combine flour and salt in food processor or bowl. Cut in butter until combined, slowly add ice water just until crust forms a ball. Wrap in plastic and chill.
Preheat oven to 450 degrees. Unroll pie crust (or roll out your own). Cut into wedges (I used my cookie cutters to make it fun & festive) and place on a cookie sheet. Bake until golden brown, 10 – 12 minutes.
In a heavy stockpot, bring water to a boil, Add beans, carrots and celery. Return to boil and cook for 2 minutes. Add peas, return to boil and cook for 1 minute. Drain and rinse with cold water. Set aside.
In the same pot, bring stock to a boil, add potatoes, return to boil, reduce heat and cook until potatoes are fork tender.
After potatoes are done, process stock and potatoes in the blender. Be very careful doing this. I just pulsed the mixture until creamy. It only took about 10 pulses.
Return to stockpot and bring to boil, slowly add cream, stirring constantly, add cooked vegetables, chicken, salt and pepper, stirring to combine.
Bring to boil, then reduce heat to simmer. At this point, I added the soup to my crockpot, just because it was easier to make the soup a little ahead to avoid dinner time rush.
Cook's Note: I almost didn't add the potatoes because I don't put potatoes in my pot pie, I'm really glad I did, it was a major step that made the soup very creamy. I would also suggest adding a little more salt.
This post linked to:
~Food on Friday hosted by Ann Kroeker