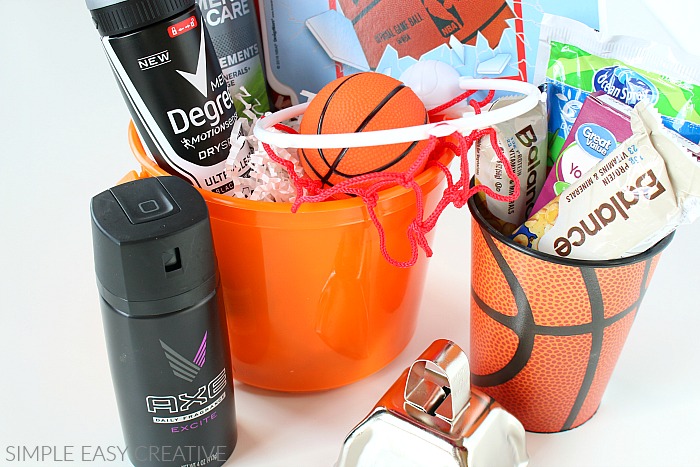 Are you a basketball fan? Do you know someone who is? This Basketball Gift Basket is perfect for any occasion!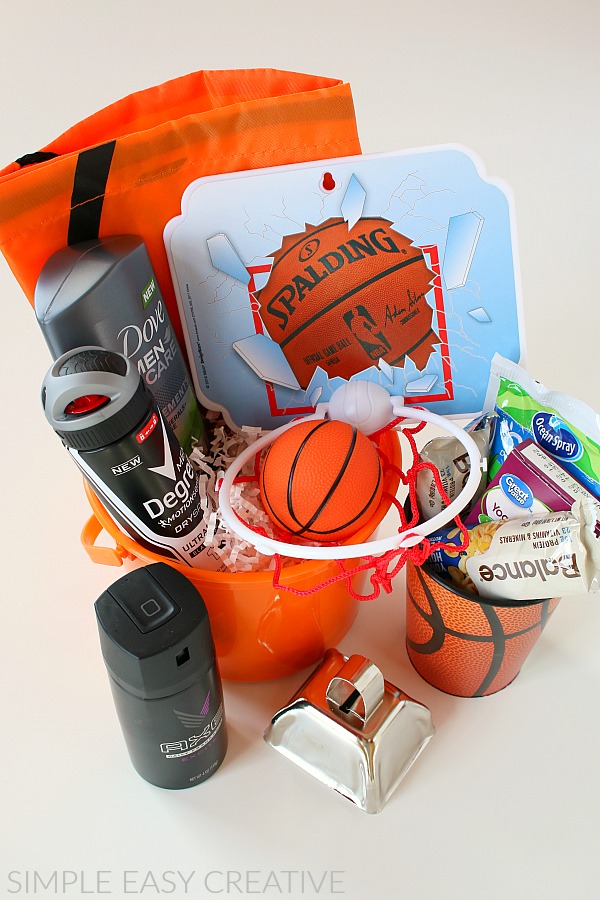 This is a sponsored post by Mirum. As always, all opinions are my own. 
I don't know about you, but buying gifts for the men in my life is often really difficult. Sure we can always turn to giving them a shirt, movie tickets or even a dinner out. But what if you could give them a personal gift – one that they really love and would use?
This Basketball Gift Basket is very versatile and can easily be changed for other sports as well.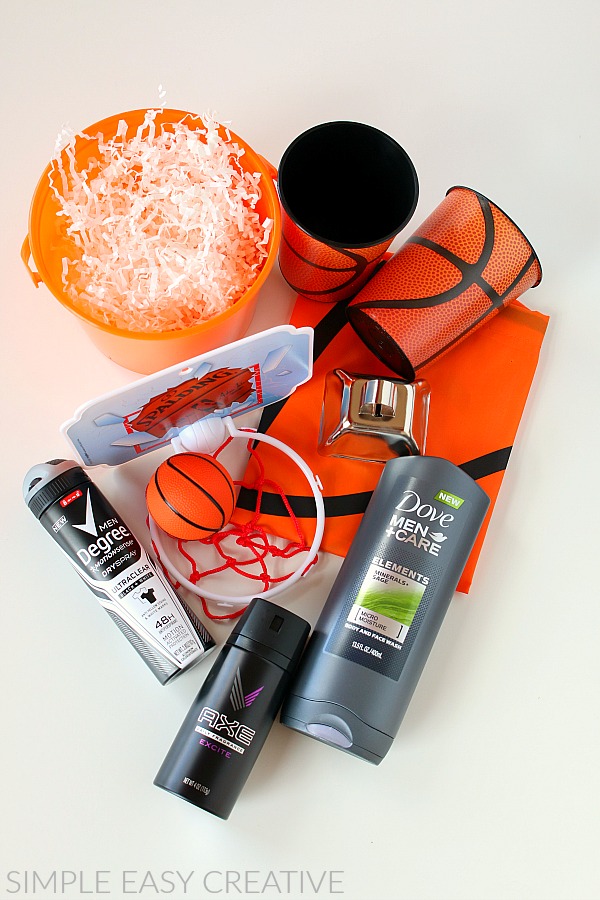 The men in my family, like most, don't really like to shop for beauty products. While they love looking and smelling great, they just don't take the time to go shopping and get what they need. Right now is the perfect time to stock up on all your family favorites, and it's super easy to browse the Personal Care aisle for what you need.
Starting with an orange plastic bucket, you can fill your gift basket with a variety of items. Here is what I added to this Basketball Gift Basket for Men:
Dove Men+ Care Body Wash
Degree Men's Dry Spray
AXE Body Spray
Drawstring Backpack
Hoop Game
Cow Bell
Cups
You can also add snacks and drinks. If your sports fan is also a coach, you could include a notebook to track points.
And if he is a March Madness NCAA Tournament fan – adding a bracket for the games is always fun!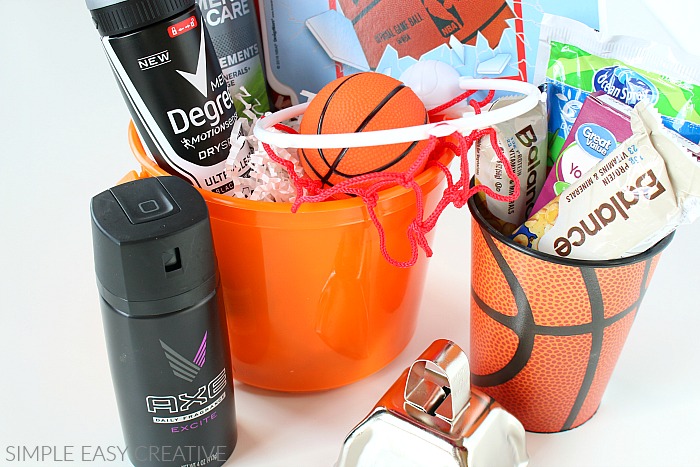 After you have gathered up all the products you want to include, it's time to put it together. Begin by adding some tissue paper or shredded paper to the bottom of the bucket.
Then add the largest items in first, then the medium size items and finish with small items.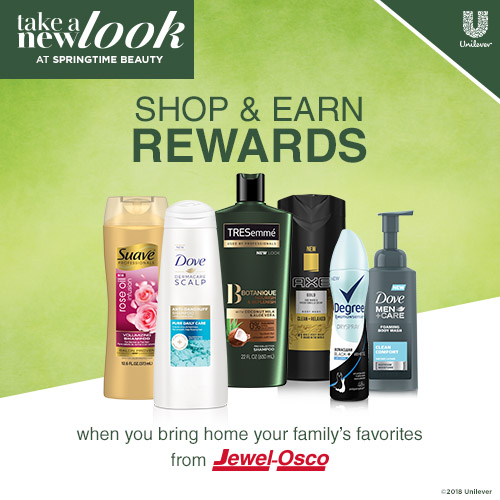 Are you ready to stock up and save some money too?
Now thru 5/31/2018, when you spend $30 or more on the beauty products you need for your family like Dove Body Wash, Degree Spray, AXE Body Spray and more, you'll receive a $10 digital reward – either Visa Rewards Virtual gift card or a FandangoNOW
Take a photo of your receipt and upload it to TakeANewLook.com to receive your $10 reward

Purchases must be made between 3/1/2018 and 5/31/2018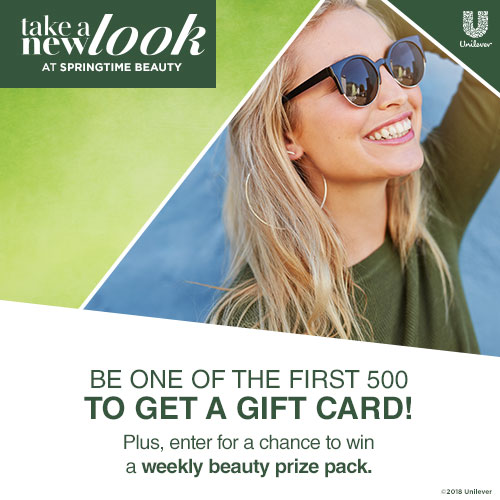 Be sure to enter the Sweepstakes on TakeANewLook.com –
The first 500 people to enter will receive a $10 gift card (while supplies last)
One weekly winner will be chosen for 13 weeks and receive a $400 prize pack (chosen randomly)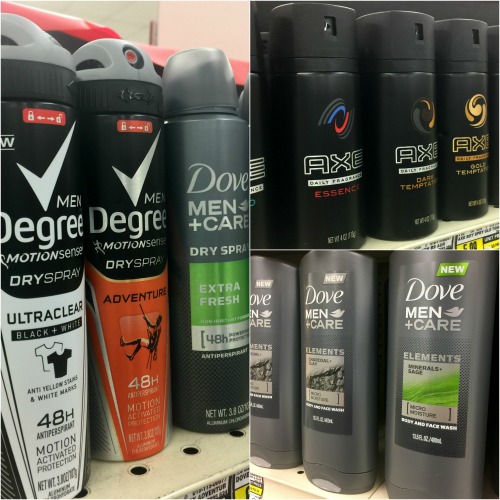 You can all your favorite Unilever Personal Care products at your local Jewel-Osco! If you don't have a store near you, check out Albertsons, Safeway, Vons/Pavilions, Randalls and Tom Thumb.