Block Party Dessert Table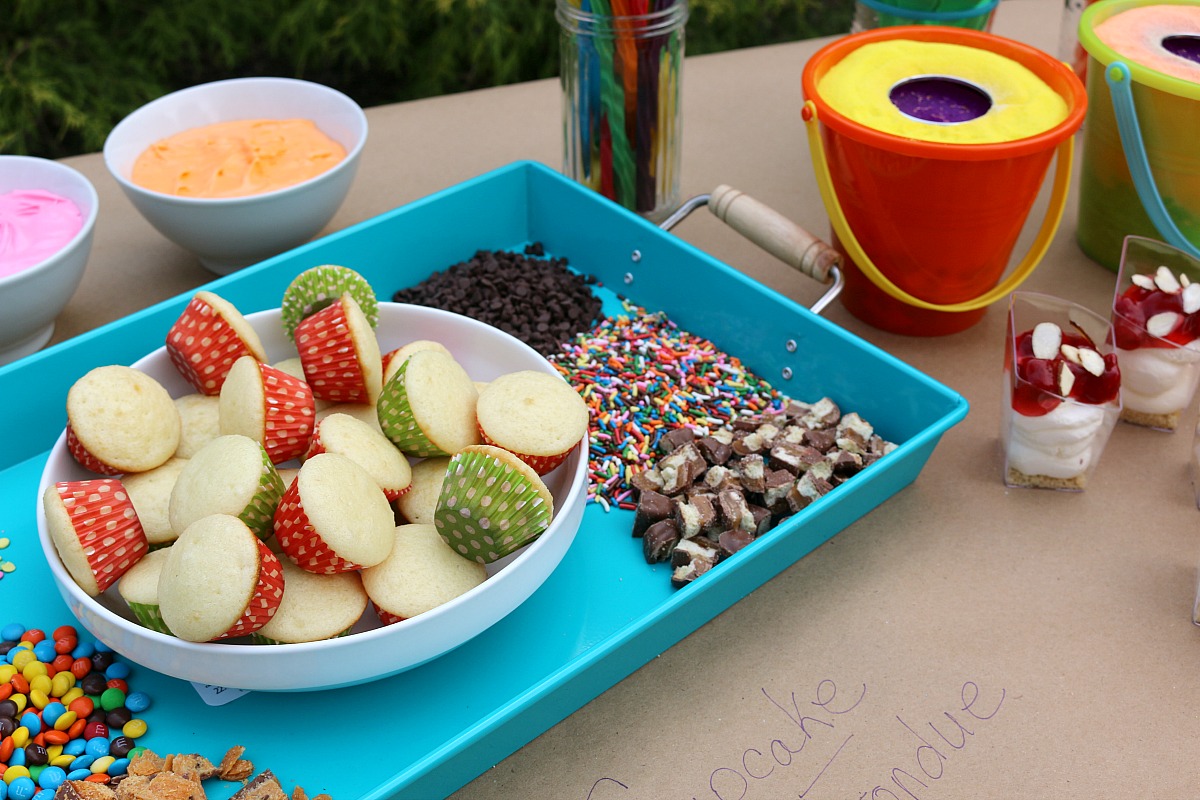 Summer is on it's way! It's time to gather up ideas for celebrating with family and friends! This Block Party Dessert Table will bring a smile to the faces of children and adults with the popular Cupcake Fondue, S'Mores Bar and No Bake Cheesecake topped with Strawberry Rhubarb topping.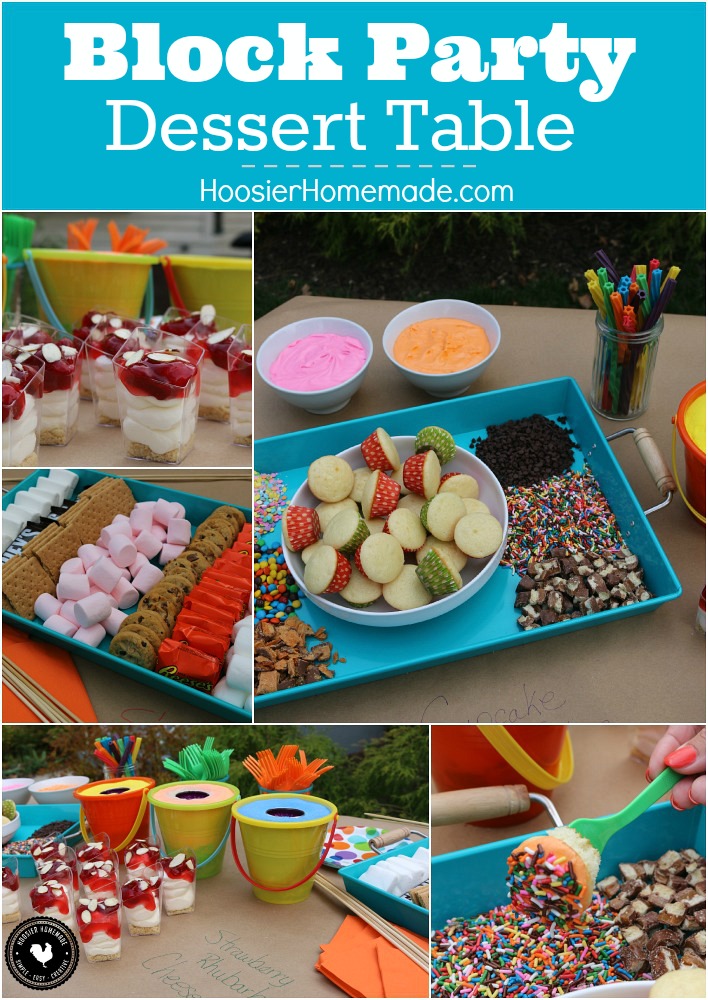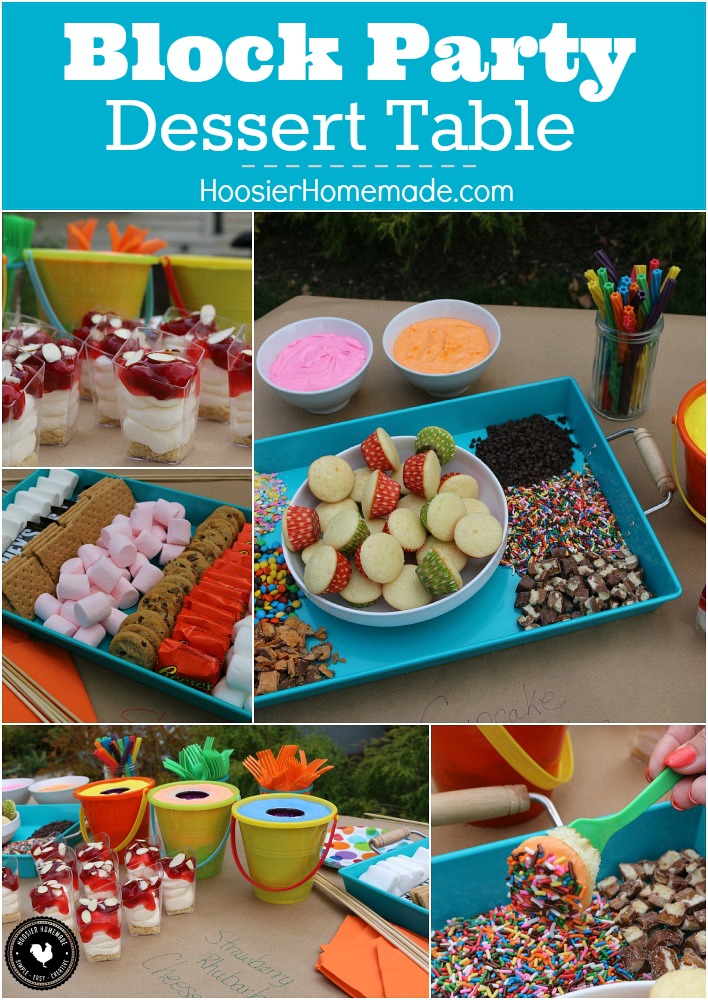 Whether you are hosting a Block Party, Graduation Party, Baby Shower or even a Birthday Party, dessert tables are always a hit. As always, we like keeping it simple and easy but fun.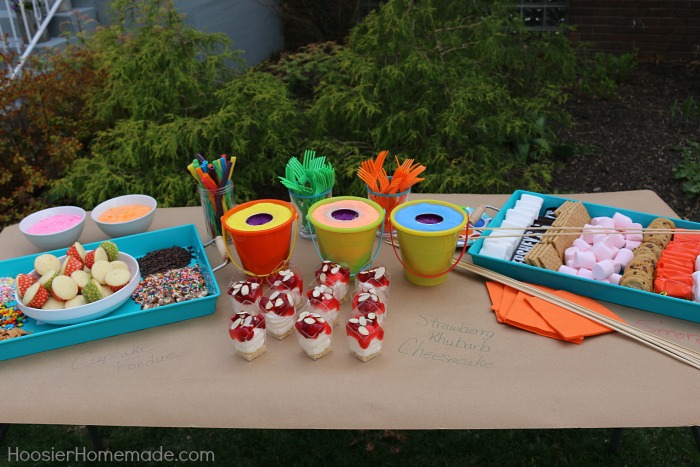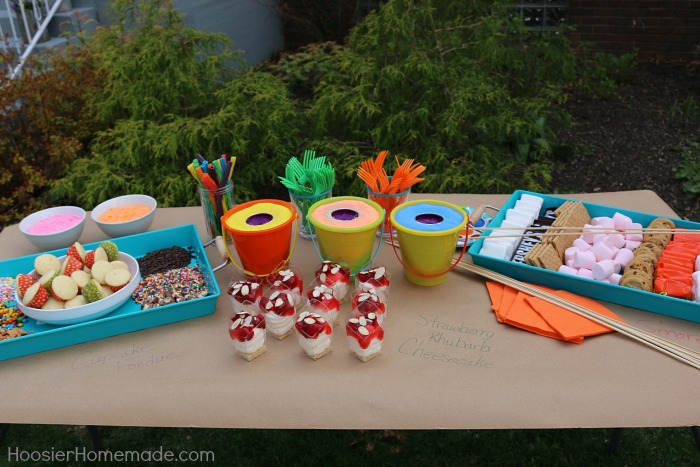 Serving desserts that are hands on, or need to be assembled makes it easy on you and it's also really fun for your guests. We started with covering the table with brown craft paper, it's easy to store, use and you can write on the paper to tell guests what to expect.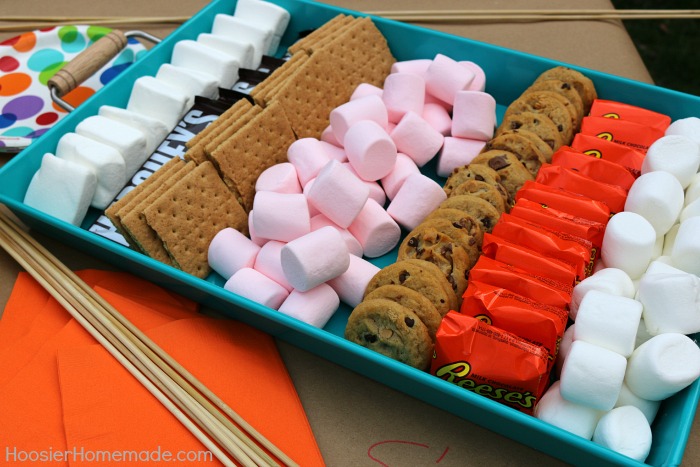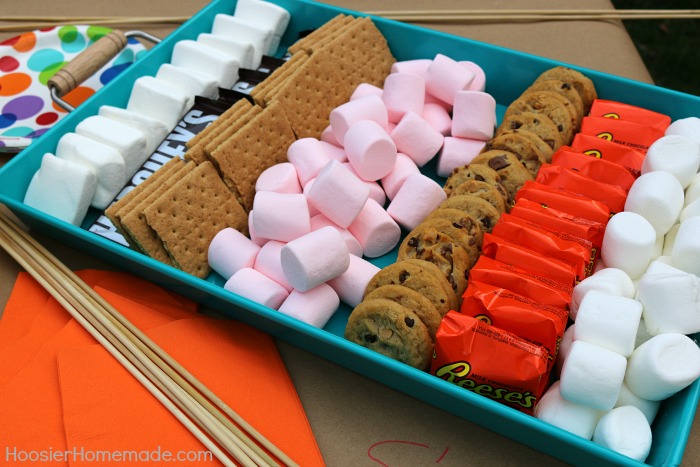 We are taking S'mores up a notch with our ultimate S'mores Bar! Of course, the traditional Honey Maid graham crackers and Hershey's chocolate bars, but we also added Reese's Peanut Butter Cups and Chips Ahoy Cookies. The options in the marshmallow aisle at Walmart are endless. We used Jet-Puffed StackerMallows, round regular size marshmallows and also the StrawberryMallows.
The wooden skewers are super long which is great for little hands that still want to roast their marshmallow. We found them in the garden area at Walmart, near the grilling supplies.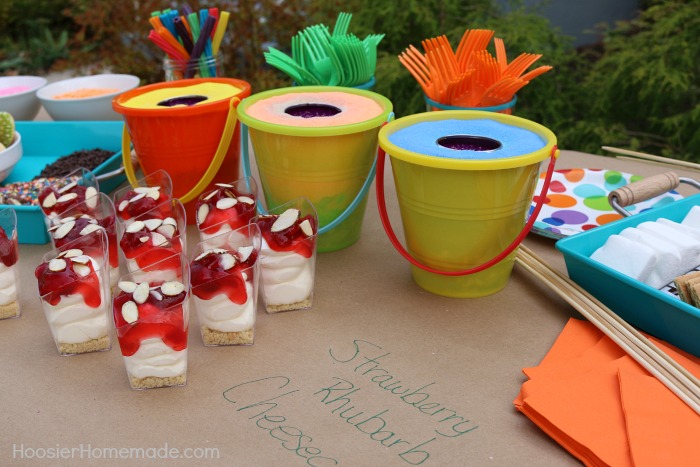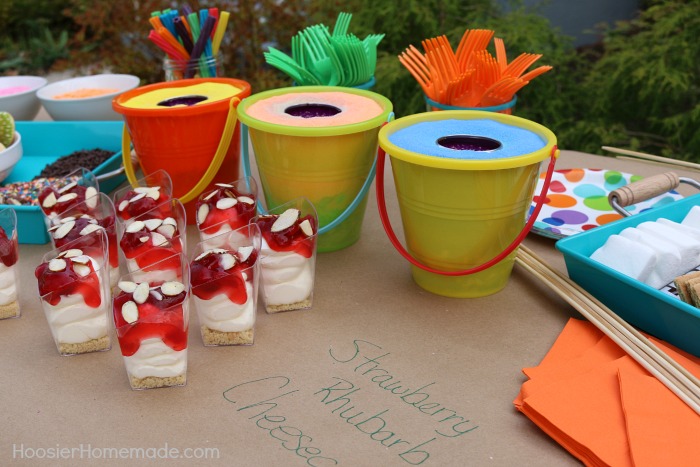 To cook the marshmallows, we used small sand pails, filled the bottom with rocks so they would be weighted down. Then we added a Sterno Cooking Fuel found in the camping area at Walmart. Then filled the rest of the pail with colored sand, found in the craft department. The Sterno Cooking Fuel do have an open flame, so be very careful around them.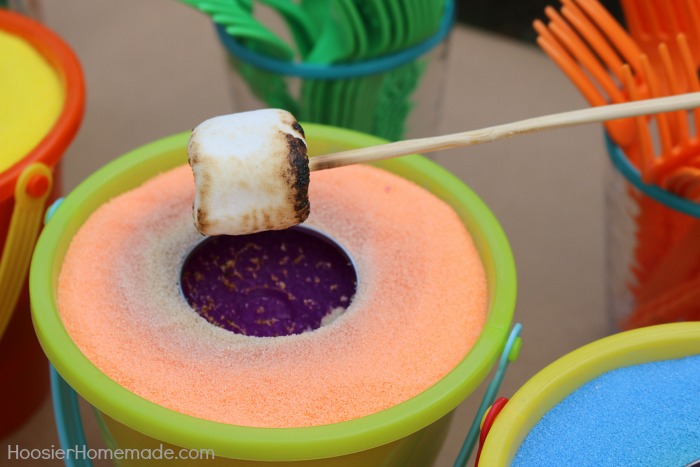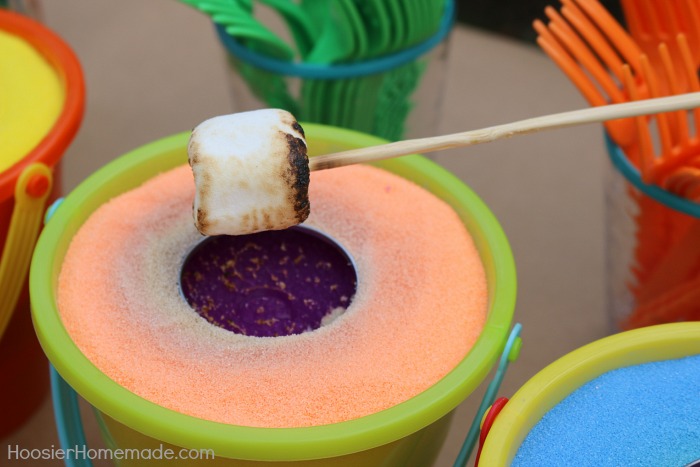 Do you like your marshmallow roasted lightly or burnt a little? Me, I'm a burnt marshmallow lover.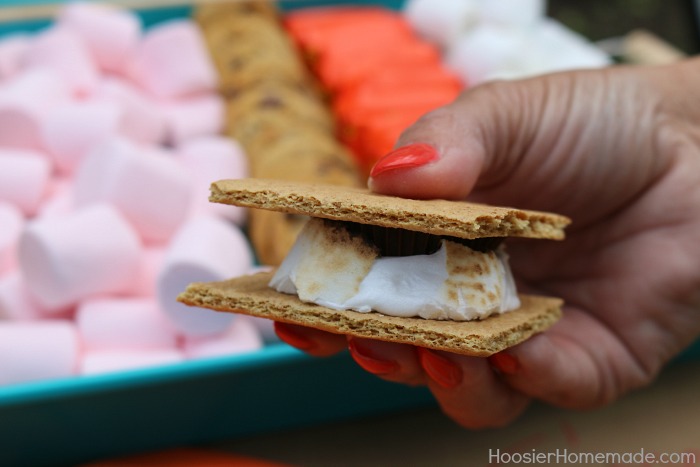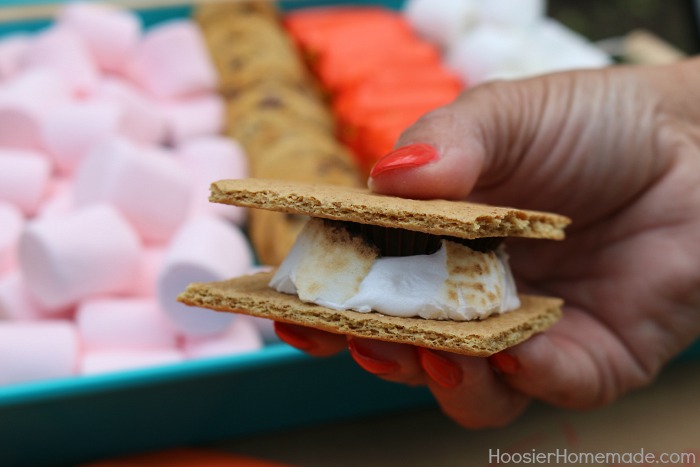 I'm a fan of adding Peanut Butter Cups to my S'mores. Have you tried them?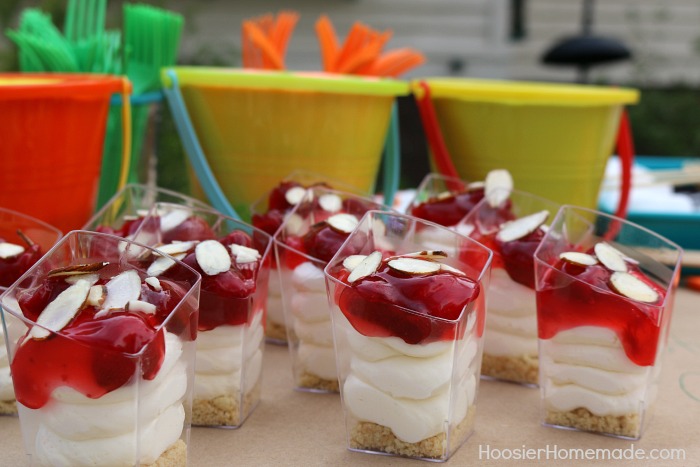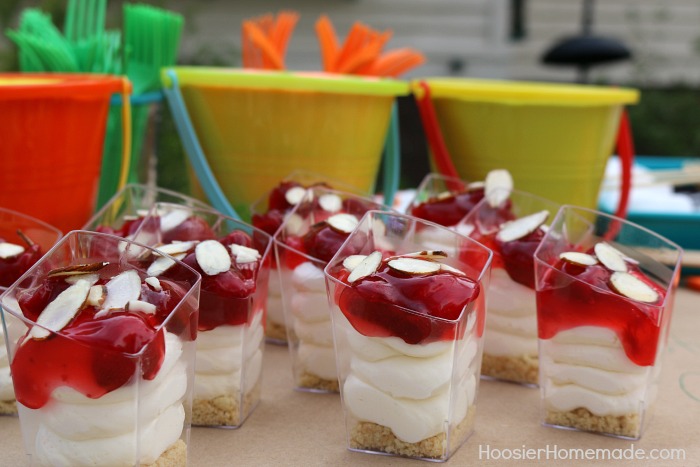 Next up are the No Bake Cheesecake Cups. I used my favorite 3 ingredient Cheesecake recipe. On the bottom of the container are crushed shortbread cookies, about a teaspoon. Then the cheesecake is put into a decorator bag and piped into the container. I do this because there is less mess and it goes faster, but you can certainly spoon it in. Then I topped the cheesecake with Strawberry Rhubarb Topping. You can add what ever flavor you like best. And lastly, a sprinkle of sliced almonds.
You can grab the recipe for the No Bake Cheesecake over here.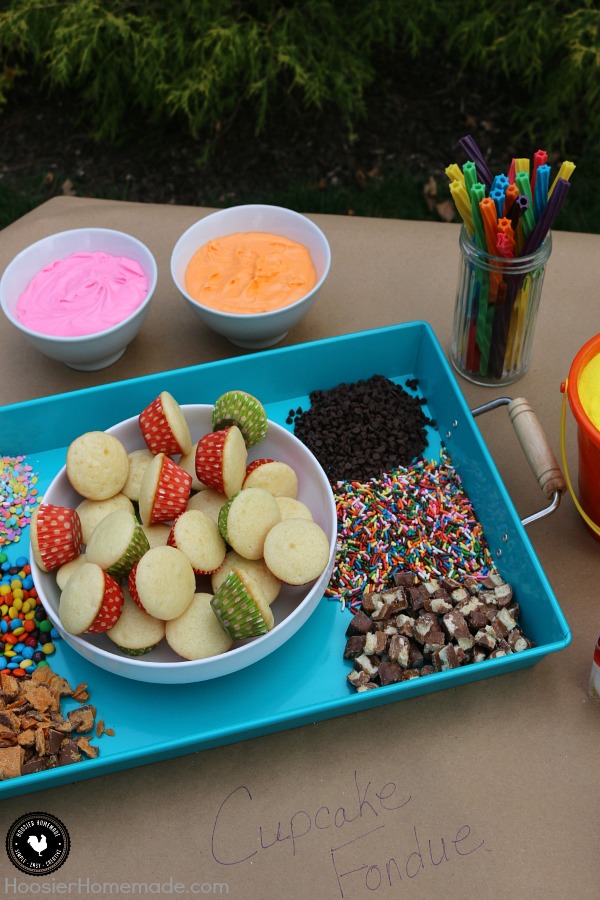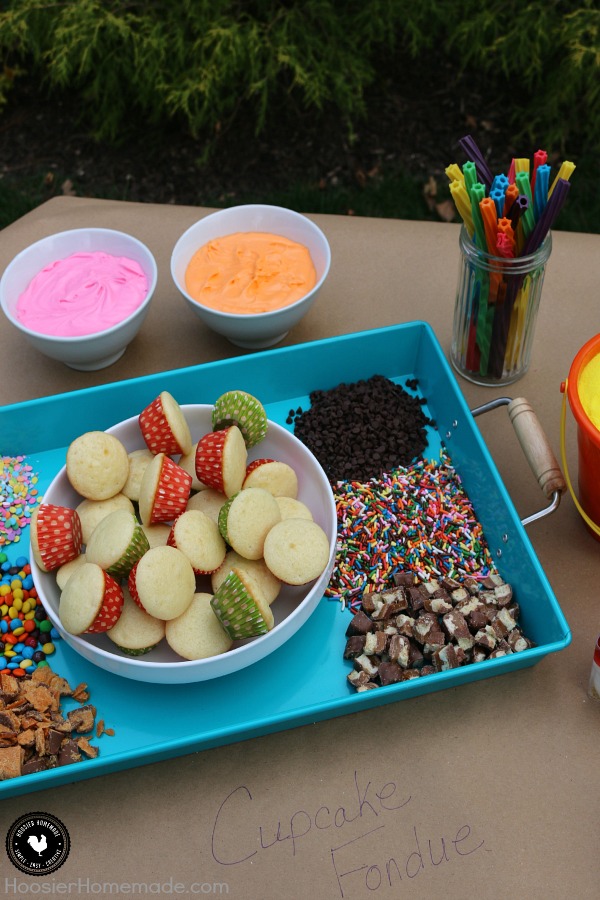 Finishing off the table is the popular Cupcake Fondue – mini cupcakes, frosting and fun toppings. The cupcakes are vanilla, which I like to use so that the different flavors of frosting and toppings shine through. I kept the frosting really simple this time, I used canned frosting – mostly because it's a bit thinner than homemade and easier to dip the cupcakes in – and then I colored it using Wilton gel and flavored it strawberry and orange, using Watkins flavors found in the baking aisle.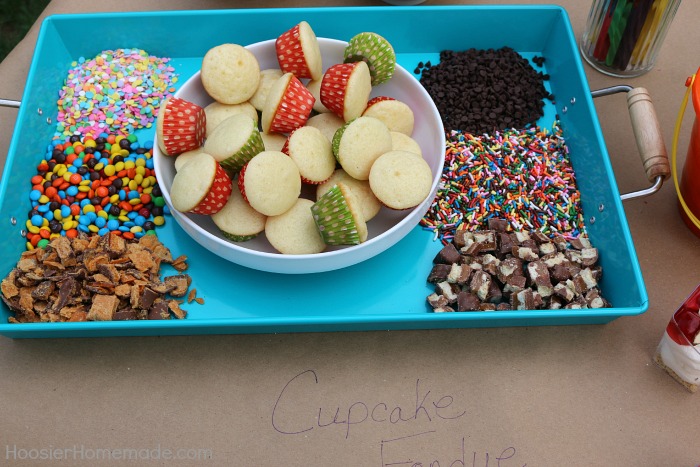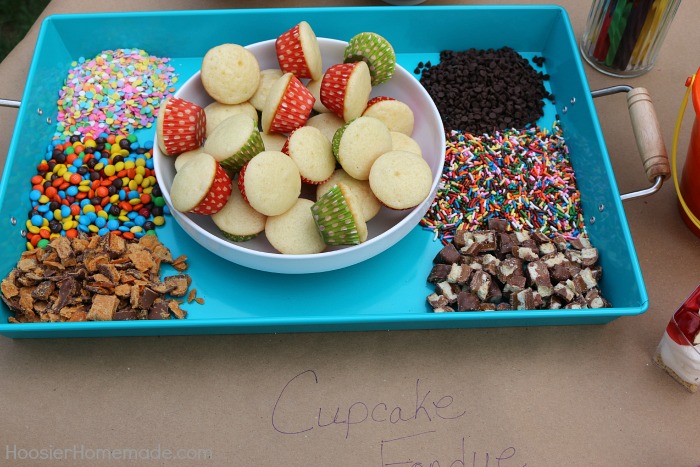 For the toppings, we used 2 kinds of sprinkles, chopped Twix and Butterfinger candy bars, mini chocolate chips and mini M&M's.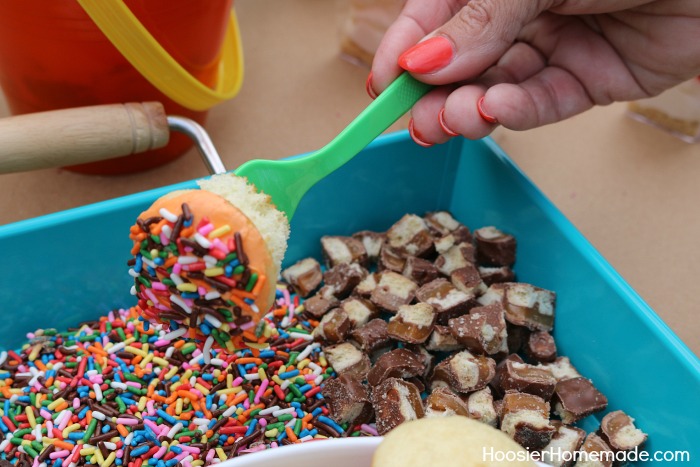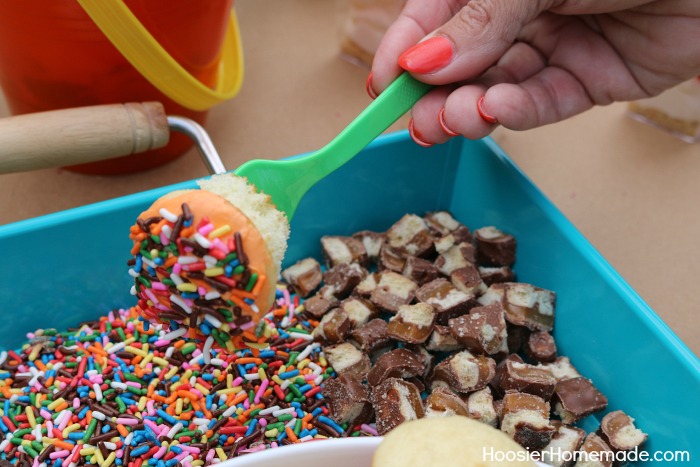 Using a fork is easy and the cupcake stays on better than a skewer or straw. So fun!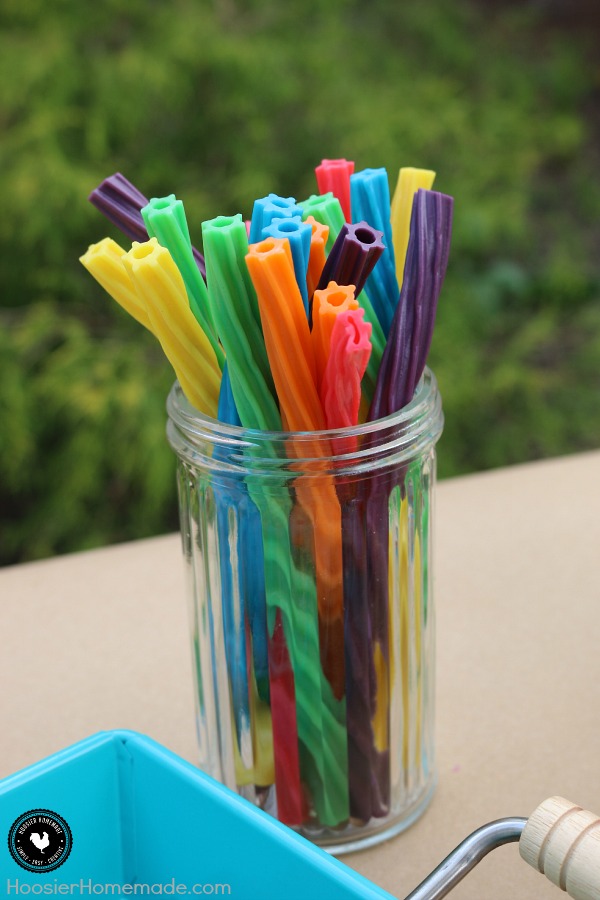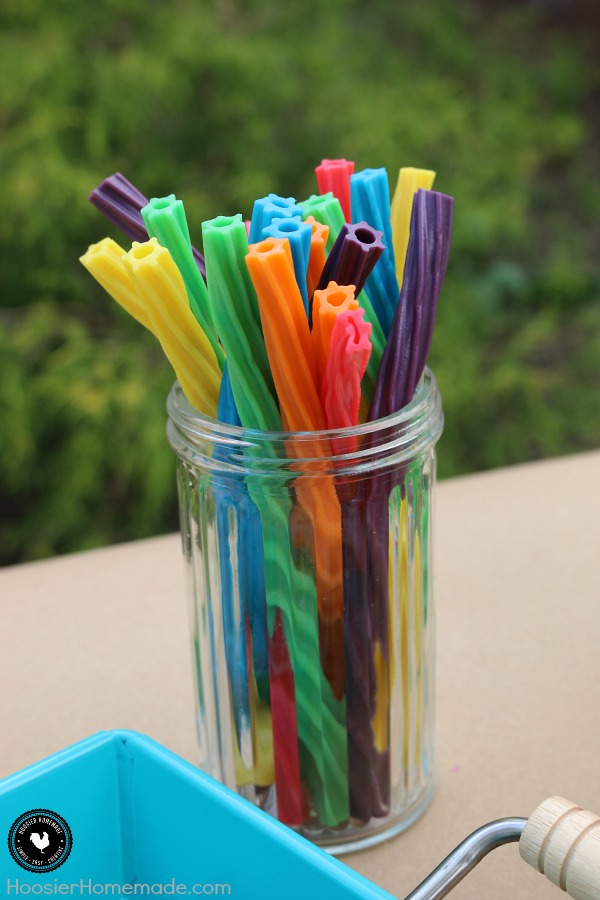 And finally, to add even more color to the table, Rainbow Twizzlers, and honestly – who doesn't love Twizzlers? A glass sugar jar is perfect to hold the candy.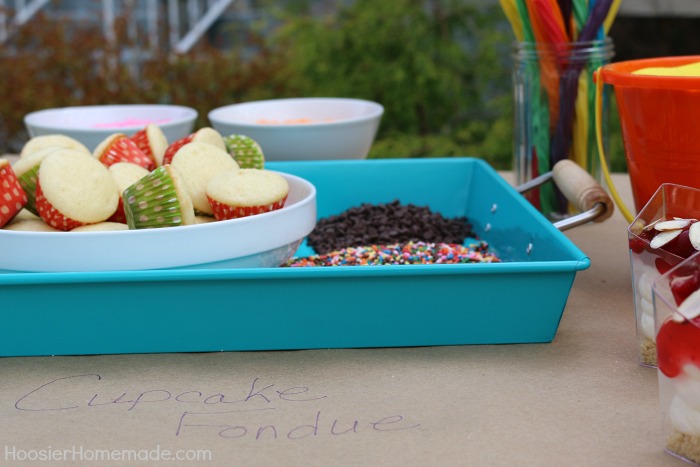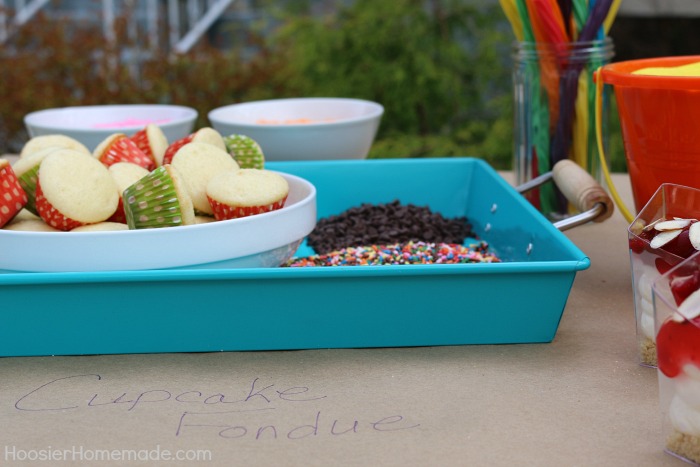 To display the Cupcake Fondue and the S'mores Bar, we used a Better Homes and Gardens products at Walmart metal aqua tray. I love using trays for lots of different things, even in my bathroom. And this tray, which is less than $8, is perfect for all your Summertime parties! I think they would be perfect to serve drinks on the deck, or hold grilling supplies. Really the ideas are endless.
Will you be hosting a Block Party this year? Maybe whipping up some Summer Treats?


Table – we used our 6 foot folding table
Better Homes and Gardens Metal Tray
S'mores – Graham Crackers, Hershey's Chocolate Bars, Jet-Puffed Marshmallows, Reese's Peanut Butter Cups and Cookies
Wooden Skewers – found near the grilling supplies in the garden area
Sand Pails – filled with colored sand and a Sterno Cooking Fuel
No Bake Cheesecake Cups – recipe here
Cupcake Fondue – mini cupcakes, frosting, and toppings

Affiliate links used.