Have you ever created a dish or dessert that looked totally different than how it tasted? This Banana Split Dessert is exactly that way. While the traditional treat is made with Ice Cream, Bananas, Strawberries, Pineapple and Chocolate topped with whip cream, nuts and cherry, this Banana Split Dessert has no ice cream but taste exactly, if not better, than the traditional treat you are familiar with.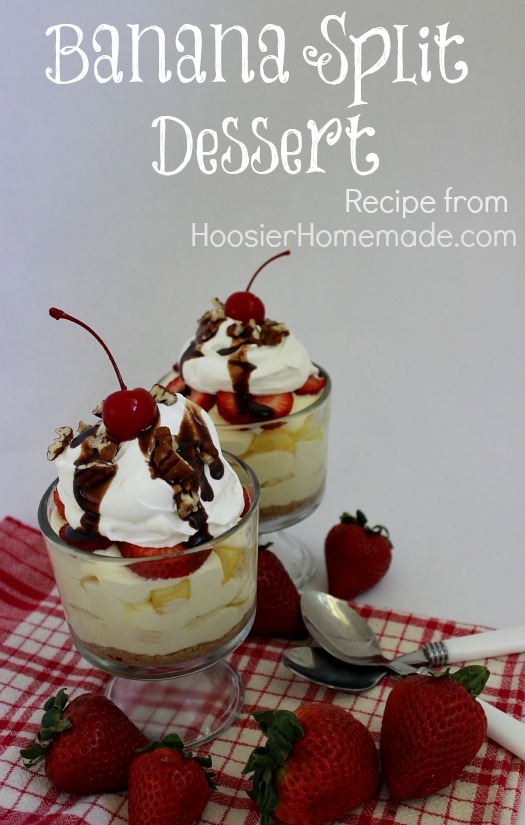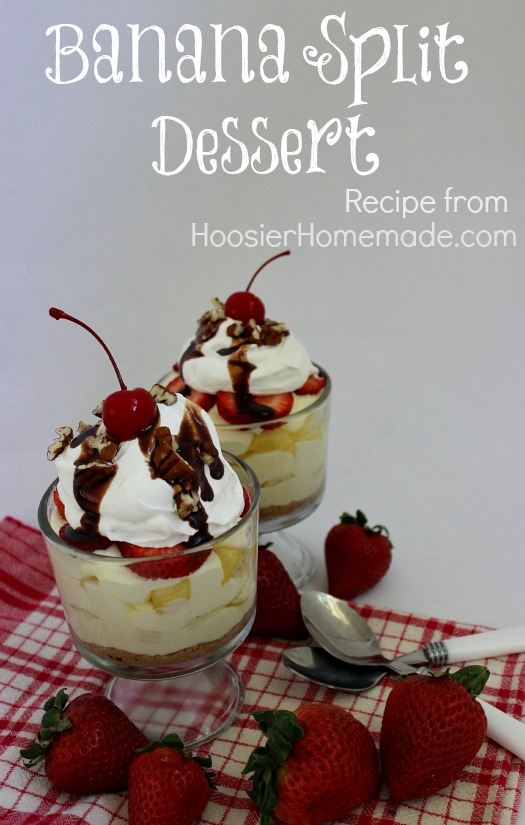 You know me…I love easy desserts that look impressive! I'm all about keeping it simple for you!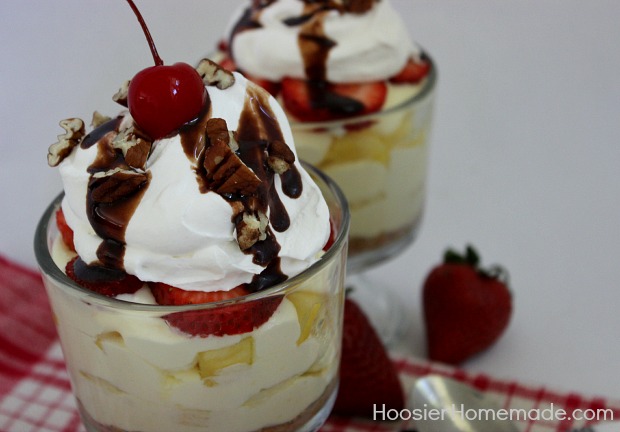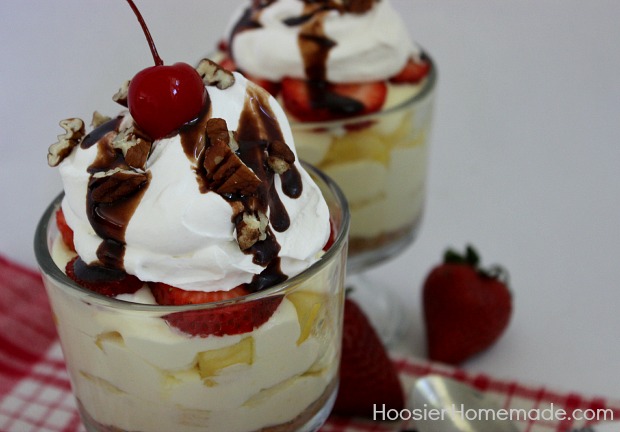 The original recipe, that came from a Gooseberry Patch cookbook, was made in a 13 x 9 pan, but I adapted it a bit and served it in these little parfait glasses that I found at Walmart. The original recipe also did not call for strawberries, but what's a Banana Split without strawberries.
Do you know the best way to purchase good strawberries?
First, turn the package over and make sure there are no bruised or damaged berries. Then give the package a good sniff, yep…smell the strawberries, if you can smell a good flavor then they are perfectly ripe for you to use.
Do you have strawberry tip? Share it with us!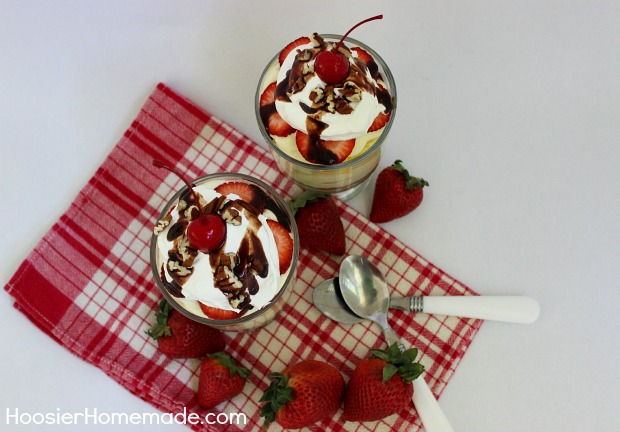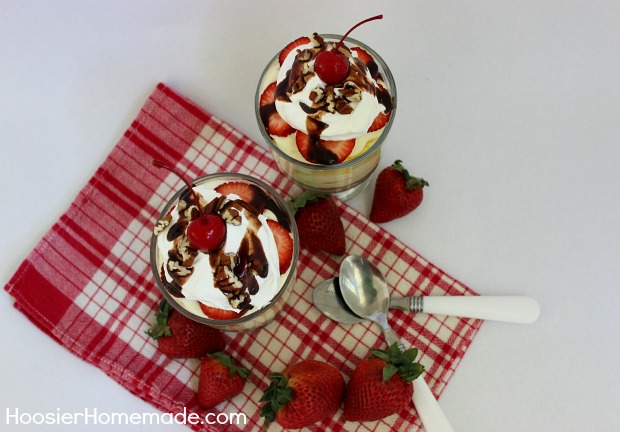 You can find all the ingredients for these delicious Banana Split Dessert including the fresh strawberries and the parfait glasses at Walmart.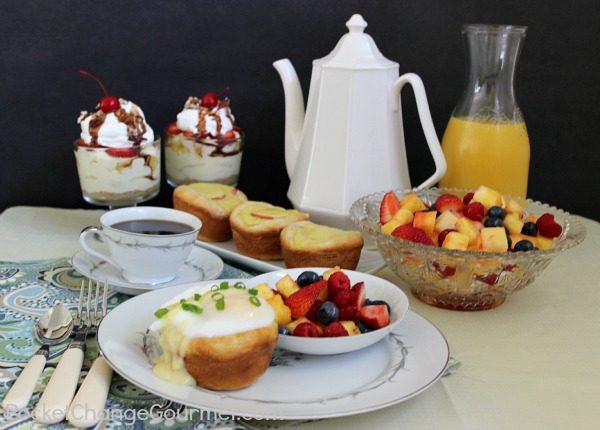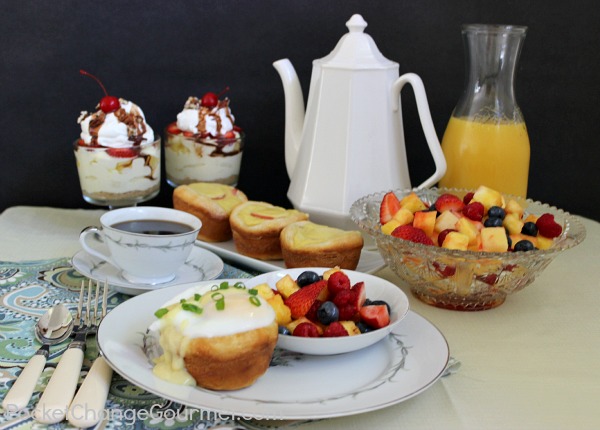 Pop on over to Pocket Change Gourmet and see how we served these Banana Split Dessert with our Mother's Day Brunch!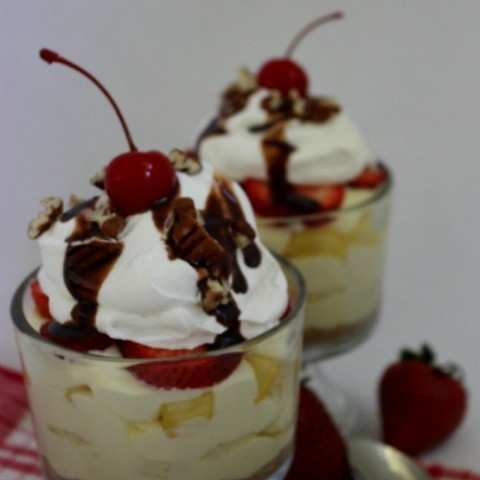 Banana Split Dessert
Yield:
6-8 parfait glasses
Simple yet impressive looking dessert that tastes as good, if not better, than the traditional Banana Split. Recipe from HoosierHomemade.com
Ingredients
2 sleeves graham crackers, crushed
1/2 cup butter, softened
1 small box vanilla pudding
2 cups milk
2-3 bananas, peeled and sliced
1-2 cups fresh pineapple, chopped or 1 (8 oz) can pineapple chunks, drained
1-2 cups fresh strawberries, cleaned and sliced
1 (8 oz) container Cool Whip whipped topping
Chocolate syrup for drizzle, optional
Chopped nuts for garnish, optional
Maraschino cherries for garnish, optional
Instructions
In a small bowl, combine the pudding mix and milk, whisk until smooth and place in fridge until set, about 5 minutes
Combine graham cracker crumbs and butter, spoon into parfait glasses, packing down - use about 2-3 tablespoons in each glass
After pudding is set, combine with about 1/2 of the container of Cool Whip, fold in until smooth
Fill a resealable bag or decorator bag with pudding mixture, add a layer on top of the graham cracker crust
Top with sliced bananas, another layer of pudding, then pineapple, pudding, and strawberries
Place in fridge until ready to serve
Top with a large dollop of Cool Whip, top with a drizzle of chocolate syrup, nuts and cherry
Store leftover in fridge
Notes
If you want to make this dessert in a 13x9 pan, use the same ingredients except add another box of pudding and another container of Cool Whip to the ingredients.


Linking to…Gooseberry Patch