It's funny how childhood memories can come flooding back just by baking a cake. I remember my Mom baking an Apple Cake in the Fall when the fresh apples were plentiful. We are blessed to have many orchards in our area where the apples and fresh produce are abundant.
While I'm still hunting for my Mom's recipe for her Apple Cake, this recipe with Browned Butter Frosting definitely reminds me of that recipe.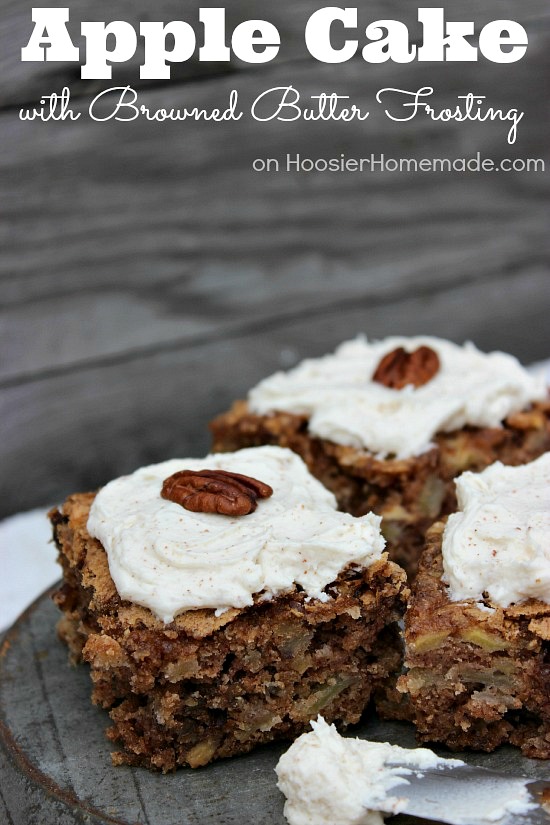 The cake is moist and packed with fresh apples and pecans. The batter is super thick, but don't let that scare you, the cake turned out perfectly.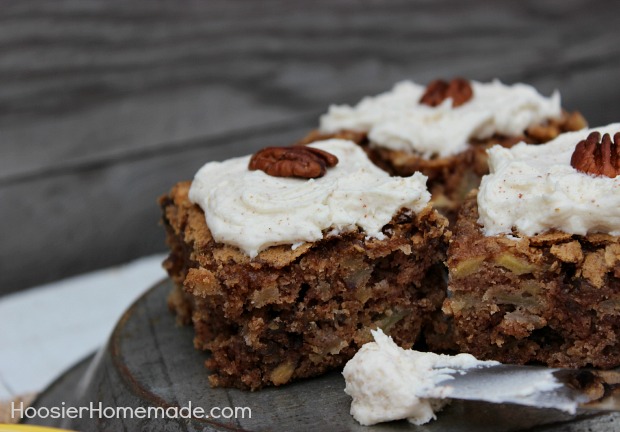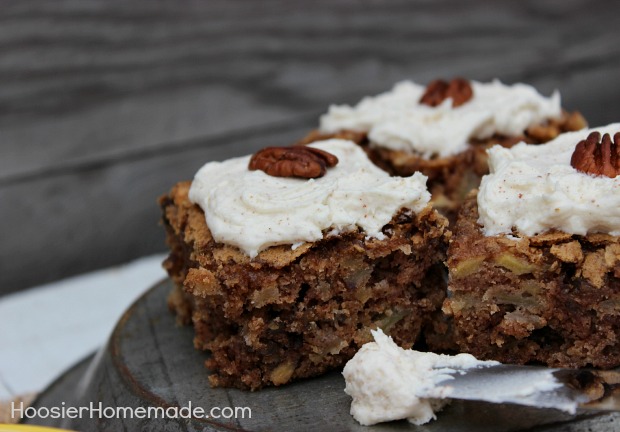 Now I've made many frosting recipes over the years, but I have to admit, I've never made Browned Butter Frosting. Why? I'm not really sure. But you can bet that I will continue to make it any chance I have. It wasn't difficult at all, and the deep flavor is delicious.
The only difference between Browned Butter Frosting and regular Buttercream Frosting is simply the butter being cooked and browned on the stove top.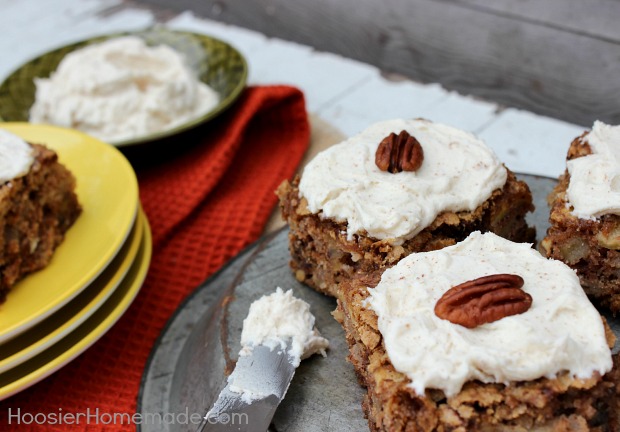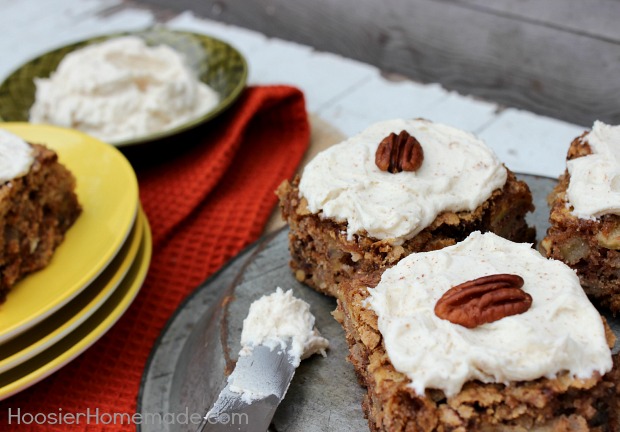 The rich flavor of the frosting paired really well with the flavors of the cake, although I really enjoyed the cake without frosting. Maybe because that's how my Mom used to make it. Sometimes simple is just as good!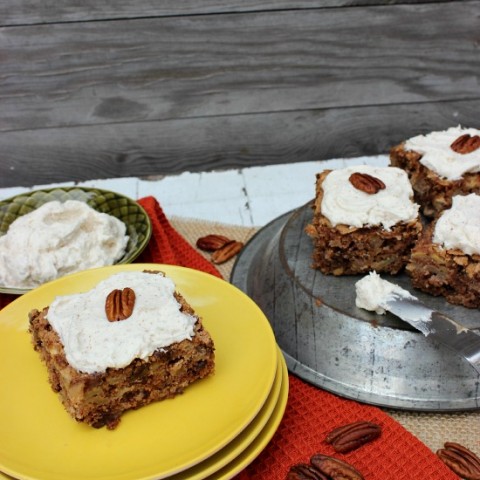 Apple Cake with Browned Butter Frosting
Delicious moist cake packed with apples and pecans. Great with or without frosting. Recipe from HoosierHomemade,.com
Ingredients
Cake
1 1/2 cups pecans, chopped
2 cups flour
2 teaspoons cinnamon
1 teaspoon baking soda
1 teaspoon salt
1/2 cup butter, melted
2 cups sugar
2 eggs
1 teaspoon vanilla extract
4 cups apples, peeled and chopped into 1/4 inch pieces
Browned Butter Frosting
1 cup butter
2-3 cups powdered sugar
1 teaspoon vanilla
1/4 cup milk
Instructions
Preheat oven to 350 degrees
Spread chopped pecans on cookie sheet and bake for 6-10 minutes, stirring occasionally until light brown. Cool
Lightly Spray 13x9 baking dish with non-stick cooking spray
In a medium bowl, combine flour, cinnamon, baking soda and salt, set aside
In a large bowl, combine butter, sugar eggs and vanilla until well blended
Stir in flour mixture just until blended
Stir in apples and 1 cup pecans.
Batter will be very thick, like cookie dough. Spread into pan.
Bake for 45 minutes or until toothpick inserted in center comes out clean
Cool completely
Frosting
In a small saucepan on stove, melt butter and cook 6-8 minutes until golden brown
Immediately pour into small bowl, cover and place in fridge to set, about 1 hour
Beat butter until fluffy, gradually add powdered sugar alternating with milk and vanilla
Frost cake, sprinkle with remaining pecans
Store covered in refrigerator
Recipe adapted from Betty Crocker Fall Entertaining Magazine