Our home was built in 1926, we live in a very old section of our town, which is great for me, because I love antiques. It's a good thing I do, with raising 3 boys, I haven't had to worry much about the furniture getting banged up. 🙂
On a recent trip to visit my Father-In-Law, one of the pieces of furniture my husband brought back was this chest. It has been in the family 65 – 70 years. My Father-In-Law had it when he was growing up. In fact, the marble top is cracked from where he accidently dropped it when he was a young boy.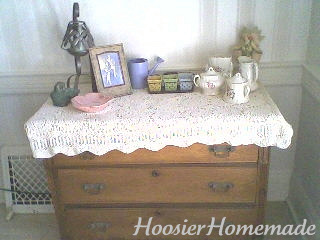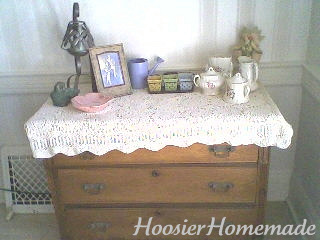 When we moved into the house almost 1 year ago, I needed some shelves in the bathroom. The linen closet is in the hallway, outside the bathroom.
We had these shelves from when the boys were little, so I made do with them. I really didn't like them at all, but they served the purpose.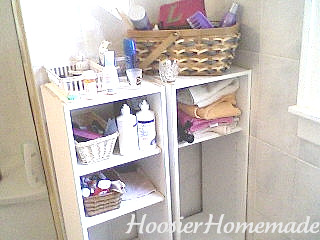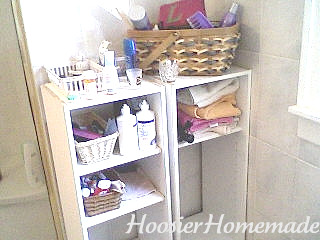 After a "window shopping" trip to the antique store, it hit me, I'll just move the chest upstairs to the bathroom. I originally had the chest in the Living Room.
I made a trip to the Dollar Store and bought baskets to hold our toiletries, 2 baskets for $1. So, for a total of $2.50, I have a brand new (to me) chest in my bathroom.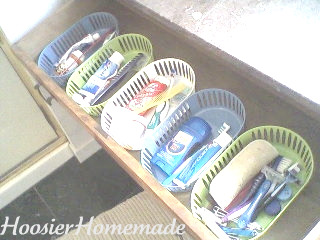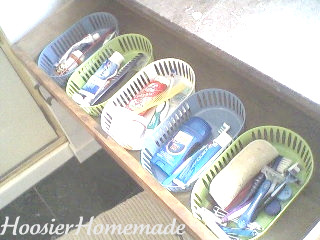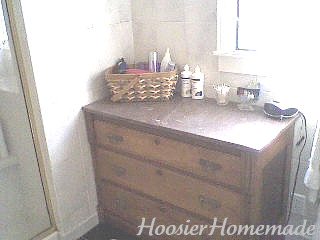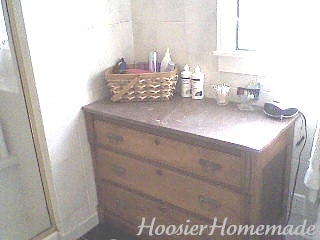 This post linked to: