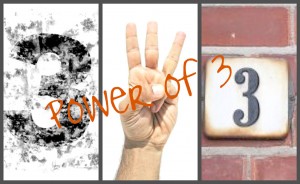 The Power of 3! Are you a numbers person? How about a list making person? I am actually both.
It's quite interesting how the number 3 is very important. During Church last weekend, our Youth Pastor spoke about numbers in the Bible.  I won't go into a long talk about it (maybe another post), but I do find it intriguing.
The number 3 is the first of four perfect numbers, meaning Divine. Number 3 denotes Divine Perfection. Many times during Scripture in the Bible, different things or people are mentioned 3 times. You can read more about the number 3 and other numbers in the Bible, here.
I have been a Mom for 18 1/2 years now, and I can't even begin to tell you the number of times that I have tried a workable chore list for my family. I have tried attaching money to chores, special treats, different chores each day…alas, none have worked, until I came up with The Power of 3.
I simply give each of the boys (18,16 & 12) and my husband 3 things each day to do. Simple…huh? Not quite sure why I didn't think of it before.
I typed up a form that has each of their names and 3 lines, I use a different sheet for each day. And if a chore on their list doesn't get done (gasp) it gets added to the next day, if they have a chore listed more than…you guessed it…3 days, they are grounded for…you guessed it…3 days!
And for Doug, well…he doesn't get grounded

but I do remind him about setting an example.
Here are some of the chores I list out for them
Pick up bedroom
Take dirty clothes down to Basement
Put clean clothes away
Take hamper from Bathroom to Basement
Put away Toilet Paper (easy chore for 12 year old, we have a stand in the Bathroom where it is stacked)
Put away clean towels (another easy chore for 12 y.o.)
Unload Dishwasher
Take out Recycling
Empty trash can in Bathroom
Sweep floors
Vacuum stairs (16 y.o. gets this chore)
Shovel sidewalks
You get the idea. We have been doing our chores since the beginning of the year this way, I haven't had to ground any of them yet (only one threat reminder).
Now that I have a workable plan for them, it was time to work on my plan. I divided my chores into 3 catergories, House, Blog and Work. And yep, you guessed it…I list 3 chores in each catergory every day. I have to be honest, I don't always get all of my chores done, and I try not to add too many onto the following day, but it's definately making life alot easier.
One of my goals for 2010 was to allow Doug and the boys to help with housework (which is difficult for me) and to work on Balancing my Busy Schedule, I'm trying to stay focused and make our lives a little easier.
How do you organize your household chores? Do your kids help out?
I'm linking to the Blog Parties in my footer, please visit them! You might just find one or two that are new to you