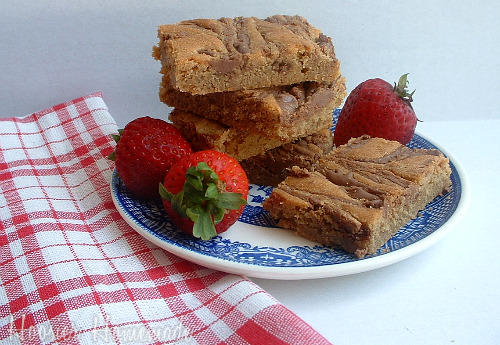 These Peanut Butter Swirl Bars are a HUGE hit at our house. I originally found the recipe in an Amish Cook's newspaper column, the same place I found the Chocolate Zucchini Cake that we also love.
Bar cookies are some of my favorite not only because they are much quicker than scooping cookies, but a lot of the time that seem to be more moist.
A perfect treat for the kids. Recipe from HoosierHomemade.com
Ingredients
1/2 cup Peanut Butter (crunchy or plain)
1/3 cup Butter (I used Butter Flavor Crisco)
3/4 cup Brown Sugar
3/4 cup White Sugar
2 Eggs
2 teaspoons Vanilla
1 cup Flour
1 teaspoon Baking Powder
1/4 teaspoon Salt
6 oz (about 1 cup or so) Chocolate Chips (I use Milk Chocolate)
Instructions
Preheat oven to 325 degrees. Spray 13x9 baking dish with non-stick cooking spray.
Cream together butter, both sugars and peanut butter.
Add the eggs and vanilla, mix well.
Add the dry ingredients and mix until well combined. Spread in prepared baking dish.
Sprinkle with chocolate chips on top.
Place in oven for 5 minutes, remove and swirl chips into peanut butter mixture with a knife. Return to oven and bake for 25-30 minutes longer.
Cool and cut into bars.
http://hoosierhomemade.com/peanut-butter-swirl-bars-2/
Are you a bar cookie lover? Which kind are your favorites?
Linking to…Gooseberry Patch