This fun red, white and blue Ice Cream Sandwiches Cake is super easy and really fun for your 4th of July Celebrations! Just 5 simple ingredients and you have a show-stopping dessert!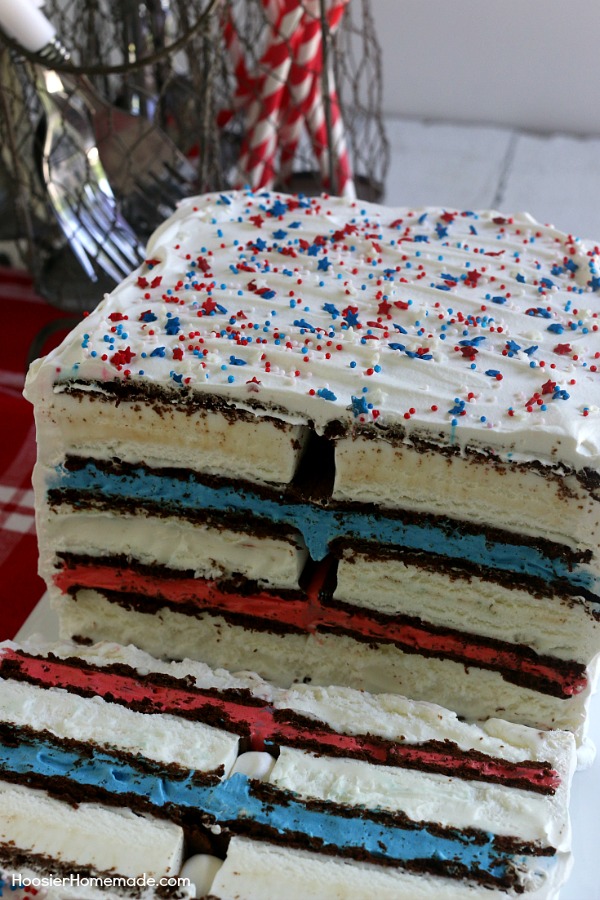 Summer is almost here and you know what that means – warm weather, cookouts, 4th of July, picnics, potlucks and YES! Ice Cream! It really doesn't matter what age you are, I have never met a person that didn't love ice cream, especially when they are fun ice cream sandwiches, bars and treats.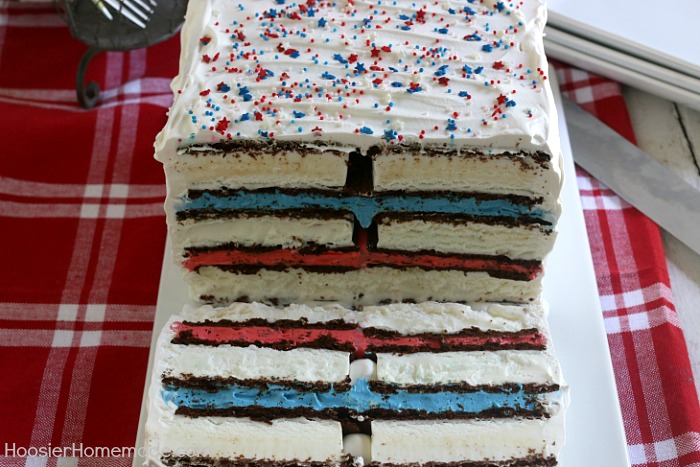 I know your life is busy. I know you to-do list is never ending. I get it. I'm there too!
Which is why it's a goal of mine to create show-stopping desserts to share with you that are super easy and use simple ingredients.
This Ice Cream Sandwiches Cake is just that! I added blue and red in between the layers of Ice Cream Sandwiches, which is perfect for the patriotic holidays coming up – Memorial Day and 4th of July. But honestly, you could add any color you want. Maybe have 1 cake with pink layers, and 1 cake with blue layers for a gender reveal party. How fun!
What color you put into the layers won't matter, it will be delicious. I promise you! Let's get started…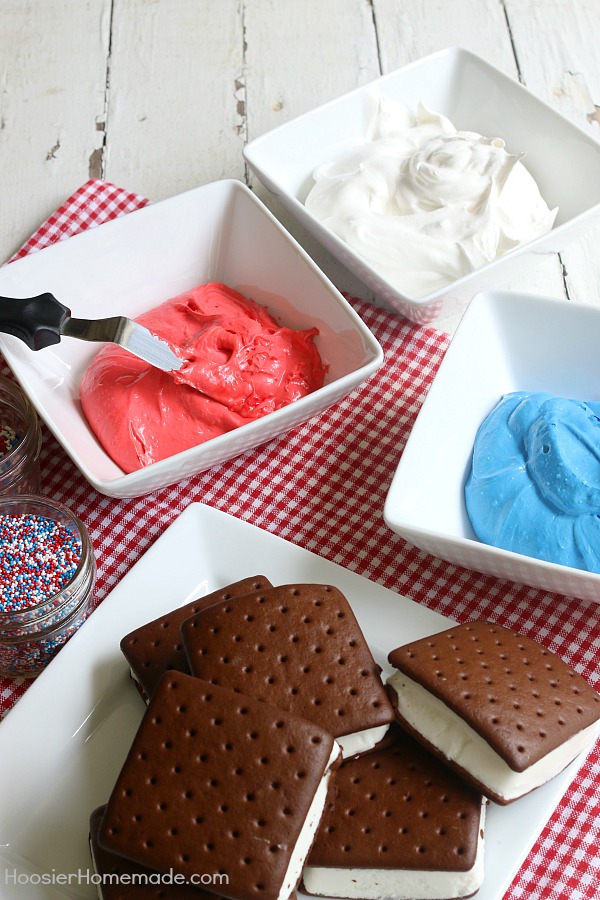 All you need to make this incredible Ice Cream Sandwiches Cake are 5 ingredients – Klondike Ice Cream Sandwiches, whipped topping, marshmallow fluff, pudding and coloring. Sprinkles are optional, but of course, highly recommended.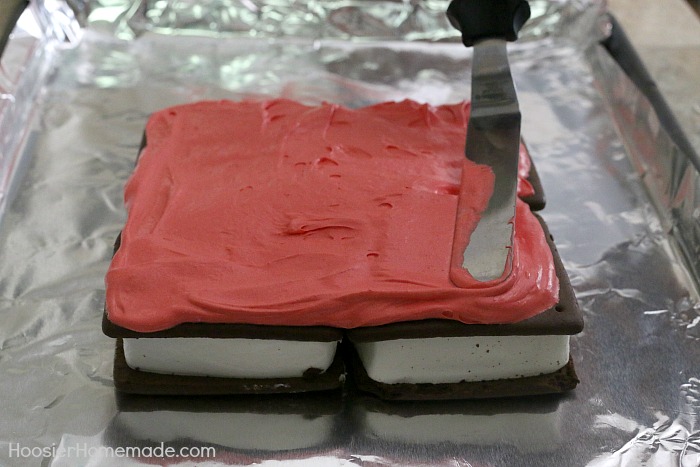 First you will need to line a cookie sheet with a sheet of foil. Lay 4 Klondike Ice Cream Sandwiches on the bottom, fitting them together as closely as possible.
Then frost the top with the red layer of frosting which is a combination of marshmallow fluff, pudding, whipping topping and paste coloring. Be sure to use No Taste Red Coloring, regular red is really bitter.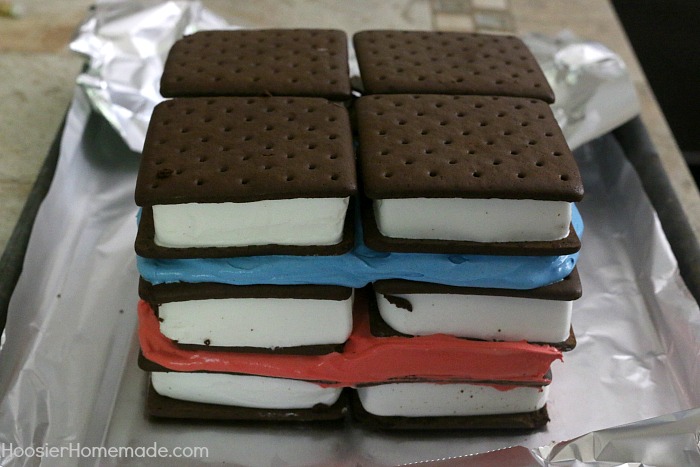 Then add another layer of Klondike Ice Cream Sandwiches, the blue layer of frosting and another layer of ice cream sandwiches.
Now, stick the cake into the freezer for about 20 minutes to firm it up. I checked it at about 5 minutes to make sure the layers were not slipping. If your ice cream is still nice and firm, you can begin adding the whipped topping and skip this step.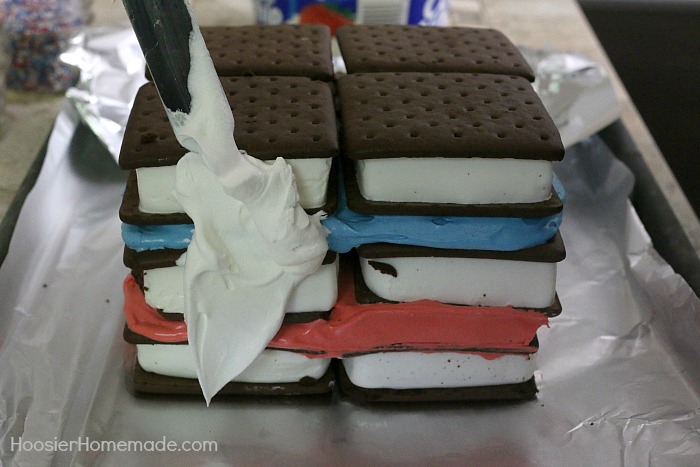 Pull the cake from the freezer and immediately frost with whipped topping. Cover the sides first and then the top.
I added a thin layer – kind of like a crumb coat – first, then went back over it again.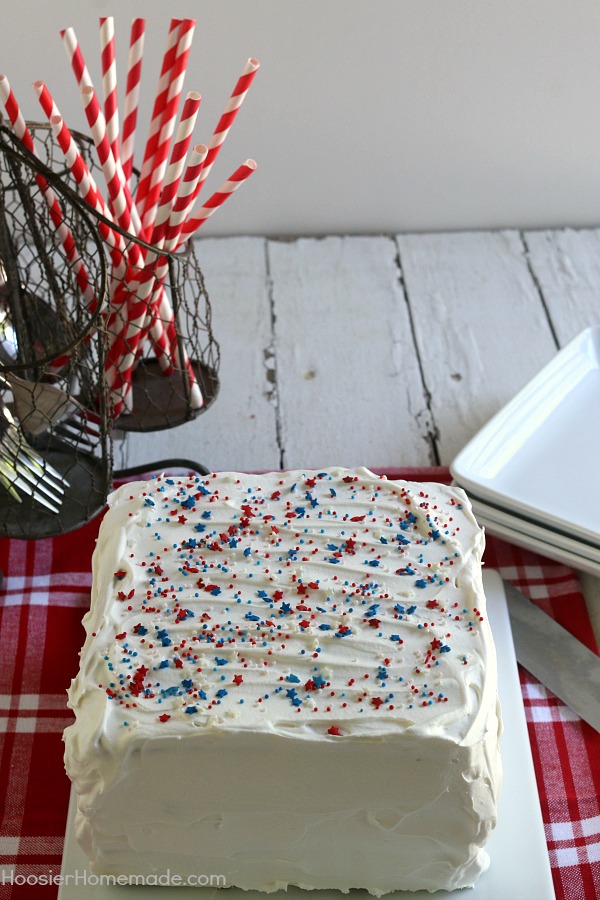 After all the sides and top are frosted, back into the freezer it goes for at least 4 hours, or over night.
Before serving, add sprinkles if you like – of course, who doesn't like sprinkles. I used festive red, white and blue mini stars and nonpareils.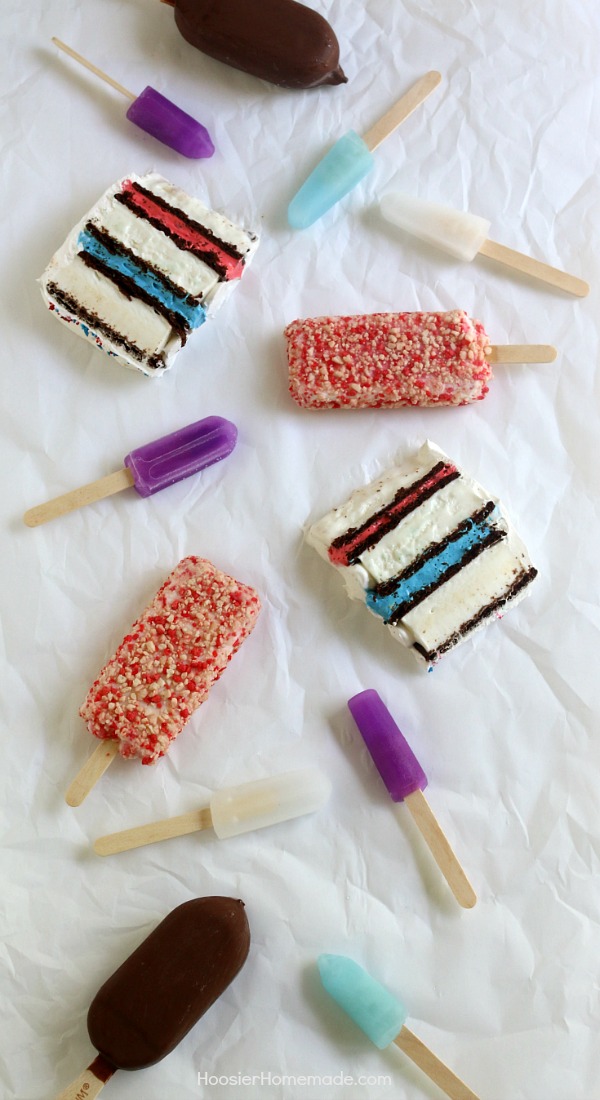 I can just hear the sound of the Ice Cream Truck coming down the street, that all too familiar jingle still rings in my head. How about you?
In the photo are – Magnum Double Raspberry Bars, Frozen themed Mini Popsicles (how cute are those?!), the Ice Cream Sandwiches Cake and Good Humor Strawberry Shortcake Ice Cream Bars.
The Strawberry Shortcake Bars bring back lots of memories. During my pregnancy with my middle son, those are what I craved.
Now is the time to stock up on all your favorite frozen treats!  From May through September, purchase $20 worth of Unilever ice cream products at participating Safeway, Albertsons, VONS/Pavilions, Randalls, Jewel and Tom Thumb stores and submit your receipt(s) to receive a $5 reward. There's up to $575,000 in rewards available! Visit IceCreamRewards.com to submit your receipts.
Registration opens Friday, May 6st 9AM PT/Noon ET and the first 1,000 to register will win FREE ICE CREAM.* And all those who register are entered for a chance to win a YEAR SUPPLY OF FREE ICE CREAM ($10,460 Total Prizing, Daily Entries through 9/30/16).
*NO PURCHASE NECESSARY. Void where prohibited. Ice Cream Rewards Begins 5/1/16 and ends 9/30/16. Unilever Ice Cream Sweepstakes 5/6/16 and ends 9/30/16. For complete Official Rules, visit IceCreamRewards.com.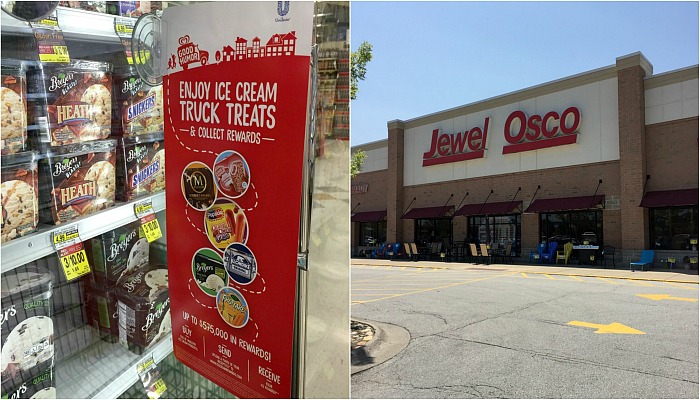 I found all the delicious #IceCreamTruckTreats2016 at our local Jewel store. I have not been to that store in a little while, and I was very pleased with the whole store.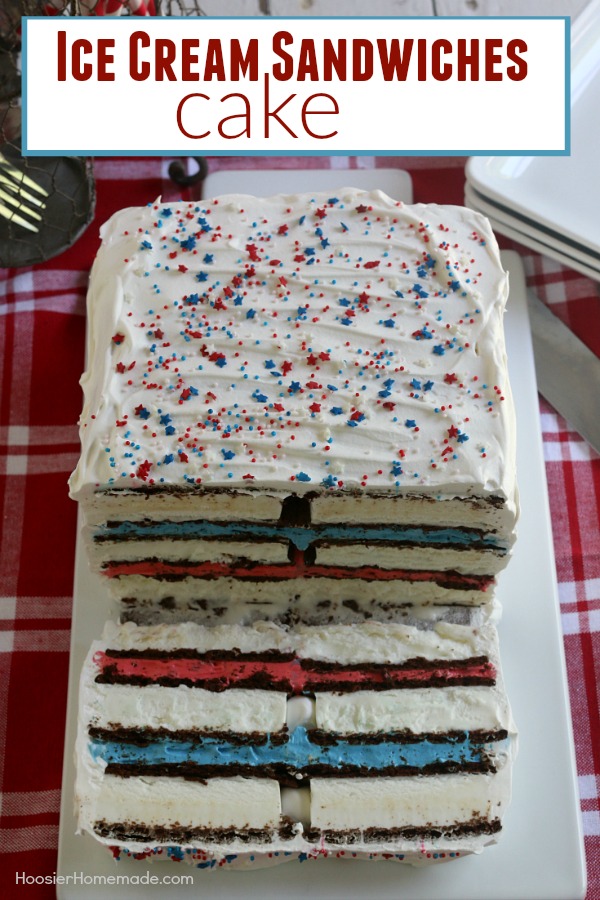 Ice Cream Sandwiches Cake
This fun red, white and blue ice cream sandwiches cake is super easy and really fun for your 4th of July Celebrations! Just 4 simple ingredients and you have a show-stopping dessert!
Author:
HoosierHomemade.com
Ingredients
2 boxes Klondike Ice Cream Sandwiches
1 container (7 oz) marshmallow creme fluff
2 containers (8 oz each) whipped topping, thawed
1 small box instant vanilla pudding - use dry
Red and Blue Paste Food Coloring - or other color
Sprinkles, optional
Instructions
In a large mixing bowl, combine marshmallow fluff and pudding - mixture will be thick
Note - to easily remove marshmallow from jar, place in microwave for 10-20 seconds
Fold in 1 container of whipped topping and mix until smooth
Divide mixture into 2 bowls and add coloring
Line a cookie sheet with foil
Place 4 ice cream sandwiches
Frost with first color of marshmallow mixture
Top with 4 more ice cream sandwiches, gently press into frosting
Frost with second color of marshmallow mixture
Top with 4 more ice cream sandwiches
Place cake into freezer for about 20 minutes
Frost with whipped topping
Place back into freezer and freeze at least 4 hours - up to over night
Remove from freezer and add sprinkles right before serving
Store leftovers in freezer
original recipe from Kraft Food and Family Magazine