One of the all-time favorite candy, if not THE favorite (a close second is Jelly Beans) is Candy Corn. And quite obliviously the most popular candy for Fall and Halloween.
Earlier this week, while working on my Cupcake Chronicles Newsletter,I was searching for a recipe to make the Candy Corn Cupcakes, TASTE like Candy Corn. Well…I stopped dead in my search when I came across a recipe for Homemade Candy Corn!
Other than cooking caramel for my Twix Bars or a simple Caramel Sauce for Caramel Apple S'Mores or ice cream, I really have not tried candy…"real" candy. So this was a bit of a stretch for me, but I desperately wanted to give it a try. I asked on Twitter for anyone with a recipe, I had several responses, but no one had tried it…
Alli_n_Son @HoosierHomemade no, but i would love to try if you find a recipe.
AddaPinch Oh that's a fun idea! RT @HoosierHomemade: Has anyone ever made Candy Corn? #recipe
racheltayse I'm looking for a recipe too. RT @HoosierHomemade: Has anyone ever made Candy Corn? #recipe
So, off to the kitchen I went and after baking the Candy Corn Cupcakes for the newsletter, I set out to giving the Candy Corn a try.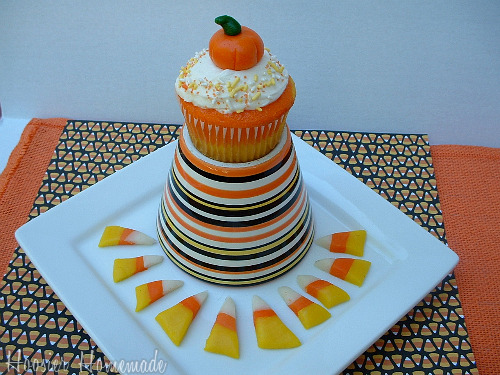 Aren't they cute? And let me tell you…TOTALLY worth the effort!! I'm not a Candy Corn fan, but am now totally addicted to this candy!!
Would you like to learn how to make it? Well, good…because I'm going to teach you…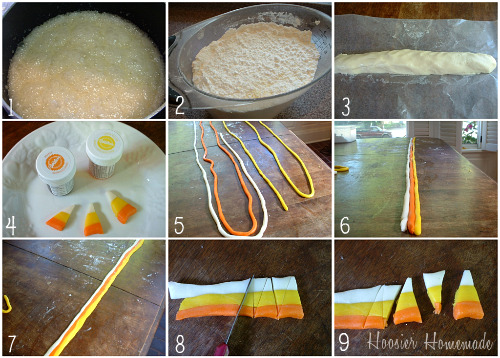 Homemade Candy Corn Recipe
Homemade Candy Corn isn't as hard as you think, and taste lots better than store bought. Recipe from HoosierHomemade.com
Ingredients
1 cup sugar, granulated (white)
2/3 cup corn syrup (lite) **see notes below
1/3 cup butter
1 teaspoon vanilla
2 1/2 cups powdered sugar **see notes below
1/3 cup powdered milk
1/4 teaspoon salt
Orange and Yellow Wilton coloring
Instructions
In a large saucepan, combine sugar, butter and corn syrup.
Bring to a gentle boil, constantly stirring, turn down heat and continue boiling for about 4 minutes (depending on how hard the liquid is boiling)
Remove from heat and stir in vanilla.
In a seperate container, combine powdered sugar, salt and powdered milk.
Add to liquid mixture in the pan, with a heavy wooden spoon or other sturdy spoon, stir together, this takes a lot of muscle, next time I'll do it when my husband is home to help.
After allowing to cool until you can handle it. Place candy on wax paper and knead until all incorporated.
Divide into 3 equal parts and color with Wilton orange and yellow coloring. I used my hands to mix the coloring in, you can put gloves on if you want, but I didn't have any trouble washing off the coloring.
Roll each piece into long ropes, trying to keep the thickness close to the same size.
Place ropes together, with orange in the middle
Gently press ropes together, and flatten with your hands
With a sharp knife cut triangles, not every piece will have a white point (those are good for snacking)
Cut into several pieces, this recipe made a TON of candy corn
http://hoosierhomemade.com/homemade-candy-corn-recipe/
My Notes:
Here are a couple things I learned, have a partner to help you…not only would have it been a little easier with a strong arm to stir and knead, but this process moves REALLY quickly and having an extra set of hands would be helpful.
Next time I will add a smidge more corn syrup and a smidge less powdered sugar. After rolling out the ropes, the white rope didn't want to stick to the other ropes very well, I had to play with it quite a bit. So, next time I think by adding a little extra corn syrup it might help, also rolling the colored ropes first, and the white rope last might help. The orange and yellow ropes were a little softer and stuck to each other well, that might also have been the coloring I added.
And don't boil it TOO hard or for too long…or you will end up with this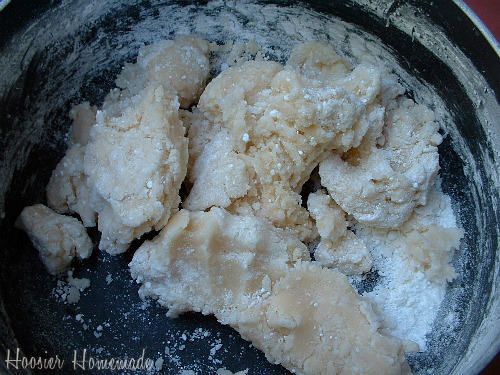 Candy Corn #Fail

Now, besides devouring the Candy Corn, what else can you do with it?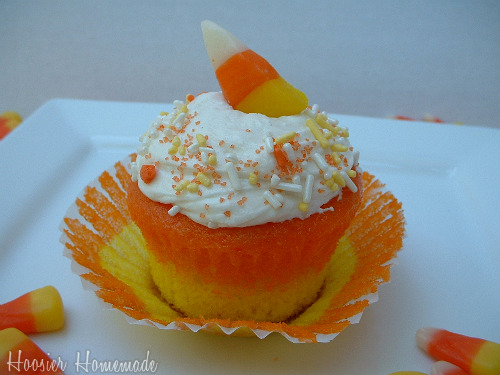 Sign up for my Cupcake Chronicles Newsletter and learn how to make these cute Candy Corn Cupcakes!!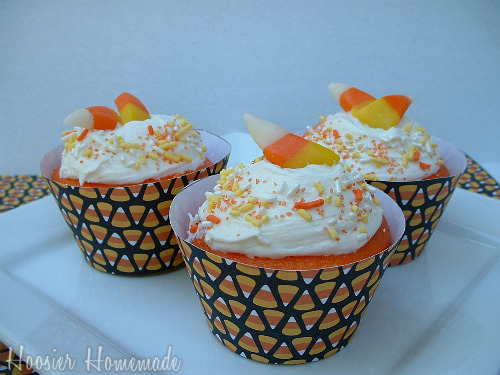 Or learn how to make these SUPER cute Cupcake Wrappers?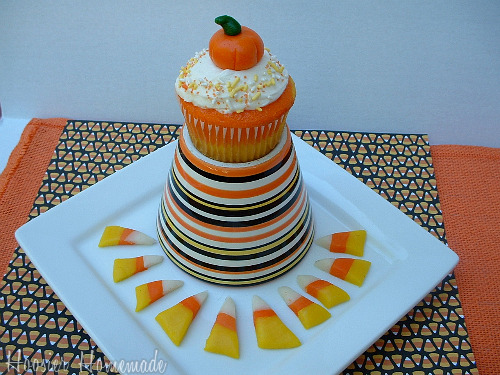 One last look at the Homemade Candy Corn!! Oh and want to learn how to make the little pumpkins? Stop on back next week, and I'll teach you!
So, what do you think? Will you give it a try?