Your Picks.Your Place.Sweepstakes: French Cottage Office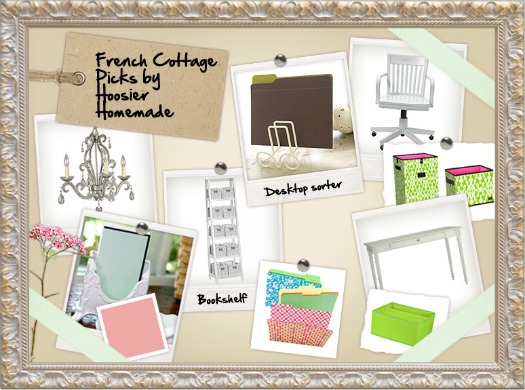 Well, here we are…week 3 of the Your Picks.Your Place. Sweepstakes sponsored by Apartment Guide. This week I'm sharing the French Cottage Office that I designed.
Right now, my office is kind of a burnt orange, and around the top, toward the ceiling is stenciled…A Man Has To Do What A Man Has To Do! Really? Seriously friends! I have to work everyday in this office. It could be a lot worse, but oh how I wish I could have this French Cottage Office!!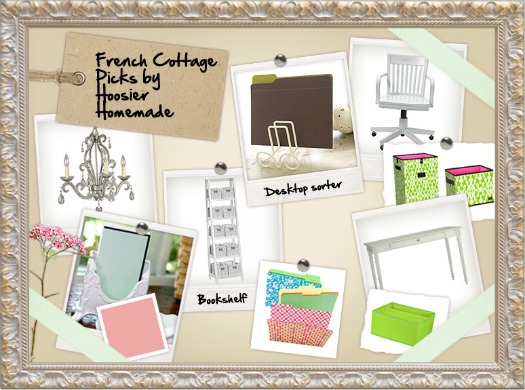 Oh yes! Pink, Green and a chandelier!! Heaven!!
Do you remember the Baker's Rack that I re-purposed? The containers that I used on the Baker's Rack are from the same website as the one's I have chosen here.
Don't you LOVE it? I'd really appreciate your vote! And don't forget…you could win $10,000! I would be over-the-top excited to have one of you win!!
And in case you missed the details…here is how it works…
The sweepstakes will last for eight weeks and consist of four two-week rounds.
Every two weeks, a set of room design boards will be showcased on the "Your Picks. Your Place. website"
Rooms included are living room, bedroom, dining room, and home office.
Consumers will vote once every two weeks for their favorite room of the round. Anyone voting in that round will be entered to win one of two $250 gift cards.
All voters will be entered to win a $10,000 grand prize so that they can make their own picks to furnish their own place.
Sweepstakes are open until August 10, 2011
No purchase necessary
Don't forget to enter my giveaway for the $100 Gift Card too!! Ends Friday, the 15th. The winner from the last gift card giveaway was…Stephanie Miller says Subscribed to It's A Blog Party. Congrats Stephanie!!


Now, of course I want you to VOTE FOR MY French Cottage Office…but here are the other bloggers that also put together some pretty amazing rooms!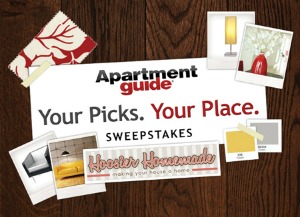 Disclosure: Apartment Guide is owned by Consumer Source, Inc. Apartment Guide partnered with bloggers such as me to participate in its "Your Picks. Your Place." Sweepstakes. As part of that program, I received compensation. They did not tell me what to select or what to say about my featured design boards, or what to say in my blog posts about the "Your Picks. Your Place." Sweepstakes. Apartment Guide and Consumer Source believe that consumers and bloggers are free to form their own opinions and share them in their own words. Consumer Source's policies align with WOMMA Ethics Code, FTC guidelines and social media engagement recommendations.
NO PURCHASE NECESSARY. Sweepstakes ends at 9:00 PM on 8/10/11, subject to the Entry Periods outline in the Official Rules. Must be a legal resident of the U.S. in the 50 states or Washington, D.C. and 18 years of age or older. Sweepstakes subject to full Official Rules available at www.yourpicksyourplace.com. Void where prohibited.