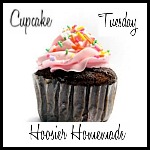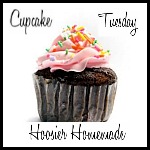 Welcome to Cupcake Tuesday! I'm so glad to have you! I have updated the Cupcake Heaven page, there are over 150 designs and recipes! Check it out!!
Can you believe Thanksgiving is only a couple weeks away? I seriously don't know where the time goes. How about you?
We have some fun Thanksgiving Cupcakes planned to share with you, and these fun Turkey Cupcakes are just the one's to kick off the holiday. With their simple design they won't take long to make and are perfect for the kids and can be enjoyed by all.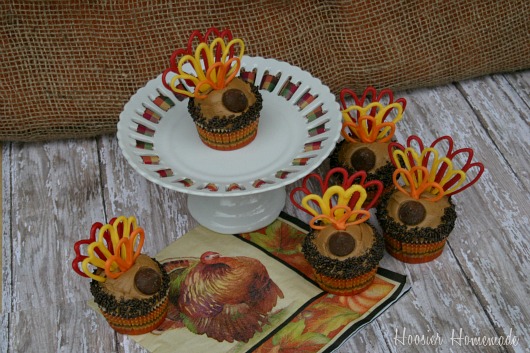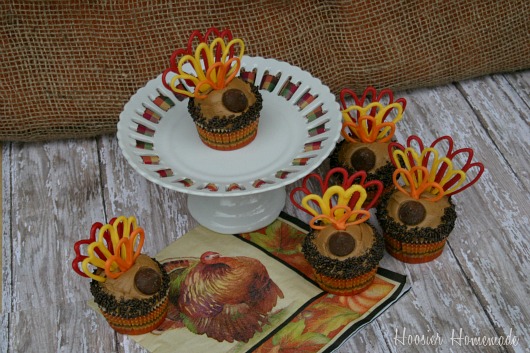 These cupcakes would be a great addition to the kids table at this year's Thanksgiving celebration, you can even use them as a nice edible centerpiece if you can keep everyone away from them…including the adults!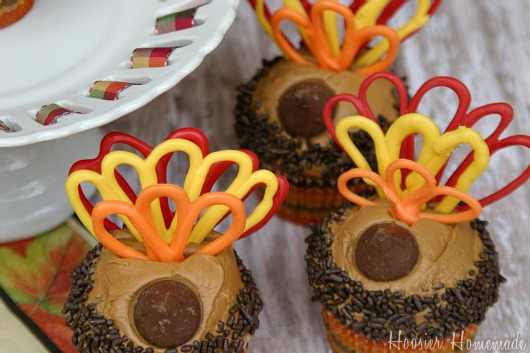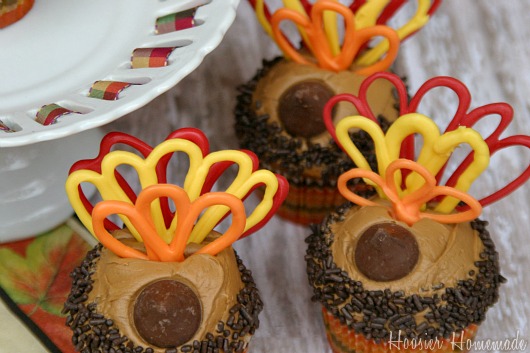 Turkey Cupcakes for Thanksgiving
Fun and whimsical Turkey cupcakes for the kids from HoosierHomemade.com
Ingredients
Supplies:
Pumpkin Cupcakes or your favorite flavor
Brown Frosting
Chocolate Hershey's Kisses
Wilton Candy Melts – Red, Orange and Yellow
Chocolate Sprinkles
Plastic squeeze bottle
Wax paper
Instructions
Bake and cool cupcakes
While the cupcakes are cooling, create the feathers
Line a cookie sheet or tray with wax paper
Place 15 or 20 candy wafers in a microwave safe bowl and melt for about 20 seconds, stir with a little oil to thin if necessary
Spoon melted chocolate into a plastic squeeze bottle. I've tried many different ways to use melted chocolate and this is by far the easiest
Create feathers by squeezing chocolate into small loops, repeat for each color {Be sure to make extra, they will break}
Place in freezer for a few minutes to set up
Frost cupcake with brown frosting
Roll the edge in the chocolate sprinkles
Add chocolate kiss for head
Carefully add feathers
Nutrition Information:
Amount Per Serving:
Calories:

0
Total Fat:

0g