Ultimate Triple Chocolate Chunk Cookie and a Fridge Makeover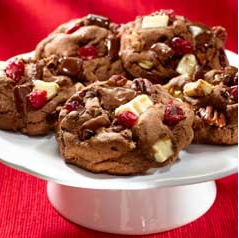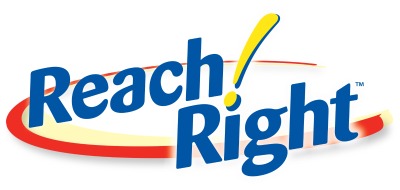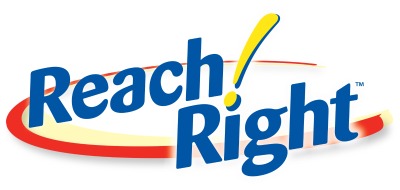 GIVEAWAY CLOSED
As you well know, if you have been around here, there is always some cooking and baking going on in our home! While I cook and bake, almost, everything from scratch, I'll have to admit that sometimes our choices of ingredients are not always as healthy as they should be.
I have tried to get motivated to change some things, but had not gotten around to it. Then I got a little kick in the pants from I Can't Believe It's not Butter!®, when they sent me an awesome box full of goodies to makeover our fridge!
I will have to give the makeover credit to Doug, my husband, he actually does a better job with keeping the fridge clean and straight than I do. It seems like I am always in such a hurry, I just kind of stick things in quickly and don't pay much attention to how long the food is in the fridge. I know…not so good. Doug took some pictures of his fridge makeover to share with you…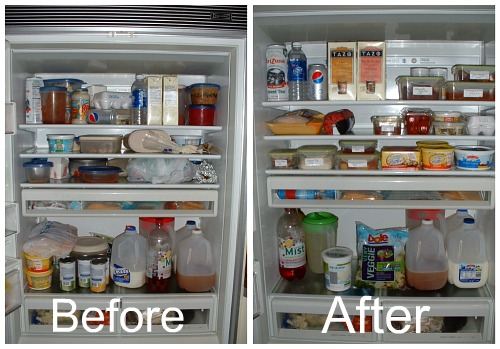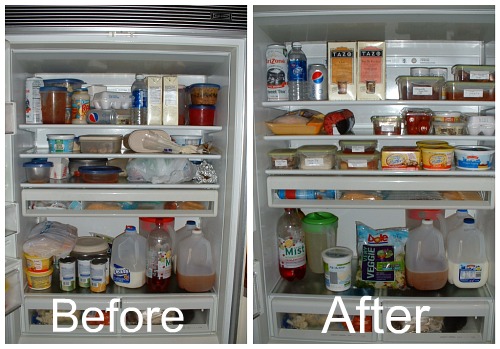 Now, while our fridge makeover is far from perfect, it is definitely an improvement! With the Holidays quickly approaching, every little change we can make will help. I saw these Ultimate Triple Chocolate Chunk Cookies on the I Can't Believe It's Not Butter website, and I just had to share. I think they would make a yummy addition to any Holiday get-together.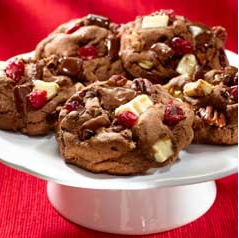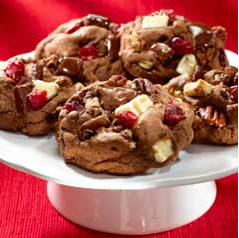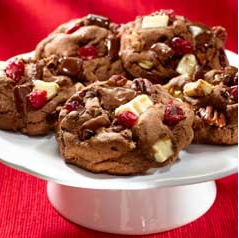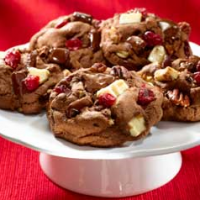 Ultimate Triple Chocolate Chunk Cookie
Ultimate Triple Chocolate Chunk Cookie recipe from I Can't Believe It's Not Butter! on HoosierHomemade.com
Ingredients
2-1/4 cups all-purpose flour
1/2 cup unsweetened cocoa powder
1/2 tsp. baking soda
1 cup (2 sticks) I Can't Believe It's Not Butter!® Sticks
1 cup firmly packed light brown sugar
1/2 cup granulated sugar
1 large egg
1 tsp. vanilla extract
6 oz. bittersweet chocolate, coarsely chopped (or chips)
6 oz. white chocolate, coarsely chopped (or chips)
1/2 cup EACH dried cranberries and coarsely chopped toasted pecans
Instructions
Preheat oven to 375°.
Combine flour, cocoa powder and baking soda in medium bowl; set aside.
Beat I Can't Believe It's Not Butter!® Sticks with sugars in large bowl with electric mixer or wooden spoon until smooth.
Beat in egg and vanilla.
Stir in flour mixture just until blended.
Stir in chocolate, cranberries and pecans.
Drop mixture by 1/4-cupfuls, 3 inches apart, on ungreased baking sheets.
Bake 11 minutes or until edges just begin to set. Do not over bake; cookies will firm as they cool.
Cool 2 minutes on wire rack; remove from sheets and cool completely.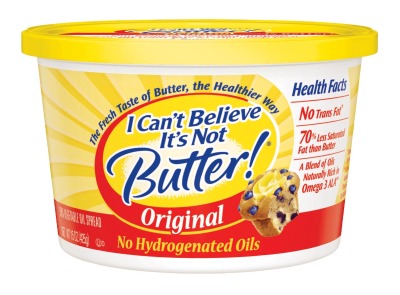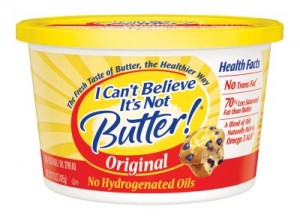 I Can't Believe It's Not Butter! Original Soft Spread is made from a blend of vegetable oils and is an excellent source of Omega-3's, adding fresh buttery flavor to the foods you love with:
70% less saturated fat than butter
NO cholesterol
NO hydrogenated oils, so there's 0g trans fat per serving
I have been using I Can't Believe It's not Butter!® in my Buttercream Frosting, and honestly…we can't tell the difference. It's smooth and creamy and really good!!
And…to get you started, I have coupons for 5 lucky readers for I Can't Believe It's not Butter!®.
I also received this really cute insulated lunch bag that I am passing along to you.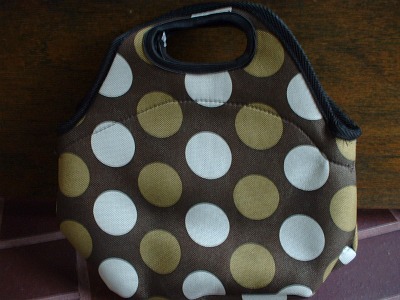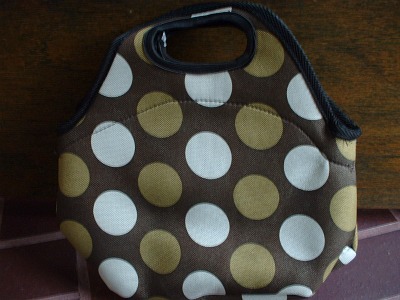 Because I currently have several giveaways and several coming up, this giveaway will only be open until Sunday, November 7th. at 10 p.m. cst
AND, it's super easy to enter, just leave a comment telling us your best fridge makeover tip.
psss…watch for a VERY special announcement and recipe on Monday!!
Disclaimer: HoosierHomemade was provided a I Can't Believe It's Not Butter and other products for a fridge make-over, the opinions are our own. I Can't Believe It's Not Butter is  providing HoosierHomemade with 5 product coupons and a lunchbag to giveaway to 6 different lucky readers. For more information on Hoosier Homemade's policy, please visit my Disclosure Page.