Thanksgiving Cupcakes: Pilgrim Hats and Cornucopia
These Thanksgiving Cupcakes would be a great addition to the kids table at this year's Thanksgiving celebration, topped with adorable Pilgrim Hats and Cornucopia, they are sure to please the kids and adults too!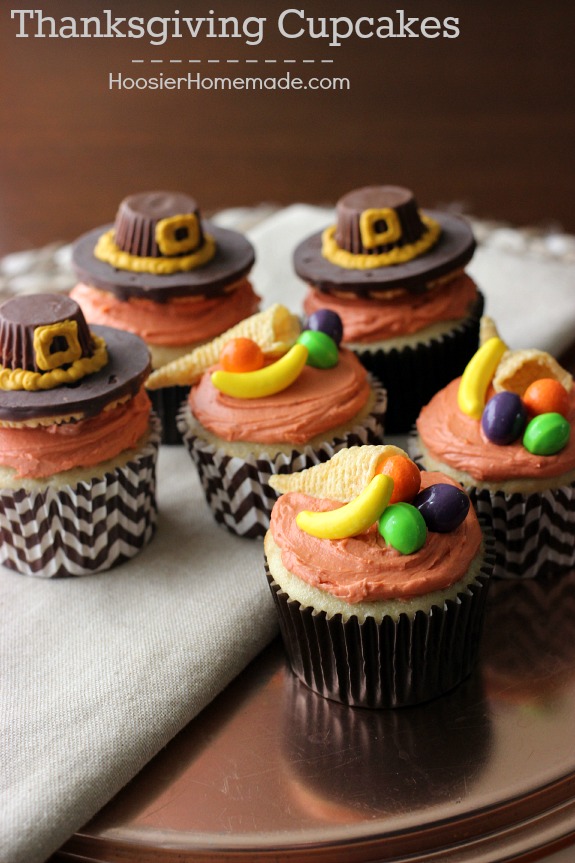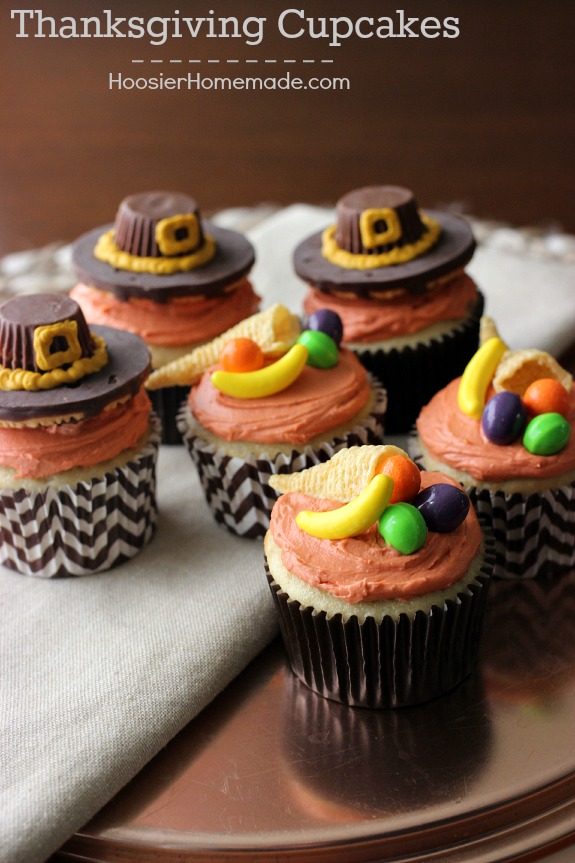 Happy Cupcake Tuesday! I'm so excited you are here! Looking for a cupcake recipe? Be sure to check out the Cupcake Heaven page, there are over 250 cupcake recipes and decorating ideas!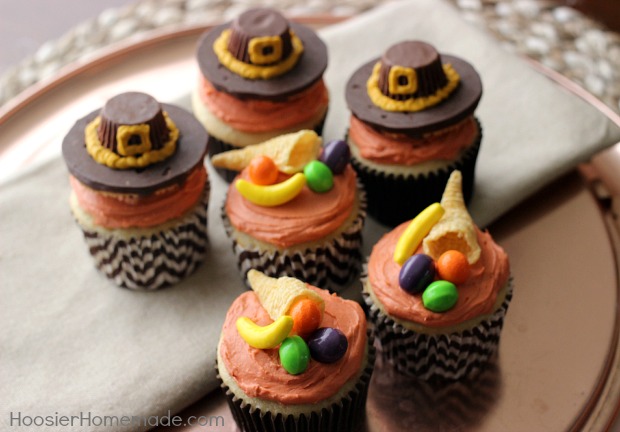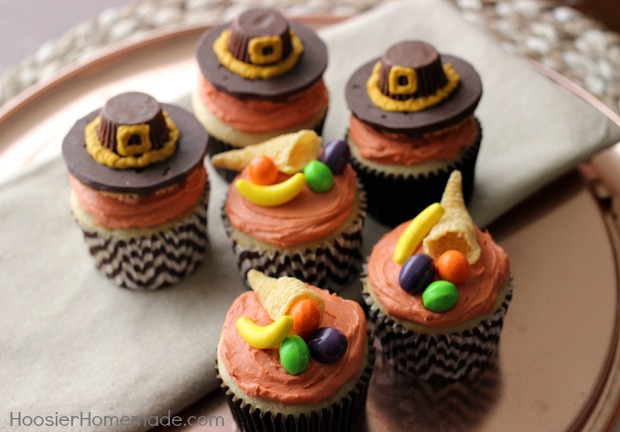 One of my fondest memories growing up was the big holiday dinners my Mom served. The smells in our home are unforgettable. Over the years, I have tried to recreate those memories for our boys. Along with the turkey, stuffing and potatoes, dessert is always on the menu.
So to bring back memories and create some for my boys, I baked a batch of vanilla cupcakes and decorated them for Thanksgiving. As always, the cupcakes are easy and fun for the kids to decorate too! With just a few simple supplies, you and the kids can whip up a batch of these Thanksgiving Cupcakes to share with family and friends! You could also have the cupcakes frosted and place a cupcake at each child's place setting along with the candy, cookie and bugles to decorate and let them decorate their own.
Let's get started with the Pilgrim Hats…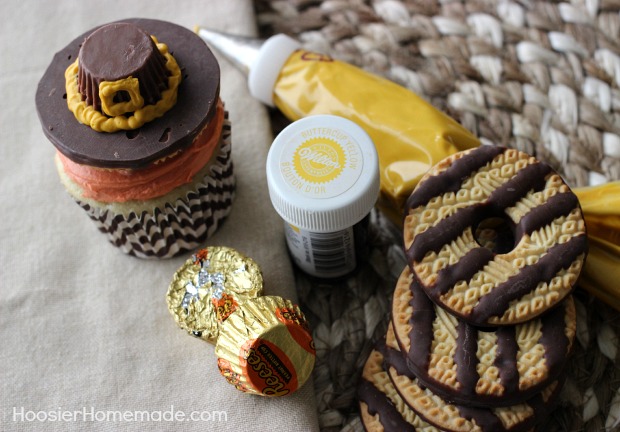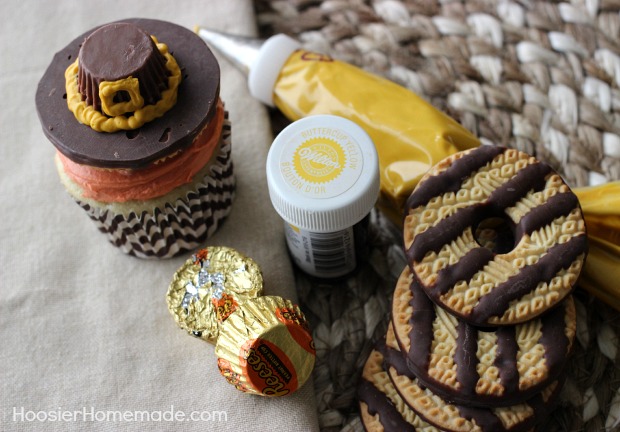 Pilgrim Hat Supplies
Fudge Striped Cookies
Peanut Butter Cups, bite size
Chocolate Almond Bark, 1 block melted
Buttercream frosting, colored with Buttercup Yellow
Decorator bag fitted with a #4 round tip
Instructions
Frost cupcake with Buttercream frosting (I used Wilton Copper to color it)
Place cookie upside down on a wax paper lined cookie sheet
Unwrap Peanut Butter Cups and dip into melted chocolate, place on cookie
Let set a few minutes until chocolate is set
Pipe on the gold buckle and rim using a decorator bag fitted with a small round tip
Place on top of frosted cupcake
Cornucopia Cupcakes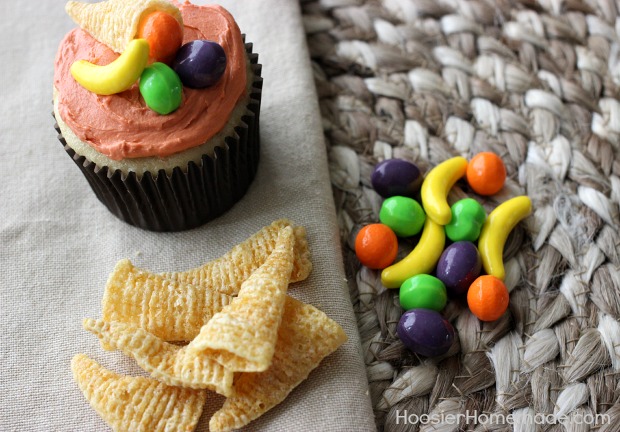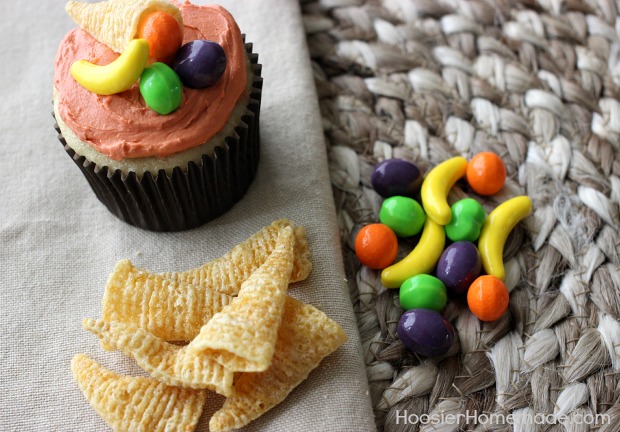 Cornucopia Cupcake Supplies
Instructions
Frost cupcake with Buttercream Frosting
Place Bugle on top, toward the back of the cupcake, allowing room for candy (you want to choose the Bugles that are curled up a bit on the pointed end)
Place Runts "fruit" candy inside and in front of Bugle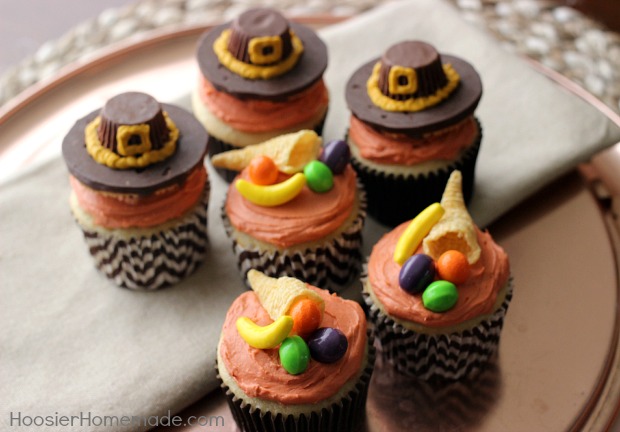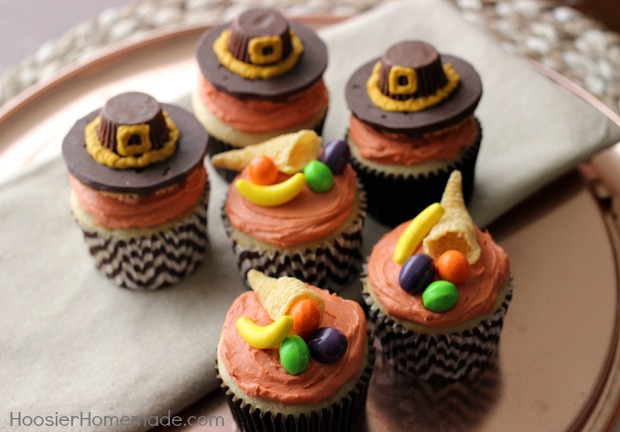 As friends and family fill your home during this holiday season, so do the smells of home cooked food and dessert. The oven is warming up and ready for all the delicious dessert that is sure to be enjoyed.