These classic Sugar Cookies for Christmas are soft, chewy and oh so delicious! Add red and green sugar to them for Christmas, change the color for another holiday or leave it off for the perfect sugar cookie recipe!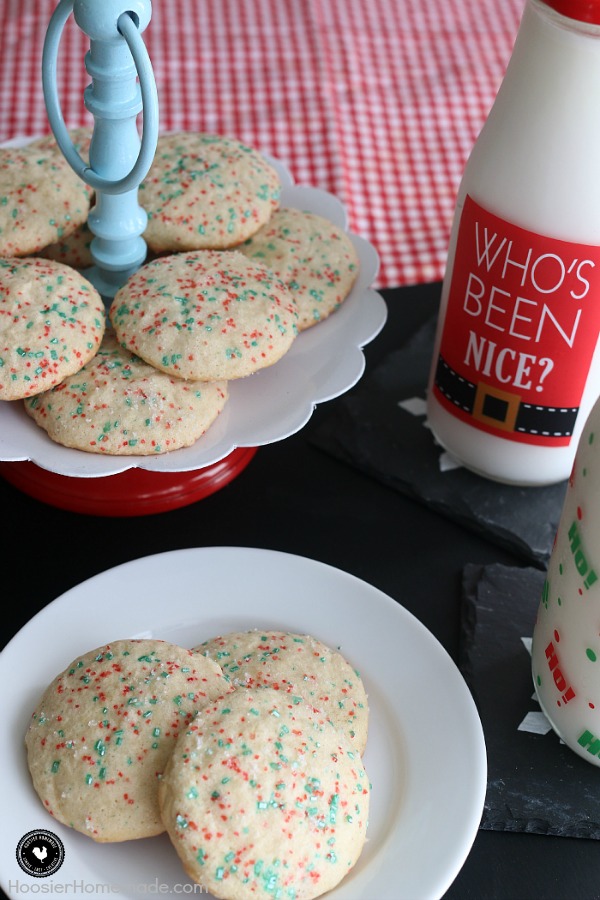 Growing up, we always baked cookies on Christmas Eve and left a plate full of cookies for Santa. We carried on that tradition with our boys, as I'm sure your family has done as well.
Christmas just wouldn't be right without cookies, and especially sugar cookies. My Mom used to make what she called – Brown Rim Sugar Cookies, and this sugar cookie recipe reminds me of those. Her recipe was a little lighter and the cookies spread a bit, but the flavor is very similar.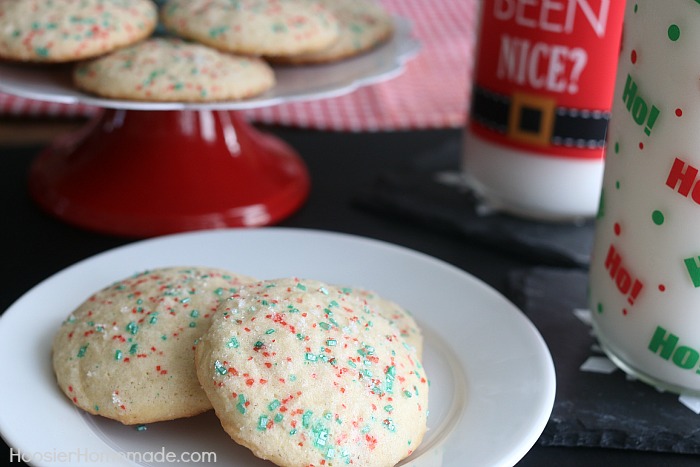 Sugar cookies are one of my favorites. I think the thing I like most about them is that you can take a very simple recipe and make it extra special just by adding colored sugar or frosting.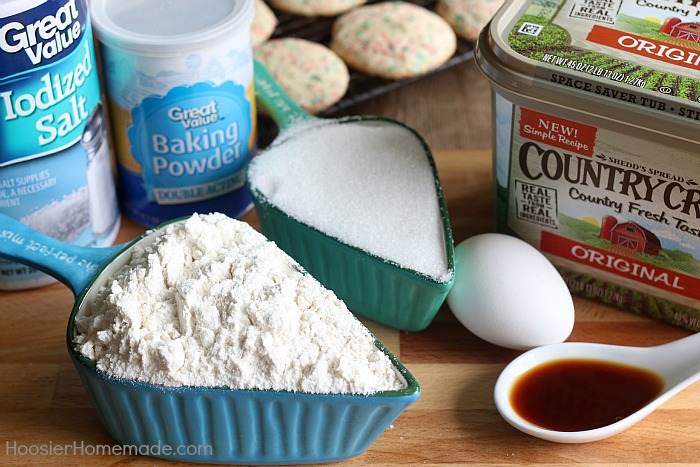 This Sugar Cookie Recipe is very easy, and went together in minutes. I used the recipe from Walmart.com on the Meal Inspirations page.
First you will need to beat together the Country Crock® Spread and sugar until it's fluffy. Then add the egg and vanilla and mix well. Next comes the dry ingredients that are sifted together, and added gradually to the mixture.
And that's it, within minutes you have the dough ready to bake. No need to chill the dough, either.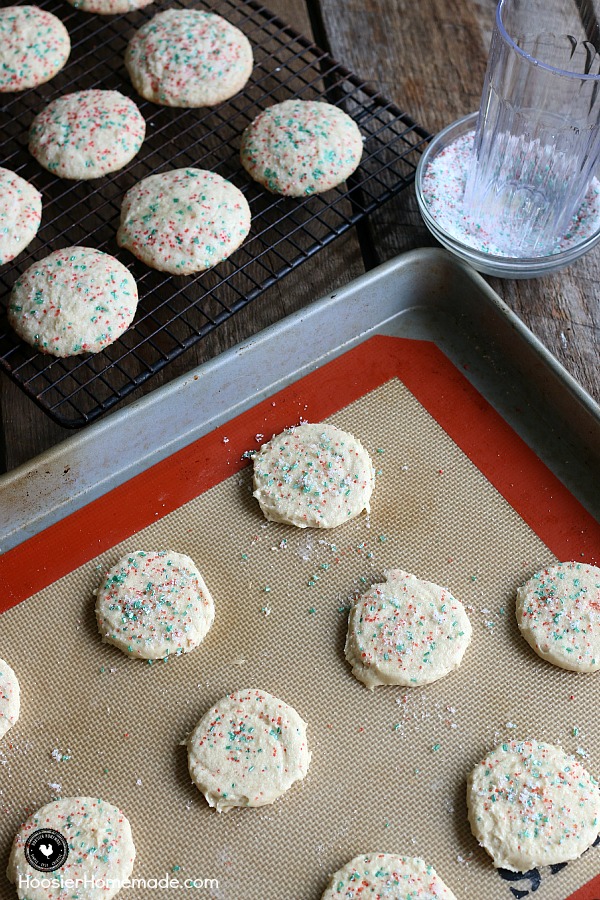 I followed the recipe exactly, but decided to change it up a bit to make the cookies more festive for Christmas. I used a cookie dough scoop to drop the dough onto the cookie sheet.
Then in a small bowl, I combined sugar with red and green sugar. You could also use small nonpareils sprinkles.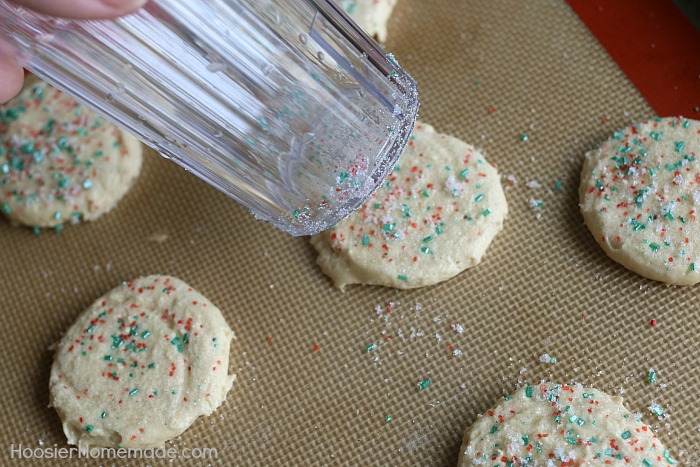 To flatten the cookies I used a method that I learned from my Mom when I was a little girl. Dip the bottom of a glass into water, then into the sugar mixture, then flatten the cookies. You can add a pinch of the sugar mixture to the tops of the cookies if you want.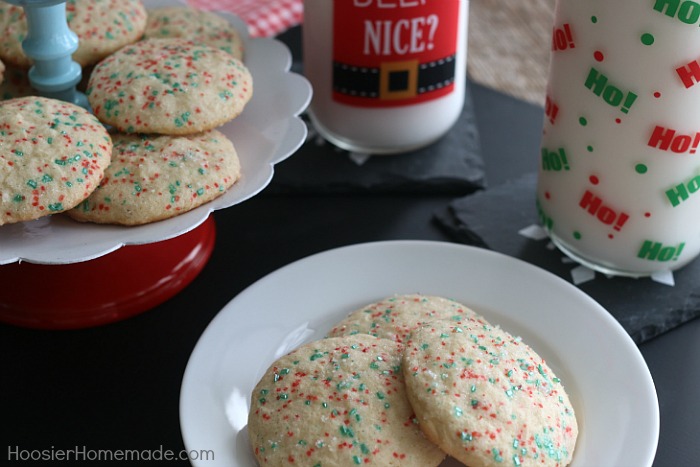 Will you be leaving cookies for Santa? I bet the kids will have a blast helping you with this Sugar Cookies for Christmas!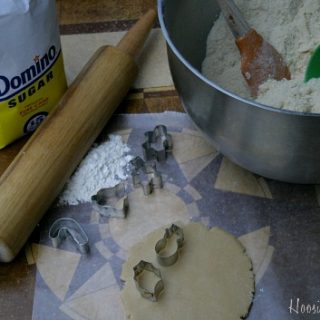 Sugar Cookies
Sugar Cookie recipe from HoosierHomemade.com
Ingredients
4 cups Domino Sugar 1001 Cookie Starter Mix
1 1/2 teaspoons vanilla
1 egg, lightly beaten
Instructions
Mix all ingredients together, you may need to use your hands to form a ball
Wrap in plastic and place in fridge for a few hours to chill
Roll dough out between 2 pieces of wax paper
Cut with cookie cutters, I used mini cookie cutters for the Christmas Sugar Cookie Cupcakes
Bake at 375 degrees for about 8-10 minutes – be sure to check on them frequently if you are baking the minis
Cool and frost cookies
#BringOutTheBest this holiday season with these easy recipes