Yep, you read it right! We had snakes and bugs for April Fool's Day Dinner!  I had a blast making it, and the boys had fun eating it too. As usual though, I didn't allow enough time, and I was rushing a little. So, my first tip is to give yourself lots of time.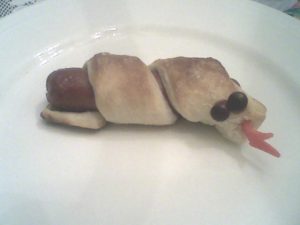 These were a bit challenging. The recipe said to wrap the hot dog with 2 pieces of breadsticks pressed together at the seam. I tried that and felt it was way too much bread, so I just used a short piece of breadsticks. I also didn't buy exactly what the recipe listed for the tongue and eyes. I used a red AirHead for the tongue and mini M&M's for the eyes. But I think they turned out fine.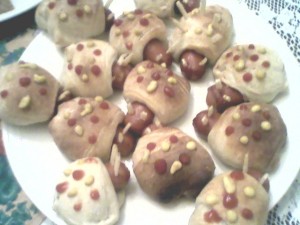 These were a little easier to put together. Mine turned out looking more like snails though, so I just added a couple antennae. I dotted ketchup and mustard with plastic bottles like you use at picnics. I also used cut up hot dogs instead of smokies, because they were less expensive.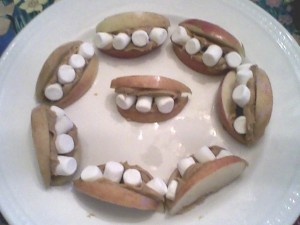 These were the most fun to make and the easiest. I was laughing so hard just making them, my husband thought I was nuts. I thought these would be fun for Halloween too.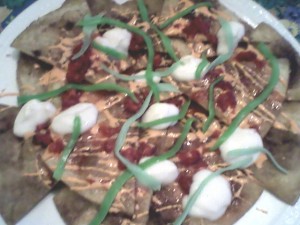 These were a little tricky too, but not bad. The chips were really easy and I would make those again, but leave the toppings off. For the strawberry salsa, I chopped up a few strawberries then added some strawberry syrup, that was pretty easy. The frosting (cheese) and the yogurt (sour cream) were also really easy. The lettuce however, was a bit of a challenge. I couldn't find any green fruit rolls, so I bought AirHeads. I heated them for about 15 seconds in the microwave to make them easier to roll, then I covered them with parchment paper so they didn't stick to my rolling pin, rolled them out, then cut them very thin with my pizza cutter. That wasn't too bad, but then I wasn't thinking ahead and laid them on a plate and by the time I used them they were stuck together. So, my hint for that is to seperate them out onto wax paper.
Creepy Crawlers Recipe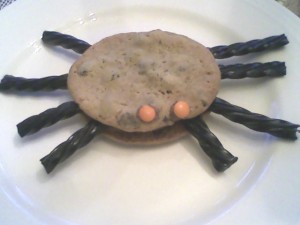 These were pretty easy to make too. I baked my cookies from scratch though. After scooping them onto the cookie sheet, I pressed them down a little so they would spread out. I did however, go thru more frosting than they had on the recipe. I frosted the back of a cookie, added the legs then frosted the other cookie so that it would stick to the top of the legs. I added mini M&M's for the eyes.
All and all,I think it went really well. And I think the boys, including my son's girlfriend will remember the April Fool's Day Dinner.