Homemade Marshmallows…they are pretty much a little bite of heaven! Nothing compares to the fluffy, soft, whipped pillow of sugar quite like a Homemade Marshmallow!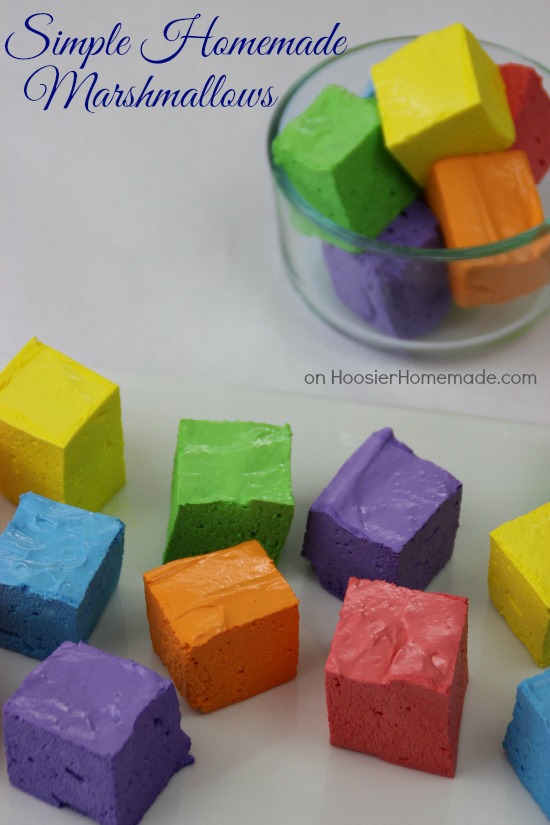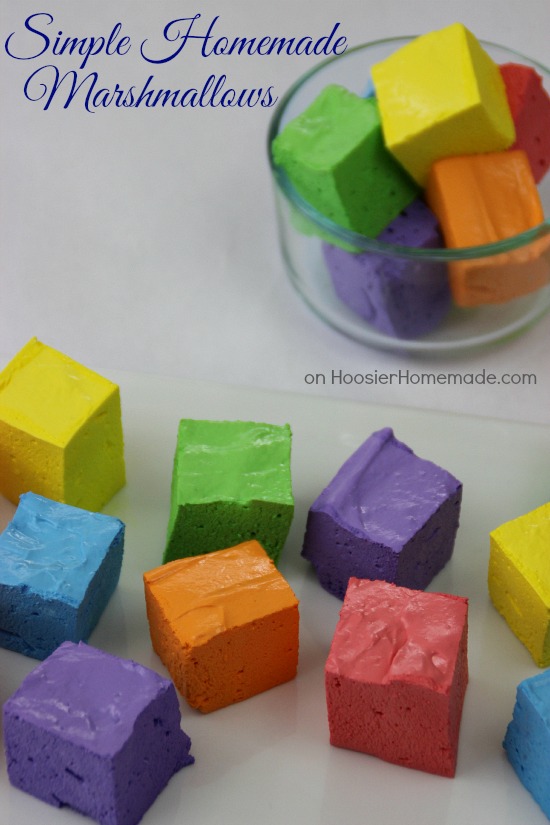 Homemade Marshmallows used to intimidate me, until I tried making them. I've made them a few times now, and each time has gotten easier. But none of the recipes that I have used have been as simple as the new recipe I recently found.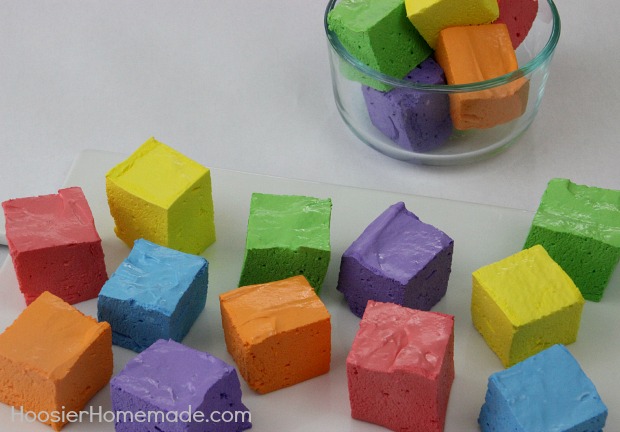 This recipe truly is simple – only 4 ingredients; water, unflavored gelatin (like Knox), sugar and vanilla, that's it! And yes – no eggs!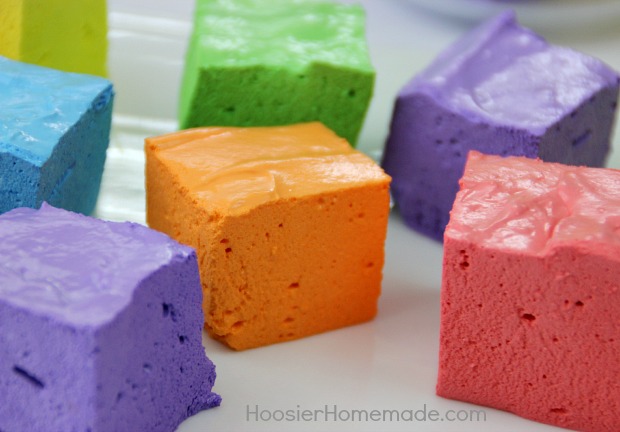 Since it's Rainbow Week, I thought it would be fun to color the marshmallows and make them festive for St. Patrick's Day. There are endless options with these Homemade Marshmallows.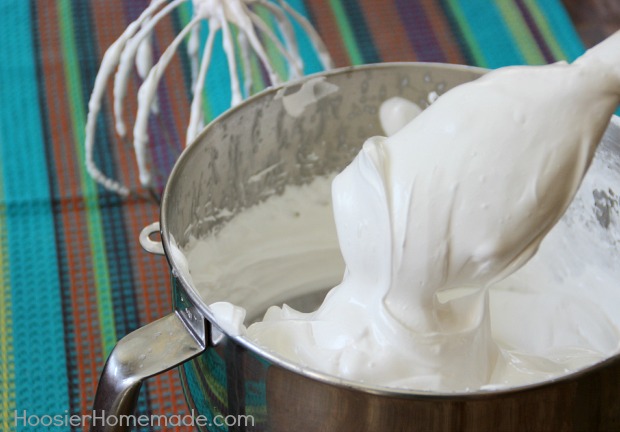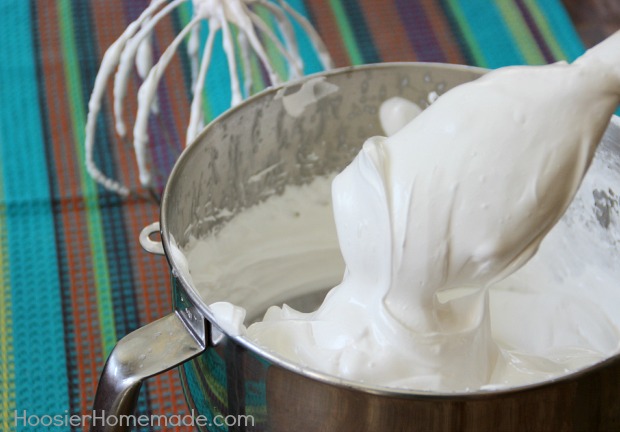 After the gelatin and sugar are heated until dissolved and cooled slightly, you need about 15 minutes of whipping the mixture until stiff peaks form.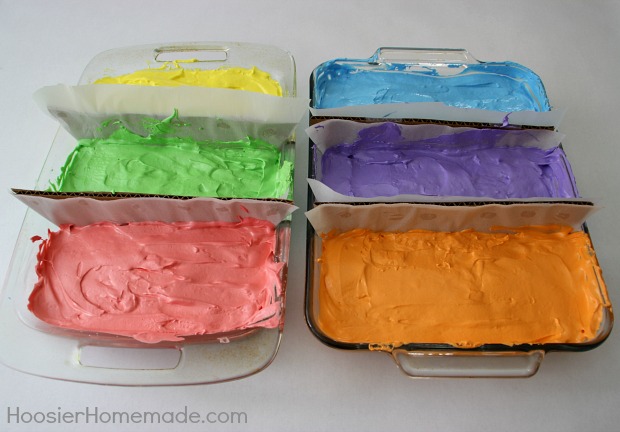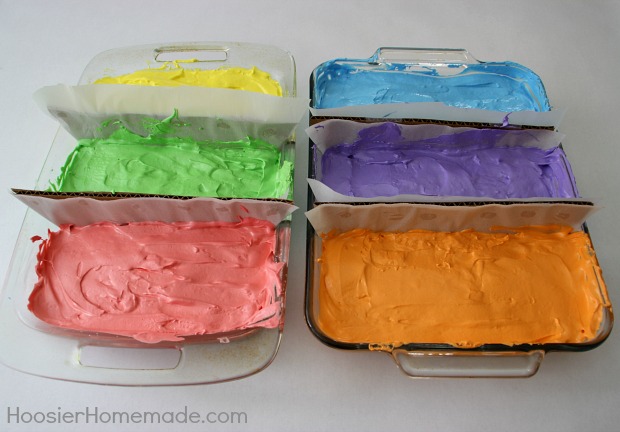 This recipe makes a full 13×9 pan full, about 75 marshmallows. I decided we really didn't need that many marshmallows, so we divided the glass pans into thirds using a piece of cardboard covered with parchment paper.
Depending on the amount you need, you could make 3 batches and divide them in half. Or if you have enough pans the same size, you can certainly use them.
For the 6 colors – red, orange, yellow, green, blue and purple – I divided the batter into about 2 1/2 cups for each color. Then added about 1/4 teaspoon of coloring to each, it does take quite a bit of coloring to get the vibrant colors. Be sure to use No Taste Red, or it will taste bitter.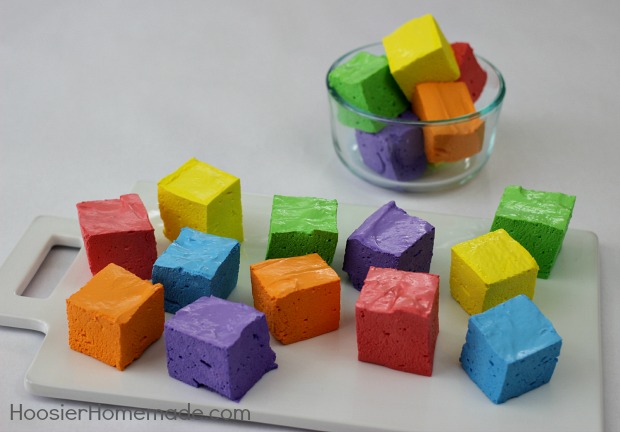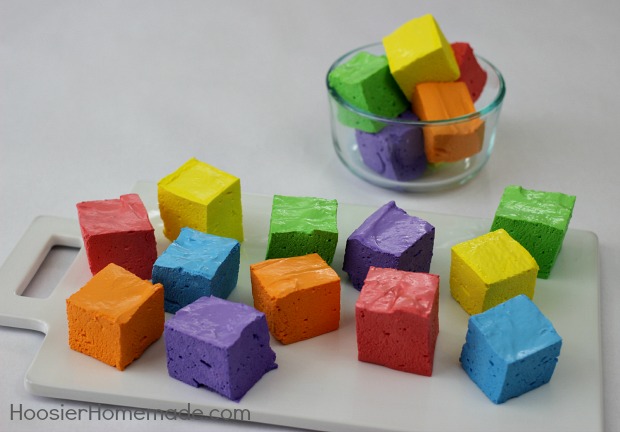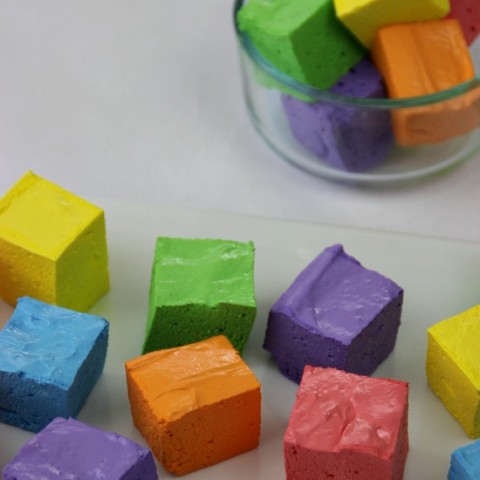 Simple Homemade Marshmallows
Prep Time: 20 minutes

Cook Time: 5 minutes

Total Time: 25 minutes

An easy recipe for marshmallows with only 4 ingredients. Recipe from HoosierHomemade.com
Ingredients
1 1/2 cups water
3 envelopes unflavored gelatin (about 2 teaspoons per packet)
2 1/4 cups sugar, granulated
1 teaspoon vanilla extract
Powdered Sugar for tossing, optional
Instructions
In a medium saucepan on the stove, add water and sprinkle gelatin over
Let set 1 minute
Add sugar and vanilla, stir to combine
Heat mixture just until sugar is dissolved, about 3-4 minutes
Remove from heat and let cool until you can almost hold your hand on the side of pan
Transfer to stand mixer and beat on high speed for 15-20 minutes until stiff peaks form
Transfer to 13x9 pan and chill at least 2 hours or overnight
For colored marshmallows - divide batter and add coloring
Pour into pan and spread evenly
Cut into 1 inch squares. Toss in Powdered Sugar if desired.
Notes
Prep time includes beating time

 
Recipe adapted from Company's Coming Gifts from the Kitchen Book