There's something about a good old fashioned Apple Pie that screams comfort food to me. Filled with two kinds of apples, golden raisins, brown sugar and spices, this Rustic Apple Walnut Tart is perfect for any time of year. Your Thanksgiving guests and family will go crazy over it, but shhh…don't tell them it's easy!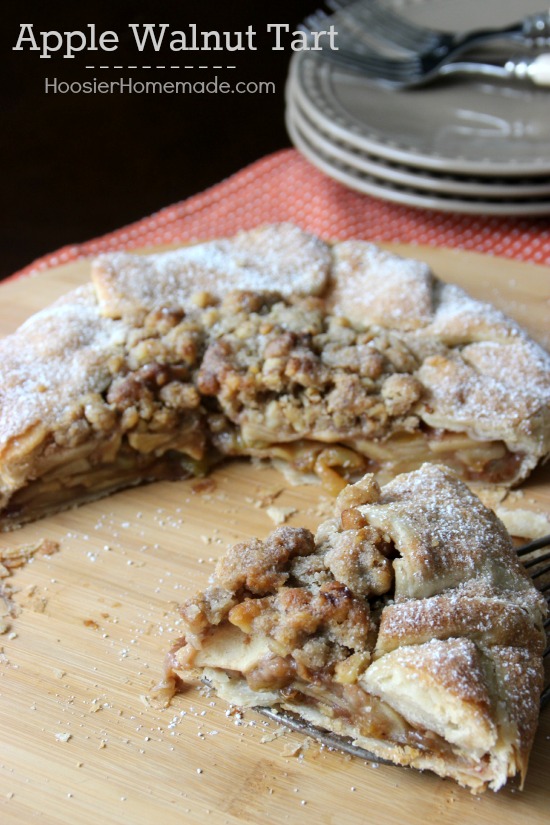 Pie baking has been one of the baking techniques that I have struggled with over the years. I really think it's just practice, I don't make that many pies, just during the holidays. The inside of my pies are always delicious, and the crust tastes good too, but it's the presentation is where I fall behind. So what's the next best thing? Making a pie crust that doesn't have to be pretty. It's delicious – looks fine – and it's easy. That's a win-win-win for me!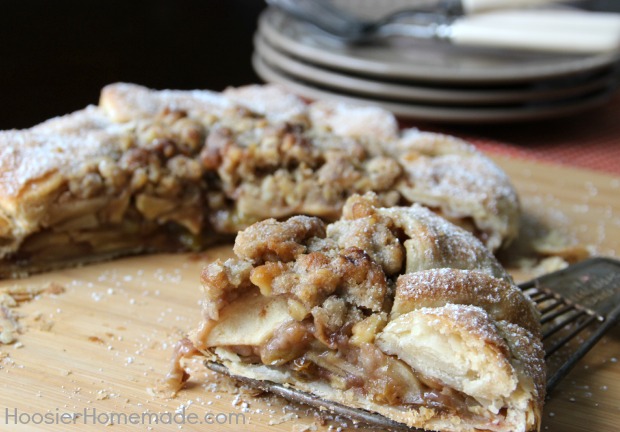 This recipe, similar to Apple Pie, comes from the new cookbook by David Venable and his cooking and dining show on QVC "In the Kitchen with David®." Here's what David has to say about the Rustic Apple Walnut Tart…
"In France, this is called a "galette." In Italy, it's a crostata. I call it easy. Just roll out a premade pie crust and top it with an apple-raisin filling. Sprinkle on a walnut-crumb topping and bring the dough up over the filling for a free-form tart. Once baked, serve warm with a scoop of ice cream or some whipped cream. Remember, it's not supposed to look perfect, just rustic and delicious."
In my opinion, this dessert is a breath of fresh air. With all the "perfect" ideas on Pinterest, isn't it great to be told it's okay not to be perfect? That's real life my friends!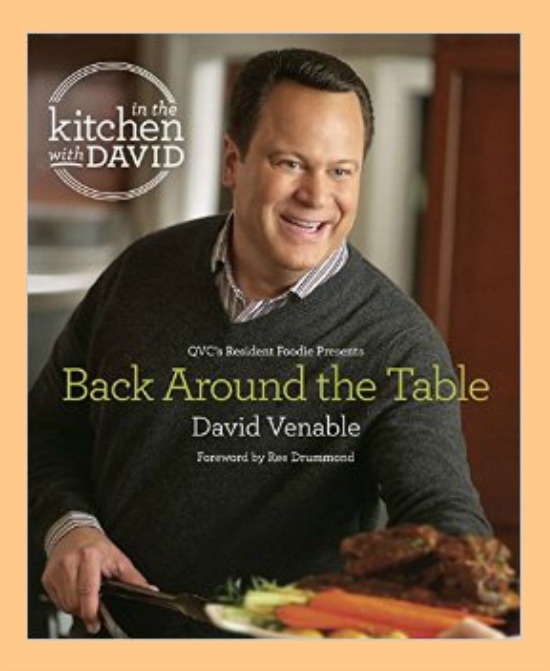 David Venable's new cookbook "Back Around the Table," is a new favorite! I love cookbooks, and of course, have a ton of them, but the ones that I always keep coming back to are those with tried and true recipes. The recipes that "real" people can make, not those that have a ton of ingredients that are super expensive and can only be found online.
Here in the Midwest, we cook and eat what I fondly refer to as "regular food," recipes that are easy, wholesome and comforting. And David shares those kinds of recipes in his cookbook. When I was asked to create one of his recipes from the cookbook, I honestly didn't think too much about it until I flipped through the pages and had a really hard time choosing just one. I will definitely be sharing more from this cookbook.
If you would like a copy of Back Around the Table for yourself, or maybe a Christmas gift (I know I'll be grabbing some for my friends), head on over to QVC and grab one! Here is where you can find it…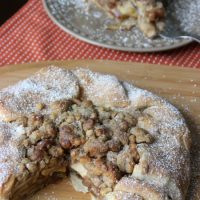 Rustic Apple Walnut Tart
Total Time:
1 hour
5 minutes
Easier than a traditional pie, this Rustic Apple Walnut Tart goes together quickly and has all the delicious flavors of Apple Pie. Recipe on HoosierHomemade.ocm
Ingredients
Tart
1 egg
1 tablespoon milk
1/4 cup + 2 tablespoons sugar, granulated
1 teaspoon ground cinnamon
4-5 medium apples, peeled and sliced thinly- I used Fuji and Gala, any combination is fine, whatever you like for Apple Pie
1 teaspoon lemon juice
3/4 cup golden raisins - regular are fine too, but I like the flavor of golden
1/3 cup light brown sugar, packed
2 tablespoons flour, all-purpose
1/8 teaspoon ground nutmeg
Pinch of ground cloves
1 package pre-made pie crust
Powdered sugar for dusting
Crumb Topping
1/2 cup walnuts, chopped
1/4 cup flour, all-purpose
1/4 cup light brown sugar, packed
3 tablespoons butter, cut into small pieces
Instructions
Preheat oven to 350 degrees and line a large cookie sheet with foil
CRUMB topping - mix together all ingredients until well blended and crumbly, set aside
FILLING - in a large bowl, add apples and toss with lemon juice, add 1/4 cup granulated sugar, brown sugar, flour, raisins and spices, stir until well coated
CRUST - cut 1 crust in half, and combine with another crust into a ball, roll out on a lightly floured surface to 12-14 inches and about 1/8 inch thick, does not have to be round
TRANSFER crust to cookie sheet
ADD apple filling to center of crust, leaving about 1 1/2 - 2 inch border for turning up
FOLD crust around apple filling
BEAT together egg and milk, brush onto crust
COMBINE 2 tablespoons sugar and 1/8 teaspoon cinnamon, sprinkle over crust
PLACE tart in refrigerator for 5-10 minutes
REMOVE and sprinkle with crumb topping
BAKE at 350 degrees for about 50 minutes or until apples are tender and crust is golden brown
If you think your family will enjoy this recipe, be sure to visit qvc.co/AroundtheTableCookbook to learn more about and purchase Back Around the Table: An "In the Kitchen with David" Cookbook. Filled with 156 great recipes like this, you're sure to find something that fits your lifestyle and gathers everyone back around the table!
This is a sponsored conversation written by me on behalf of QVC. The opinions and text are all mine.