Project Sunlight – Share a Meal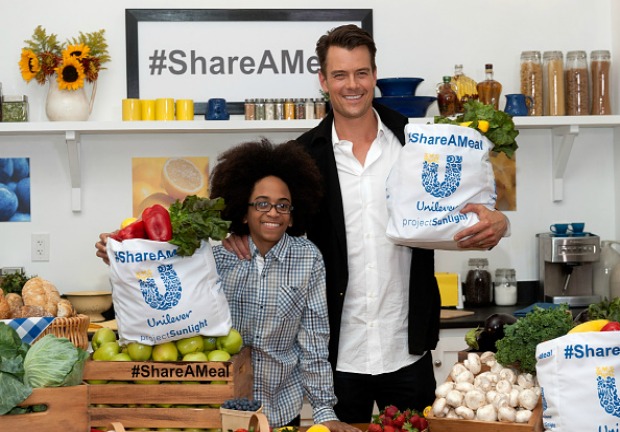 Did you know that 1 in 5 children go to bed hungry right here in the United States? Shocking, isn't it?
And did you know that just $1 helps provide 9 meals for those children and families that are hungry, provided by Feeding America on behalf of local food banks?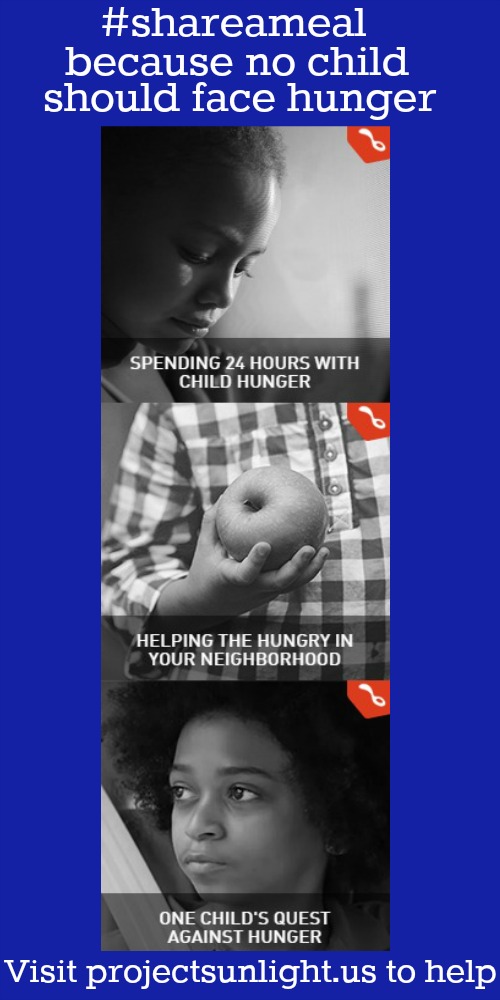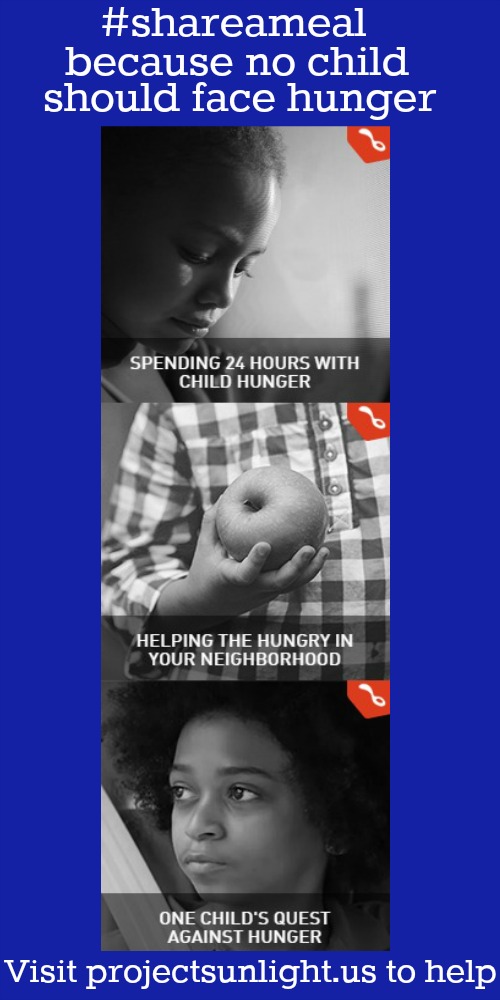 One of the benefits of being able to share what we do with our readers everyday, is that we get to help other people. Sometimes it is through a simple recipe that brightens the day of their child or by making their life easier through a helpful home project. It's one of the main reasons we started Hoosier Homemade, almost 6 years ago. Hearing how what we do has helped people keeps us going.
Isn't living a life full of happiness a goal of everyone? Helping other people, raising happy and healthy children, sharing the gifts that God has given us.
I know it is for me, and I bet it is for you too. We feel very blessed to be able to feed our family every day and not send them to bed hungry. Sadly though, there are many families in America that are not as fortunate. Surprisingly hunger occurs in homes right in your own neighborhood.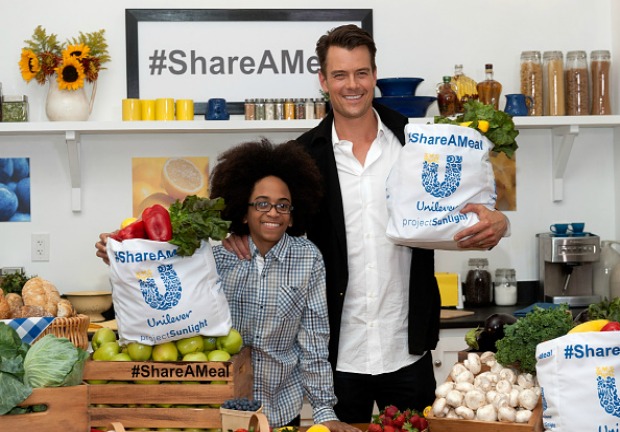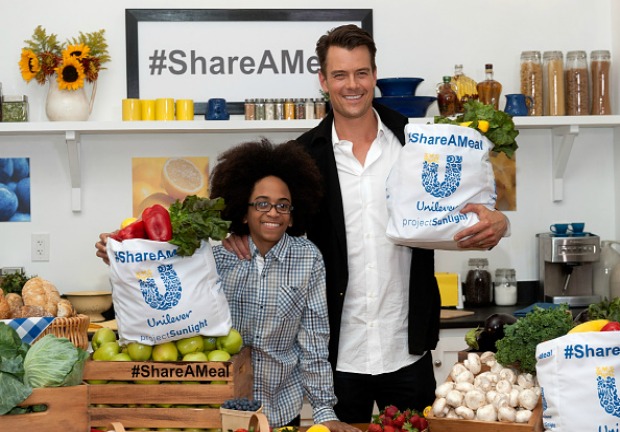 Unilever Project Sunlight and Feeding America, the nation's largest hunger relief organization, have launched a nationwide initiative to raise awareness and help with child hunger in America through "Share A Meal". And they need your help!
Project Sunlight is a long-term Unilever initiative to motivate millions of people to live more sustainably by inspiring them to build a brighter future for children. It aims to create a growing community of people who believe it is possible to build a world where everyone lives well and sustainably, without compromising the needs of future generations. In 2013, Project Sunlight helped create a brighter future for two million children in US, UK, Brazil, India and Indonesia. To date, it has also inspired over 136 million people worldwide to commit to living more sustainably by visiting www.projectsunlight.us and making an "act of sunlight" pledge.
GO to ProjectSunlight.us, there you can download the Unilever Share A Meal Toolkit to learn more about the power of a shared meal and get involved in one of the following ways:
Help a Family in Your Neighborhood:  Simply sharing a meal with a neighbor either in the form of a simple lunch or dinner party, or even packing an extra lunch for your child to take to school, could go a long way.
Partner with Local Organizations: Local community organizations are great resources for sharing a meal in your area – simply tap into their networks to see how you can help.
Coordinate with Your Local Food Bank: Whether you wish to volunteer or host your own local food drive, use Feeding America's online Food Bank Locator tool to get in touch with a food bank in your area.
Host a Virtual Food Drive: Feeding America's Personal Fundraiser tool is a great place to start and to reach out to friends, family, and colleagues for contributions.
Donate: Consider swapping a night out with a night in and share those extra savings with children and families in need in the form of a donation to Feeding America.
You Buy One, We Give One: Look for the Unilever "You Buy One, We Give One" coupon offer in the 

Sunday

 paper on 

November 16

.  Redeem at participating stores from 

November 16 – 30

 and Unilever will donate one meal* to Feeding America when you purchase any participating Unilever product.
Lend Your Voice:  Inspire others by revealing why you're helping to end child hunger on social media using, "I #ShareAMeal because…"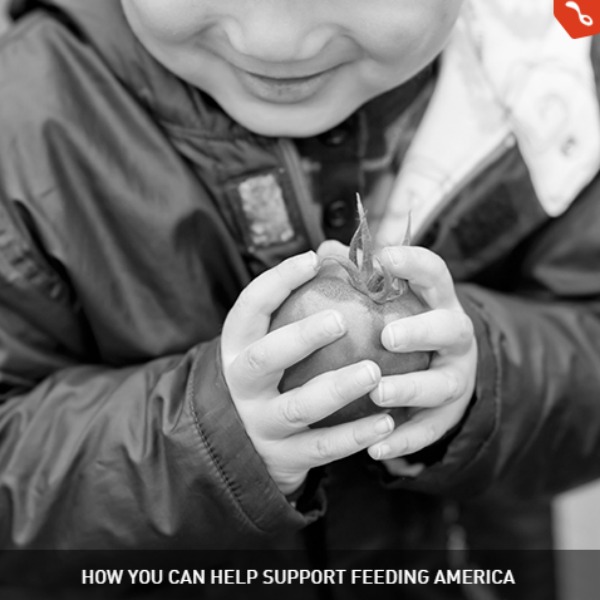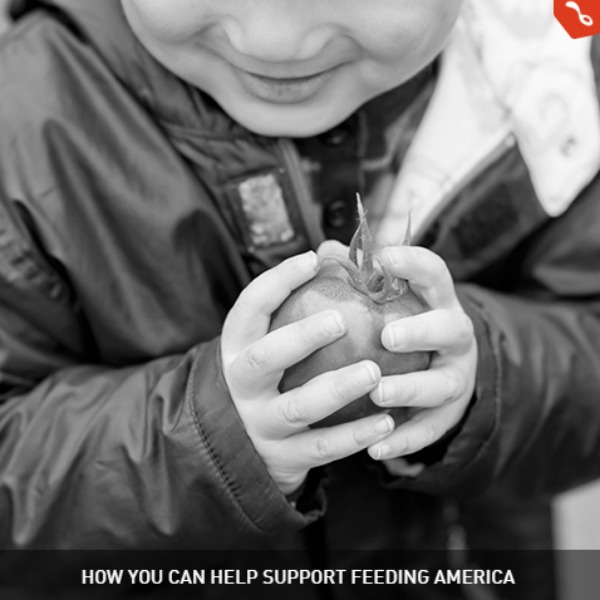 This post was written on behalf of Project Sunlight. As always, the opinions are my own.