When thinking about classic flavors, there are several that come to mind – Chocolate and Peanut Butter, Lemon and Blueberry and of course, the ever popular Peanut Butter and Jelly!
Today we are taking Peanut Butter Cookies to the next level with these Peanut Butter and Jelly Sandwich Cookies. A soft Peanut Butter Cookie, sandwiched with a fluffy filling made with COOL WHIP Frosting and Strawberry Jam.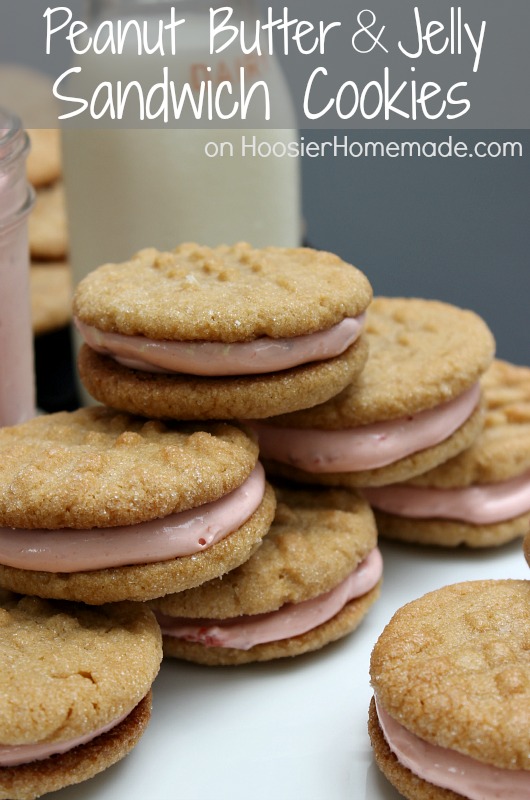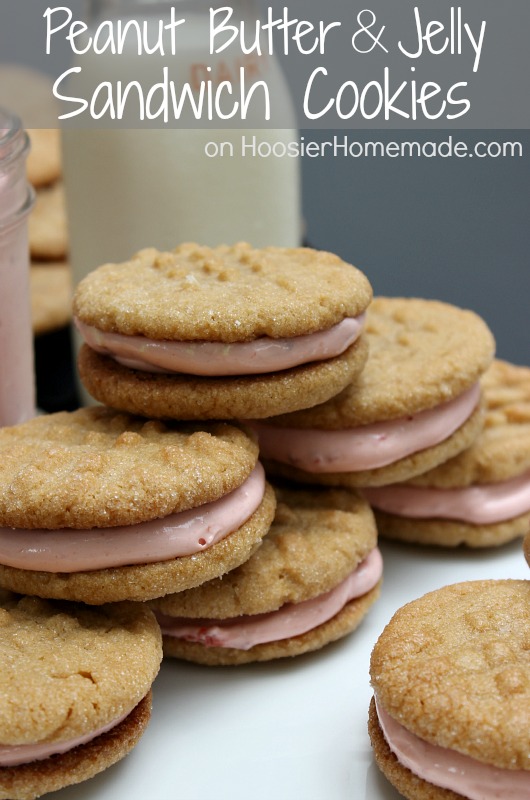 I'm honored to be a part of the 2013 Kraft Tastemaker Community, I am teaming up with Kraft Foods to share with you recipes using everyday ingredients that are sure to please your family!
Oh how things have changed over the years. When I was a little girl, the classic Peanut Butter and Jelly Sandwiches on white bread were always my first choice and if I was lucky, my Mom would even cut off the crust for me. Opening up my lunchbox at school to see what she had packed for me was always an adventure.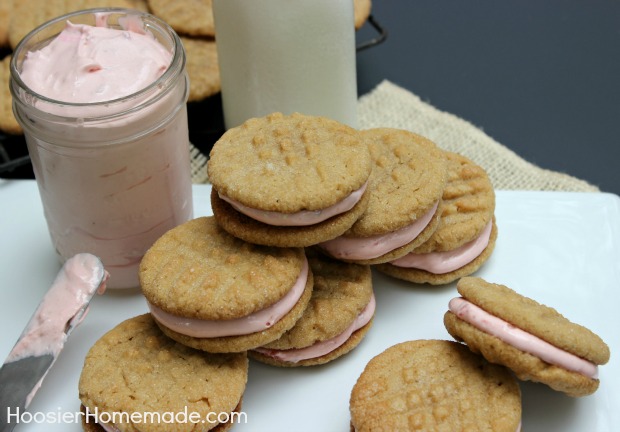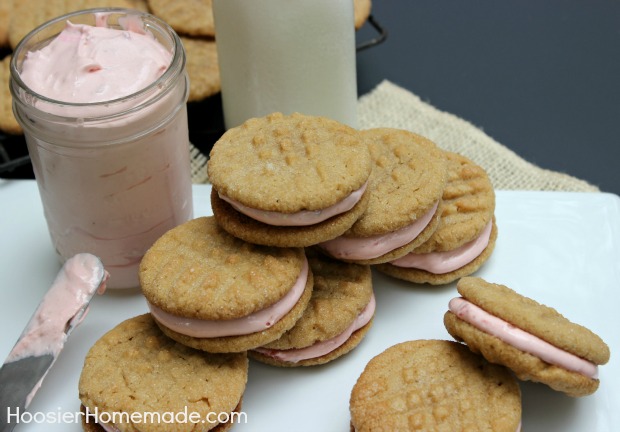 Another classic that I enjoyed growing up were Peanut Butter Cookies. I passed on the love for those classics to my boys, and while they still love the classics, baking among other things has developed over the years.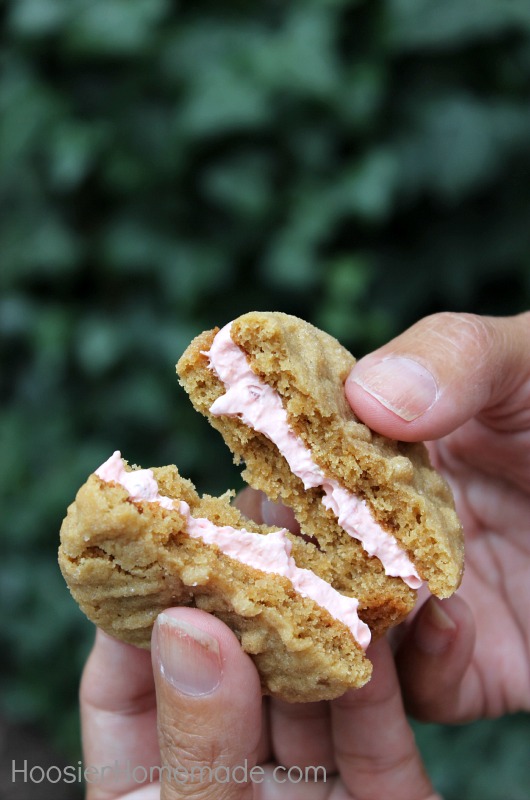 With Back to School season upon us, these little bites of heaven would be a perfect after-school treat or add a couple to their lunchbox and you are sure to be the coolest Mom at the lunch table, just like my Mom was!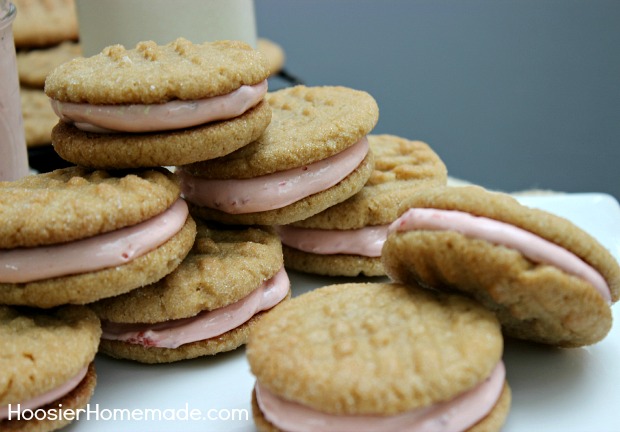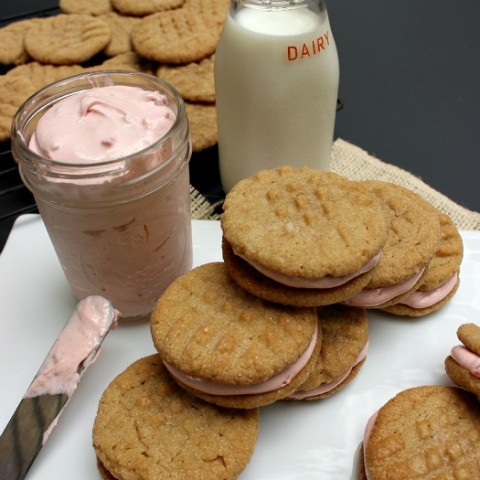 Peanut Butter & Jelly Sandwich Cookies
Yield:
1 1/2 dozen sandwich cookies
Taking the classic Peanut Butter Cookie to the next level with a fluffy filling of COOL WHIP and Jam. Recipe on HoosierHomemade.com
Ingredients
Cookies
3/4 cup PLANTERS Creamy Peanut Butter
1/2 cup unsalted butter, softened
1 1/4 cups brown sugar, firmly packed
3 tablespoons milk
1 tablespoon vanilla extract
1 egg
1 3/4 cups flour, all-purpose
3/4 teaspoon salt
3/4 teaspoon baking soda
Granulated Sugar – for rolling cookies
Filling
1 (10.6 oz) container COOL WHIP Frosting, thawed
1/2 cup strawberry jam or jelly – or favorite flavor
1/8 teaspoon strawberry extract, optional
Pink food coloring, optional
Instructions
In a large mixing bowl, combine butter, brown sugar, milk and vanilla and blend until smooth
Add egg and mix well
In a small bowl, combine flour, salt and baking soda
Gradually add to peanut butter mixture and cream until blended
For easier handling, wrap dough in plastic wrap and place in refrigerator until chilled, at least 1 hour
Preheat oven to 375 degrees and coat a cookie sheet with cooking spray
Using a cookie dough scoop or tablespoon, scoop dough into balls and roll
Coat with granulated sugar and place on cookie sheet about 2 inches apart
Dip a fork in water and crisscross the cookie to flatten
Bake at 375 degrees for 7-9 minutes or until lightly golden brown
Cool completely
In a medium bowl, combine COOL WHIP Frosting and strawberry jam
Depending on the flavor, you may want to add strawberry extract and to add a little color, mix in coloring
Assembly
Fill a decorator bag with the strawberry filling or spread with an offset spatula onto bottom side of cookie
Top with another cookie and press together slightly
For more recipes visit KraftRecipes.com