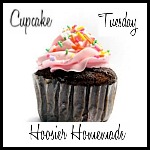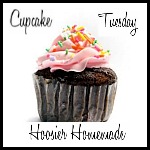 Welcome to Cupcake Tuesday! I'm so glad to have you! I have updated the Cupcake Heaven page, there are over 100 designs and recipes! Check it out!!
I hope you all enjoyed your Fourth of July Holiday! Nick had a Baseball Tournament, and ended up playing 2 games yesterday, putting us home after 6 p.m. The way tournaments work, if you keep winning, you keep playing. It was good that we were winning, but the second game ended up going into 2 extra innings. Unfortunately, we lost, and came in second, but the boys did a great job! So, I apologize, I don't have an Ice Cream Truck Cupcake ready for you. But instead, I have these yummy Peach Cupcakes served with Peach Ice Cream!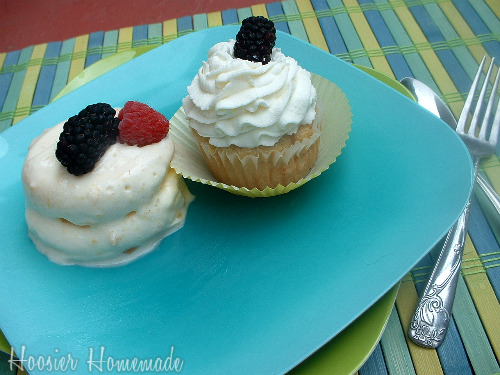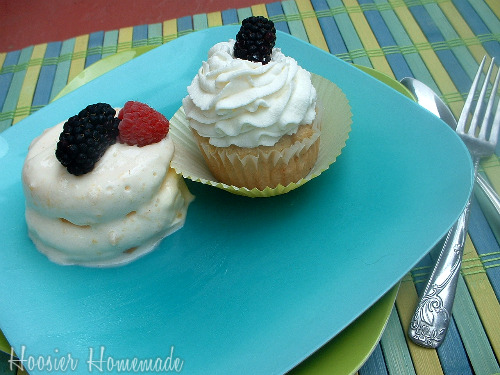 Do you know how to tell if a peach is ripe? I gathered a few facts from the Michigan Peach Sponsors website.  "As a peach ripens, the part facing the sun gets a reddish blush and the part not exposed to sun (ground color) turns from green to yellow.  The best way to tell if a peach is ripe is by looking for a yellow ground color.  Some varieties will have a slight green color to the background even when it is ready to pick. The peach will also have medium-soft flesh and will smell like a peach."
There are 4 different types of peaches according to their website also, Melting  Flesh, Non-melting Flesh, Yellow and White Fleshed and Pennto Peaches.  We enjoy the Melting Flesh peaches the most, like Freestone. I think they are probably the most common.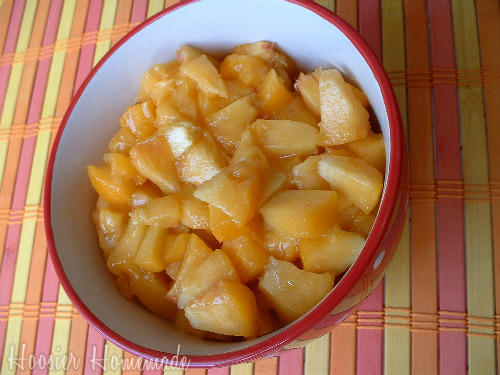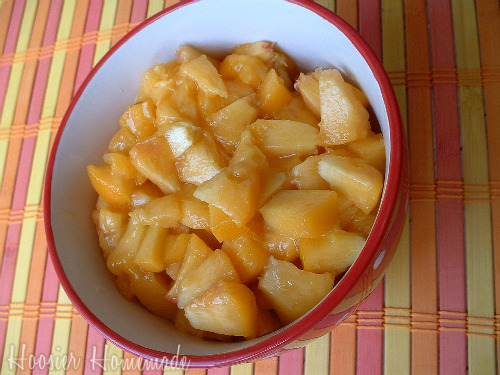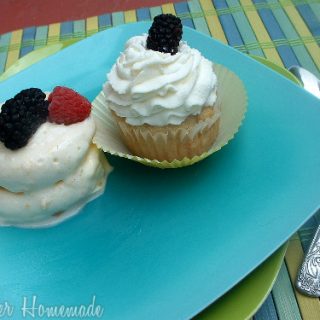 Peach Cupcakes Recipe
Ingredients
3 cups flour (I used all-purpose, but you can certainly use cake flour)
1 1/2 teaspoons baking powder
1 /2 teaspoons baking soda
1 teaspoon salt
Pinch of nutmeg
3/4 cups ( 1 1/2 sticks) unsalted butter, at room temperature
3/4 cups sugar
3/4 cups brown sugar, packed
2 large eggs, slightly beaten
1 teaspoon vanilla extract
1 1/2 cups buttermilk, sour cream or yogurt (full-fat)
3 large peaches, peeled and diced (about 2 cups)
Peach Fluff Recipe:
2 packages (small box) Peach Flavored Gelatin
2/3 cup + 2/3 cup boiling water, divided
1/2 cup cold water
Ice cubes
1 tub Cool Whip or other Whipped Topping
1 cup peaches, peeled and chopped small
Instructions
Preheat oven to 350 degrees. Place paper liners in muffin tins.
Sift together the flour, baking powder, baking soda, salt and nutmeg, set aside. Cream the butter, brown sugar and white sugar until fluffy. Add the eggs, one at a time. Scrape down the sides of the bowl, frequently, making sure all ingredients are incorporated. Then add the vanilla. Carefully mix the buttermilk, sour cream or yogurt. If you don't have buttermilk, you can see how I make my own, in my video. Stir in dry ingredients then carefully fold in peaches.
Divide batter into paper liners, I usually use about 1/3 cup each. Bake for about 18-22 minutes, or until a toothpick inserted in the cupcake, comes out clean.
Cool and fill with Peach Fluff, if desired.
Peach Fluff Instructions:
Combine 2/3 cup boiling water and 1 package of gelatin, stir until completely dissolved. Combine 1/2 cup cold water and ice cubes to measure 1 1/4 cups. Add to gelatin, stirring until slightly thickened, remove any large pieces of ice. With a wire whisk, fold in whipped topping until smooth. Fold in peaches.
This step is optional, but found that the mixture was more firm and easier to fill into cupcakes. Mix 2/3 cup boiling water into gelatin. Stir until completely dissolved. Fold into Peach Fluff mixture. Place in refrigerator until set, about 2 hours.
There are several methods to fill cupcakes; 1) you can either use an apple corer, which is the way I usually do, 2) you can use a small knife and cut out a small piece of the cupcake or 3) you can use a Wilton Decorator Set with the Bismark Tip 230.
For the frosting, I whipped heavy whipping cream until peaks form, beat in about 1/4 cup powdered sugar. Beat until stiff peaks form. Place in Decorator bag, and a 1M Star tip. Or simply frost cupcakes.
Nutrition Information:
Amount Per Serving:
Calories:

0
Total Fat:

0g
I'm linking to…Eat at Home
Now it's your turn…show off your cupcake creations! Be sure to link back so others can enjoy the cupcakes and check out the other cupcakes