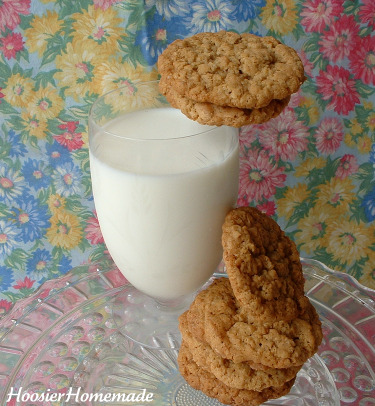 So, what do you think? Pretty Amazing, huh?  No, No, not the Oatmeal Scotchies! My new look! I'm just thrilled beyond words!!! We are still making some adjustments, so hang in there for a few days with me, then I'll give you a tour!
Butterscotch is one of those flavors that I think you either love or hate. Doug, my husband, has always hated butterscotch, until he tried these cookies, that is.
After seeing Amy's Oatmeal Butterscotch Cookies and chatting with my Twitter friends, I knew I had to bake up a batch.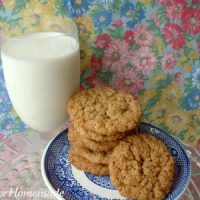 Oatmeal Scotchies
Delicious cookie recipe with oatmeal and butterscotch chips. Recipe from HoosierHomemade.com
Ingredients
1 cup butter (I use Butter Flavor Crisco)
3/4 cup brown sugar
3/4 cup white sugar
2 eggs
1 teaspoon vanilla
1 1/4 cup flour
1 teaspoon soda
1/2 teaspoon salt
1/2 teaspoon cinnamon
3 cups oats (I used quick oats, either are fine)
1 2/3 cups butterscotch chips
Instructions
Cream butter and sugars
Add eggs and vanilla
Cream until well blended
Whisk dry ingredients together in a measuring cup
Slowly add dry ingredients and mix until well combined
Measure oats and butterscotch chips
Stir into creamed mixture
Drop by spoonful or cookie dough scoop, onto greased cookie sheets. Bake at 375 degrees for 8-10 minutes
Nutrition Information:
Amount Per Serving:
Calories:

0
Total Fat:

0g
This recipe is adapted from Nestle Toll House.