This Modern Farmhouse Kitchen Makeover is a bright, clean, inspiring space! The kitchen, in my opinion, is the most important room in your home. In our family, we cook together, talk, laugh, and yes, even dance in our kitchen! A big thank you to Dutch Boy® Paint for sponsoring this post.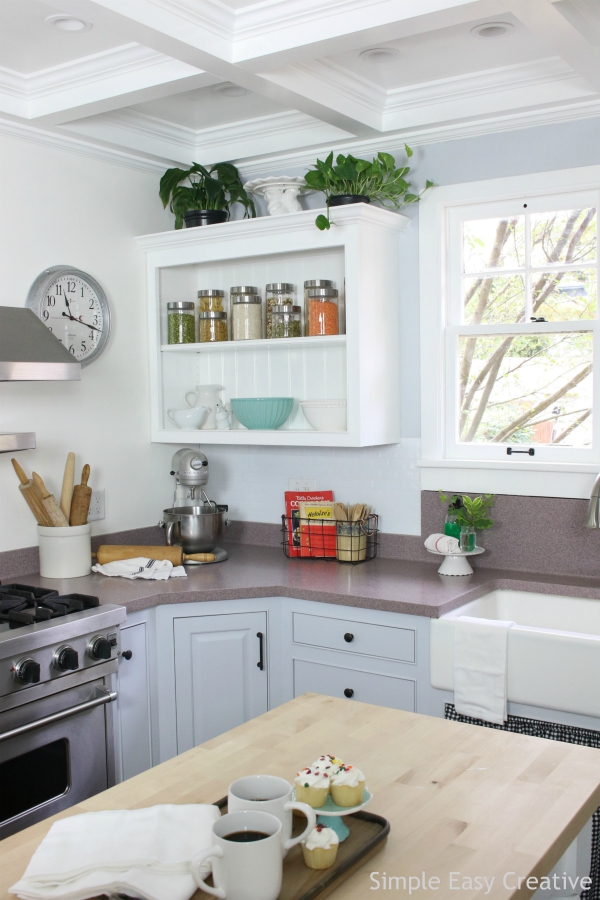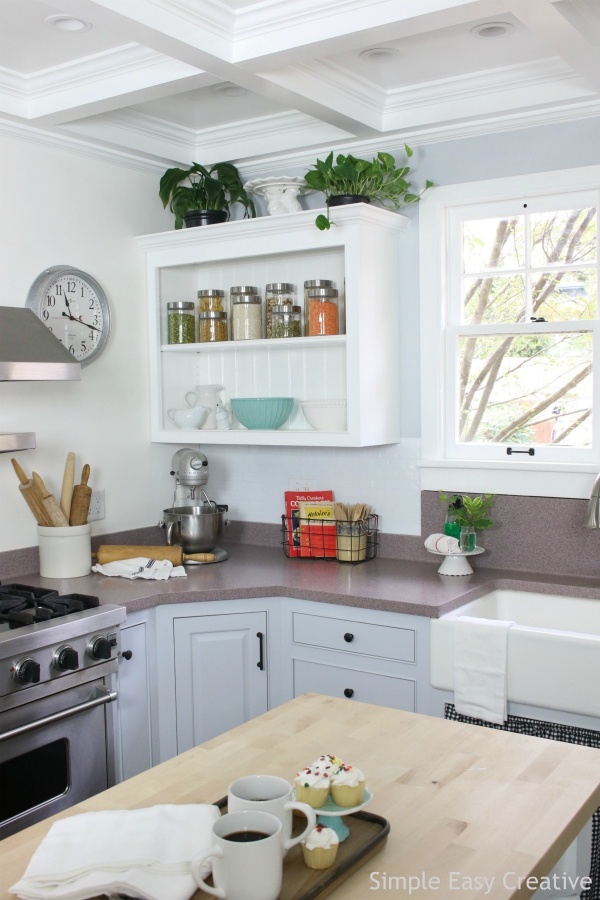 Over the last few months, we have been busy painting and decorating our Foyer and Living Room. Now it was time to tackle the Kitchen. We have lived in our home for 10 years, and the kitchen is one of the rooms that we have never painted or redecorated. To say it was in desperate need of some love, would be an understatement.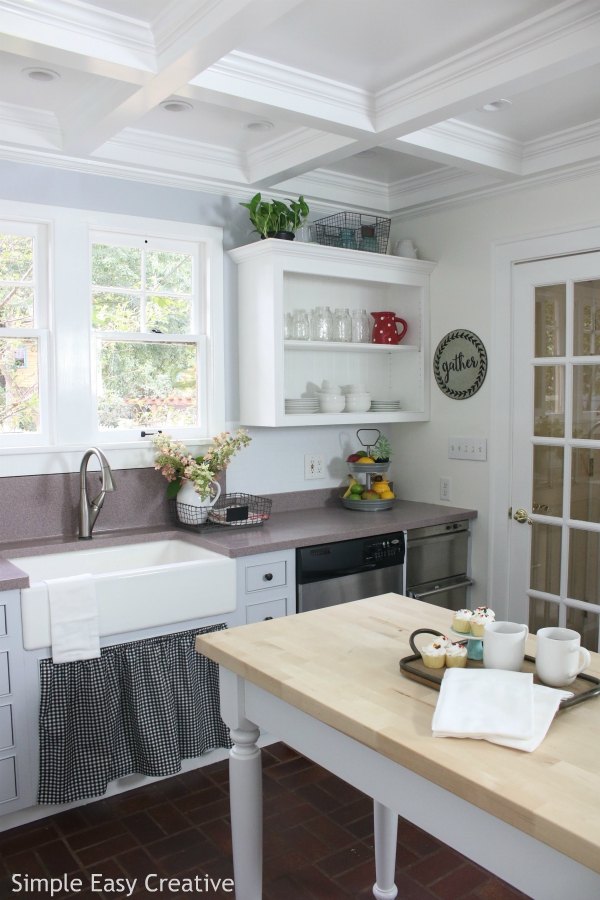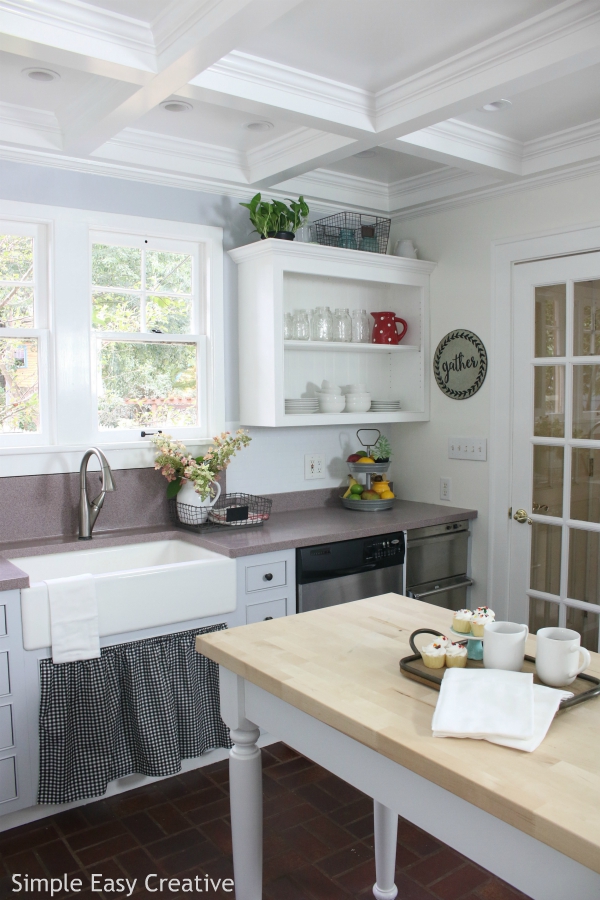 To stay with the Modern Farmhouse style, we used similar paint color that we used in the foyer and living room: white, gray and black. Let me show you around…welcome to my modern farmhouse kitchen makeover!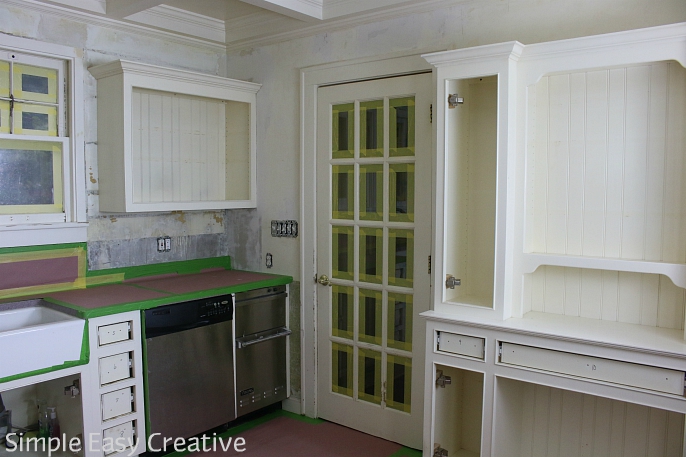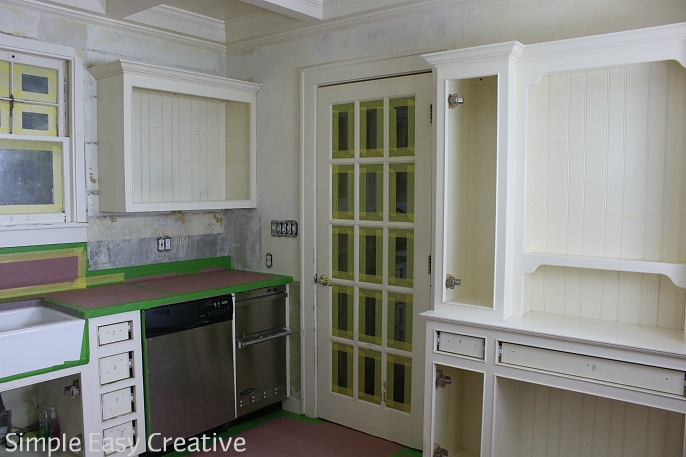 After removing the black flowered wallpaper, there was lots of taping to do. We also covered the floor and cabinets with heavy paper. You can also see that Doug numbered each of the drawers and doors so that it would be easier to put them back where they were originally.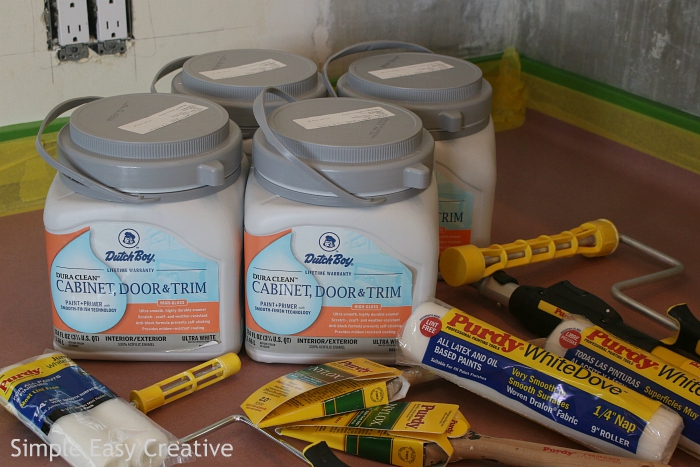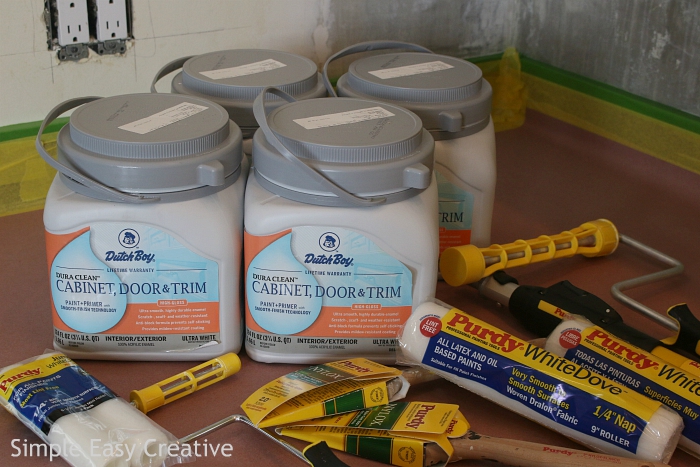 We gathered all the paint and tools needed. Here are the colors of paint we used –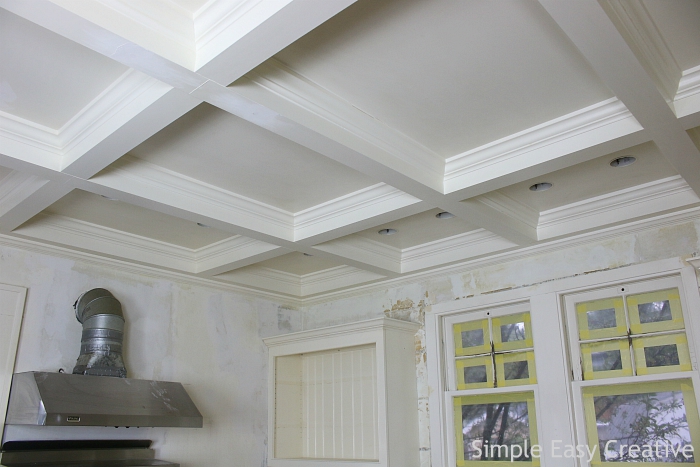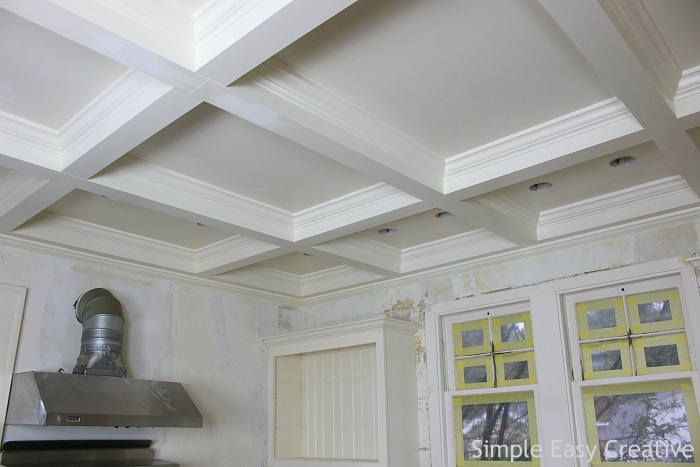 The ceiling was the first thing to be painted. Because of the wood trim and molding on the ceiling, we used Dutch Boy® Dura Clean™ Cabinet, Door & Trim. However, since we did not use the ceiling paint, we made sure that all the surfaces were covered in case of any spatter. The paint went on smooth and we didn't have any brush marks (we used Purdy brushes & rollers which were awesome!).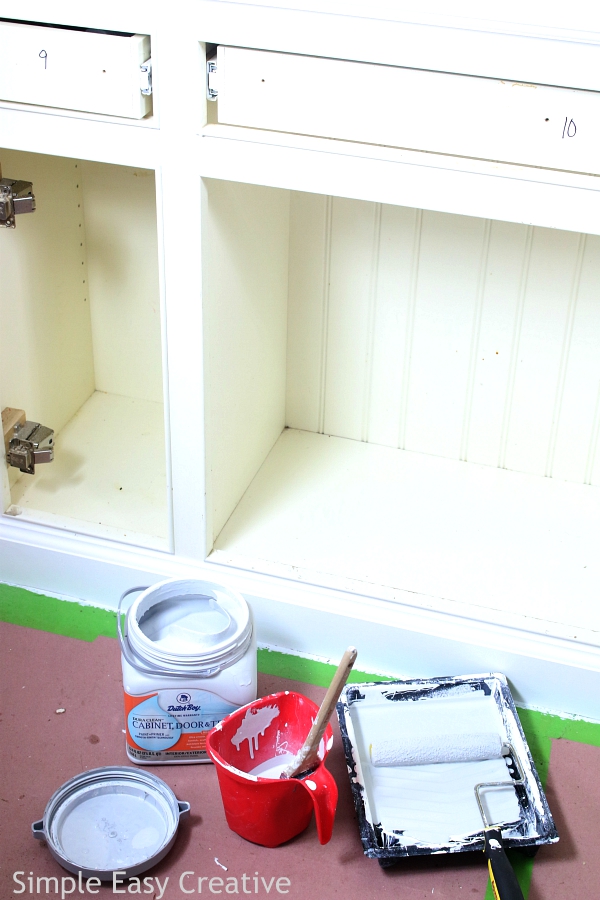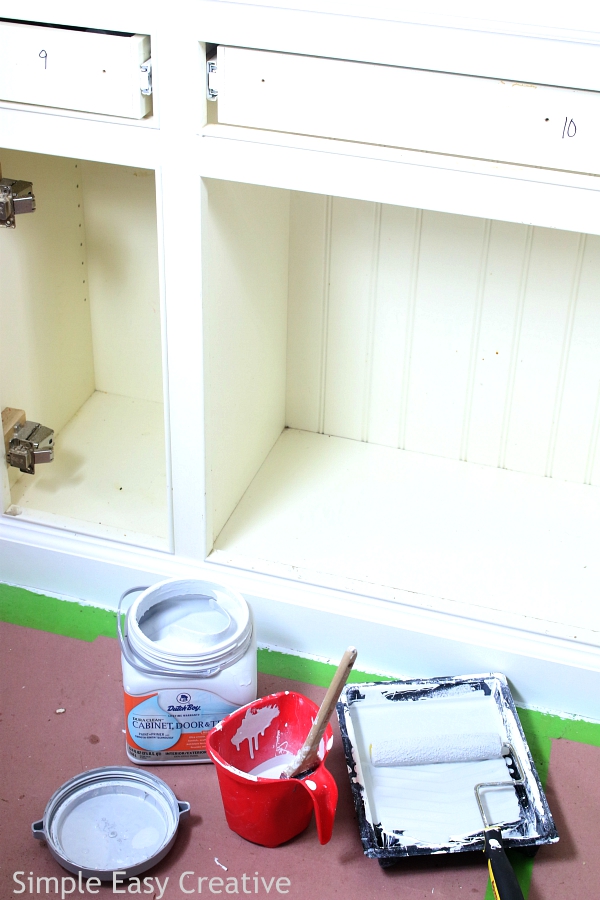 We have a lot of cabinets, we wanted them to look different, but we wanted the colors to flow throughout the house. So the lower cabinets were painted with Dutch Boy® Dura Clean™ Cabinet, Door & Trim with Smooth-Finish Technology in Silvery Gray (436-2DB). This paint is perfect for kitchen cabinets (especially the lower ones) because it's scratch- and scuff-resistant; qualities that allow the paint to stand up to everyday use!  We also like the contrast this gray hue offers against the upper cabinets, which we painted with Dutch Boy® Dura Clean™ Cabinet, Door & Trim in Super White (001W).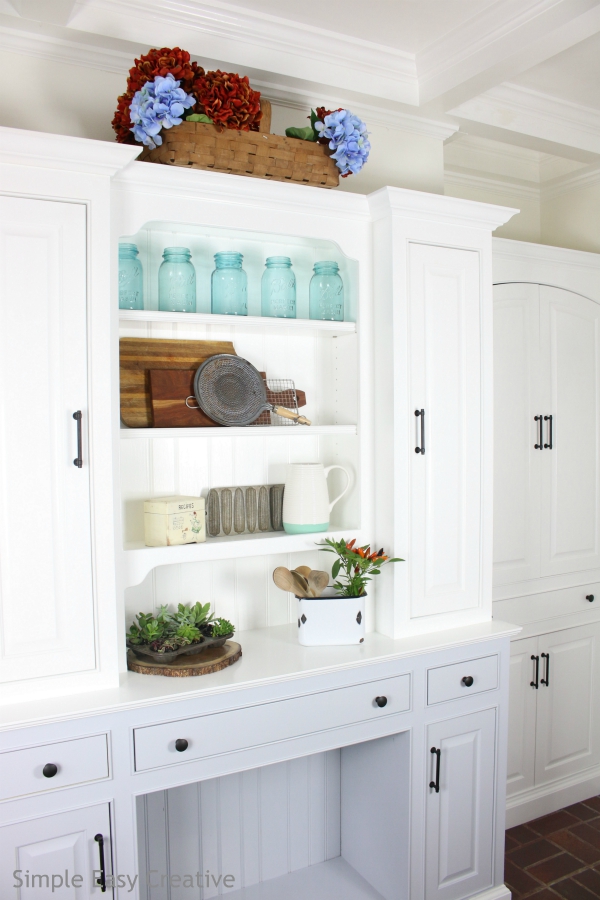 I love how they turned out! The decorations were kept very simple. On the top shelf, I added some Vintage Aqua Mason Jars, then a few cutting boards. On the next shelf down, I have a pitcher, vintage pan and my Mom's recipe box.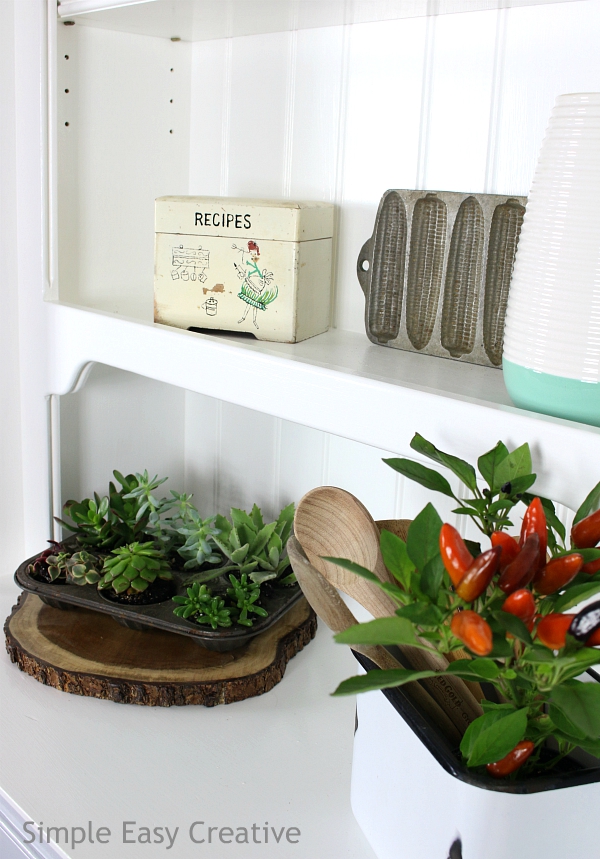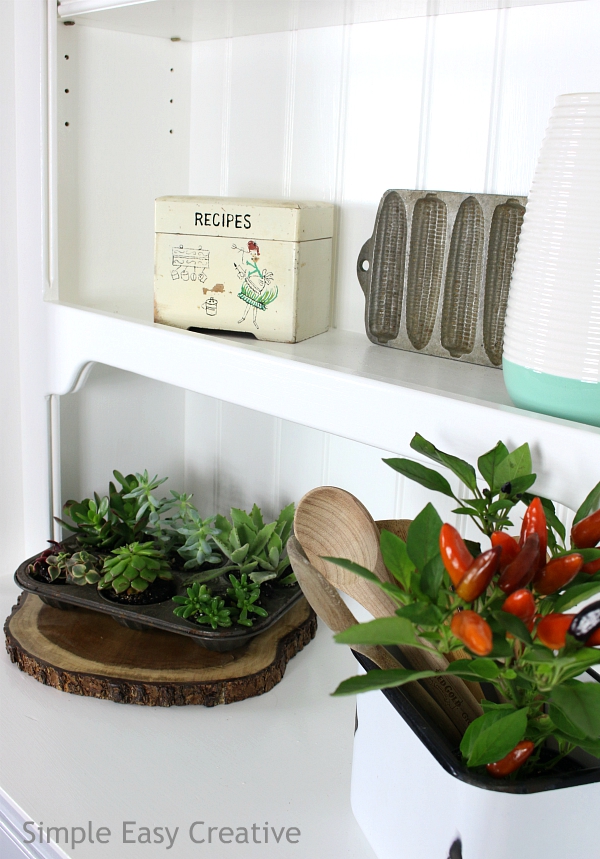 On the bottom, we planted succulents in a vintage cupcake pan and placed it on top of a piece of wood to bring in a little texture. The ornamental pepper plant adds color and freshness to the space, and the wooden spoons add some character.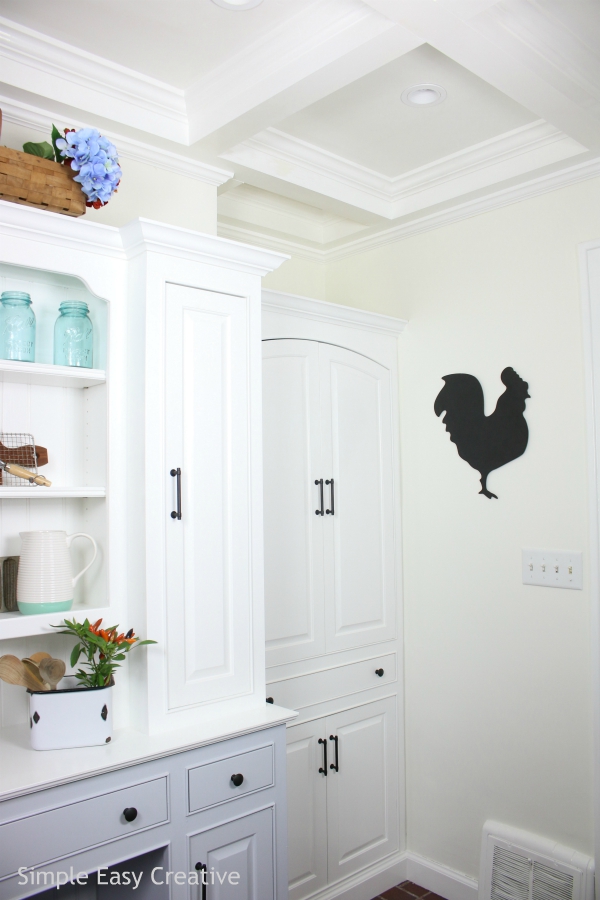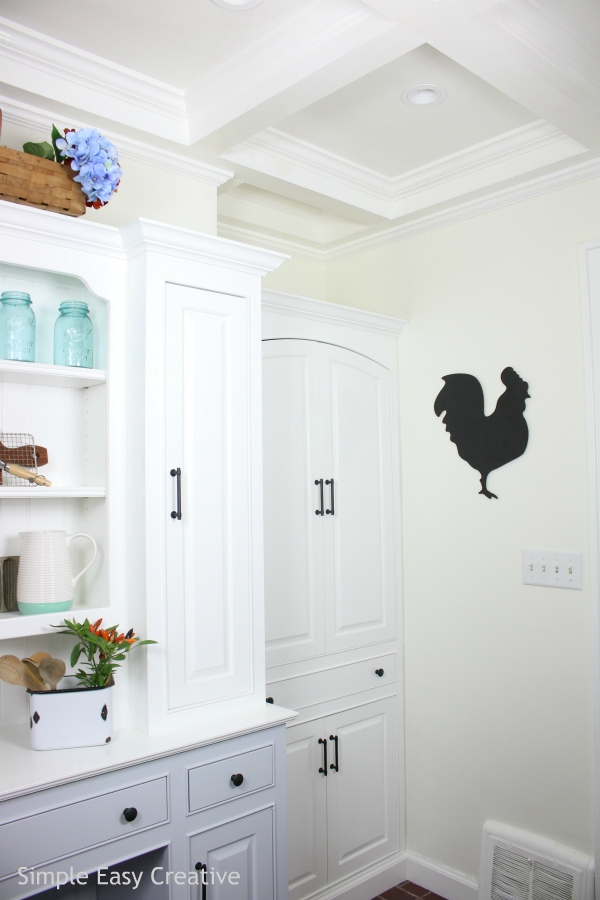 We painted the pantry area all white, using Dutch Boy® Platinum Plus Interior Paint + Primer in Brightened Cream (005W). We used this paint in our foyer and living room makeovers, and love that its stain resistant qualities allow us to easily wipe away any messes that the walls come in contact with. And on the wall is a wooden silhouette of a rooster. Fun fact – this rooster is actually the one we used for inspiration for our logo.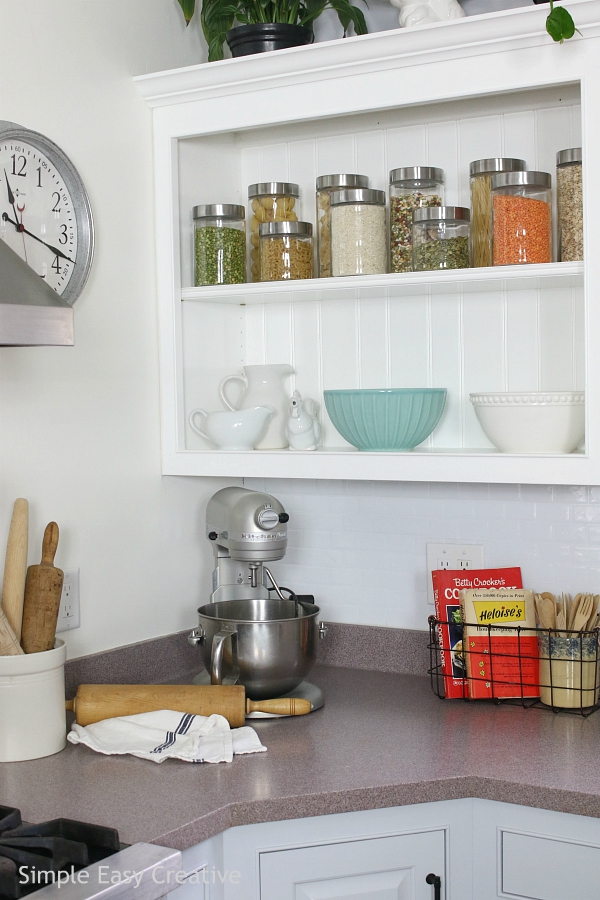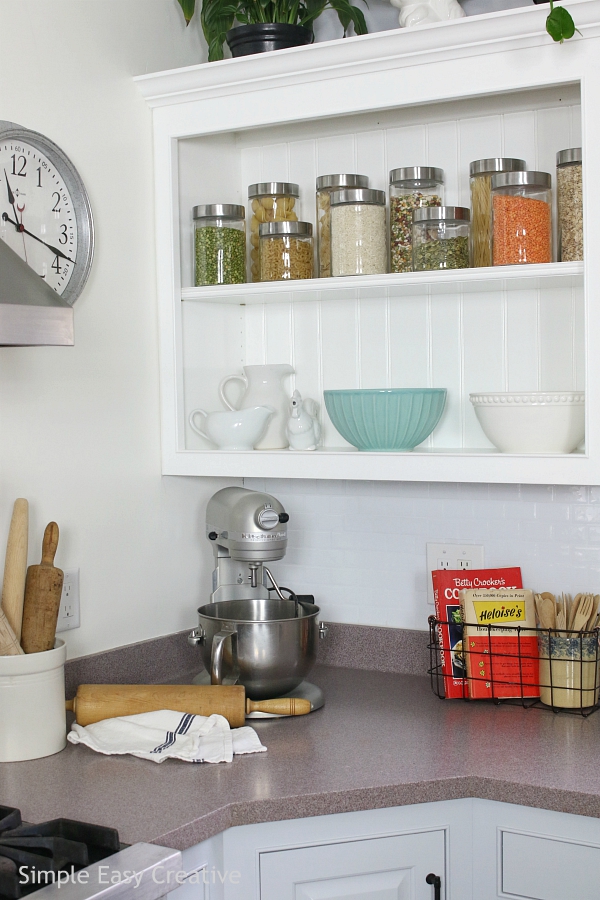 While I love the whole kitchen, I think this is my favorite spot. You can find clear jars like these at any local home store, like Menards. I filled them with beans, pasta, lentils, split peas and rice. Of course, my mixer gets lots of use, and a few vintage rolling pins that I love using.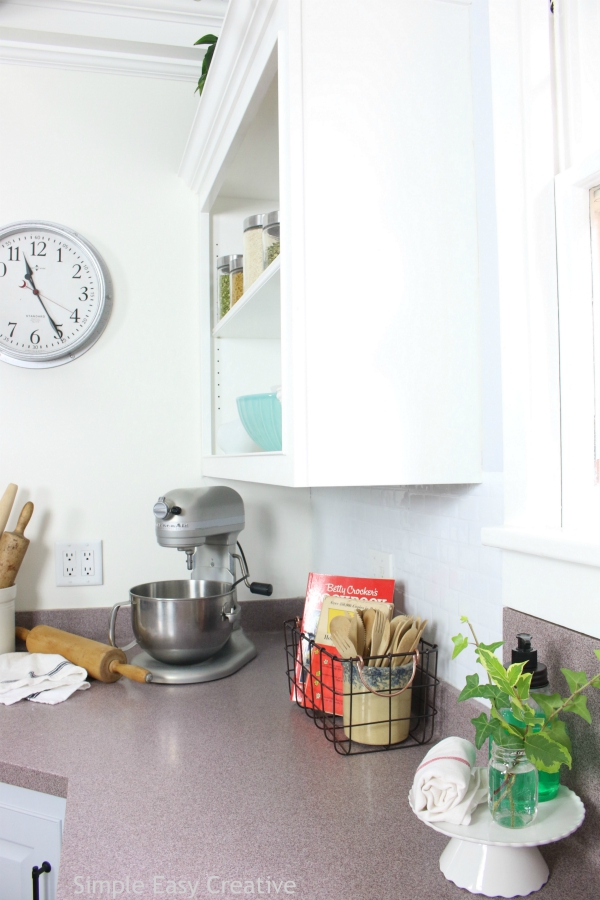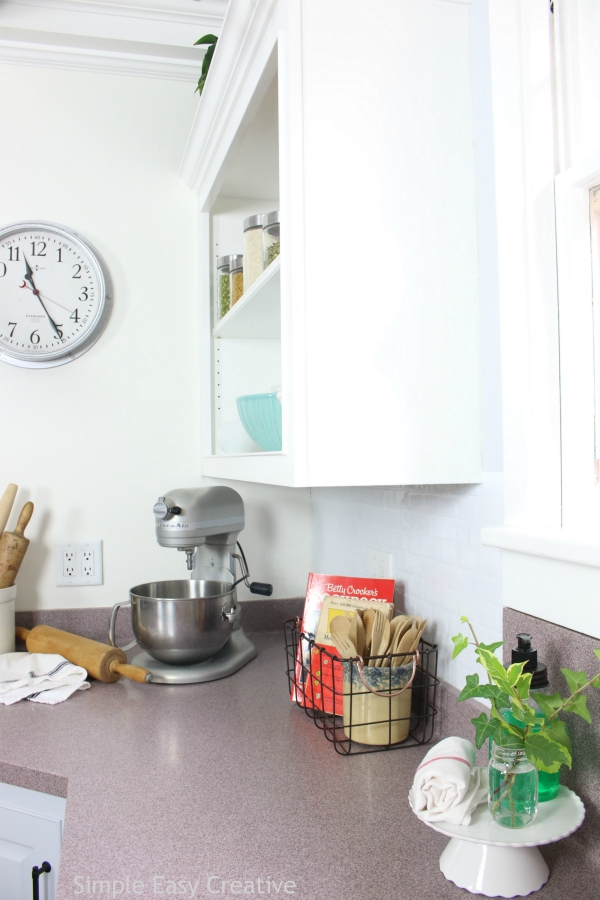 Next to the sink, I have a small cake plate with soap, a towel and some fresh greens.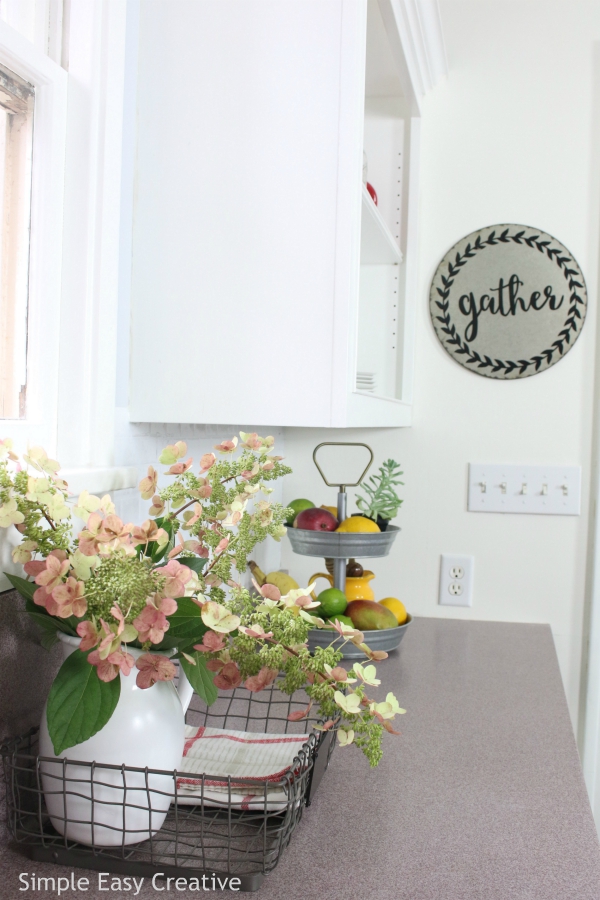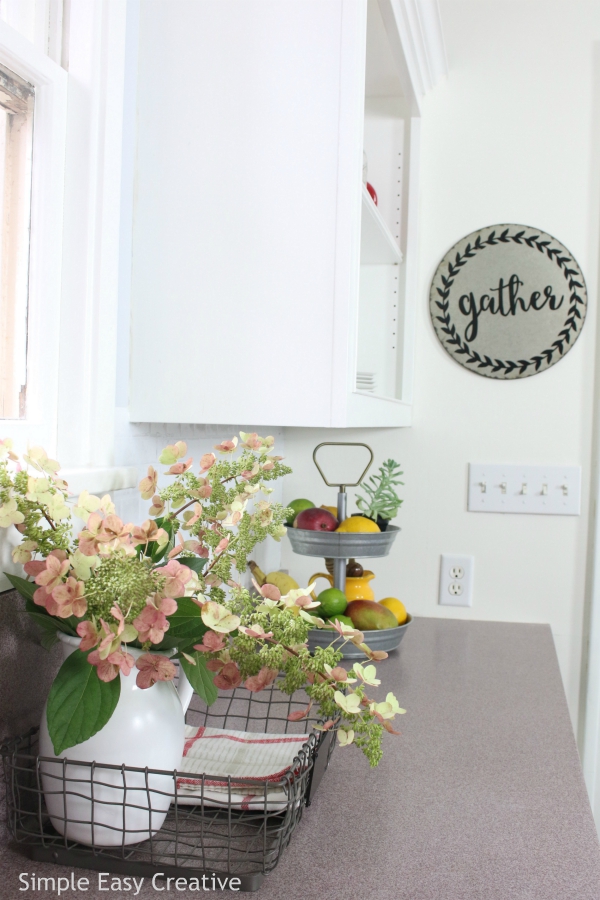 On the other side of the sink, I added fresh hydrangeas cut from the yard, and towels to the wire basket. The two-tier stand is filled with fruit, a succulent plant and more wooden spoons. On the wall we hung a galvanized sign.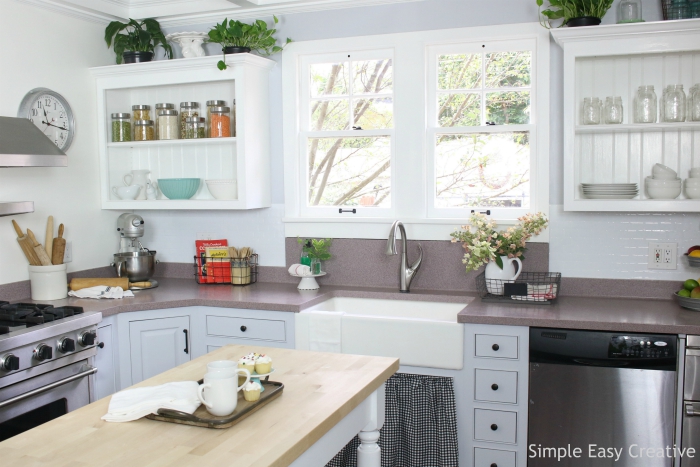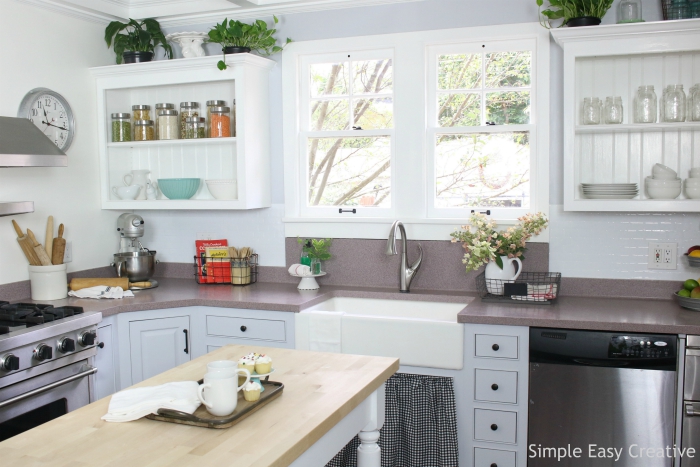 I can hardly wait to host a party now that the kitchen is fresh and clean. Oh and I may even enjoy doing the dishes!
On the walls around the kitchen, we painted gray and below the cabinets we used a peel-and-stick subway wall tile. More on that coming soon for you.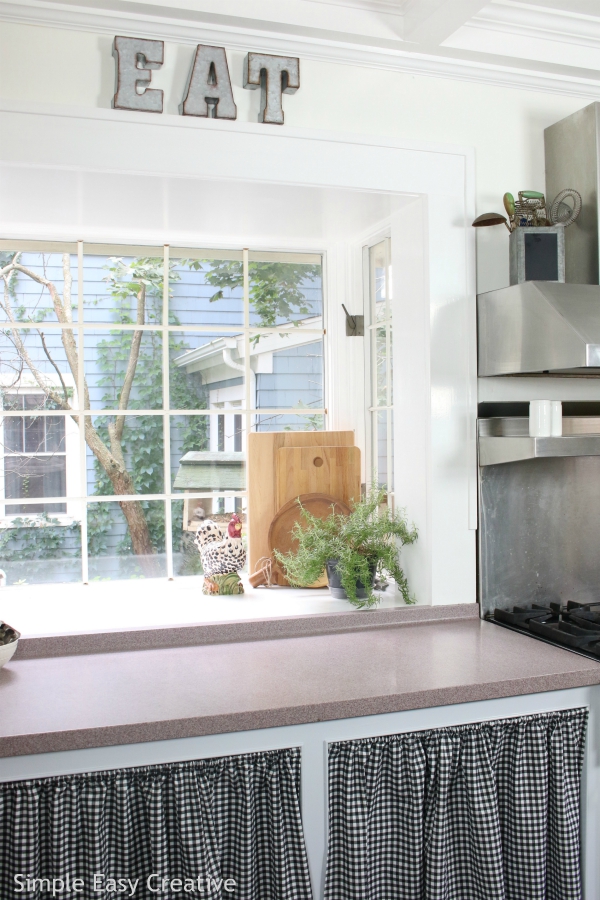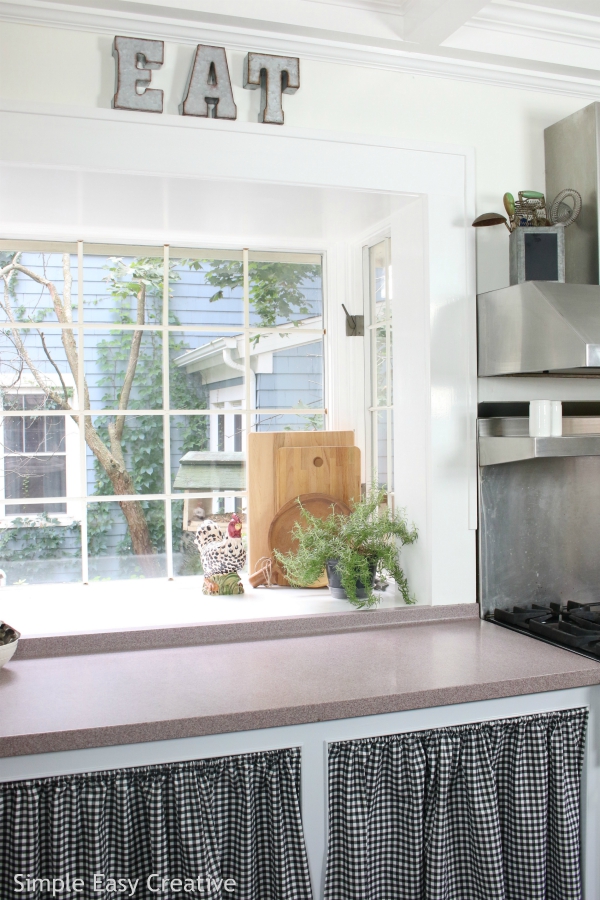 Moving to the other side of the kitchen is the bay window. I added a few cutting boards for some height in the space, a ceramic rooster and a rosemary plant. The galvanized E-A-T letters add a special touch.
And to bring in the black accent, like we have in the foyer and living room, I sewed black gingham check curtains to cover the lower cabinets that did not have doors. I love the open shelves, however the lower ones always get so dirty, especially with our two dogs. Another reason why using a durable paint like Dutch Boy® Dura Clean™ Cabinet, Door & Trim is the ideal product for high traffic areas of the home!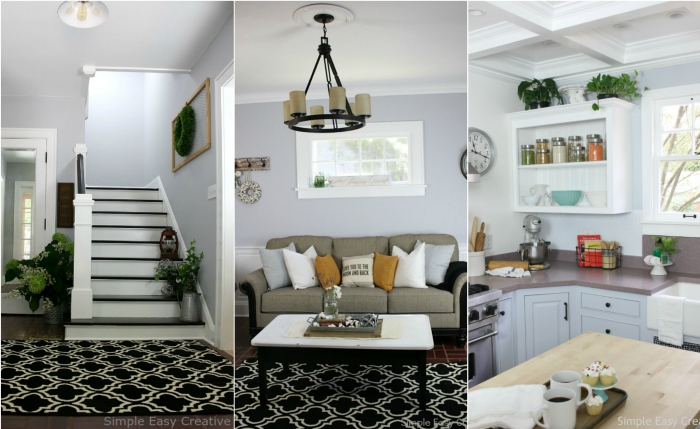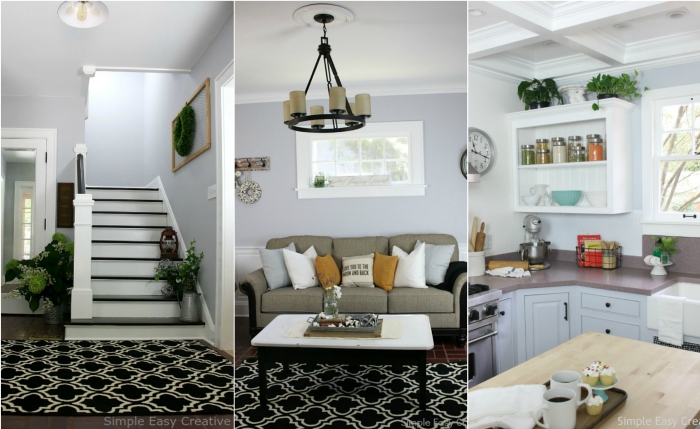 I couldn't be more thrilled with all three of our home projects!
For more inspiration, follow Dutch Boy on social media; Facebook, Pinterest and Twitter. And watch for their all new Instagram channel launching in October 2017.
Dutch Boy Paints offers a full line of interior and exterior products – with over 1,300 colors you are sure to find the perfect paint every time!