Mens Gift Basket: Handyman Special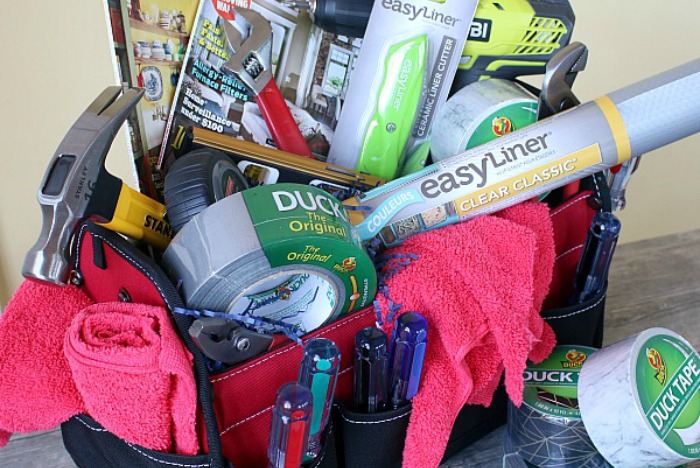 Not sure what to get the men in your life for Father's Day? This Mens Gift Basket is easy to put together! Whether your man is handy or not, a few tools are always helpful!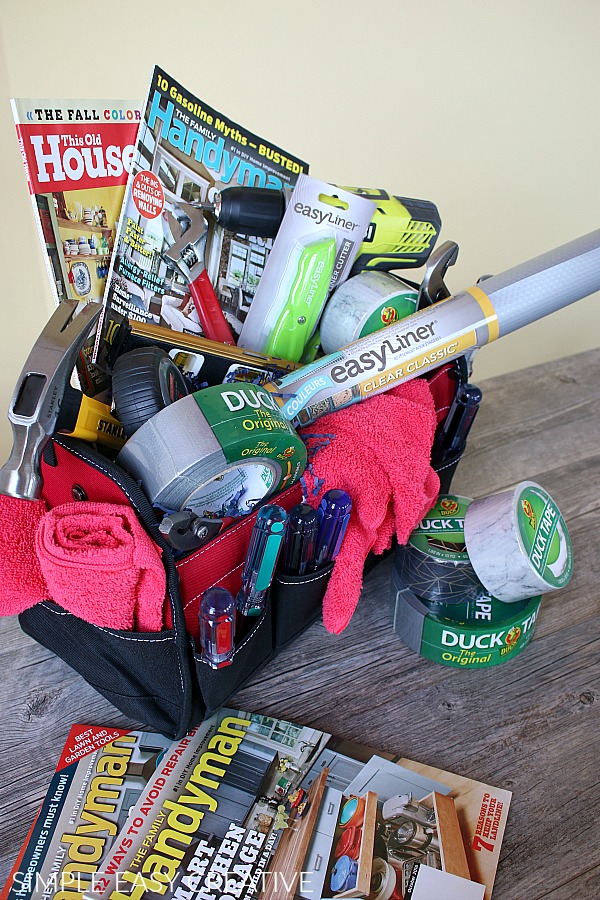 This post is brought to you by Duck Brand. As always, the opinions are my own.
Okay my friend, let's chat about the men in our life for a minute! Are you like me, and struggle to figure out what to buy for your father, grandfather, husband – maybe even your son?
This Men's Gift Basket is great for Father's Day, birthdays, Christmas, or really any time of year! And you know what? It really doesn't have to be just for men!
This Handyman Basket would even be great as a house warming present! Who doesn't need a tool box filled with tools, Duck Tape, Easy Liner to cover shelves in the work area, and a few magazines for inspiration?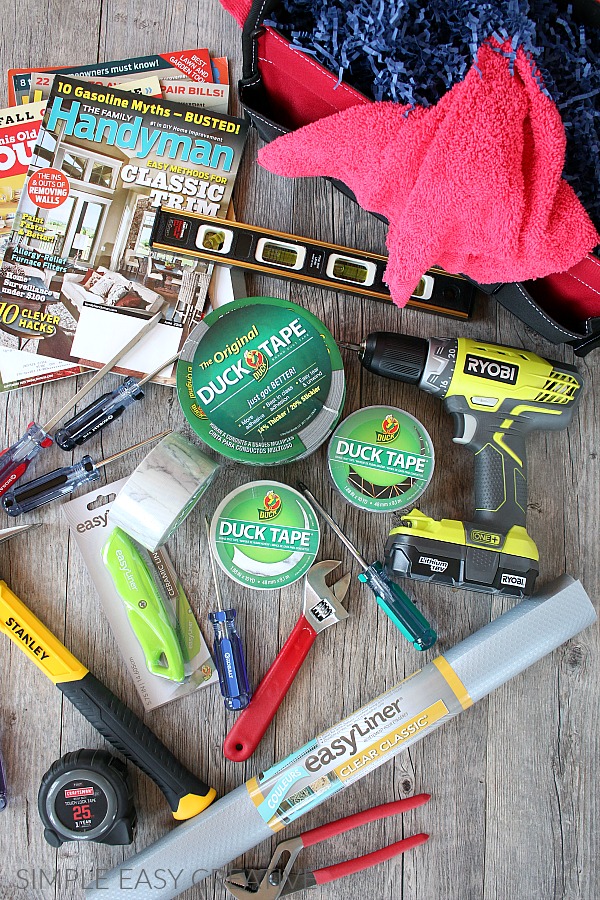 Growing up with a Dad that loved his tools, and then marrying a handyman, it seemed liked they really didn't need another screwdriver or wrench. But actually, I suppose it's like craft supplies – you can never have enough, right?
Putting together a gift basket is quick and easy, all you need are a few simple supplies plus the gifts that you want to add. The options are endless of gifts to add to the basket, here is what we used in our mens gift basket:
Mens Gift Basket
Basket or Tool Box – it's great if you can find a basket that can be used after the gifts have been removed
Packing paper – this paper is a big thicker than tissue paper, I have found that tissue paper flattens quickly when you add the gifts (especially heavy tools). You can find the packing paper at your local store that sells moving supplies or online at Duck Brand. (p.s. we just moved and this paper is amazing!)
Gift Basket Filler Paper – this is optional to cover the packing paper a bit, but I think it makes a nice addition
Gifts – Duck Tape – everyone loves the original and there are hundreds of prints to choose from as well, Duck Brand Easy Liner for the workshop surfaces, Easy Liner Ceramic Cutter, tools of your choice, shop rags and a few magazines. You could also add some snacks or even their favorite beverage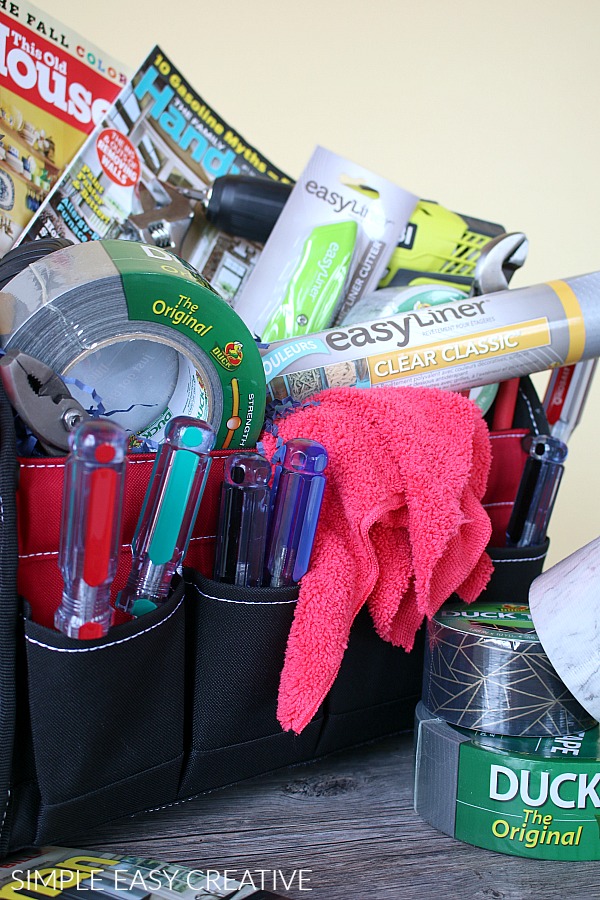 To put the gift basket together, begin by adding the packing paper, then cover with a few handfuls of colored gift basket filler paper – keep in mind that the paper will flatten after the tools are added.
Then begin adding the largest tools first – like the hammer, drill and easy shelf liner. Next comes the medium items – like tape measure, Duck Tape and magazines, then add the smaller items – like screwdrivers and shop rags.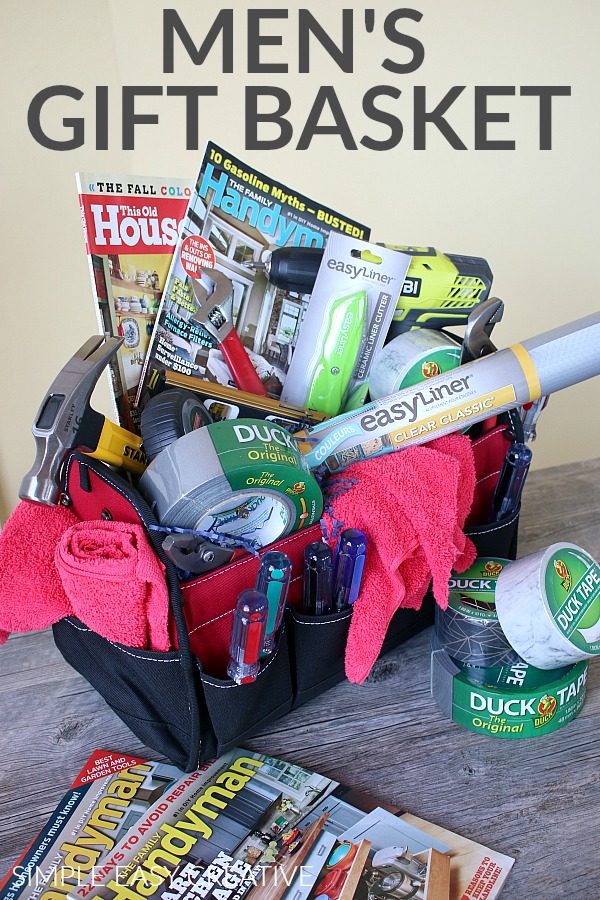 Do you have a man (or woman) on your list that would love this gift basket?