Loaded Mashed Potato Patties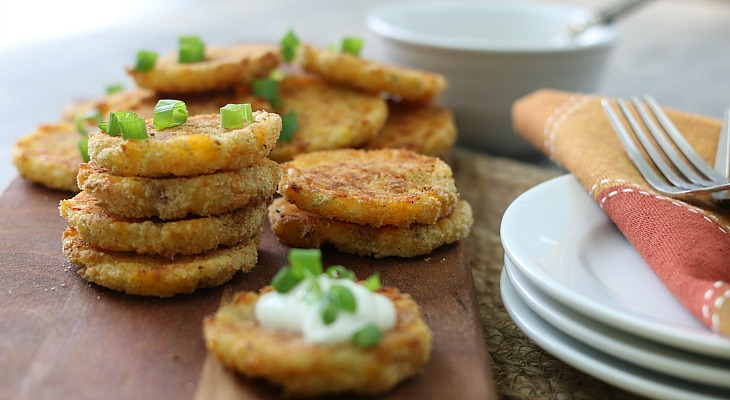 I am in love with these Loaded Mashed Potato Patties! They are filled with my favorite toppings and can be dipped into sour cream- yum! What is better than the combination of potatoes, cheese, and bacon? Nothing!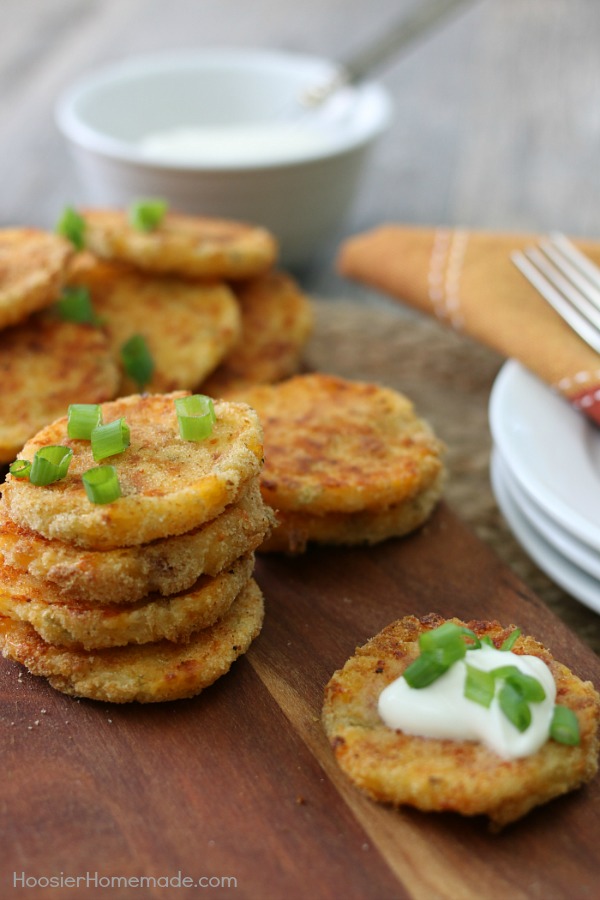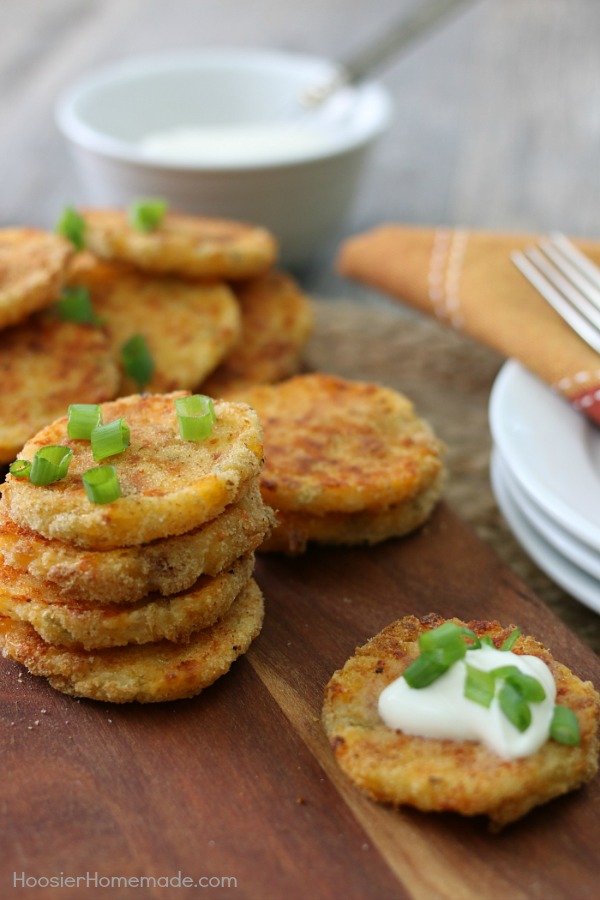 I love potatoes, but these potato patties – or potato cakes as some people call them – are so good! They are the perfect fun side dish to any meal, but my favorite way to eat them is for breakfast! They just might be my favorite way to eat potatoes- I love a dish with crunch!
Growing up my Mom used to always fry up a batch of mashed potato patties. Now though, I enjoy them with my own family, I suppose I'm passing on the tradition from my Mom. I've changed her recipe a bit to fit our taste though with the addition of sour cream, bacon and green onions, and of course, baking them instead of frying. Over the years we have enjoyed the patties as a twist on the ordinary side dish.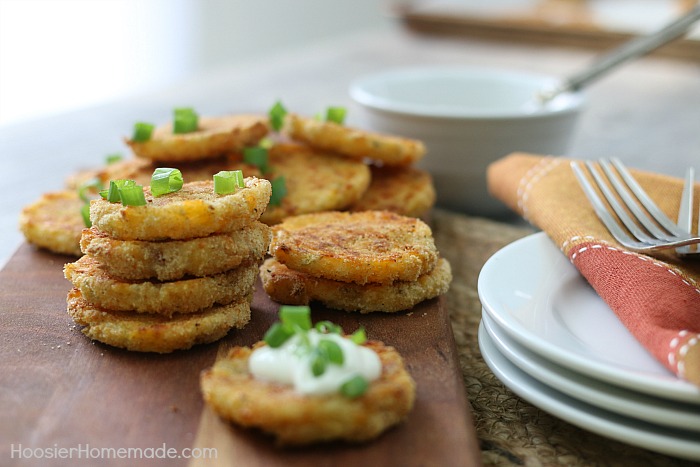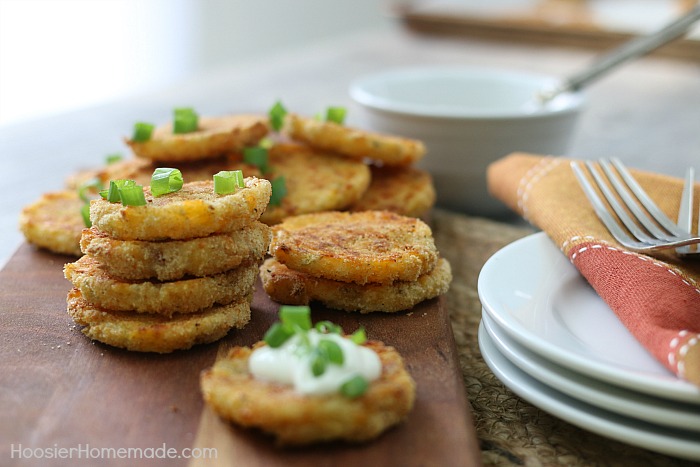 The best thing about these potato patties? They are baked, not fried! Not only does that make them even healthier it also makes them a lot more hands off. When I am trying to get any meal on the table, being able to throw them into the oven and walk away is perfect! (If you want to fry them, I put the frying instructions in the recipe too!)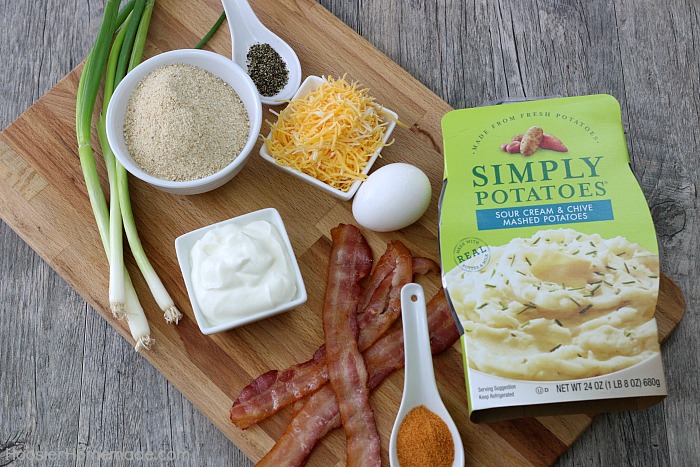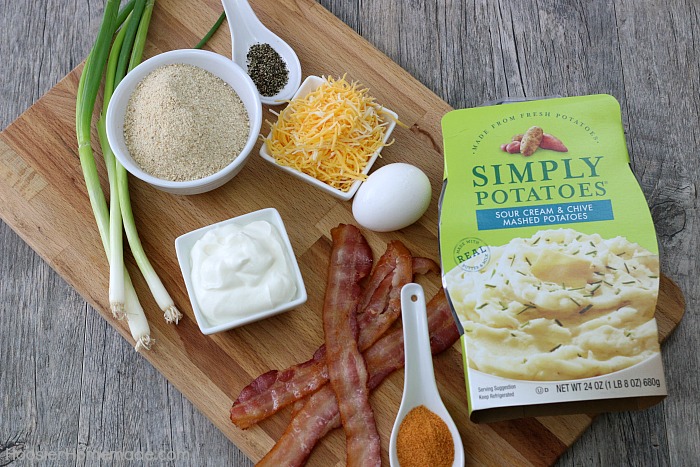 Potato cakes are usually made from left over mashed potatoes, but my trick is to used Simply Potatoes® Mashed Potatoes! They are made from fresh potatoes and are never frozen- so they taste super fresh! They definitely cut down the prep time to these potato cakes. I love that I can make my favorite treat anytime I want!
I like to use the Simply Potatoes Sour Cream & Chive flavor- but they also come in traditional, country style, garlic, and even sweet potato! I am going to try Parmesan Peppercorn for these potato patties next!
This recipe is so fast- combine the potatoes, toppings (cheese, sour cream, bacon, and green onions), and egg in bowl. Then stir them up- make sure the toppings are evenly spread throughout. The seasonings and breadcrumbs go in another bowl. Scoop out the mashed potatoes, cover them in breadcrumbs, and form into a cake. Then pop them in the oven (at 400 degrees) for 12 – 15 minutes and voila!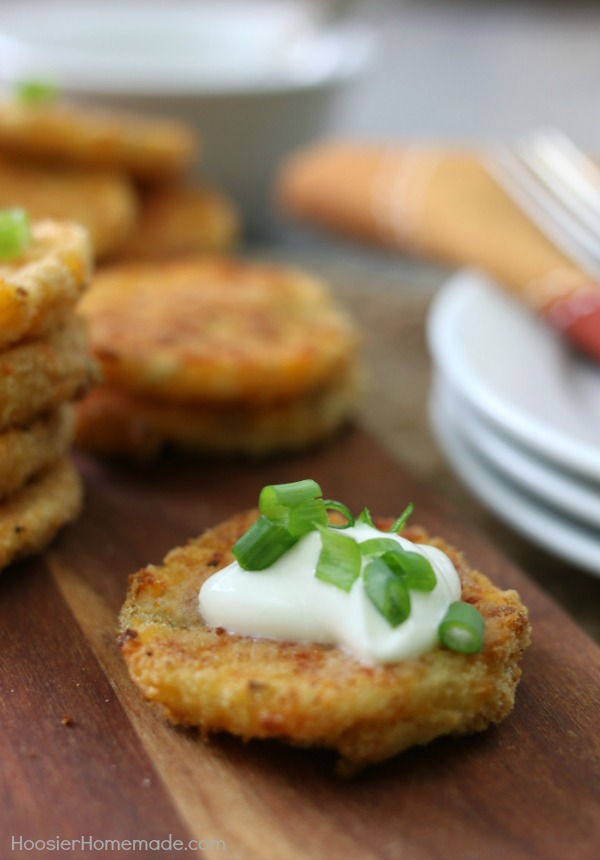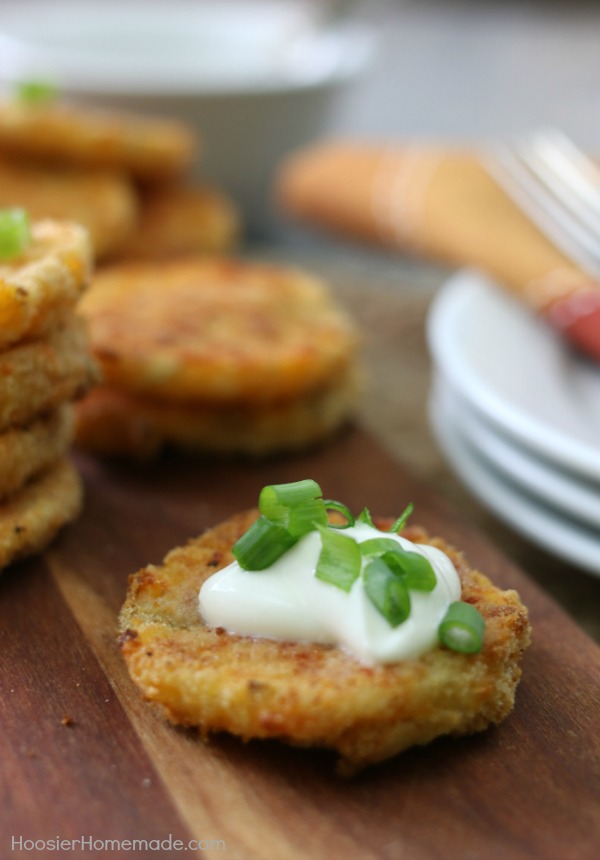 I like to keep my potato cakes on the smaller size, but you could also make them as big as you want! If you go for the bigger size, just cook them a little longer.
Add some sour cream to the top (or dip them- my favorite!) with some chives for a decadent breakfast or a scrumptious side dish! My husband likes to dip them in ketchup- but that is just crazy!
What is your favorite Sunday treat? Or do you eat potato cakes with dinner? What is your favorite dish to eat them with?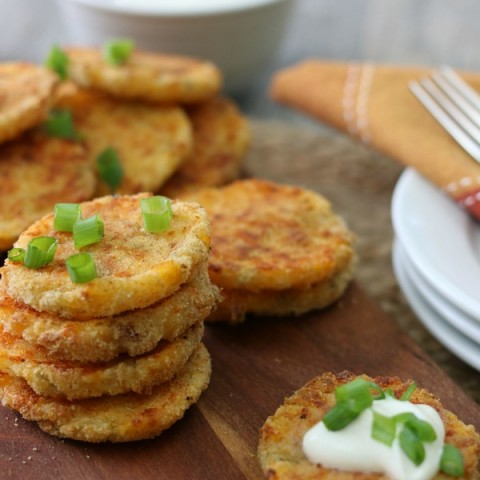 Loaded Mashed Potato Patties
Create a new side dish using mashed potatoes. BAKED not FRIED!
Ingredients
1 (24 oz-about 3 cups) package Simply Potatoes, any flavor
1/2 cup sour cream + more for garnish
1 (8 oz) package shredded Colby-Monterrey Jack Cheese blend
4 green onions, sliced thinly
4 strips bacon, cooked and chopped
1 large egg
1 cup bread crumbs
1 teaspoon seasoned salt
1/2 teaspoon black pepper
Instructions
In a large mixing bowl, combine potatoes, sour cream, cheese, green onions, bacon and egg
Mix until well combined
In a separate bowl, combine bread crumbs and seasonings
Roll the mashed potato mixture into 1 inch balls, then roll in bread crumbs mixture, flatten to a thickness of less than 1/2 inch
For baking - preheat oven to 400 degrees
Spray cookie sheet with non-stick cooking spray or use a silicone mat or parchment paper
Add mashed potato patties to cookie sheet
Bake for 12-15 minutes or until browned slightly, flip patties and return to oven for 2-3 minutes
For frying - add 2 tablespoons butter to medium hot skillet, cook until browned and then flip and cook until browned.
Now it's time for a fun giveaway! Simply Potatoes is offering one (1) lucky reader this LeCreuset Rectangular Baking Dish in Caribbean blue color, valued at $50
Entries only accepted on this page. Facebook, Twitter or email entries do not count. Open to US Residents only.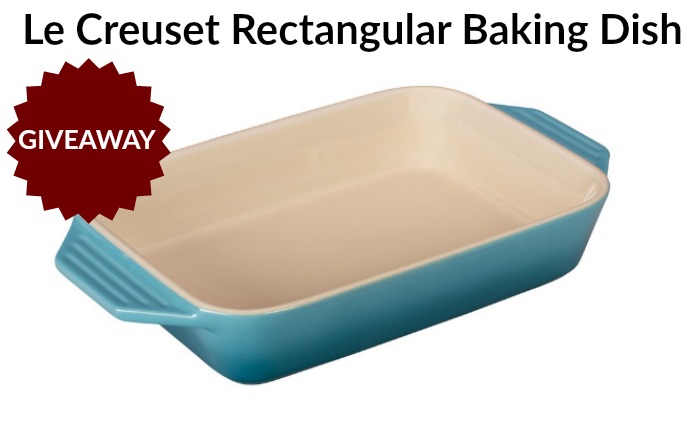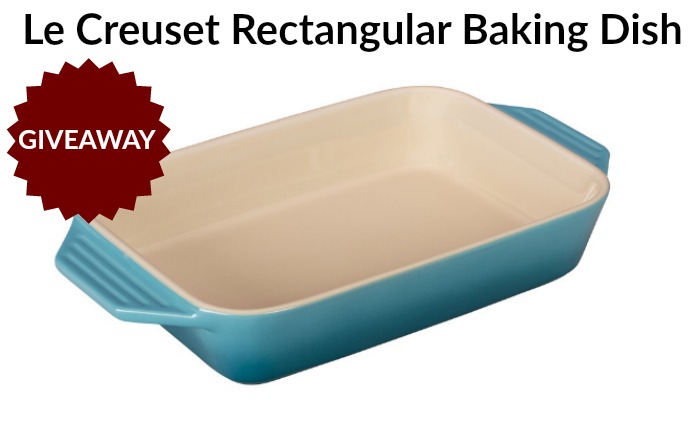 This is a sponsored conversation written by me on behalf of Simply Potatoes®. The opinions and text are all mine.

Love Holidays? Join below for my 5 BEST recipes for any holiday!
Subscribe to get our latest content by email.