Holiday Entertaining Hacks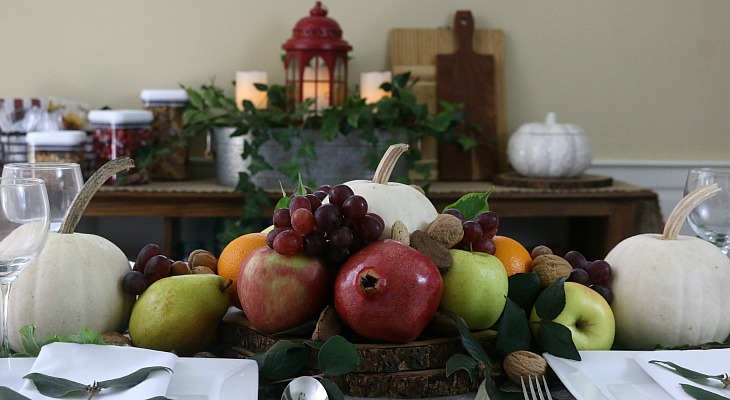 These Holiday Entertaining Hacks will help you keep your holiday simple and easy, so you can spend more time doing the things you love.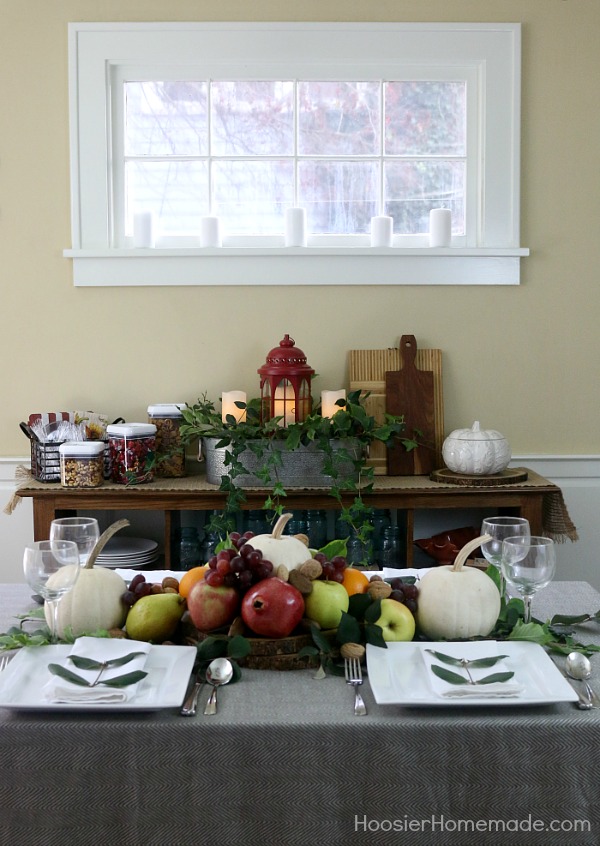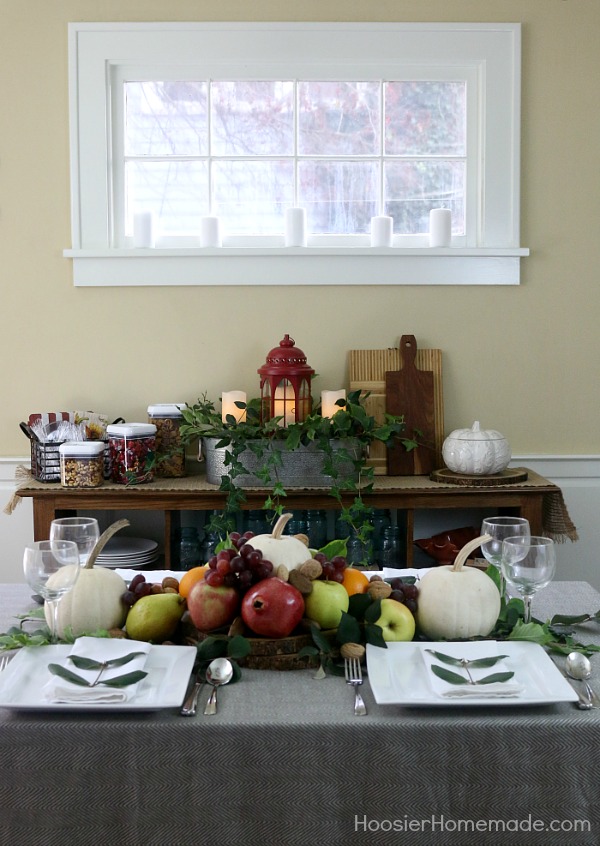 I love the holidays! Well really all of the holidays, but especially Thanksgiving and Christmas. I also love to entertain and serve my family and friends a delicious meal. But sometimes, it can be stressful. Over the years, I have learned to simplify the table and serving area, so I can spend more time enjoying the time I have with my guests.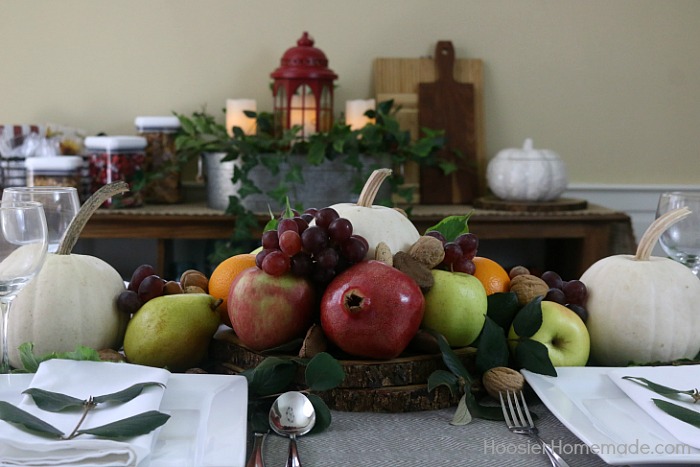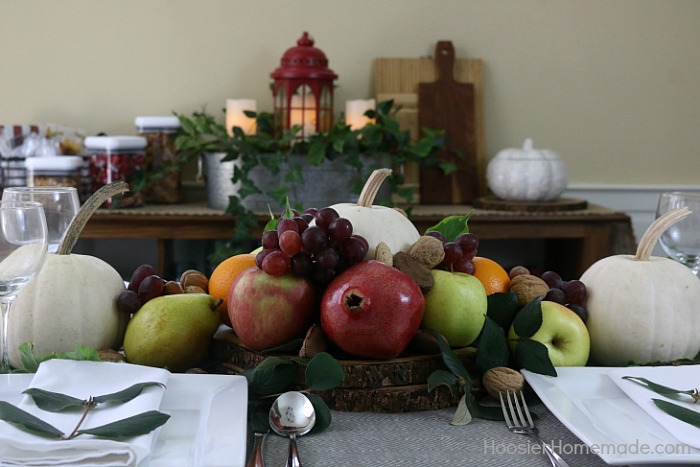 Today I'm sharing five of my favorite entertaining hacks with you for the upcoming holidays, and honestly you can use them any time of the year.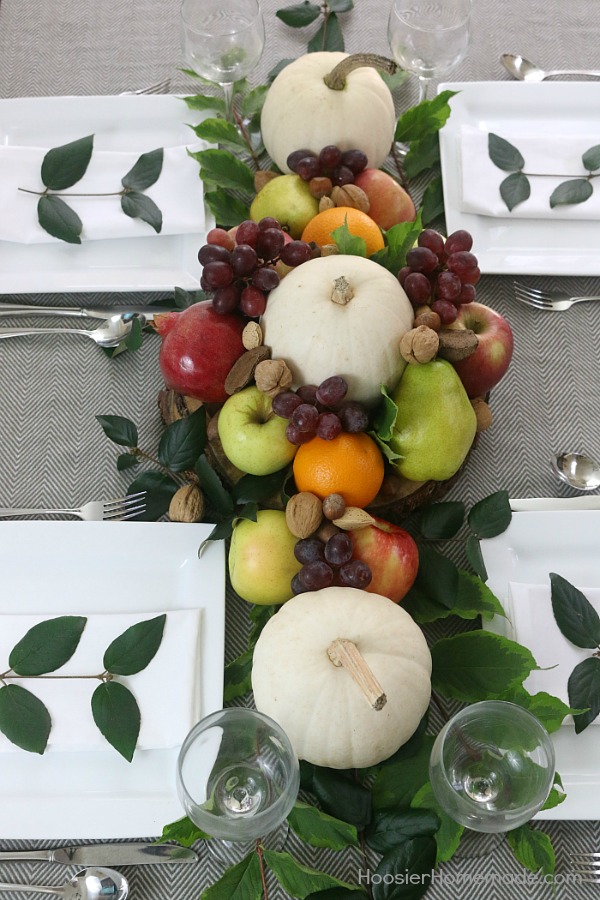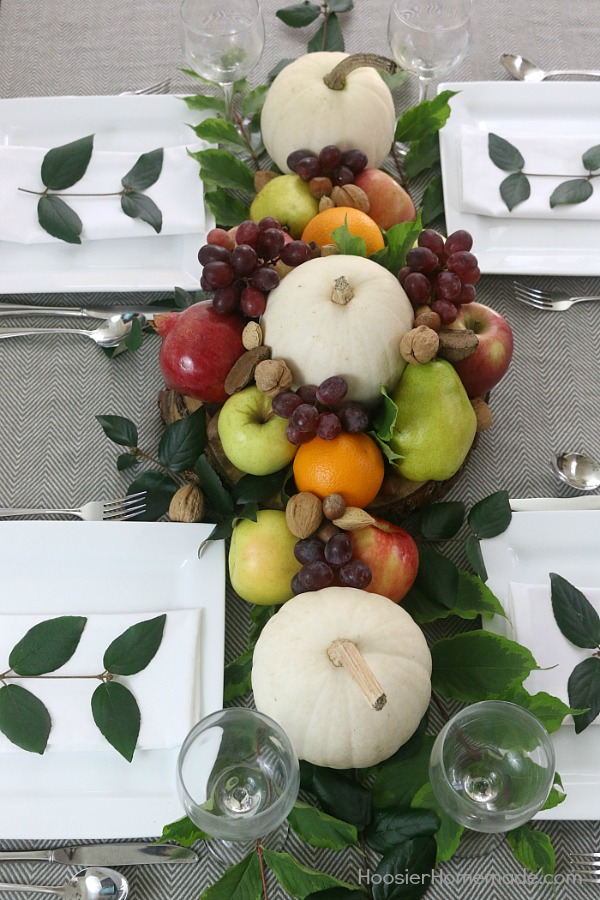 The table is anchored with a fringed throw instead of a tablecloth. I love the warmth that it brings to the space, and then you can use it later on your sofa, chair or across the foot of your bed. The fringed throw is a gray herringbone pattern from the Better Homes and Gardens at Walmart. The color is perfect to stay with the Farmhouse decor that I am using throughout our home.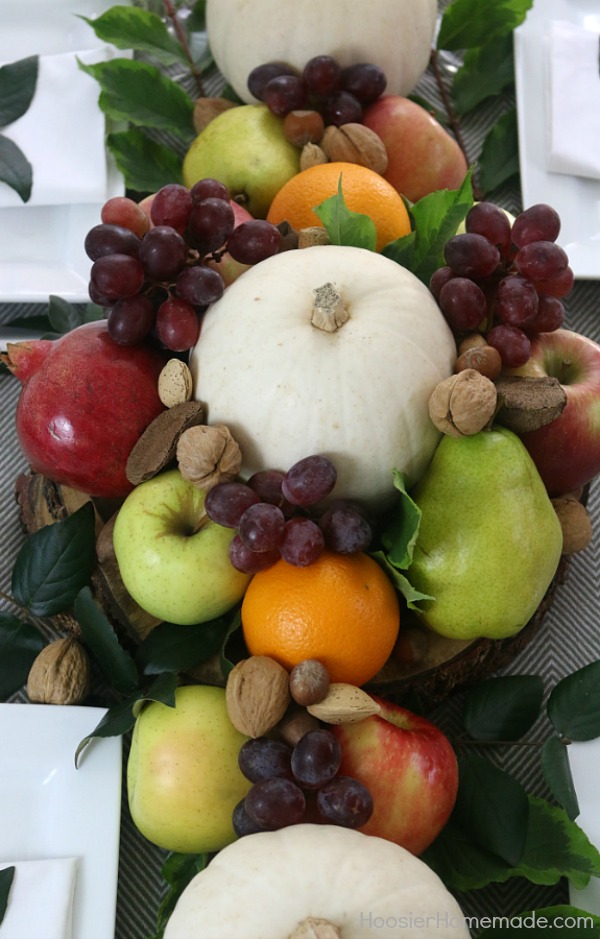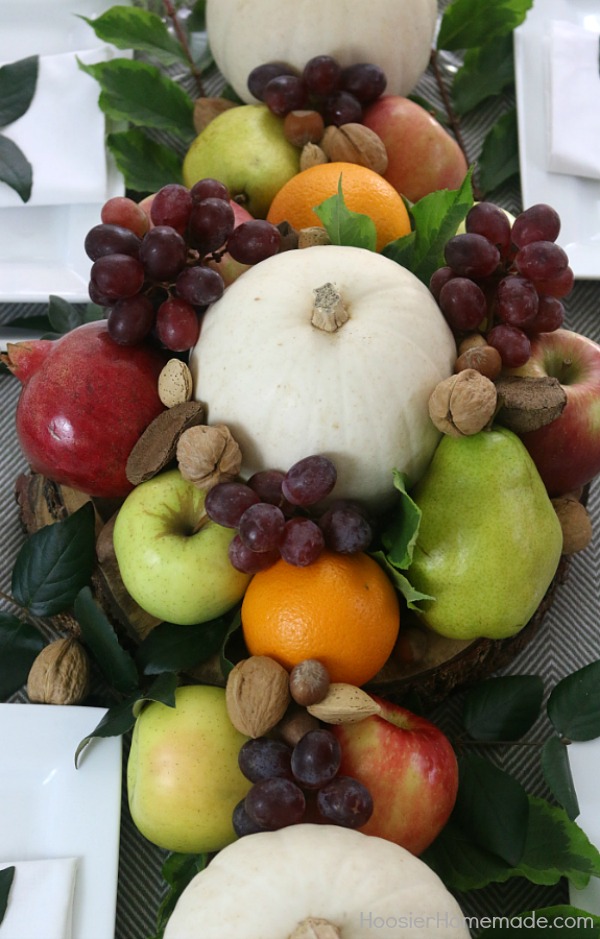 Creating a gorgeous centerpiece for your table doesn't need to cost a lot of money or take a lot of time. I love using fresh ingredients like fruit and nuts that can be eaten later. The centerpiece starts with 3 small white pumpkins, then fruit including apples (red and yellow), pears, oranges, pomegranate, and grapes. Then tucked into the empty spots are mixed nuts.
The greenery is cut from bushes in our yard. A good tip for free greens, if you don't have any in your own yard, is to ask a neighbor, cut along side the road or at the park (be sure to ask first).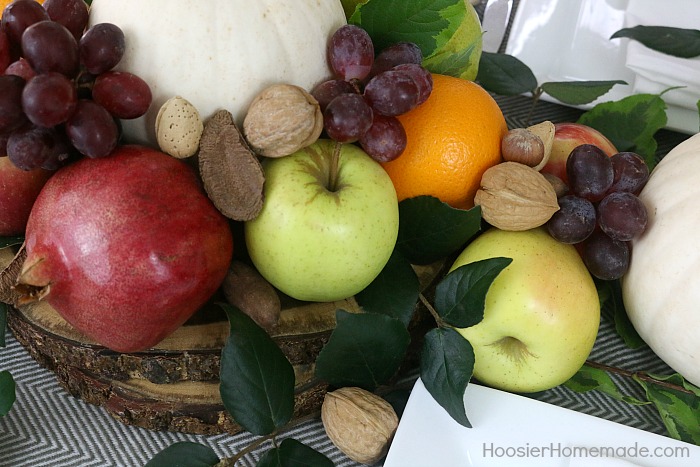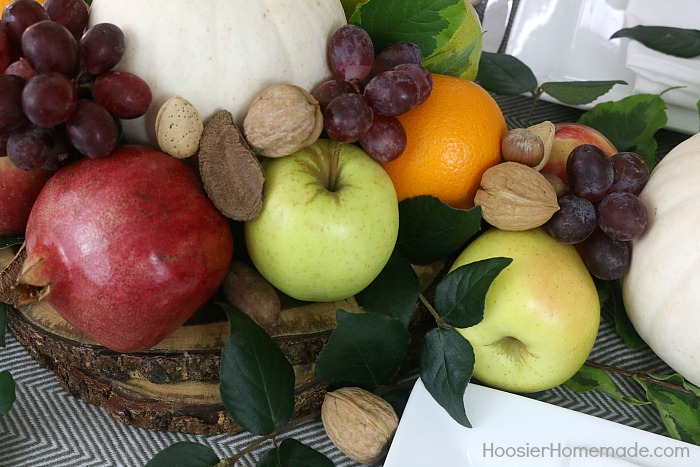 On the bottom of the centerpiece are the Better Homes and Gardens Acacia Wood Chargers. I love how versatile they are. You can use them as chargers under plates, or for decoration. You can see another one under the white pumpkin on the buffet. (picture below)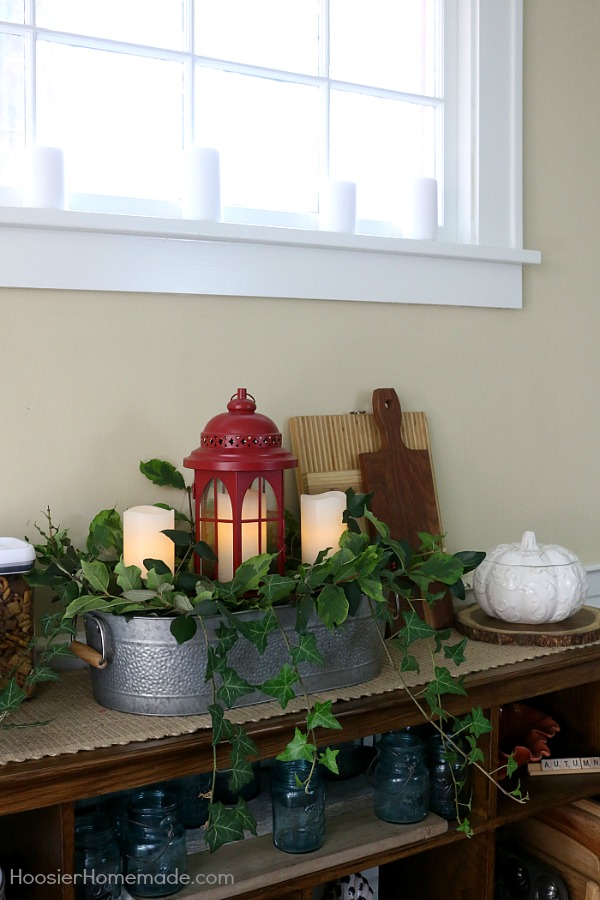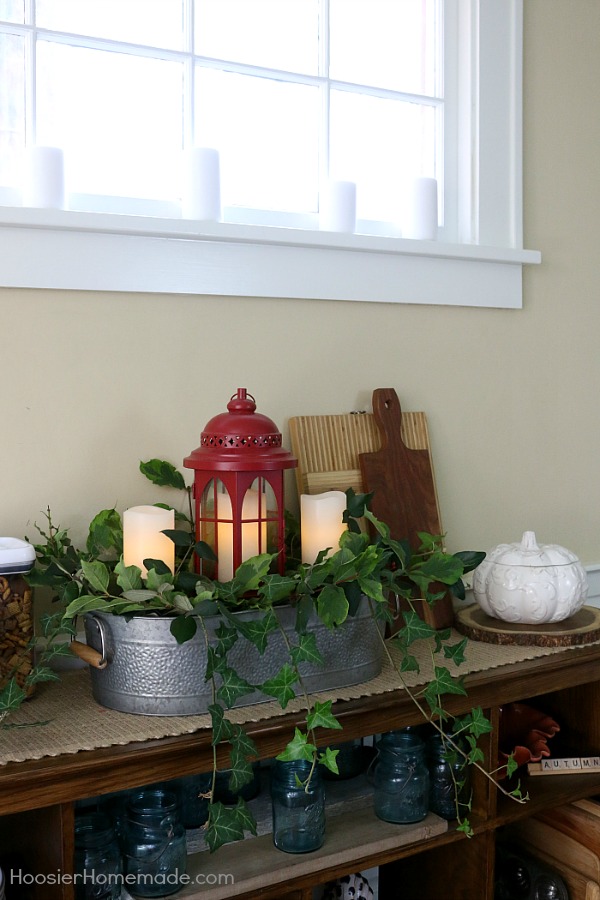 Another entertaining hack is to use items you already have in a totally new way – think outside the box. We used the drink tub for a centerpiece and cutting boards for added height and interest.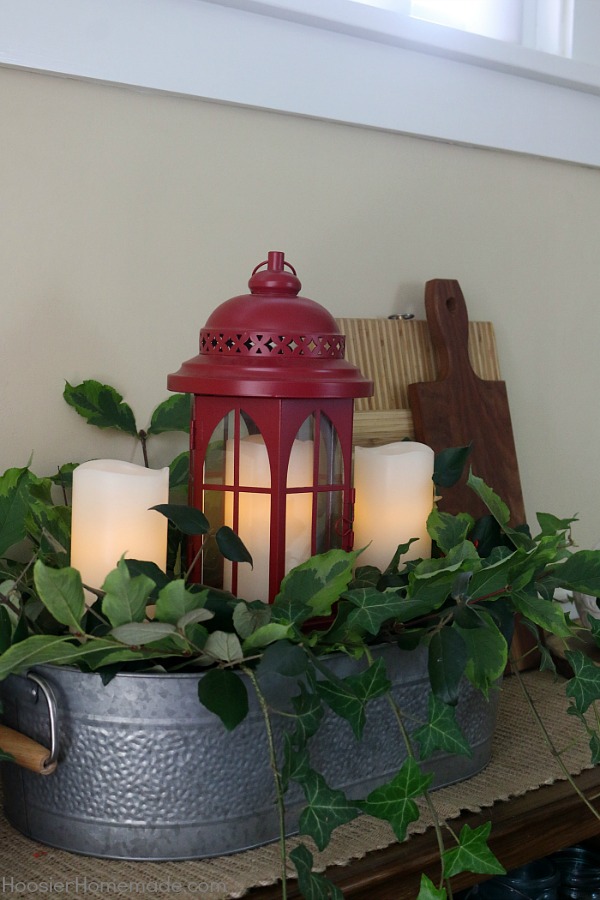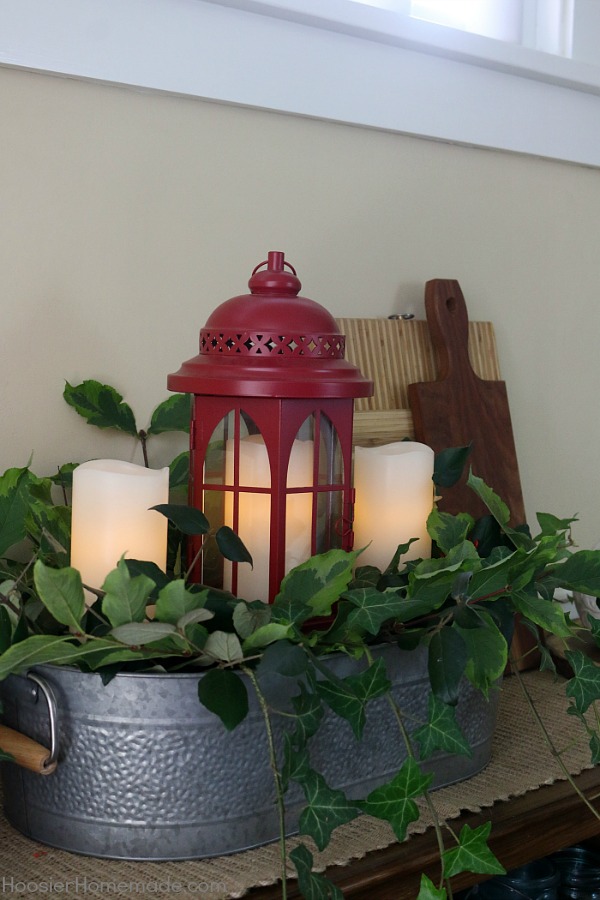 The galvanized drink tub is filled with greenery, then we added a red lantern for a pop of color and Flameless LED Candles. To raise up the lantern and candles, I added a jar under them and then filled in with greens to cover them.
Then next summer, you can use the drink tub on the deck filled with ice and bottles of your favorite beverage.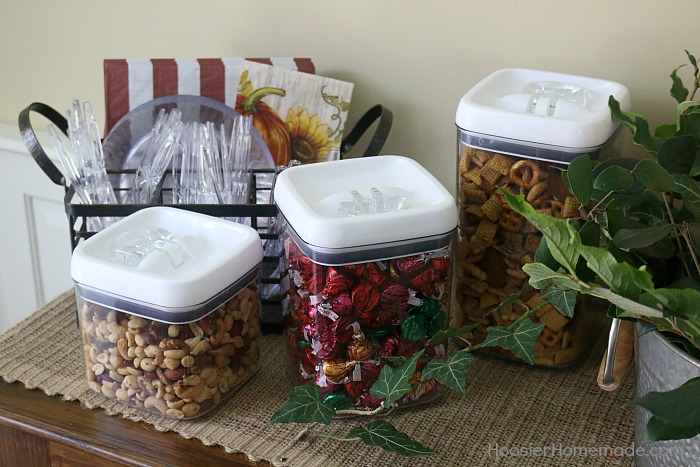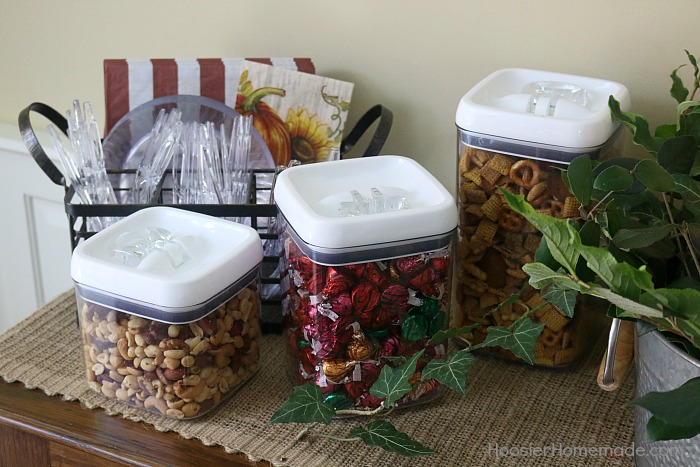 One of the holiday traditions that I got from my mother-in-law is to set treats out and let guests help themselves. Usually the day before Christmas Eve, I add all the cookies and homemade treats that I have made. And the Utensil Caddy is perfect for plates, napkins and silverware. Even in our own family, the boys can just help themselves and not always be asking for a snack.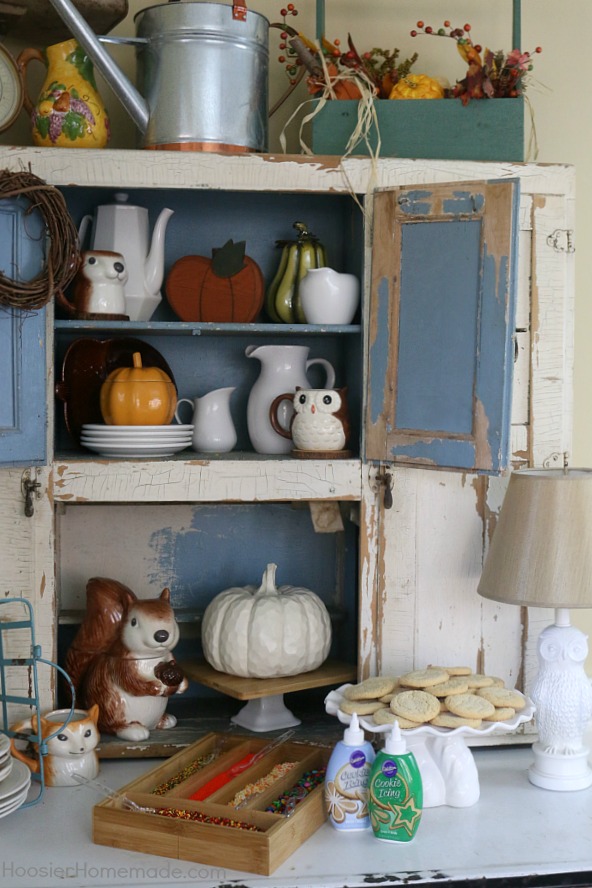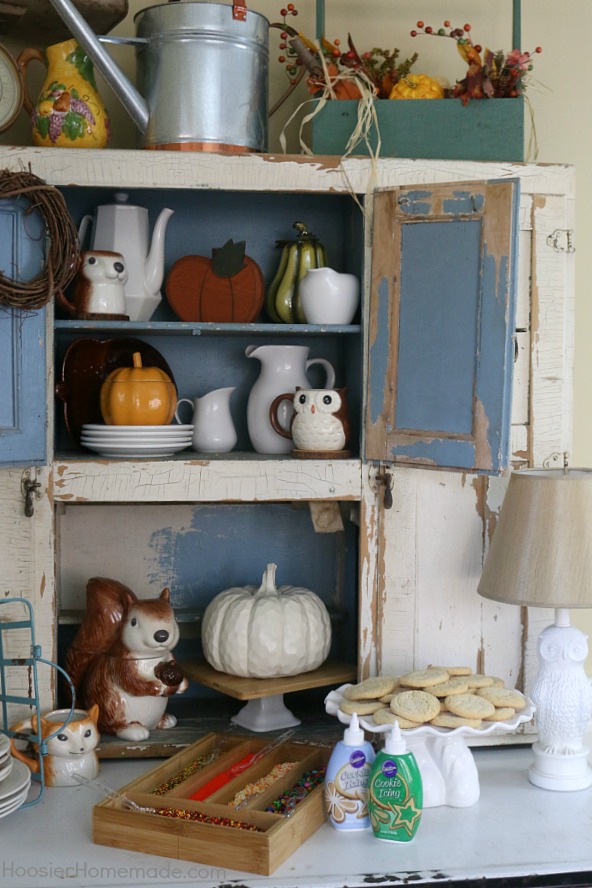 Especially if you have little ones over, having something to keep them busy is fun. This cookie decorating station couldn't be easier with all store bought items.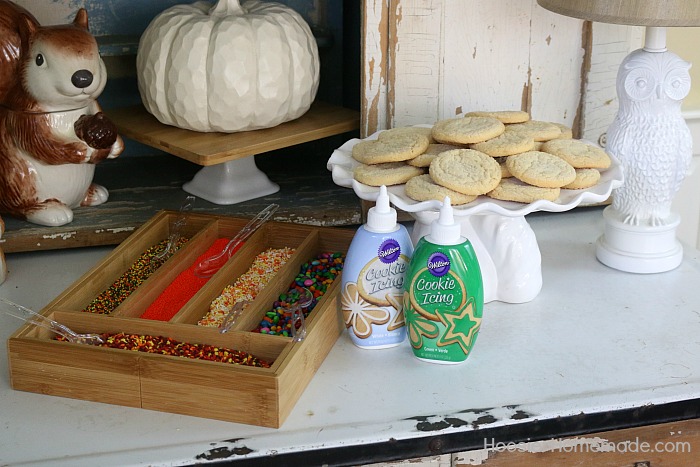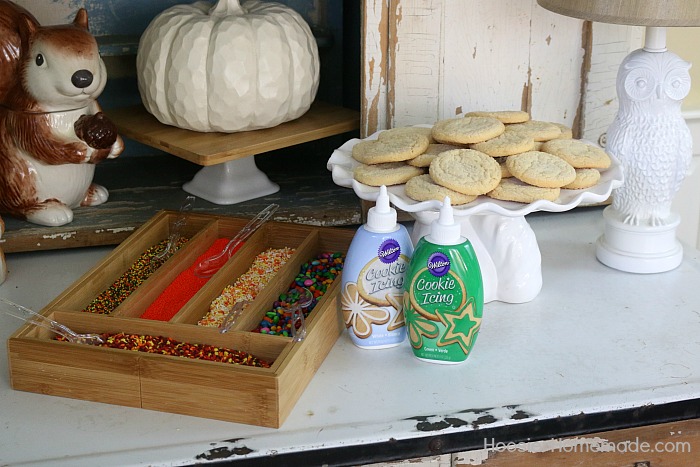 Serving sprinkles in a wooden silverware drawer is not only fun, it also keeps them neat and clean. Add cookies from the bakery or bake your own, and icing. Then let the kids (and adults) decorate their own cookies. It saves you time and gives everyone a fun activity.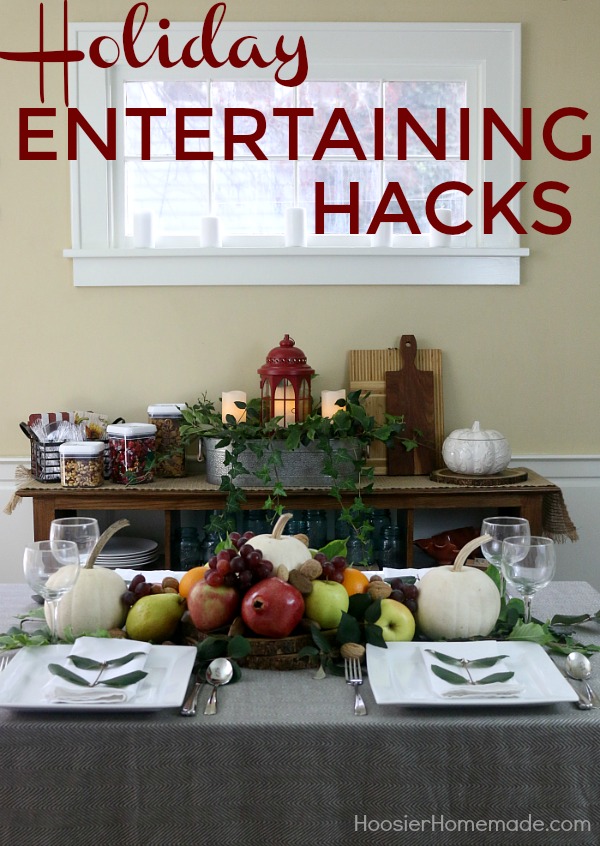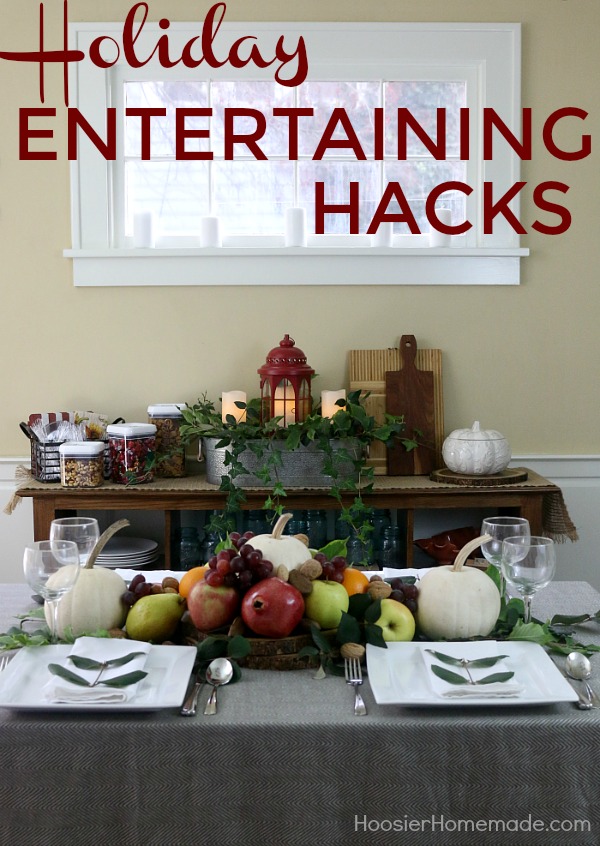 Holiday Entertaining Hacks
Use a blanket or throw instead of a tablecloth
Create a centerpiece using fruit and nuts that can be eaten later
Reinvent items in a different way, like the drink tub to hold a centerpiece
Add snacks to containers for everyone to help themselves. Don't forget the plates, napkins and silverware.
Use store bought cookies, icing and sprinkles to make a cookie decorating station.
What are your favorite entertaining hacks?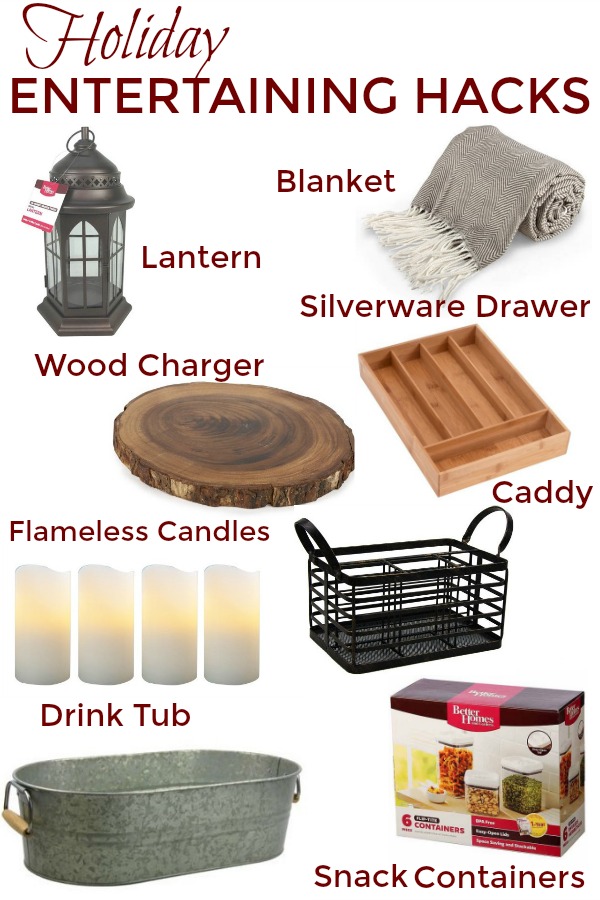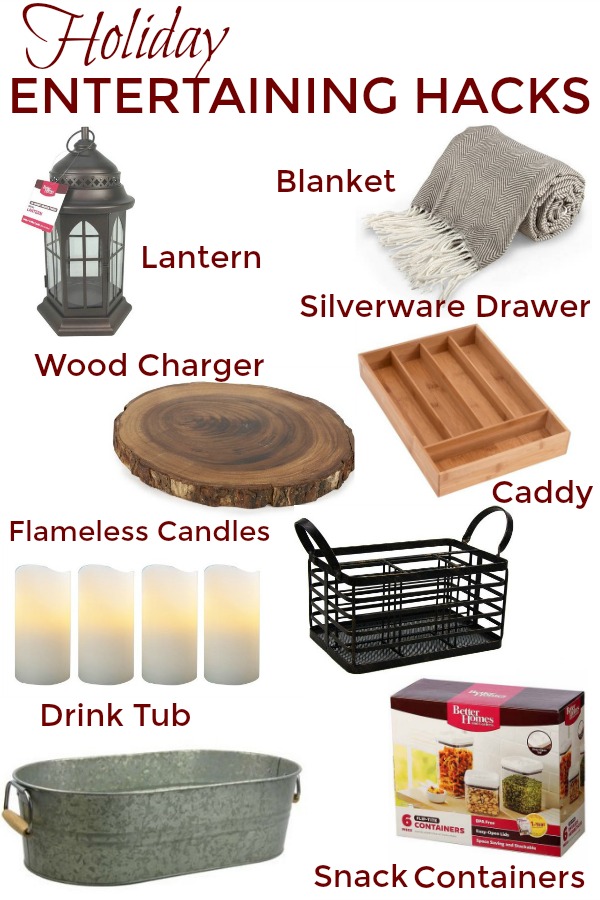 Wood Chargers – You can use them as plate chargers, to serve food or under your centerpiece like I did.
Lantern – They come in many different sizes, styles and colors and are perfect for decorating as well as a centerpiece.
Blanket – The perfect tablecloth, then toss it on the sofa, chair or bed after your party.
Wooden Silverware Drawer – Serve any type of appetizers in it, or add sprinkles for a cookie or cupcake station, like I did.
Flameless Candles – Great for centerpieces, decorating and more!
Drink Tub – Add drinks, or fill with greenery, a lantern and candles for a beautiful centerpiece.
Utensil Caddy – Perfect to hold plates, napkins and silverware!
Snack Containers – Leave snacks out during the holiday season and let family and friends help themselves.
Remember while you can always find BHG @ Walmart products in stores, there is an extended and vast assortment of products online at Walmart.com/BetterHomesandGardens as well — more styles, colors and sizes are only a click away!
For more inspiration visit Better Homes and Gardens Live Better on Facebook ,Twitter,Instagram and Pinterest!


Love to Decorate?
Me too! Subscribe to get decor ideas for every season straight to your inbox!