Today is a VERY special day!! Hoosier Homemade is turning 3 and we are celebrating!! All week long we will have special giveaways and today is EXTRA special!


It's Launch Day! We have a brand new look and I'm so excited to share it with you. First…a HUGE shout out to the amazing team of Jessica and Neil Kohler!! They put up with me changing my mind, not really sure how it would all look and come together. Somehow once again, they saw my vision for a clean, simple blog that my readers and I would feel comfortable with. They definitely designed not only an amazing looking blog, it also helps you easily find what you are looking for to "Be a Hero" to your family!
Starting at the very top, the new navigation bars have lots of great ideas for you. The Decorating, DIY Projects and Organization categories with the matching pictures are pretty straight forward. When you click on the picture of the cupcake, it will take you to the all new fabulous Cupcake Heaven page! Check it out…it's pretty amazing!! And all of the yummy recipes can be found by clicking on the mixing bowl. The Recipe Index has a spot for every recipe we share.


Then right below the brown navigation bar, you will find a blue bar that holds all other areas of interest. You can scroll over each of them and choose which page you would like to visit. Under the Giveaways tab, you will find the new Giveaway Winners page that I created to make the process a little easier for you.
And to the right you will find the links to our other blogs, Pocket Change Gourmet and It's A Blog Party. Watch for a whole new design for Blog Party coming in a couple months! If you like sharing your blog with others, you are going to LOVE it!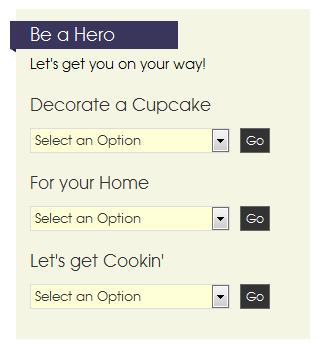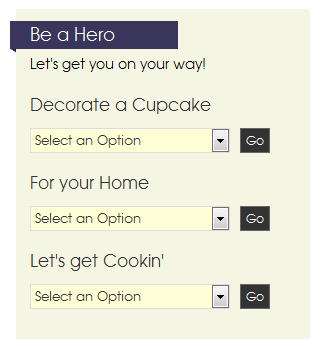 From the very beginning it has been my passion to share my love for baking, cooking and decorating with you and help you "Be a Hero!" So we created this fun little search area that will help you find exactly what you want! Need to decorate a cupcake, or create a fun craft…or maybe whip up a delicious dessert for your family? You can find it all right in the "Be a Hero" area!
Now for the second bit of excitement…Cupcakes! 12 Months of Happiness is ready for you!!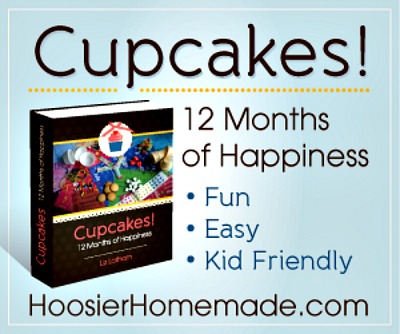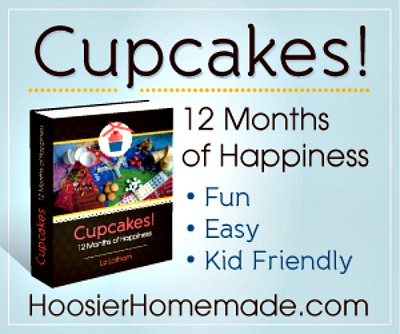 I know you all LOVE cupcakes! Especially to celebrate the holidays and changing of seasons!
In "Cupcakes! 12 Months of Happiness" you will find a cupcake for each month that is sure to please children and adults alike. Some of them were inspired from Cupcake Tuesday and some are from the Cupcake Chronicles Newsletter. But all of them are newly designed to make them easy and kid-friendly.
Purchase Now: $4.99
AND that's not all…remember I mentioned giveaways this week? Hurry on over and enter the Cupcakes! 12 Months of Happiness Giveaway! I'm giving away 5 copies!! Yay!
Oh and if you are interested, you can join our Affiliate Program too!
I LOVE the new Hoosier Homemade look and hope you do too! Leave me a comment and tell me what you think! 
Again..THANK YOU to Kohler Created for designing the most amazing blog EVER!
Linking to…Works For Me Wednesday