Giveaway Closed
While thinking about a special cupcake for Cupcake Tuesday, I decided to use a recipe from Martha Stewart. Did you know she has a new Cupcake Cookbook out? More on that later…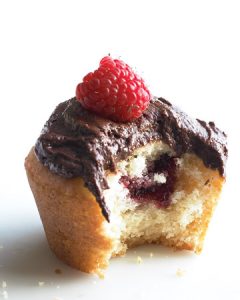 I decided to share with you the Jam Cupcakes with Chocolate Frosting. I have to apoligize, I simply ran out of time and energy to bake these cupcakes. I worked with my husband all day on Monday, at one of his part time jobs, and after an eye appointment for one son, and a 8 p.m. baseball game, that didn't end until almost 11 p.m. My good intentions just didn't happen. I did buy all the ingredients to make these, so hopefully within the next couple days they will get baked and I can share with you what I thought.
In the meantime, here is the recipe from Martha Stewart
Ingredients
Makes 12
1 cup (2 sticks) unsalted butter, room temperature, plus more for pan
1 1/2 cups all-purpose flour (spooned and leveled), plus more for pan
1 1/2 teaspoons baking powder
1 teaspoon salt
3/4 cup granulated sugar
2 large eggs, room temperature
1 1/2 teaspoons pure vanilla extract
1/2 cup plus 2 tablespoons whole milk
1 cup confectioners' sugar
1/4 cup unsweetened cocoa powder
1/4 cup seedless raspberry jam
12 raspberries, for garnish
Directions
Preheat oven to 350 degrees. Butter and flour a 12-cup muffin pan, or use liners. Combine flour, baking powder, and 3/4 teaspoon salt. In a large bowl, using an electric mixer, beat granulated sugar and 1/2 cup butter until light and fluffy. Beat in eggs, one at a time. Beat in 1 teaspoon vanilla. With mixer on low, beat in flour mixture in two parts, alternating with 1/2 cup milk.

Divide batter among prepared muffin cups. Bake until a toothpick inserted in center of a cupcake comes out clean, about 20 minutes. Let cool in pan 5 minutes. Transfer to a wire rack to cool completely.

Meanwhile, whisk together confectioners' sugar, cocoa, and 1/4 teaspoon salt. In a large bowl, using an electric mixer, beat 1/2 cup butter until light and fluffy. With mixer on low, gradually add cocoa mixture, scraping down side of bowl as necessary. Gradually beat in 2 tablespoons milk and 1/2 teaspoon vanilla. Beat frosting until light and fluffy, about 30 seconds.

Using a paring knife, cut a 1-inch-deep piece from the top of each cupcake (do not discard). Fill each hole with 1 teaspoon jam and replace cutout pieces. Frost cupcakes and top with raspberries.


 
If you haven't heard, Martha came out with a Cupcake Book last week. I have been receiving emails daily with Cupcake recipes that will be in the book.
Earlier in May, I hit my 100th. post, and because it's well known in blogsphere that you need to have a giveaway when you hit 100 post, I of course, had to follow the leaders. Now, because I have been so crazy busy, I missed the 100th post, in fact this post is #138, but I am making up for it now.
The Giveaway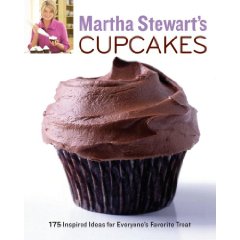 If you are interested in this book, which I'm sure all of you are. Please enter to win!
1.  Visit my Cupcake Heaven page and leave a comment telling me which cupcake you like the best.
Extra entries…
2. Follow me on Twitter (upper right hand sidebar for the link)
3.  Tweet about the giveaway on Twitter, come back here and leave me a comment with the link.
4. Visit my Etsy page and leave me a comment telling me which bag you like the best.
This giveaway will be open until Monday, June 15, 2009 at 10 p.m. CST. At that time I will use the Random Interger Generator to choose a winner.
Good Luck!
And don't forget to visit these great blog carnivals:
~Tasty Thursday hosted by Southern Fried Mama
~Tempt My Tummy Tuesday hosted by Blessed By Grace