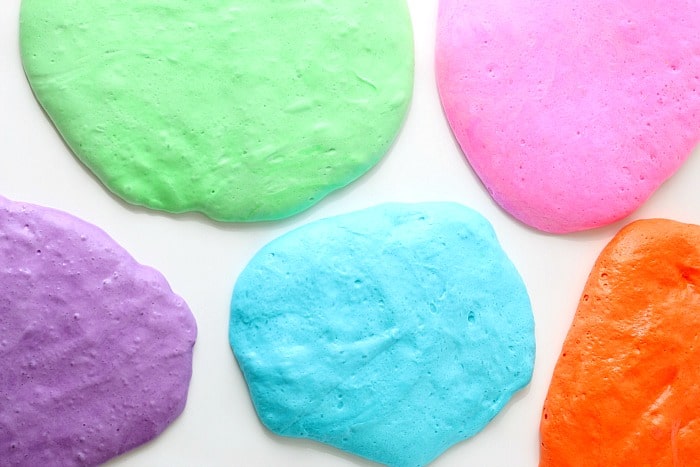 Learn how to make Fluffy Slime and watch the smiles on your children's face. This Slime Recipe uses shaving cream and no Borax, making it safe and super fun.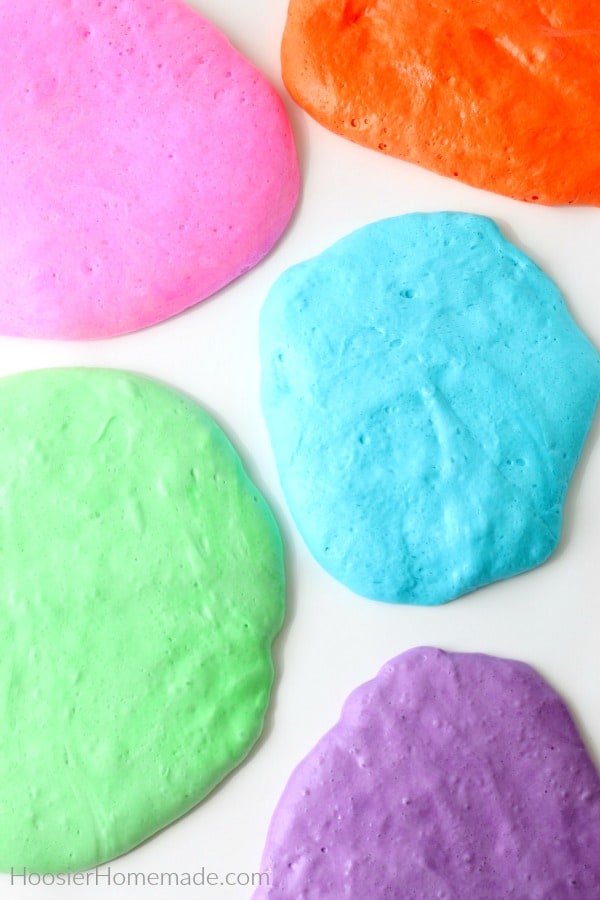 A couple years ago (maybe more), Slime hit the crafting scene! Kids love getting their hands messy and slime quickly became popular. Dare I say – as popular as PlayDough.
Art classes in schools, play dates, even birthday party activities soon became filled with all different types of Slime.
Slime can be made using several different methods – with or without Borax, with or without glue – and then there is Fluffy Slime, the kind we are making today!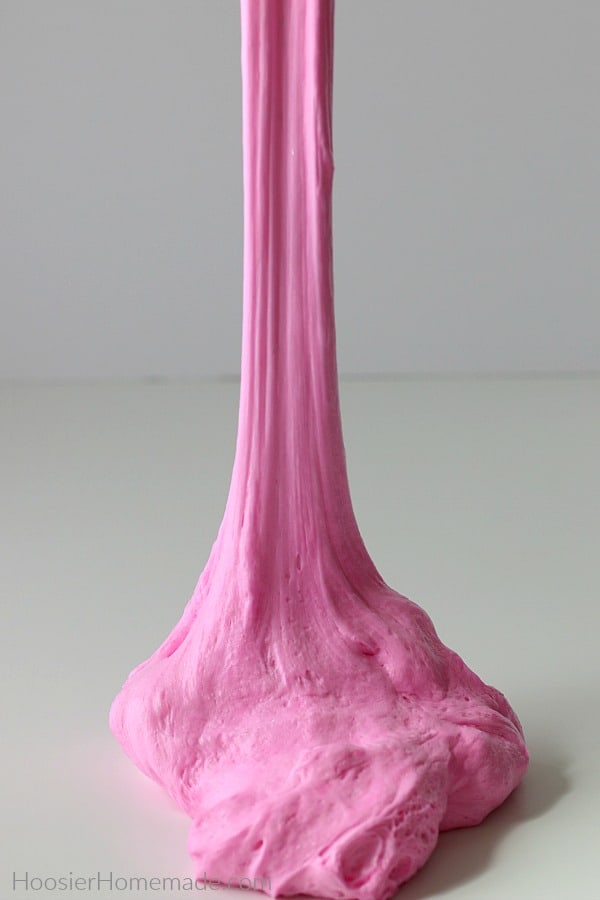 This was my first time making Fluffy Slime, and I learned a few tricks along the way that I will share with you. Slime is not hard to make, it is messy (of course) but super fun to put together.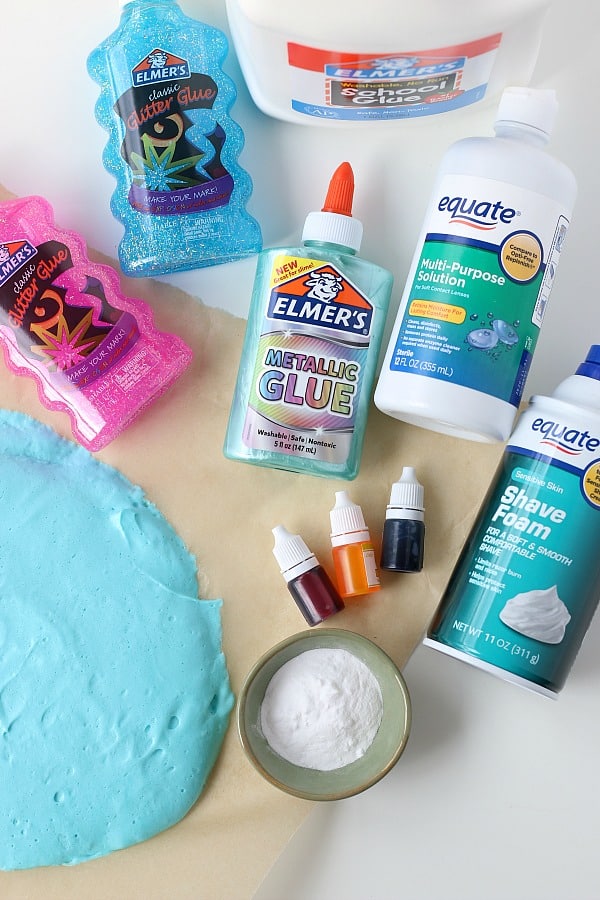 There are a variety of different supplies you will need. A few of them will remain the same no matter what color of fluffy slime you are making, and there a couple that can be different.
How to Make Fluffy Slime
Supplies
Glue – you can use regular white color, glitter glue or metallic glue – read my tips below on glue choices
Shaving Cream – you will need the regular type of shaving cream, not the shave gel – really the cheaper the better here
Baking Soda
Contact Solution – the brand of solution you use is important, I learned from The Best Ideas for Kids, that the Equate brand is one of the best to use
Water
Food Coloring – it's important that you use LIQUID food coloring – read my tips below on food coloring choices
Tools Needed
Large Mixing Bowl
Rubber Spatula
Measuring Cup – 3 of them is easiest, small, 2 cup and 4 cup
Measuring Spoon
Rubber Gloves – optional, but if you don't want to take a chance on the food coloring staining your hands, it probably best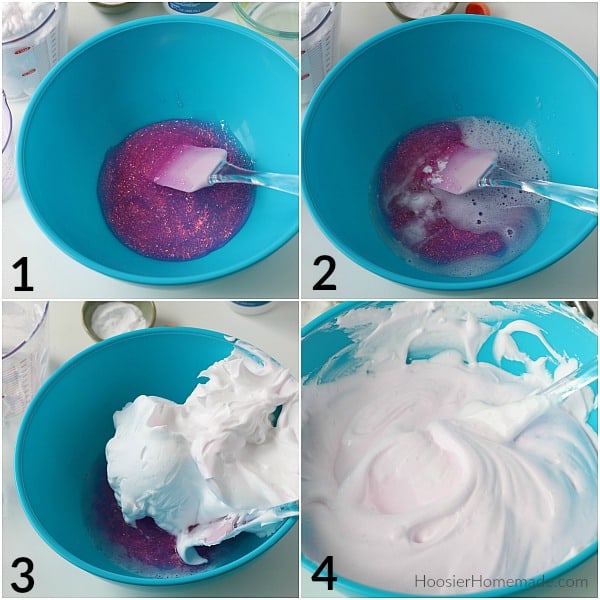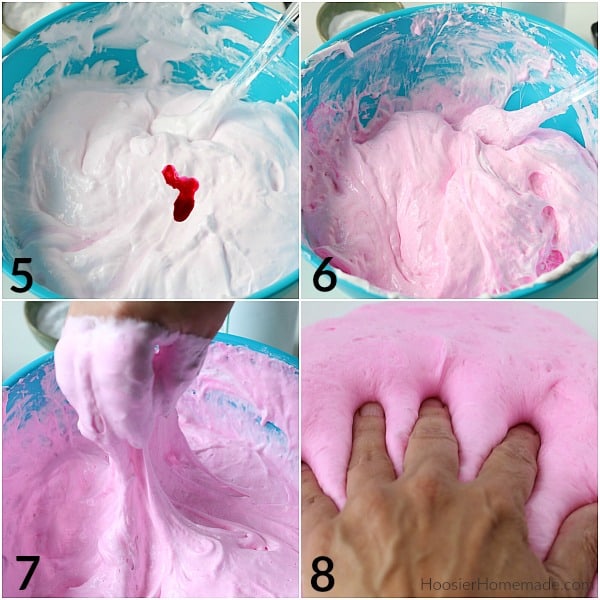 Making the Fluffy Slime is not difficult, but it does take some patience.
Add glue to mixing bowl
Now add baking soda and water, then mix (the water in the photo looks a little foamy because we rinsed out the glue bottle with the water before adding it to the bowl)
Then add the shaving cream
And mix well
Now it's time for the food coloring, add a little at a time until you get the color you like
Mix well, then begin adding the contact solution 1 tablespoon at a time
Get your hands in the bowl and begin kneading the slime
The Slime is ready to play with when it no longer sticks to your fingers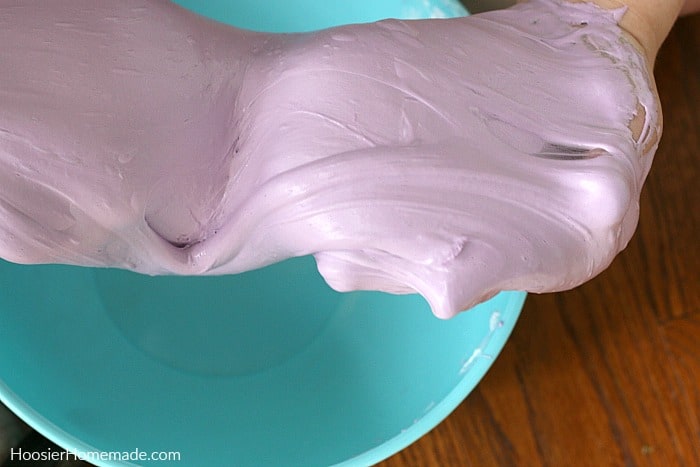 Tips for Making Fluffy Slime
Patience.Patience.Patience – making slime is not difficult, but it does take time and patience. When you stir in the first tablespoon of contact solution, you probably won't see a difference in the consistency of the slime. Just keep working in between your hands, and continue adding contact solution one tablespoon at a time. We used about 3 tablespoons in each batch.
Food Coloring – I wanted a more vibrant color to the slime, so I tried gel food coloring, and it did not work. So definitely stick with using liquid food coloring. You can try the colors we used, or there are the standard food coloring that will work too.
Glue – I found that the standard white glue worked best. The glitter glue (pink in the photos) worked fine, but the glitter didn't show very much and it took the whole bottle (I actually needed a very small amount more). The metallic glue turned out the same, it worked okay, but didn't keep it's color.
Safety – be sure adults are using any of the chemicals when making slime. This recipe for Fluffy Slime is safe to handle, but it's always a good precaution.
Frequently Asked Questions about Fluffy Slime
Can I make Slime with Borax?
We chose not to use Borax in this recipe because of safety concerns, however if you want to make regular slime with Borax here is a recipe
How long will the Fluffy Slime last?
Be sure to keep the slime in an airtight container, it should last about 1 week, however the shaving cream in the fluffy slime will not stay as fluffy as when you first make it. But the slime can still be played with.
Can I make the slime ahead of time?
If you want to use the slime to give as party favors, or take to school, I would suggest making it the same day you will need it. You can possibly try making it the night before.
Can I substitute any of the supplies listed here?
For the Fluffy Slime to turn out, you definitely have to use shaving cream – not shave gel, and contact solution containing boric acid and sodium borate (like the Equate brand from Walmart). You will also need to use liquid food coloring, not gel paste. The type of glue you use can be changed.
What happens if my Fluffy Slime is runny?
Keep adding contact solution one tablespoon at a time. I had a couple batches that were more runny than the others (I think it was because of the amount of food coloring I added), but the slime finally came together after adding more contact solution.
Is it safe to make Slime?
Like with all science experiments, you need to use precautions. Adults should handle the making of the slime. Slime should NOT be eaten. Very young children should not handle slime. Wash your hands before and after each time touching the slime.
What can I do with the Slime after it's made?
I'm SO glad you asked! I have a fun FREE Printable for Monster Slime! See the details below to get the printables!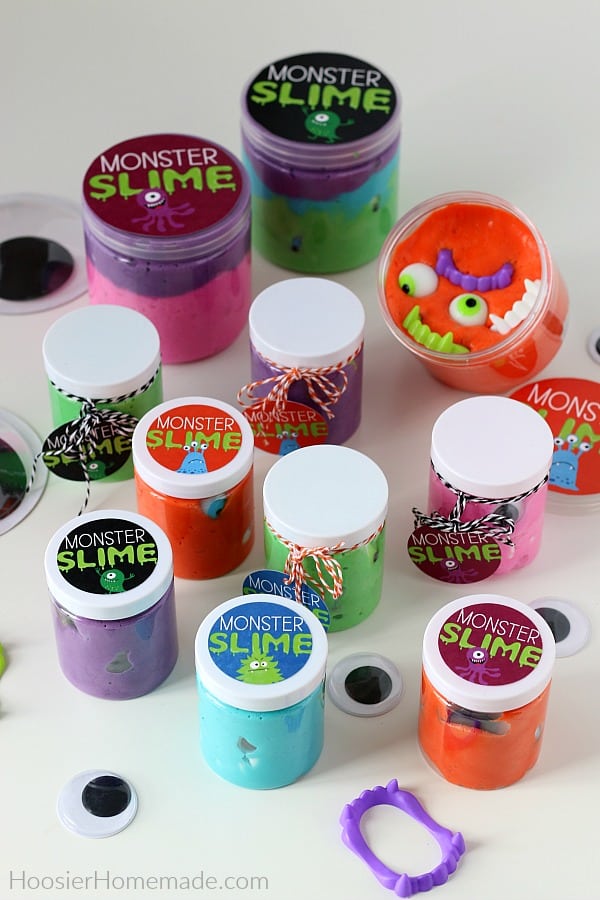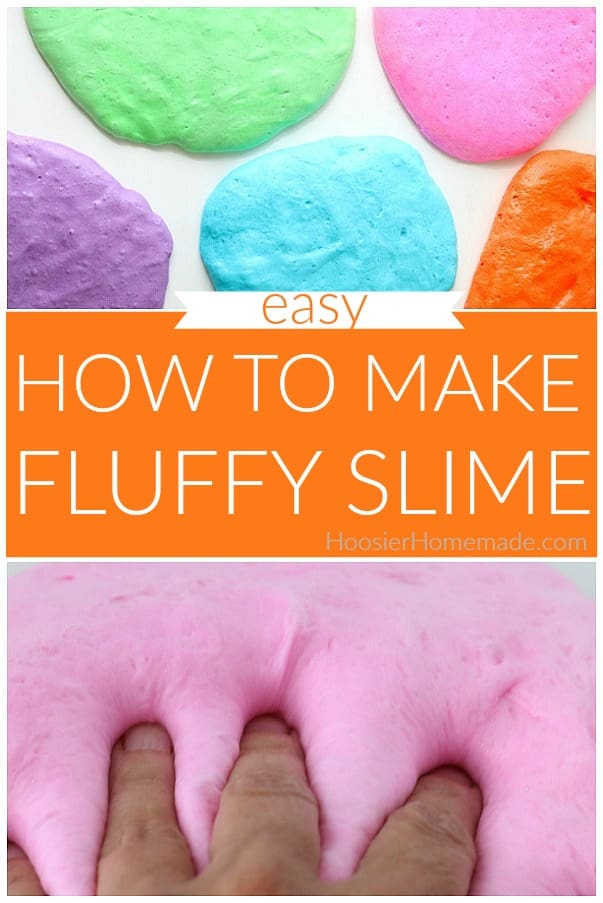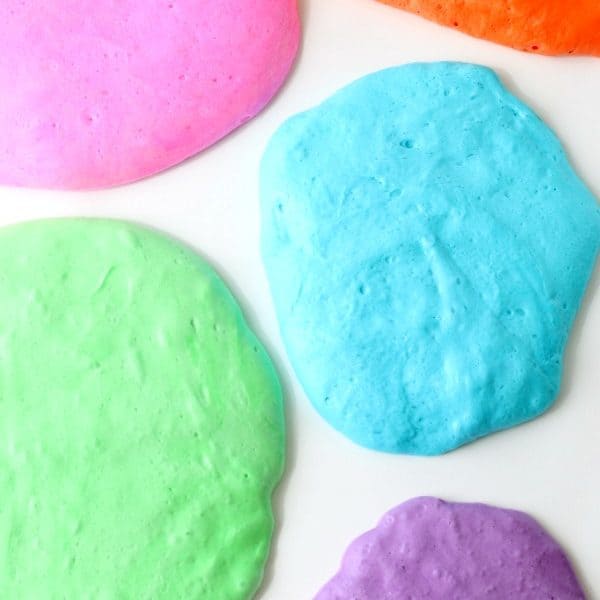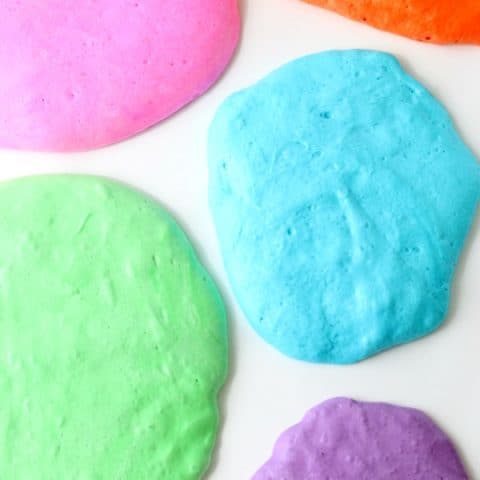 How to Make Fluffy Slime
Fluffy Slime using Shaving Cream - NO Borax
Ingredients
2/3 cup glue - white or glitter
1/4 cup water
1/2 teaspoon baking soda
3 cups shaving cream - not shave gel
Liquid Food Coloring
2-3 tablespoons contact solution
Instructions
Add glue to mixing bowl
Add water and baking soda, stir to mix
Add shaving cream and mix well
Add several drops of food coloring
Mix well
Add 1 tablespoon contact solution and mix well
Leave the slime in the bowl and begin kneading with your hands
Continue to add contact solution 1 tablespoon at a time, working the slime between your hands until it begins to come together
Add more contact solution if necessary to get the slime to the right consistency
The Slime is ready when it no longer sticks to your hands
Recommended Products
As an Amazon Associate and member of other affiliate programs, I earn from qualifying purchases.